Hydraulic Pump Market Research, 2032
The global hydraulic pump market size was valued at $9.3 billion in 2020, and is projected to reach $14.2 billion by 2032, growing at a CAGR of 3.4% from 2023 to 2032. A hydraulic pump converts mechanical power into hydraulic energy. Positive displacement and non-positive displacement are two major types of hydraulic pumps. Hydraulic pumps are a critical component of hydraulic systems that are used in industrial and mobile applications.
The hydraulic pump market is negatively impacted by the recession triggered by the war in Ukraine and the impact of the coronavirus pandemic. The high prices of raw materials and the continued rise in the cost of energy are having severe impacts on the construction and manufacturing industries; thereby, limiting the hydraulic pump market growth.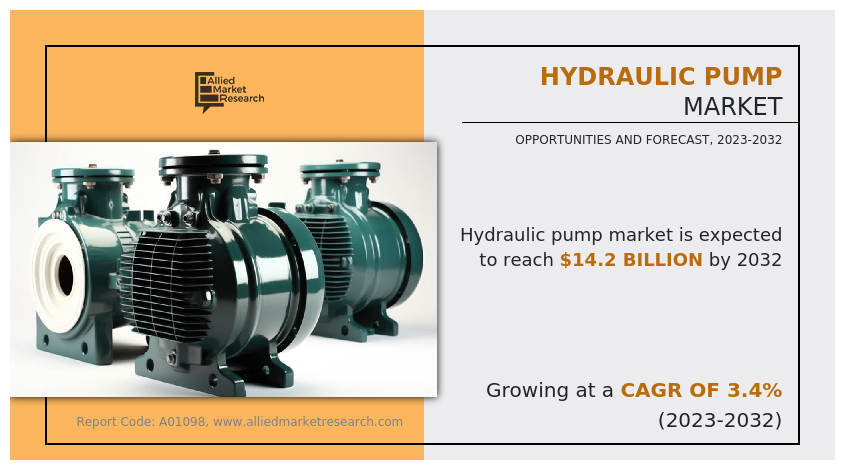 Market Dynamics
Rise in global population and rapid urbanization has significantly increased demand for residential and commercial buildings. Furthermore, rapid growth in global trade has highlighted the importance of efficient infrastructure. These factors have substantially increased the number of construction activities throughout the globe, which positively impacts the hydraulic pump industry.
Machines and equipment are an important aspect of modern-day construction as they impart speed and quality in various construction activities. Construction machines use hydraulic systems for various activities such as excavating, lifting, and demolishing. Thus, hydraulic pumps are a vital component in various construction machines such as excavators, loaders, bull dozers, and dump trucks. Hence, increase in construction activities is a major driver in growth of the hydraulic pump market.
Furthermore, infrastructure is a major factor contributing to the overall growth of a region and many international organizations are increasing their assistance to emerging countries for infrastructural development. For instance, in 2020, Asian Development Bank committed as much as $3.92 billion in sovereign loans for 13 projects in India, which incudes $500 million for the 82-kilometer Delhi-Meerut high-speed Regional Rapid Transit System corridor. Such major infrastructural projects in developing countries are expected to increase demand for construction machines, thereby propelling the hydraulic pump market.
In addition, mining is the process of extracting valuable material and minerals from Earth. It is an important industry as it is the only method used to extract many essential metals and minerals such as iron, nickel, copper, and gold. Mining is a major revenue generating industry in countries such as China, India, Australia, and the U.S. In the production phase, mining involves various activities such as extracting, milling, and processing. During extracting, a large quantity of materials are to be handled and transported from the extraction site to the processing facility, thus creating a demand for machines such as specialized diggers, loaders, and trucks. Hydraulic pumps are an important component of dump trucks and loaders that enable easy handling of extracted material. Quick and efficient material hauling plays a key role in the overall profitability of a mine, thereby increasing the importance of hydraulic pumps in mining equipment.
Furthermore, according to the World Bank, production of minerals such as graphite, lithium, and cobalt could increase by as much as 500% by 2050 to meet rising demand for clean energy technologies. Thus, rise in demand for metals and minerals is expected to fuel the mining industry, thereby driving growth of the hydraulic pump market.  
In addition, hydraulic pumps are a vital component of heavy machines used for construction and mining activities. Repeated generation of high pressure by hydraulic pumps in such heavy machines results in wear of various components in the system, thereby reducing its efficiency. These factors create a need for upgradation of machinery, thereby boosting demand for hydraulic pumps. The wear of hydraulic systems is also observed in automobiles and results in replacement of components. Furthermore, increasing need for speedy construction and mining activities fuel demand for new and more efficient machines and equipment. Thus, need for upgrading existing machinery and induction of new machinery is anticipated to propel the growth of the hydraulic pump market.
However, hydraulic pumps operate under high pressure to give the required output. Repeated operation under high pressure creates a need for periodic maintenance for smooth and efficient functioning of the system. Hydraulic systems are complex than pneumatic systems and are easily prone to damage, owing to impurities present in the oil. Furthermore, hydraulic fluid is a major component of hydraulic pumps and leakage of these hydraulic fluids can affect efficiency of systems and create safety hazards in the working environment. Sudden leaks in hydraulic pumps can negatively affect the hydraulic system and result in operational delays. Thus, periodic maintenance is required to maintain workability and efficiency of hydraulic pumps. Furthermore, repairing hydraulic pumps is a time consuming and expensive process. Hence, high costs associated with maintenance of hydraulic pumps is a major restraint in growth of the market.
Moreover, emerging countries are countries whose economies show similar characteristics to that of a developed economy. According to the International Monetary Fund, Asia is the fastest growing region in the world and in 2029, it accounted for more than two-thirds of the global growth. Increasing investments in infrastructure projects is a major trait of emerging countries. For instance, in October 2021, the Government of India introduced the 'Pradhan Mantri Gati Shakti Yojana,' under which the government focuses on infrastructural development to improve connectivity between manufacturing clusters. Such government initiatives boost the construction industry of a country, which fuels demand for construction machinery, thereby positively influencing the hydraulic pump market. Furthermore, the economic development in emerging countries also results in increased per capita income of masses, creating a demand for private vehicles. Thus, increased infrastructural activities and growing automotive industries are major opportunities for hydraulic pump market growth.
Segmental Overview
The hydraulic pump market is segmented into product type, displacement type, application, and region. Depending upon product type, the market is categorized into gear pump, vane pump, piston pump, centrifugal pump and other. On the basis of displacement type, it is divided into positive displacement and non-positive displacement hydraulic pumps. On the basis of application, the market is classified into mobile application, and industrial application. Region wise, it is analyzed across North America (U.S., Canada, and Mexico), Europe (Germany, France, Italy, UK, and rest of Europe), Asia-Pacific (China, Japan, India, South Korea, Australia, Malaysia, Indonesia, Singapore, and rest of Asia-Pacific), and LAMEA (Latin America, Middle East, and Africa).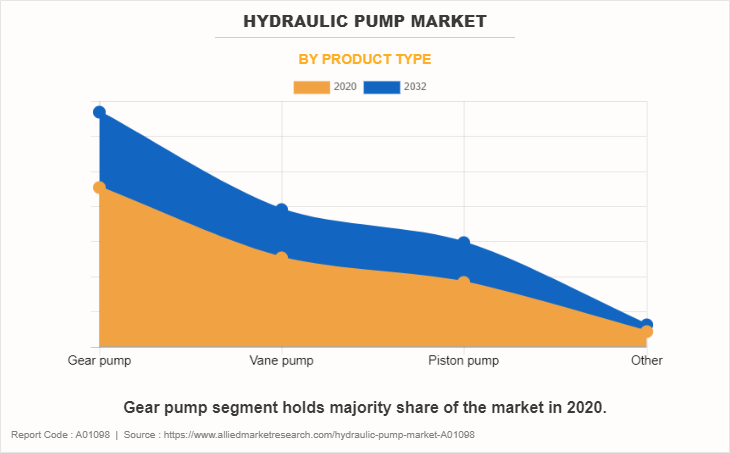 By product type: The hydraulic pump market is divided into gear pump, vane pump, piston pump, centrifugal pump and other. In 2022, the gear pump segment held the largest hydraulic pump market share, in terms of revenue, and the piston pump segment is expected to grow at a higher CAGR during the forecast period. Gear pumps are the most basic and widely used hydraulic pumps as they require little maintenance and are cost-effective. Gear pumps are used in a wide range of industrial and mobile applications. Gear pumps are generally utilized in construction machinery, agricultural machinery, mining equipment, manufacturing, and automobile industry. Hence, the technical and economic advantages of gear pumps fuel the growth of the market.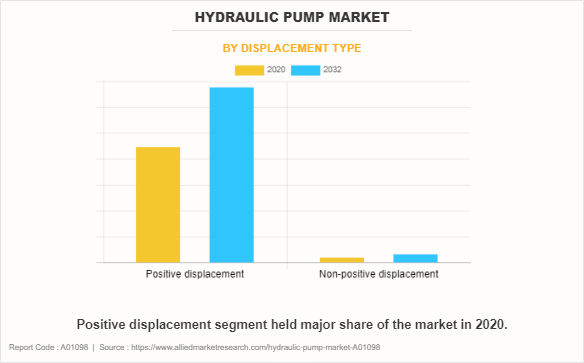 By displacement type: The hydraulic pump market is divided into positive displacement and non-positive displacement. In 2022, the positive displacement segment dominated the hydraulic pump market, in terms of revenue, and the non-positive displacement segment is expected to witness growth at a higher CAGR during the forecast period. Positive displacement pumps are known for providing a consistent and measurable flow rate regardless of the system pressure. Furthermore, positive displacement pumps have the ability to provide precise control of flow and pressure in hydraulic systems. Thereby, making is suitable for applications where a consistent and measurable flow rate is crucial, such as in hydraulic presses, machine tools, and systems that require accurate positioning and control. Thus, the accuracy and reliability of positive displacement pumps propels the growth of the market.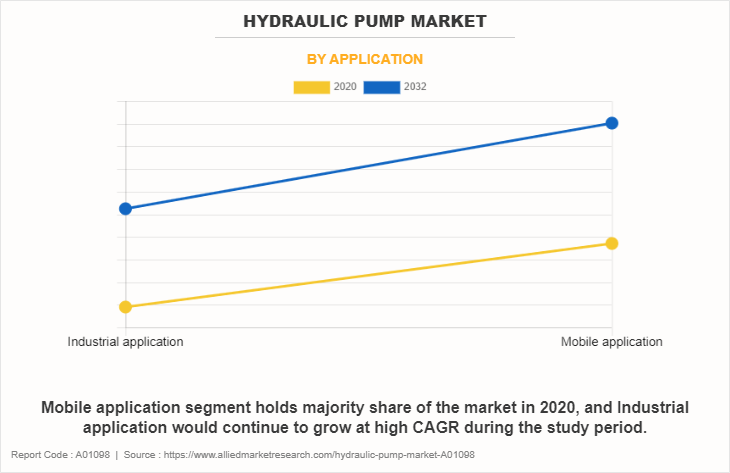 By Application: The hydraulic pump market is categorized into industrial application and mobile application. In 2022, the mobile application segment dominated the hydraulic pump market, in terms of revenue, and the industrial application segment is expected to witness growth at a higher CAGR during the forecast period. Mobile applications of hydraulic pumps include their use in construction, agriculture, and mining sector. Hydraulic pumps create energy by using the incompressibility of hydraulic fluid and are hence a key component in various mobile applications.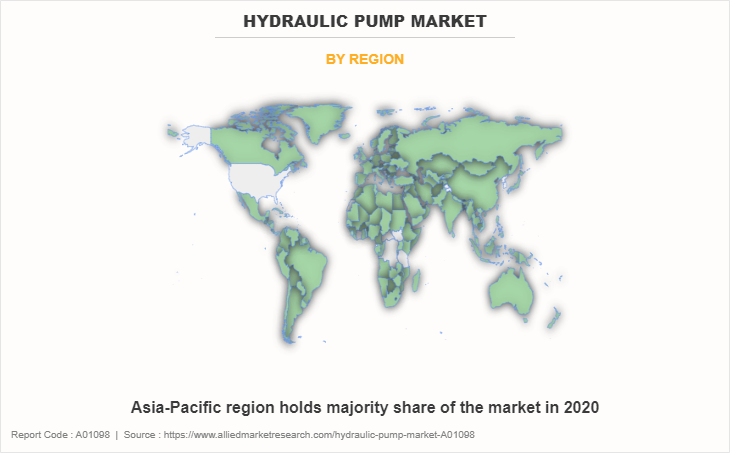 By region: Asia-Pacific was the largest contributor to the market revenue in 2022 and is expected to maintain its dominance during the forecast period. On the other hand, LAMEA is expected to emerge as a region with maximum growth potential in the coming years. The growth of construction and mining industry, and rise in the number of manufacturing facilities in the region have fueled the growth of the hydraulic pump market. Major demand is generated especially from countries such as China and Japan.
Competition Analysis
Competitive analysis and profiles of the major players are provided in the hydraulic pump market forecast report. Major companies in the report include Enerpac Tool Group Corp., Bailey International LLC, Bosch Rexroth AG, Bucher Industries AG, Danfoss AS, Dynamatic Technologies Ltd., Eaton Corporation PLC, Oilgear, Parker Hannifin Corporation, and Linde Hydraulics. To remain competitive, major players adopt development strategies such as product launch, business expansion, acquisition, and others.
Key Benefits For Stakeholders
This report provides a quantitative analysis of the market segments, current trends, estimations, and dynamics of the hydraulic pump market analysis from 2020 to 2032 to identify the prevailing hydraulic pump market opportunity.
The market research is offered along with information related to key drivers, restraints, and opportunities.
Porter's five forces analysis highlights the potency of buyers and suppliers to enable stakeholders make profit-oriented business decisions and strengthen their supplier-buyer network.
In-depth analysis of the hydraulic pump market segmentation assists to determine the prevailing market opportunities.
Major countries in each region are mapped according to their revenue contribution to the global market.
Market player positioning facilitates benchmarking and provides a clear understanding of the present position of the market players.
The report includes the analysis of the regional as well as global hydraulic pump market trends, key players, market segments, application areas, and market growth strategies.
 Hydraulic Pump Market Report Highlights
Aspects
Details
Market Size By 2032
USD 14.2 billion
Growth Rate
CAGR of 3.4%
Forecast period
2020 - 2032
Report Pages
190
By Product type

Gear pump
Vane pump
Piston pump
Other

By Displacement type

Positive displacement
Non-positive displacement

By Application

Industrial application
Mobile application

By Region

North America (U.S., Canada, Mexico)
Europe (Germany, France, UK, Italy, Rest of Europe)
Asia-Pacific (China, India, Japan, South Korea, Rest of Asia-Pacific)
LAMEA (Latin America, Middle East, Africa)

Key Market Players
Dynamitic Technologies LTD, Linde Hydraulics GmbH & Co. KG, Eaton, Bailey International, LLC, BUCHER INDUSTRIES AG, Enerpac Tool Group Corp., Danfoss AS, OILGEAR, Bosch Rexroth AG, PARKER HANNIFIN CORP
Analyst Review
The hydraulic pump is a mechanical device that converts mechanical energy into hydraulic energy. It produces enough flow to counteract the pressure created by the load at the pump output. There are commonly three types of hydraulic pumps in mobile hydraulic applications such as gear pumps, piston pumps, and vane pumps. The market is led by increased utilization in the manufacturing industry as well as fast infrastructural development and building activities. Piston pumps are used more often in activities such as oil exploration, mining, and construction and the demand for them is stronger in the Middle East and Africa.
Furthermore, many key players are manufacturing more reliable, durable, and advanced hydraulic pumps for construction purpose. For instance, in December 2020, New HELAX hydraulic pumps have been introduced by Bucher Industries. The revolutionary HELAX hydraulic-electric linear actuator delivers precise, high-efficiency straight-line motions in the 20–300 kW power range. Such factors are expected to provide significant growth in the market during the forecast period.