The global hydraulic pump market size was valued at $9,725.6 million in 2020, and is projected to reach $13,919.0 million by 2030, registering a CAGR of 3.6% from 2021 to 2030.  Hydraulic Pumps create an automatic source of power that is converted into hydraulic or hydrostatic pressure. Such forces provide appropriate energy support for movement order to manage force impacted by load at the pump channel. The vacuum created at the pump entry forces the fluid from the reserve into the pump entrance line during hydraulic pump operations.
The COVID 19 outbreak has affected the growth of the hydraulic pump industry owing to the lockdown measure in the countries and delay in production and manufacturing of hydraulic pump which are utilized in mobile applications and industrial spaces.
The need for hydraulic pumps is driven by increase in worldwide construction activities, rising automobile sales, and increased use in the mining industry. Furthermore, government regulations focusing toward reduction of CO2 emission and increasing public awareness regarding energy conservation. Such factors are expected to provide lucrative growth in the hydraulic pump market during the forecast period.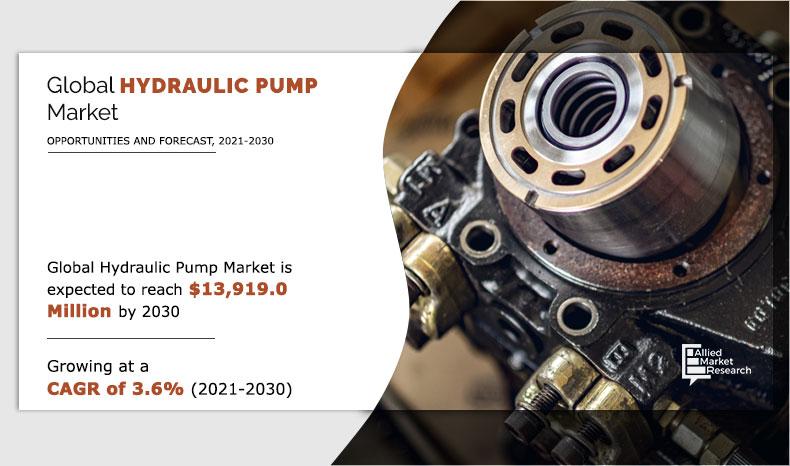 Although the initial cost of assembly is cheap and cost of maintenance over the pump's lifespan is expensive. Salvage value of the parts degrades with time, limiting a firms' ability to purchase new pumps. Hence, can act as a restraining factor, which hampers the hydraulic pump market growth. 
Hydraulic Pump Market

---
By Product Type
Piston pump segment is projected to grow at a significant CAGR
The novel coronavirus has rapidly spread across various countries and regions, causing enormous impact on lives of people and overall community. Originating as a crisis to human health, it now poses significant threat to worldwide trade, economy, and finance. Due to the continuous lockdown in key global countries, the COVID-19 pandemic has halted production of many items in the Hydraulic pump business. The players in hydraulic pump  market can afford a complete lockdown only for a limited period, after which they would have to alter their investment plans. Furthermore, number of COVID-19 cases are expected to reduce in the near term as vaccine for COVID-19 has been introduced in the market. This is further expected to lead to re-initiation of Hydraulic pump companies at their full-scale capacities, which would aid the hydraulic pump market to recover by the start of 2022. After COVID-19 infection instances start to decline, equipment and machinery producers must focus on protecting their staff, operations, and supply networks in order to respond to urgent emergencies and establish new methods of working.
The market is being led by increase in construction activities as well as rising construction spending in various nations. According to the Oxford Economics China, the U.S., India, and Indonesia are expected to account for two-thirds of the global growth by 2030, according to the Oxford Economics. In addition, the industry is expected to rise by approximately 35%, by 2030 reaching a total value of $5.8 trillion. Such factors are expected to drive the hydraulic pump market growth. Moreover, major key players are implementing strategic moves such as acquisition and business expansion to strengthen its market position. For instance, in January 2021, Danfoss has acquired Artemis Intelligent Power Ltd., which is expected to it to increase its manufacturing of digital displacement pumps globally. Digital displacement is a low-carbon emission technology with applications in industrial and construction sectors.
Hydraulic Pump Market

---
By Application
Mobile application segment holds dominant position in 2020
The hydraulic pump market is segmented on the basis of product type, application, and region. By product type, the market is divided into gear pump, vane pump, and piston pump. By application, it is divided into mobile application, and industrial application, and others. Region wise, the hydraulic pump market is analysed across North America (the U.S., Canada, and Mexico), Europe (the UK, France, Germany, Russia, and rest of Europe), Asia-Pacific (China, Japan, India, South Korea, and rest of Asia-Pacific), and LAMEA (Latin America, the Middle East, and Africa).
Competition Analysis
Key companies profiled in the hydraulic pump market report include Enerpac Tool Group Corp., Bailey International LLC, Bosch Rexroth AG, Bucher Industries AG, Danfoss AS, Dynamatic Technologies Ltd., Eaton Corporation PLC, Oilgear, Parker Hannifin Corporation, and Toshiba Machine Co., Ltd.
Hydraulic Pump Market

---
By Region
Asia-Pacific region holds a dominant position in 2020 and is expected to grow at a significant rate during the forecast period.
Key Benefits For Stakeholders
The report provides an extensive analysis of the current and emerging Hydraulic pump market trends and dynamics.  
In-depth emerging Hydraulic pump market analysis is conducted by constructing market estimations for key market segments between 2021 and 2030. 
Extensive analysis of the emerging Hydraulic pump market is conducted by following key product positioning and monitoring of top competitors within the market framework.
A comprehensive analysis of all the regions is provided to determine the prevailing opportunities.
The global emerging Hydraulic pump market forecast analysis from 2021 to 2030 is included in the report.
The key players within emerging Hydraulic pump market are profiled in this report and their strategies are analyzed thoroughly, which help understand the competitive outlook of the emerging Hydraulic pump industry. 
 Hydraulic Pump Market Report Highlights
Aspects
Details
BY PRODUCT TYPE

Gear pump
Vane pump
Piston pump

BY PRESSURE RANGE

up to 600psi
601psi–1000psi
More than 1000psi

BY APPLICATION

Mobile application
Industrial application

BY REGION

North America (U.S., Canada, Mexico)
Europe (Germany, France, UK, Russia, Rest of Europe)
Asia-Pacific (China, India, Japan, South Korea, Rest of Asia-Pacific)
LAMEA (Latin America, Middle East, Africa)

By KEY PLAYERS

Enerpac Tool Group Corp.
Bailey International LLC
Bosch Rexroth AG
Bucher Industries AG
Danfoss AS
Dynamatic Technologies Ltd.
Eaton Corporation PLC
Oilgear
Parker Hannifin Corporation
Linde Hydraulics