The global hydrocephalus shunts market size was valued at $291.00 million in 2019, and is projected to reach $322.01 million by 2027, registering a CAGR of 2.8% from 2020 to 2027. Growth in number of hydrocephalic patients across the globe majorly drives growth of the hydrocephalus shunts market. For instance, according to the National Institute of Neurological Disorders and Stroke, in 2020, 1 to 2 of every 1000 babies are born with hydrocephalus, globally. Thus, considering the total number of newborns per year, prevalence of hydrocephalus is all set to increase in the future. Furthermore, rise in cases of neurological disorders, owing to congenital abnormalities and lifestyle diseases as well as a rise in incidences of brain and nerve injuries boosts the demand for hydrocephalic shunts. In addition, use of advanced programmable valves help neurosurgeons to externally adjust valve pressure used in shunts during the treatment. This, thereby, helps in controlling over-draining and under-draining issues associated with fixed pressure valves, which, in turn, is expected to drive growth of the hydrocephalic shunts market. In addition, use of programmable valves in treating hydrocephalus is anticipated to gain popularity in the coming years as most medical professionals are opting for programmable shunts to reduce infections and malfunctions caused from repetitive shunt surgeries. However, serious damages caused by infections and malfunctions of existing shunts greatly limit the market growth. Some deleterious complications include irreversible brain injuries, meningitis, endocarditis, traumatic perforation, tricuspid regurgitation, heart failure, and pulmonary hypertension. 
On the contrary, advancements in shunt technology for reducing shunt complications are projected to create lucrative opportunities for the hydrocephalus shunts market growth. The global hydrocephalus shunts market is segmented on the basis of type, age group, and region.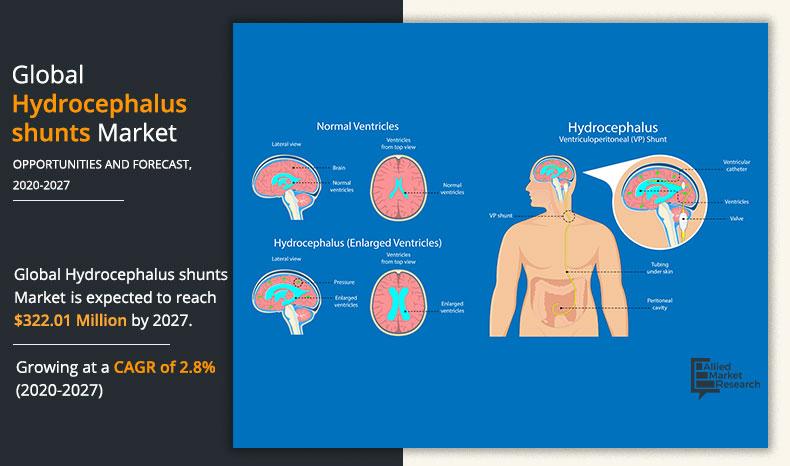 COVID-19 Impact
The COVID-19 pandemic has resulted in nationwide lockdowns, which has impacted every industry vertical. Likewise, the hydrocephalus shunts market is also affected by the pandemic. The hydrocephalus shunts industry is currently facing newer challenges to cope up with demand and supply of hydrocephalus shunts, owing to the COVID-19. In addition, inconsistent and interrupted supply chain activities and unavailability of human resources are expected to impact the market growth. The sudden onset of pandemic led to shutdown of neurological wards and clinics across numerous countries. At the same time, hospitals ran out of resources, owing to huge number of COVID-19 patients. Therefore, most neurosurgeons were reassigned to COVID-19 wards, which worsened disparities in access for neurosurgical treatments to treat hydrocephalic patients. Furthermore, with widespread of the disease, various conferences organized by neurological societies and associations have been postponed or cancelled. The pandemic is further expected to stretch resources of already fragile neurosurgical systems in developing countries. On the contrary, this deleterious impact is expected to be compensated by increase in demand for advanced programmable shunts for treating hydrocephalic patients worldwide. Likewise, introduction of disruptive technologies such as "eShunt system" are all set to propel growth of the hydrocephalus shunts market post pandemic.
Hydrocephalus Shunts Market- Global Opportunity Analysis and Industry Forecast, 2020–2027

---
By Type
Ventriculo-peritoneal shunts segment held a dominant position in 2019 and would continue to maintain the lead over the forecast period.
Type Segment Review
By type, the market is classified into ventriculo-peritoneal shunts, ventriculo-atrial shunts, ventriculo-pleural shunts, and lumbo-peritoneal shunts. VP shunts are considered to be the first line of hydrocephalus treatment by various neurosurgeons across the globe. Development in neurosurgical techniques along with advances in the shunt technology are leading to progressive changes in making VP shunt components. These advanced components are expected to reduce shunt malfunctions and optimize neurosurgical patient care. Most neurosurgeons prefer ventriculo-peritoneal shunts, owing to life-threatening nature of other available shunts. Some major complications of VA shunts include multiple pulmonary emboli and shunt nephritis. In addition, VP shunts are associated with substantially less bacteria than ventriculo-atrial shunts. Moreover, surgical procedures are often performed to increase length of catheters with growth of an individual. However, these shunts allow use of long peritoneal catheter, which eliminates the need of surgical treatment. Thus, these factors are expected to drive growth of the global hydrocephalus shunt market for the VP shunt segment.
Hydrocephalus Shunts Market- Global Opportunity Analysis and Industry Forecast, 2020–2027

---
By Age Group
Children segment is projected as one of the most lucrative segment.
Age Group Segment Review
By age group, the hydrocephalus shunts market is categorized into infants, children, and adults. The children age group segment is expected to garner largest revenue in 2019, owing to increase in incidences of acquired and compensated hydrocephalus in children. As a result, the demand for hydrocephalic shunts for this age group is expected to be the largest during the forecast period. The adult age group segment is estimated to be the fastest growing segment, which is attributed to increase in prevalence of normal pressure hydrocephalus (NPH) that remains undetected for several years and is caused from various lifestyle changes and disorders.
Hydrocephalus Shunts Market- Global Opportunity Analysis and Industry Forecast, 2020–2027

---
By Region
North America was holding a dominant position in 2019 and would continue to maintain the lead over the analysis period.
Region Segment Review
Region-wise, the market is analyzed across North America, Europe, Asia-Pacific, and LAMEA. North America is expected to maintain its dominance during the forecast period, owing to presence of key medical devices companies in the region. These companies are heavily investing in R&D of neurosurgical devices for lowering economic and social burden of hydrocephalus, as the disorder is considered to be more common than deafness and Down's Syndrome. Furthermore, the U.S. is anticipated to garner largest market share of the North America hydrocephalus market, owing to adoption of technologically advanced shunts along with better healthcare infrastructure and awareness about the hydrocephalic condition. Market players are developing additional devices to monitor shunts in patients to prevent shunt infections and malfunctions. For instance, Rhaeos, Inc., a U.S. based medical technology company received FDA Breakthrough Device Designation for its "FlowSense" non-invasive thermal sensor. The sensor detects CSF flow in hydrocephalic patients. Thus, these aforementioned increase in product launches and developments are expected to boost growth of the hydrocephalus shunts market in North America.
The key market players profiled in the report include Christoph Miethke GmbH & Co. KG, G. Surgiwear Ltd., HLL Lifecare Limited, HpBio Próteses, Inc., Integra Life Sciences, Kaneka Medix Corporation, Medtronic plc, Natus Medical Incorporated, Spiegelberg GmbH & CO. KG, and Tokibo Co., Ltd.
Key Benefits For Stakeholders
This report provides a detailed quantitative analysis of the current hydrocephalus shunts market trends and forecast estimations from 2019 to 2027, which assists to identify the prevailing market opportunities. 
An in-depth market analysis includes analysis of various regions, which is anticipated to provide a detailed understanding of the current trends to enable stakeholders formulate region-specific plans.
A comprehensive analysis of factors that drive and restrain the growth of the global is provided.
The projections in this report are made by analyzing the current trends and future market potential from 2020 to 2027, in terms of value.
An extensive analysis of various regions provides insights that are expected to allow companies to strategically plan their business moves.
Key market players within the hydrocephalus shunts market are profiled in this report and their strategies are analyzed thoroughly, which helps in understanding competitive outlook of the global hydrocephalus shunts market.
Key Market Segments
By Type
Ventriculo-peritoneal
Ventriculo-atrial
Ventriculo-pleural
Lumbo-peritoneal
By Age Group
By Region
North America
Europe

Germany
UK
France
Italy
Spain
Rest of Europe

Asia-Pacific

Japan
China
India
Australia
South Korea
Rest of Asia-Pacific

LAMEA

Brazil
Saudi Arabia
South Africa
Rest of LAMEA