Hydrodesulfurization Catalyst Market Outlook - 2021–2028
The global hydrodesulfurization catalyst market forecast was valued at $2.64 billion in 2020, and is projected to reach $3.66 billion by 2028, growing at a CAGR of 4.30% from 2021 to 2028.
Hydrodesulfurization is a chemical process that involves removal of sulfur compounds from petroleum products such as gasoline, jet fuel, fuel oils, and petrol. Catalysts that are used during hydrodesulfurization process are collectively termed as hydrodesulfurization catalysts. Gasoline, jet fuel, fuel oils, and petrol catalysts are used in automotive vehicles, aircraft, locomotives, ships, oil power plants, residential, and industrial furnaces. Use of hydrodesulfurization catalysts aid in removal of sulfur content, which reduces sulfur dioxide emissions. Platinum and rhenium are widely used noble catalysts in catalytic reforming units to upgrade naphtha streams. However, presence of low concentration of sulfur in naphtha stream leads to poisoning of these noble catalysts. Thus, hydrodesulfurization catalysts are widely adopted to overcome degradation and poisoning of noble catalysts by removing sulfur content from naphtha stream.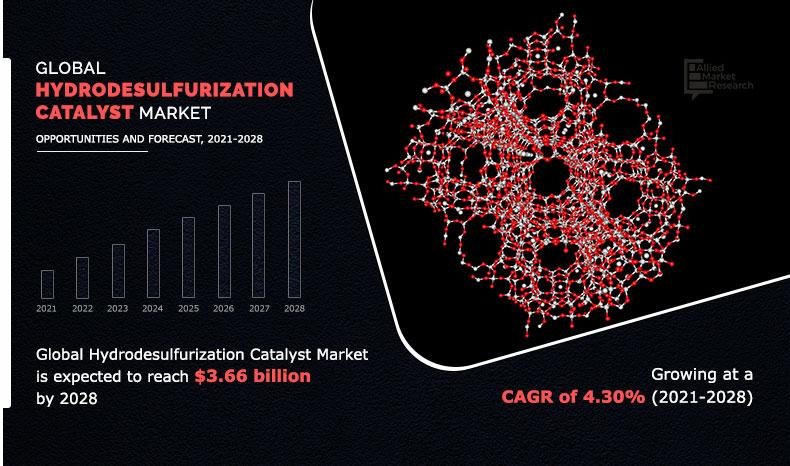 The global energy need is increasing day by day. Crude oil being one of the most important energy producers is contributing around 70% of the total global energy needs. Refineries across the globe are maximizing their refining capacities to meet growing need of population. Countries such as China and India are witnessing increase in refining capacities, owing to rise in demand among transportation, infrastructure, and other sectors. According to a report published by the organization of petroleum exporting countries (OPEC), there will be increase in desulfurization catalysts among refining units worldwide in the future. For instance, Axens SA and Numaligarh Refinery Limited (NRL) signed an agreement on February 16, 2021 for addition of hydrodesulfurization catalysts to increase its oil refining capacity from 3MMTPA to 9MMTPA (million metric tons per annum). In addition, environmental regulations are predicted to escalate demand for global hydrodesulfurization catalyst in the forecast period. These are the major hydrodesulfurization catalyst market growth factors in the forecast period. However, prices of crude oil are controlled by oil traders, current oil supply, and future supply & demand. These factors make crude oil a highly volatile commodity. Moreover, natural and man-made disasters have great influence on price fluctuations of oil. For instance, owing to the wake of the COVID-19 pandemic, factories and manufacturing sites went on a complete shutdown that has declined the global oil demand. In addition, many plants were closed or either are running at reduced rates, which may affect demand for hydrodesulfurization catalysts.
On the contrary, the market for Middle East and other oil-producing economies requires crude oil and its distillates with low sulfur content. Significant characteristics of nanomaterials such as enlarged surface area, ideal adsorption, improved mixing, high activity, and easy separation make it a perfect choice for hydrodesulfurization catalysis process. In addition, use of nanomaterials enhances reaction rates and thus, improves fuel efficiency by effectively lowering sulfur content. This factor is anticipated to offer remunerative opportunities for expansion of the global hydrodesulfurization catalyst market.
The global hydrodesulfurization catalyst market analysis is done on the basis of type, application, and region. Depending on type, the hydrodesulfurization catalyst market is segregated into cobalt-molybdenum, nickel-based, and others. By application, it is segmented into natural gas, naphtha, diesel oil, and others. On the basis of region, it is analyzed across North America, Europe, Asia-Pacific, and LAMEA. Presently, Asia-Pacific garners largest share in the global hydrodesulfurization catalyst market, followed by North America and Europe. Major companies profiled in this report include Advanced Refining Technologies LLC, Albemarle Corporation, Axens SA, BASF SE, China Petroleum and Chemical Corporation (Sinopec), Clariant AG, Dorf Ketal Specialty Catalysts LLC, Haldor Topsoe, JGC Catalysts & Chemicals Ltd., and Johnson Matthey PLC.
Hydrodesulfurization Catalyst Market, by region
The Asia-Pacific hydrodesulfurization catalyst market size is projected to grow at the highest CAGR of 5.20% during the forecast period and accounted for 32.67% of hydrodesulfurization catalyst market share in 2020. Hydrodesulfurization catalysts are used in a wide variety of applications such as sulfur absorption, promoter, biofuel blending, fluid catalytic cracking (FCC), and hydrotreating. Utilization of hydrodesulfurization catalysts in sectors such as transportation, biofuel production, refinery expansion, and emission control is the major growth factor for this region.
Hydrodesulfurization Catalyst Market

---
By Region
Asia-Pacific would exhibit highest CAGR of 5.20% during 2021-2028.
Hydrodesulfurization Catalyst Market, by type
In 2020, the cobalt-molybdenum segment was the largest revenue generator segment, and is anticipated to grow at a CAGR of 4.5% during the forecast period. Cobalt & molybdenum-based hydrodesulfurization catalysts are recognized as excellent catalysts used for sulfur removal from natural gas, naphtha, and diesel. It possesses various significant properties such as high activity, high octane occupancy, pretreatment, and fuel impregnation. However, the nickel-based catalyst segment is predicted to grow with a CAGR of 4.1%, owing to its significant characteristic properties such as high activity, improved hydrorefining, thermal stability, and increased pore space, making it suitable for removal of nearly 98% sulfur content from crude oil & its distillates.
Hydrodesulfurization Catalyst Market

---
By Type
Cobalt molybdenum hydrodesulfurization catalyst type is the most lucrative segment
Hydrodesulfurization Catalyst Market, by application
In 2020, the diesel oil segment was the largest revenue-generating segment, and is anticipated to grow at a CAGR of 4.0% during the forecast period, while the natural gas segment is anticipated to grow at a CAGR of 5.3% during the forecast period. 
Hydrodesulfurization Catalyst Market

---
By Application
Natural gas application is projected as the fastest growing segment
Key benefits for stakeholders
Porter's five forces analysis helps analyze potential of buyers & suppliers and the competitive scenario of the industry for strategy building.
It outlines the current hydrodesulfurization catalyst market trends and future estimations from 2020 to 2028 to understand prevailing opportunities and potential investment pockets.
Major countries in the region have been mapped according to their individual revenue contribution to the regional market.
The key drivers, restraints, and opportunities and their detailed impact analysis are explained in the study.
The profiles of key players and their key strategic developments are enlisted in the report.
Impact Of Covid-19 On The Global Hydrodesulfurization Catalyst Market
The COVID-19 pandemic has negatively affected the global economy and is subsequently shrinking GDP of global economies, thereby changing consumer spending patterns globally.
Oil & gas sector is the major consumer of hydrodesulfurization catalysts. There are several challenges put forward by COVID-19 pandemic on the oil & gas sector, owing to fluctuating crude oil prices, failed agreements on production cuts, and slowing down of refined products from industrial sectors. For instance, according to a publication by the Organization of Petroleum Exporting Countries (OPEC), there was a decline in production of crude oil by 9.7 million barrels in May 2020 in Russia.
International Oil Companies (IOCs), indigenous oil & gas and chemicals companies are subsequently cutting down their capital and operational expenditures, which affects production of crude oil and other products. Thus, demand of hydrodesulfurization catalysts has increased amid the COVID-19 pandemic.
Other major consumers of hydrodesulfurization catalysts include naphtha refining, natural gas, jet fuels, marine fuels, heating oils, and low sulfur fuel oils (LSFO). Disruption in value chain, unavailability of raw material due to travel restrictions, and temporary closure of manufacturing plants has negatively impacted naphtha refineries, jet fuel manufacturers, and heating oil manufactures.
Moreover, there are several refineries that have closed their bulk manufacturing plants, owing to decrease in demand for oil products. For instance, according to the International Energy Agency (IEA), there were about a dozen refinery closures in the U.S. and production has been cut down by 1bpd in the U.S. 
Another major consumer of hydrodesulfurization catalyst are natural gas manufacturers. Natural gas demand has also been affected amid COVID-19 pandemic, which is attributed to reduced consumption of gas and city gas distribution. For instance, according to a report by S & P global, India witnessed natural gas downfall by 40% in January 2021.  
Key market segments
By Type
Cobalt- Molybdenum 
Nickel-Based
Others
By Application
Natural Gas
Naphtha 
Diesel Oil
Others
By Region
North America
Europe

Germany
U.K.
France
Italy
Spain
Rest of Europe

Asia-Pacific

China
Japan
India
South Korea
Australia
Rest of Asia-Pacific

LAMEA

Brazil
Saudi Arabia
South Africa
Rest of LAMEA
Key players in the global hydrodesulfurization catalyst market are:
Advanced Refining Technologies LLC 
Albemarle Corporation 
Axens SA 
BASF SE
China Petroleum and Chemical Corporation (Sinopec)
Clariant AG
Dorf Ketal Specialty Catalysts LLC
Haldor Topsoe
JGC Catalysts & Chemicals Ltd.
Johnson Matthey PLC
 Hydrodesulfurization Catalyst Market Report Highlights
Aspects
Details
By TYPE

Cobalt-Molybdenum Catalyst
Nickel Based Catalyst
Others

By APPLICATION

Natural gas
Naphtha
Diesel oil
Others

By Region

North America (U.S., Canada, Mexico)
Europe (France, Germany, Italy, Spain, UK, Russia, Rest of Europe)
Asia-Pacific (China, Japan, India, South Korea, Australia, Thailand, Malaysia, Indonesia, Rest of Asia-Pacific)
LAMEA (Brazil, South Africa, Saudi Arabia, UAE, Argentina, Rest of LAMEA)

Key Market Players
Johnson Matthey PLC, JGC Catalysts & Chemicals Ltd., BASF Catalysts, China Petroleum and Chemical Corporation (Sinopec), Advanced Refining Technologies LLC, Clariant AG, Albemarle Corporation, Dorf Ketal Specialty Catalysts LLC, Haldor Topsoe, Axens SA