The global hydrographic survey equipment market was valued at $3.1 billion in 2020, and is projected to reach $5.3 billion by 2030, growing at a CAGR of 5.73% from 2021 to 2030.
A hydrographic survey or a bathymetric survey refers to the process of measuring several factors under the surface of the water. The survey can be performed on still water as well as running water. The primary objectives of hydrographic survey equipment are the measurement of tides for sea coast with its scope of application in the construction of sea defense works and harbors. Data can also be used for the establishment of leveling dams for reducing sounding, and for the determination of bed depth. The hydrographic survey can also identify soundings for navigation, location of rocks, sand bars, and underwater works volumes of underwater excavation. In connection with irrigation and land drainage schemes, hydrographic survey equipment is used for the determination of the direction of current in connection with the location of the sewer, measurement of the quantity of water, and flow of water in connection with water schemes, and flood controls.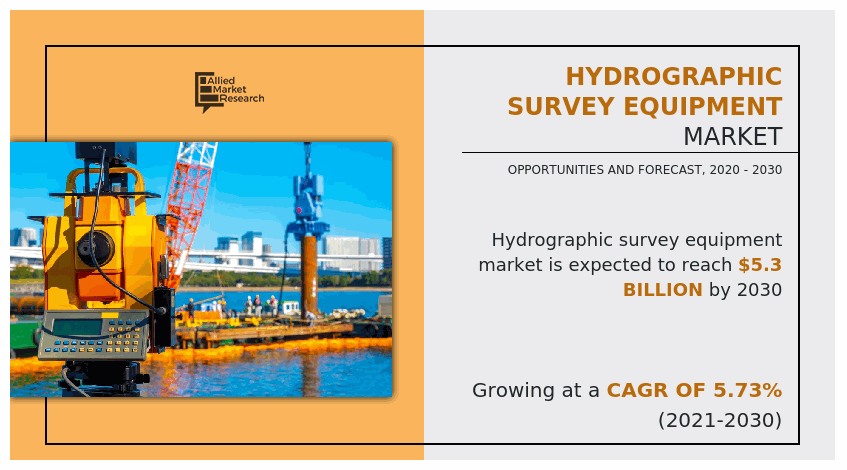 The COVID-19 pandemic has had an adverse effect on the overall marine industry and thereby on the hydrographic survey equipment industry as well. Global travel restrictions and the ban on commercial and logistics trade routes across the globe had a significant impact on companies operating within the hydrographic survey equipment market. Moreover, limited logistics support due to trade restrictions disrupted the manufacturing industry, resulting in increased overhead costs, enforcing companies to book losses within the timeframe. To cope with the supply-demand gap, companies with international supply chains may need to analyze critical components that are in short supply and should consider strategies for alternative sourcing. For instance, the majority of the hydrographic survey equipment manufacturers depend on China for certain equipment such as underwater cameras and temperature, pressure, and other sensors. In addition, the implementation of strict social distancing guidelines is anticipated to increase the adoption of unmanned vehicles, such as ROVs and AUVs, for conducting hydrographic surveys globally. Risks associated with the spread of the virus reduced, owing to an increase in usage of unmanned vehicles.
Hydrographic Survey Equipment Market

---
By End User
Commercial is projected as the most lucrative segment
Factors such as the introduction of unmanned survey vehicles, reduced cost of operation, and integration of various technologies to support a customer-friendly approach to augment the business opportunities within the forecast period. Technological advances, such as 3D and 4D technologies, being incorporated in bathymetric studies have made it possible for harbor owners and managers to get a better overall view of their areas. 4D technologies enhance predictive assessment for ports as they offer a more realistic insight into developments in the surrounding waters. Furthermore, the rise in demand for hydrographic surveys by defense organizations across the globe and rising tension between several nations such as the U.S., China, Russia, Philippines, and North Korea among others will propel market opportunities. Updated hydrographic scans and precise subsea mapping provide strategic competitiveness to nations during critical situations.
The global hydrographic survey equipment market is segmented based on end user, type, depth, platform, application, and region. By end user, the market is divided into commercial, research, and defense. By type, the market is classified into sensing systems, positioning, system, optical system, profilers, software, and others. Based on depth, the hydrographic survey equipment in is segmented into shallow water, and deepwater. The platform segment is categorized into surface vessels, unmanned surface vessels (USVs) & unmanned underwater vessels (UUVs), and aircraft. The application segment is divided into hydrographic or bathymetry survey, port & harbor management, offshore oil & gas survey, cable or pipeline route survey, and others. By region, the market is analyzed across North, Europe, Asia-Pacific, and LAMEA.
Hydrographic Survey Equipment Market

---
By Type
Software is projected as the most lucrative segment
Companies have adopted product development and product launch as their key development strategies in the hydrographic survey equipment industry. Moreover, collaborations and acquisitions are expected to enable the leading players to enhance their product portfolios and expand into different geographical regions. The Key players operating in the hydrographic survey equipment market are Edgetech, Innomar Technologie GmbH, Ixblue SaS, Kongsberg Gruppen ASA, Sonardyne International Ltd, Syqwest Inc, Teledyne Technologies Inc, Tritech International Limited, Valeport Ltd, and Xylem.
Proliferating scope of application for hydrographic surveys
The ability of hydrographic survey equipment to collect multiple data in a single survey and process them as and when needed with required classification drive business opportunities for the market. The amalgamation of several technologies and hardware such as advanced deep-sea cameras, robust transmitters, and receivers, powerful processing units supporting artificial intelligence, and machine learning capabilities with existing hydrographic survey equipment to support industry proliferation. These integrations allow survey equipment to collect much more comprehensive and accurate data. Strong computation capabilities allow survey vehicles to process the data instantaneously and deliver vital information, supporting operational efficiency.
Initiatives taken by global players operating within the market to reduce the acquisition and operational cost of the hydrographic survey equipment market will further bolster the growth opportunities. Business models such as long-term leasing, subscription, or pay-as-use will allow these companies to cater to a wider audience such as individual researchers and small organizations which were untapped.
Hydrographic Survey Equipment Market

---

By Depth
Deepwater is projected as the most lucrative segment
Adoption of new technologies within the hydrographic survey equipment
Conventionally, the hydrographic survey was referred to as a logistically complex, costly, time taking, and risky process. As a result, the survey was often delayed and postponed. However, the integration of new technologies such as autonomous unmanned systems, advanced sensing, navigation, and optical components, coupled with strong processing units propels the market growth. Furthermore, the integration of artificial intelligence and machine learning technologies within business operations of the hydrographic survey has notably reduced the time and cost of operations.
Companies operating within the vertical are engaged in acquiring huge data sets and gathering repositories of data that can be integrated with AI and ML, allowing them to provide a better end user experience. For instance, in April 2022, the UK Hydrographic Office (UKHO) announced that they will provide S-100 navigation data for the Mayflower Autonomous Ship (MAS) project. During its trial, the MAS demonstrated abilities to interact with S-100 navigation data provided by UKHO and maneuver autonomously and recreate its passage through the sea.
Hydrographic Survey Equipment Market

---

By Platform
USVs and UUVs is projected as the most lucrative segment
High production cost and increased market competitiveness
The purpose of hydrographic surveying is to make digital infrastructure for efficient and safe navigation at sea. Hydrographic surveys are essential to display the most significant and crucial depth soundings. Proper execution of a bathymetric surveying task, from its beginning to the final submission of the results, is a continuous process, all parts of which have to be systematically and accurately carried out if the complete value is to be gained. The processes included in performing hydrographic surveys are planning of hydrographic survey, survey reconnaissance, data acquisition, coastline delineation, data processing, and data rendering. Moreover, the data collected in the most accurate manner can be wasted if it is not administered carefully and assembled & extracted in an understandable manner.
To conduct a bathymetric survey properly, various equipment is used to get information regarding the characteristics of the seabed. Equipment, such as multi-beam sonars, side scan sonars, LiDAR, laser scanners, and sound speed profiles, are readily used while conducting a hydrographic survey. The cost of the equipment makes surveys quite expensive, which is one of the main factors that are expected to hinder the growth of the hydrographic survey equipment market during the forecast period.
Hydrographic Survey Equipment Market

---

By Region
Asia-Pacific would exhibit the highest CAGR of 6.69% during 2021-2030
Increase in regional operations
The efforts taken by the regional government of the countries with the developed and developing economies such as the U.S., India, China, and Russia among others to increase their bathymetry data for the maritime industry is generating notable business opportunities at the global level. These countries along with their associated organizations such as National Ocean Service (NOAA), the U.S., UK Hydrographic Office (UKHO), and Hydrographic International Organization (IHO) are releasing their long-term plan to survey the majority of their surrounding water bodies. These organizations are calling local service providers and releasing tenders to aid them with their goals. For instance, the NOAA released a 2022 plan for a hydrographic survey where the organization aims to chart water bodies across the Great Lakes, Atlantic Coast, Pacific Coast, Gulf of Mexico, Alaska, and Western Pacific region.
Key Benefits For Stakeholders
This report provides a quantitative analysis of the market segments, current trends, estimations, and dynamics of the hydrographic survey equipment market analysis from 2020 to 2030 to identify the prevailing hydrographic survey equipment market opportunities.
The market research is offered along with information related to key drivers, restraints, and opportunities.
Porter's five forces analysis highlights the potency of buyers and suppliers to enable stakeholders make profit-oriented business decisions and strengthen their supplier-buyer network.
In-depth analysis of the hydrographic survey equipment market segmentation assists to determine the prevailing market opportunities.
Major countries in each region are mapped according to their revenue contribution to the global market.
Market player positioning facilitates benchmarking and provides a clear understanding of the present position of the market players.
The report includes the analysis of the regional as well as global hydrographic survey equipment market trends, key players, market segments, application areas, and market growth strategies.
 Hydrographic Survey Equipment Market Report Highlights
Aspects
Details
By End User

Commercial
Research
Defense

By Type

Sensing Systems
Positioning Systems
Optical System
Profilers
Software
Others

By Depth
By Platform

Surface Vessels
USVs And UUVs
Aircraft

By Application

Port And Harbor Management
Offshore Oil And Gas Survey
Cable Or Pipeline Route Survey
Others
Hydrographic Or Bathymetry Survey

By Region

North America (U.S., Canada, Mexico)
Europe (Germany, France, Italy, Spain, Rest of Europe)
Asia-Pacific (China, India, Japan, South Korea, Rest of Asia-Pacific)
LAMEA (Latin America, Middle East, Africa)

Key Market Players
KONSBERG GRUPPEN ASA, INC, Teledyne Technologies Inc., Innomar Technologie GmbH, Edgetech, Sonardyne International Ltd., Tritech International Ltd, Ixblue SAS, Syqwest Inc., Valeport Ltd., XYLEM