Hydroxyapatite Market Outlook - 2027
The global hydroxyapatite market was valued at $2.46 billion in 2019, and is projected to reach $3.65 billion by 2027, growing at a CAGR of 5.1% from 2020 to 2027.
Hydroxyapatite, the mineral form of calcium apatite, consistsof one phosphate and one hydroxyl group. It is a major component of teeth offering high rigidity and better enamel remineralization than saliva. Hydroxyapatite coatings in orthopedic implants and dental care products offer enhanced properties, including increased gap healing between bone and hydroxyapatite, faster bone healing at the bone-implant interface, and corrosion inhibition. Thus, manufacturers are replacing conventional titanium plasma spray coatings with nano-hydroxyapatite coatings.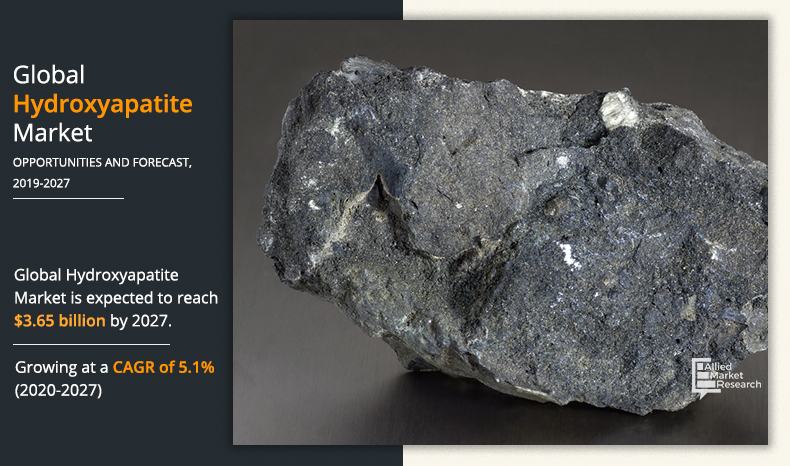 The growth of the global hydroxyapatite materials market is driven by increase in demand for bone transplants and bone grafting materials.In addition, growing population of elderly people in the countries, such as the U.S. and Canada, further fuelsthe demand for orthopedic implants; there, boosting the hydroxyapatite market growth. For instance, in the U.S., population of elderly people increased by 33% over the past 10 years. Furthermore, rise in disposable income in emerging nations and developed countries fuelsto growth of the cosmetics products, such as anti-aging and skin care products.This sudden surge in demand leadsto increase in product portfolio and manufacturing facilities across the globe;thereby, enhancing the hydroxyapatite market share. Moreover, introduction of new healthcare services in North America and European countries is anticipated to fuel the growth of the hydroxyapatite market size. Countries in North America and Europe are spending 11-15% of their GDP in healthcare and research institutes; thus, fueling the growth of the market. For instance, in 2018, the U.S. increased healthcare expenditure of around 4.6%. Furthermore, advancements in product quality led to superior dental and orthopedic implants. For instance, hydroxyapatite, prepared through advanced sol-gel process, provides advantages in terms of particle size and coating formation, making it widely applicable for ocular implant and non-integrated implants. However, high cost of hydroxyapatite implant and several complications involved in the implant are expected to hamper the market growth. The high cost associated with the implant and additional cost of wrapping the material and peg replacement may led to increase in demand for porous implants with reduced cost and less complications. Conversely, development of low-cost hydroxyapatite implants, such as synthetic hydroxyapatite implants, attracts new customer segments in North American countries; thereby, providing lucrative opportunities for the market growth.
The hydroxyapatite market is segmented on the basis of type, application, and region. Based on type, the market is categorized into nano-sized, micro-sized, and greater than micrometers. Based on application, the market is segmented into orthopedic, dental care, plastic surgery, and others. Region wise, it is analyzed across North America, Europe, Asia-Pacific, and LAMEA(Latin America, Middle East and Africa).
The major players operating in the market focus on new product launch and partnerships due to shifting trend toward new high-quality products. Some of the major companies profiled in this report include Fluidinova, Sofsera, Berkeley Advanced Biomaterials, Taihei Chemical Industrial Co. Ltd., Cam Bioceramics, Zimmer Biomet, Aps Materials, Cg Bio Inc, and Granulab (M) Sdn Bhd.
Global Hydroxyapatite Market, By Region
North America accounted for the highest revenue share of the market in 2019. Hydroxyapatite is largely used in ocular implants, non-integrated implants, and dental surgeries in countries, such as the U.S. and Canada.Furthermore, factorssuch as technology advancements and rise in disposable income in middle-class groupfuelthe demand for hydroxyapatite, especially in North America.In addition, North America has presence of large number of chemical compound manufacturers, such as American Elements and Merz Pharma GmbH, offering high purity hydroxyapatite (95-99%). Europeis expected to witness significant growth during the forecast period, owing to increase in number of domestic players in countries, such as Germany and theUK. Domestic players are offering high-quality hydroxyapatite coatings for various application at lower price attracting local customers.
Hydroxyapatite Market

---
By Region
Growing at a CAGR of 5.1% (2019-2027)
Global Hydroxyapatite Market, By Type
The micro-sized hydroxyapatite segment accounted for thehighest revenue share of the marketin 2019, owing toincrease in demand in prosthetic surgeries and dental surgeries. Whereas, the nano-sized segment accounted for significant revenue share in 2019.Nano-sized hydroxyapatite is widely used as a replacement of micro-sized granules due to higher bioactivity and resorb ability. Thus, increase in the demand for high-quality nano-sized hydroxyapatite is presently driving the market growth.
Hydroxyapatite Market

---
By Type
Revenue (2019 & 2027) of each segment from market segmentation and CAGR
Global Hydroxyapatite Market, By Application
By application, the orthopedic segment accounted for the highest market share in 2019, owing to rise in number of healthcare services coupled with growing health concern in upper-class as well as middle-class population. Furthermore, increase in demand for hydroxyapatite in the coating of medical devices for knee and hip surgeries fuels the market growth. Moreover, the dental care segment accounted for a significant market share in 2019, owing to increase in demand for hydroxyapatite as a replacement of fluoride in toothpaste and other dental products. In addition, hydroxyapatite is more effective in enamel remineralization compared to saliva and other compounds. 
Hydroxyapatite Market

---
By Application
Global Hydroxyapatite Market is expected to reach $3.65 billion by 2027
Key Benefits For Stakeholders
The global hydroxyapatite market analysis covers in-depth information of major industry participants.
Porter's five forces analysis helps analyze the potential of buyers & suppliers and the competitive scenario of the industry for strategy building.
Major countries have been mapped according to their individual revenue contribution to the regional market.
The report provides an in-depth analysis of the global hydroxyapatite market forecast for the period 2020–2027.
The report outlines the current hydroxyapatite market trends and future estimations from 2019 to 2027 to understand the prevailing opportunities and potential investment pockets. 
The key drivers, restraints, and opportunities and their detailed impact analysis is elucidated in the study.
 Hydroxyapatite Market Report Highlights
Aspects
Details
By Type

Nano-Sized
Micro-Sized
Greater than micrometer

By Application

Orthopedic
Dental Care
Plastic Surgery
Others

By Region

North America (U.S., Canada, Mexico)
Europe (UK, Germany, France, Spain, Italy, Rest of Europe)
Asia-Pacific (China, Japan, India, South Korea, Rest of Asia-Pacific)
LAMEA (Brazil, Saudi Arabia, South Africa, Rest of LAMEA)

Key Market Players
BERKELEY ADVANCED BIOMATERIALS, CAM BIOCERAMICS B.V, APS MATERIALS, INC., CGBIO, FLUIDINOVA, GRANULAB, TAIHEI CHEMICAL INDUSTRIAL CO., LTD, SOFSERA CORPORATION, SIGMAGRAFT BIOMATERIALS, ZIMMER BIOMET