Hygienic Cladding Market Research, 2032
The global hygienic cladding market size was valued at $2.8 billion in 2022, and is projected to reach $6 billion by 2032, growing at a CAGR of 8.3% from 2023 to 2032. A wall with hygienic cladding is built of UV-stabilized material that efficiently reduces bacteria and other illness-causing microbes. Wall cladding is the ideal solution for businesses and offices where cleanliness is crucial. It is available in various sizes and colors to enhance its aesthetic appeal. Walls with PVC wall cladding are much easier to keep clean and free from contamination and viruses. Properly installed PVC wall cladding can be easily cleaned in minutes and it does not promote virus growth due to its resistance to chemicals and moisture.
The COVID-19 pandemic has positively impacted the hygienic cladding market. During this pandemic, healthcare institutions have prioritized providing safe and secure environments for patients. Additionally, the importance of hygiene has been heightened due to the COVID-19 outbreak. Hygienic cladding presents a suitable alternative for preventing bacterial infections, as its quality enables effective prevention of both bacterial and viral infections. This quality has led to the widespread utilization of hygienic cladding in the construction of quarantine centers and temporary healthcare facilities throughout the pandemic. Furthermore, following the pandemic, the demand for hygienic cladding has increased due to rising public concerns about hygiene. Restaurants and hospitals are now opting for hygienic cladding to maintain a safe environment.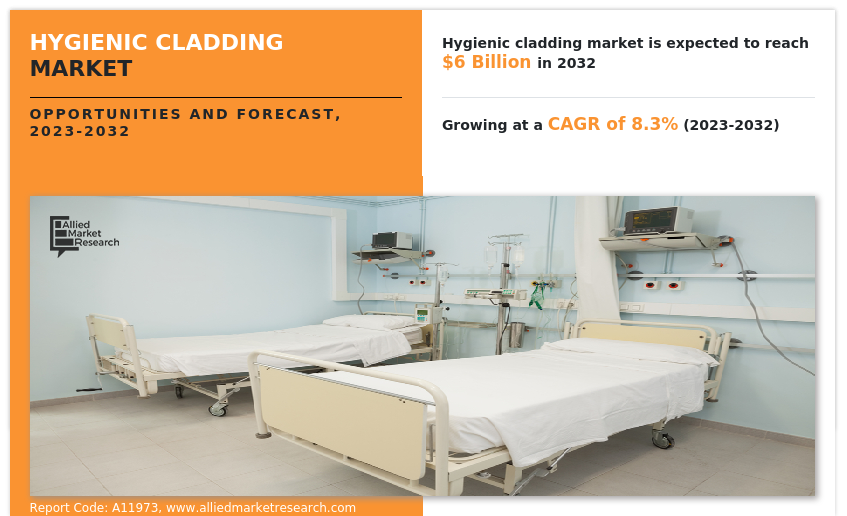 Hygienic wall cladding creates a moisture and bacteria-resistant barrier, effectively preventing both moisture and bacteria on the wall surface. Its smooth and easy-to-maintain surface offers a highly sterile option compared to ceramic tiles, eliminating the presence of cement that can hold bacteria. Specialized companies provide custom-designed wall cladding solutions tailored to specific requirements in terms of shapes, sizes, colors, and patterns. This means that cladding can seamlessly match the aesthetic theme of various environments, such as hospitals, schools, or food establishments.
The healthcare sector has undergone a significant transformation due to the COVID-19 pandemic. Therefore, there has been a noticeable shift in people's attitudes towards the utilization of health-related products and services like hygienic wall cladding. When compared to traditional tiling methods, hygienic wall cladding offers cost-effectiveness. This wall offers affordable installation without straining the budget. Hygienic wall cladding exhibits exceptional durability, withstanding impacts and maintaining its integrity over an extended period, eliminating the necessity for frequent replacements. Moreover, hygienic wall cladding requires very low maintenance costs, making it a practical and efficient choice for healthcare settings and other environments where cleanliness is crucial.
The production of hygienic cladding materials can have a significant environmental impact owing to the energy-intensive manufacturing processes, further contributing to greenhouse gas emissions and climate change. This high-power usage can make it difficult for enterprises to lower their carbon footprint and implement more sustainable practices. Furthermore, the manufacturing process and end-of-life cycle of some hygienic cladding substances can result in substantial amounts of byproducts or waste, such as scrap materials, off-cuts, and disposal leftovers. Improper disposal or processing of these waste products can exacerbate environmental problems and contribute to pollution.
Nanotechnology has a significant impact on the capabilities of sanitary cladding materials. Long-term antibacterial, UV-resistant, electrically conductive, optical, hydrophobic, and flame-retardant properties are being included into sanitary cladding systems using nanomaterials. Furthermore, smart nanomaterial-based materials with hygienic coatings are being added, giving a variety of capabilities such as virus and bacterium resistance. These advancements have found significant application in maintaining sanitary conditions in a range of industries, including healthcare and food processing. Furthermore, the combination of nanotechnology with sanitary cladding has the potential to expand its utility in addressing cleanliness and safety concerns in a number of scenarios. These factors are anticipated to boost hygienic cladding market opportunity. 
The hygienic cladding market forecast key players profiled in this report include Bioclad LTD, AM Clad, Palram Industries Ltd., Trovex, Altro Ltd, Construction Specialties, Inc., Eurocell Plc, Euroclad Group, Polyflor Ltd., and Gerflor. The market players are continuously striving to achieve a dominant position in this competitive market using strategies such as collaborations and acquisitions. For instance, in April 2020, the SABIC (Saudi Basic Industries Corporation), a global diversified chemical company, launched LEXANTM CLINIWALLTM AC6200, a non-chlorinated and non-brominated opaque sheet. The sheet's goal was to give a sanitary, hygienic solution for interior surfaces to a variety of sectors throughout the world.
The hygienic cladding market overview is segmented on the basis of type, application, and region. By type, the market is divided into PVC cladding, polypropylene cladding, GRP cladding, and others. By application, the market is classified into healthcare facilities, sports clubs, pharmaceutical plants, restaurant kitchens, and others. By region, the market is analyzed across North America, Europe, Asia-Pacific, and LAMEA.
The hygienic cladding market is segmented into Type and Application.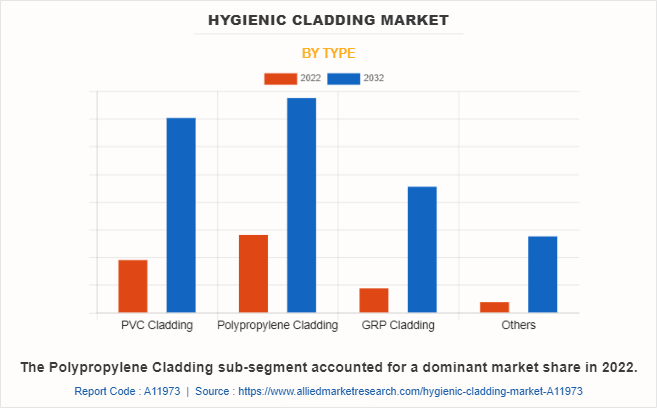 By type, the polypropylene cladding sub-segment dominated the market in 2022. Polypropylene sheet is a versatile material that may be utilized in a variety of projects. It is not only lightweight, flexible, and resilient, but it also has other advantages. It is a highly adaptable material that can be used in a variety of applications. Its combination of strength and chemical resistance makes it perfect for a wide range of applications such as in the food, pharmaceuticals, and other industries. Polypropylene stays clean and fresh over time as it is highly stain resistant. It is perfect for locations where hygiene is critical, such as food preparation and medical settings.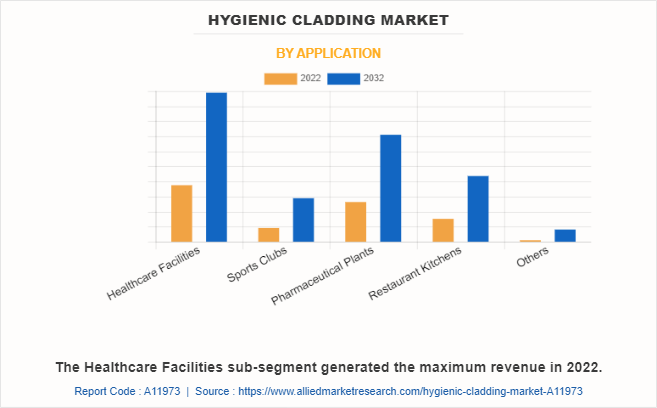 By application, the healthcare facilities sub-segment dominated the global hygienic cladding market share in 2022. The use of hygienic cladding for providing protected and clean environments in hospitals has contributed to the growth of the healthcare facility industry. The utilization of hygienic cladding in healthcare institutions aids in patient care, hygiene standards, and the introduction of clean laboratory rooms. Hospitals are rapidly recognizing the importance of hygienic cladding in limiting microbial improvement and enhancing contamination control procedures, boosting demand for hygienic cladding in healthcare settings. As the healthcare industry continues to focus on patient safety and infection prevention, applications of hygienic cladding in hospitals are projected to boost hygienic cladding market growth during the forecast period.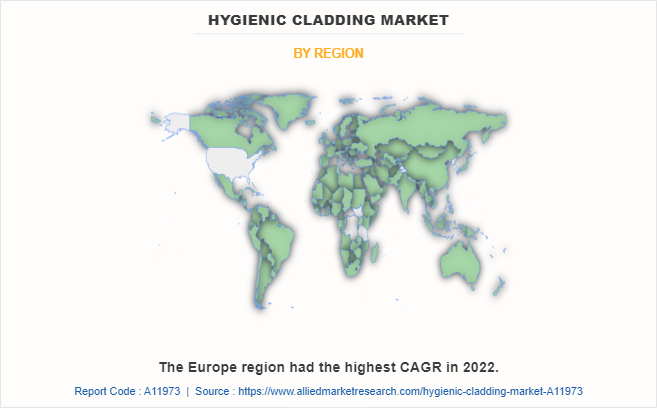 By region, North America dominated the global market in 2022. The region's improving economic situation and the government initiatives to expand infrastructure in the healthcare sectors are some of the reasons driving the growth of the regional market. In the post-COVID-19 pandemic period, there has been an increase in the demand for hygienic cladding in schools, restaurants, and healthcare facilities and institutions. Furthermore, demand for hygienic cladding solutions has been driven by the region's thriving food & beverage, healthcare, and pharmaceutical industries. The growing use of sanitary cladding in commercial kitchens, hospitals, and labs has boosted regional market growth. All these are major factors projected to drive the regional market revenue growth in the upcoming years.
Impact of COVID-19 on the Global Hygienic Cladding Industry
The COVID-19 pandemic boosted demand for hygienic cladding across the healthcare industry, including hospitals, clinics, and domestic care settings. The pandemic led to an increase in emphasis on maintaining safe and hygienic conditions for patients, and hygienic cladding emerged as a preferred option for healthcare facilities to achieve..
The pandemic highlighted the necessity of contamination prevention and control in hospitals. As public hospitals attempt to improve their hygiene measures, there has been a significant increase in demand for hygienic cladding as they have the capability of developing sanitary surfaces and stopping the spread of hazardous bacteria.

The COVID-19 pandemic had a significant impact on the construction sector, causing supply chain disruptions, labor shortages, and project delays. This resulted in a decrease in demand for hygienic wall cladding due to an overall decline in the construction sector.
Key Benefits For Stakeholders
This report provides a quantitative analysis of the market segments, current trends, estimations, and dynamics of the hygienic cladding market analysis from 2022 to 2032 to identify the prevailing hygienic cladding market opportunities.
The market research is offered along with information related to key drivers, restraints, and opportunities.
Porter's five forces analysis highlights the potency of buyers and suppliers to enable stakeholders make profit-oriented business decisions and strengthen their supplier-buyer network.
In-depth analysis of the hygienic cladding market segmentation assists to determine the prevailing market opportunities.
Major countries in each region are mapped according to their revenue contribution to the global market.
Market player positioning facilitates benchmarking and provides a clear understanding of the present position of the market players.
The report includes the analysis of the regional as well as global hygienic cladding market trends, key players, market segments, application areas, and market growth strategies.
 Hygienic Cladding Market Report Highlights
Aspects
Details
Market Size By 2032
USD 6 billion
Growth Rate
CAGR of 8.3%
Forecast period
2022 - 2032
Report Pages
290
By Type

PVC Cladding
Polypropylene Cladding
GRP Cladding
Others

By Application

Healthcare Facilities
Sports Clubs
Pharmaceutical Plants
Restaurant Kitchens
Others

By Region

North America (U.S., Canada, Mexico)
Europe (Germany, UK, France, Spain, Italy, Rest of Europe)
Asia-Pacific (China, Japan, India, South Korea, Australia, Rest of Asia-Pacific)
LAMEA (Brazil, United Arab Emirates, Saudi Arabia, South Africa, Rest of LAMEA)

Key Market Players
Bioclad LTD, Construction Specialties, Inc., trovex, Eurocell Plc, Polyflor Ltd., EUROCLAD GROUP, Altro Ltd,  Palram Industries Ltd., AM Clad, Gerflor