Hyperconnectivity Market Research, 2031
The global hyperconnectivity market was valued at $319.4 billion in 2021, and is projected to reach $2.2 trillion by 2031, growing at a CAGR of 21.7% from 2022 to 2031.
The hyperconnectivity market has witnessed significant growth in the past few years, and is expected to further exhibit notable growth, due to outbreak of the COVID-19 pandemic. This is attributed to surge in need of advanced technology such AI, ML, big data, cloud computing, and IoT among enterprises for meeting their customers' needs and to upsurge their revenue opportunity.
Hyperconnectivity defines the cross connectivity among various digital platforms. It is the interaction between information systems, data, and devices that are all connected to each other by the medium of the internet. Furthermore, to manage & control the television, smart speakers, air conditioners, smart lights, and fridge, remotely all are few example to hyperconnectivity. Such factors indicate that hyperconnectivity will increase, both in personal and business environment, which provide lucrative opportunities for the market growth in the upcoming years.
Furthermore, hyperconnectivity solution provides numerous benefits to the businesses such as, it not just enables person-to-person & machine-to-machine communication, but machine-to-person connectivity as well. Hyperconnectivity can further help businesses bring down expenses such as energy costs. Technologies such as smart thermostats can reduce energy spending by 15% by monitoring and responding to changing electrical needs. In a hyperconnected workplace, it can also check usage reports from the phone or computer and adjust settings manually. As a result, it can understand & respond to change in customer demands faster. Such benefits will create numerous opportunities for the hyperconnectivity market trends during the forecast period.
On the contrary, the business world is witnessing an unprecedented period of technological advancement. Resources such as the IoT, big data, and cloud computing have already revolutionized business and promise even more disruption. Further, many businesses are already moving toward a state of hyperconnectivity, which is a forward step for modern industry. It could bring both considerable benefits and more opportunities to the business. Moreover, latest hyperconnectivity trends and emerging technology to meet the evolving challenges in scaling hyperconnectivity market. Hence, various industry verticals such as healthcare, IT & telecom, retail, and government are adopting hyperconnectivity due to such benefits. This factor creates lucrative opportunities for the hyperconnectivity market forecast.
Factors such as growth in digitalization and internet penetration around the globe are positively impacting the growth of the market. In addition, increase in adoption of hyperconnectivity solutions across enterprises to enhance operation & productivity and increase adoption networking connectivity technology such as 5G, strengthens the growth of the market. Furthermore, growth in investments in the smart city projects and rise in adoption of IoT technology are expected to provide lucrative growth opportunities for the market during the forecast period. However, security concerns and initial investment costs, hamper the growth of the market.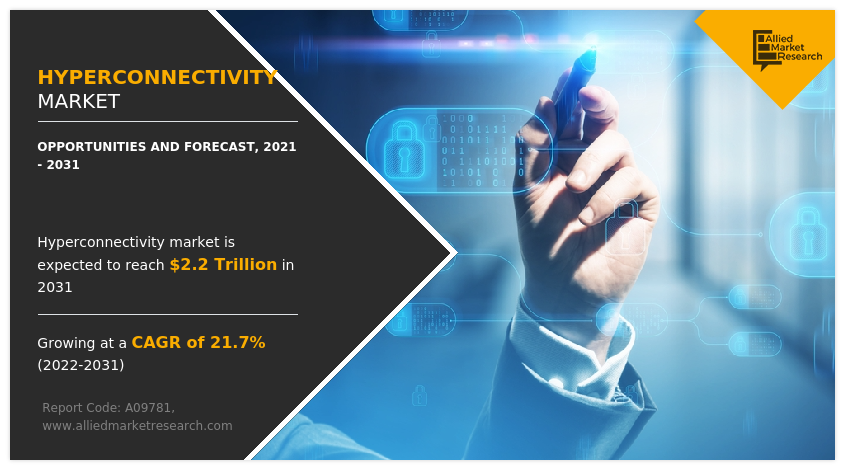 The hyperconnectivity market is segmented into Organization Size, Industry Vertical, Component and Product.
Segment Review
The hyperconnectivity market is segmented into component, organization size, product, industry vertical, and region. By component, it is bifurcated into solution and services. As per organizational size, the market is segregated into small & medium-sized enterprises and large enterprises. Depending on product, it is divided into enterprise wearable devices, middleware software, cloud platforms, business solutions, network & communication, and others. According to industry vertical, the market is classified into BFSI, manufacturing, IT & telecom, retail & e-commerce, healthcare, media & entertainment, government, and others. Region wise, it is analyzed across North America, Europe, Asia-Pacific, and LAMEA.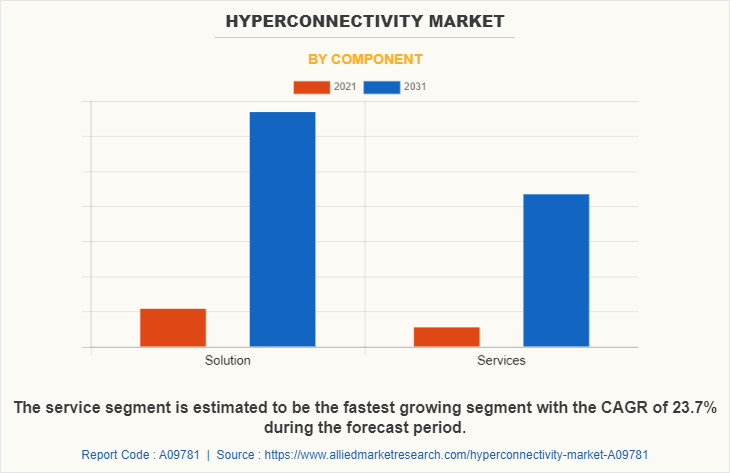 On the basis of component, the global hyperconnectivity market share was dominated by the solution segment in 2021 and is expected to maintain its dominance in the upcoming years owing to advances in technologies enabling hyperconnectivity to transform industries globally, from BFSI to manufacturing, healthcare, and many others. However, the services segment is expected to witness the highest growth, as hyperconnectivity services reduce the time & costs associated with optimizing systems in the initial phase of deployment.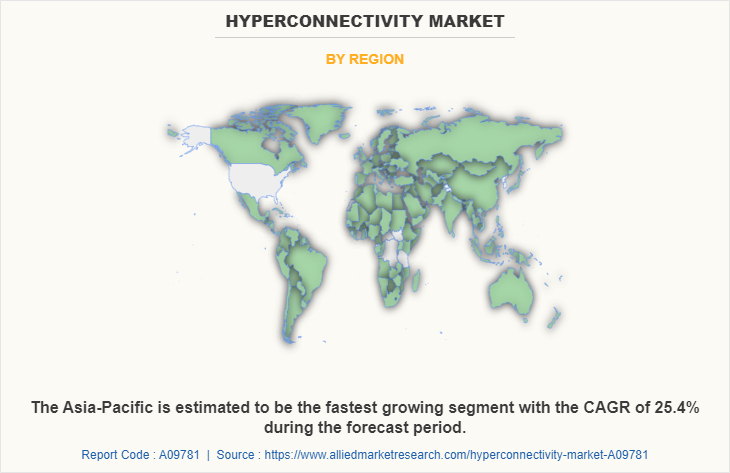 By region, North America dominated the market share in 2021 for the hyperconnectivity market. Increase in investment in advanced technologies such as AI, ML, IoT, big data, and cloud computing to improve businesses and the customer experience is expected to drive growth of the market in this region. However, Asia-Pacific is expected to exhibit the highest growth during the forecast period which is attributed to increase in penetration of digitalization and higher adoption of connected technology.
COVID-19 Impact Analysis
The hyperconnectivity market has witnessed significant growth in the past few years, and is expected to further exhibit notable growth, due to outbreak of the COVID-19 pandemic. This is attributed to surge in need of advanced technology such AI, ML, big data, cloud computing, and IoT among enterprises for meeting their customers' needs and to upsurge their revenue opportunity. In addition, use of AI and ML for managing growing volume of data generated from various devices in an organization drives the growth of the hyperconnectivity market. Furthermore, many sectors such as retail, healthcare, manufacturing, and IT & telecom are adopting hyperconnectivity solutions to ease the increase in complexity of the business needs.
Correspondingly, rise of industry 4.0 initiative and increase in investment in smart city solutions to boost foreign direct investment (FDI) is gaining traction in Asia's emerging markets. For instance, As the country's leading business hub, Vietnam is already a leader in the race to 5G and has opened up its commercial networks to business.. 5G network is an important component for Vietnam's continued economic growth and FDI in manufacturing, and its investments are expected to provide notably opportunities toward the market expansion.
Moreover, hyperconnectivity technology is advancing quite rapidly. Connectivity companies and tech service providers will continue to adopt hyperconnectivity solutions. In addition, rise in development of hyperconnectivity solution will trigger increased investments in this market. Such factor is anticipated to create numerous opportunities for the market growth during the forecast period.
Key Strategies/Development:
In October 2022, Uniphore, the leader in Conversational AI and Automation, announced a strategic partnership with Avaya, a global leader in solutions to enhance & simplify communications & collaboration, to bring its integrated Conversational AI & communications platform to customers across the Middle East and Africa.

In June 2022, Kyndryl, the world's largest IT infrastructure services provider, announced partnership with Oracle to help customers accelerate their journey to the cloud by delivering managed cloud solutions to enterprises around the globe.

In May 2022, Avaya, and Microsoft Corp. have expanded their global partnership by pairing the industry leading Avaya OneCloud™ portfolio with Microsoft Azure to provide organizations with more options to increase their productivity & customer engagement with unrivaled reliability, agility, and scale.

In July 2020, Verizon Business and IBM announced a collaboration to work together on 5G and edge computing innovation to help enable the future of Industry 4.0. The companies plan to combine the high speed and low latency of Verizon's 5G and Multi-access Edge Compute (MEC) capabilities, IoT devices and sensors at the edge, and IBM's expertise in AI, hybrid multicloud, edge computing, asset management, and connected operations.
Top Impacting Factors  
Rise in adoption of IoT security solutions:
IoT security solutions are used to safeguard smart devices from unwanted access or manipulation. It is a fast-growing network that allows devices to communicate with each other. This provides users with an automated, hands-free interaction with technology. In addition, it collects data based on the interactions of user with the devices to provide a new experience. However, the new methods of data exchange between user and machine are not compatible with outdated methods of cybersecurity. This makes it vulnerable to unique cyber threats. Hence, IoT security solutions ensure that the data of the users & kept safe and secure. It keeps updating to evolve with the changing digital environment. It ensures that users face minimal risk of data exposure and cyber-attacks. Such factors are expected to drive the growth of the hyperconnectivity industry during the forecast period.
Empowerment of smarter cities via technology:
Hyperconnected cities use advancements such as IoT to draw on a wide variety of data to provide value to urban stakeholders. This includes both traditional data, which is, those gleaned from city departments, local businesses, and citizen surveys to new types of data, including, from IoT sensors, AI, and even social media. By synergistically using both advanced technologies and actionable data from multiple sources, hyperconnected cities can improve urban management and sustainability. Most of the cities are   already using data to manage IT infrastructure and telecommunications, while half are using it for financial services & systems, mobility & transportation, as well as security, including physical & digital. Meanwhile, a third of them are using data for public safety, health, and wellness.
For instance, Japan's capital city moves toward helping the nation realize its Society 5.0 ambitions; it is improving urban management in critical urban spots, with a particular focus on energy and environmental sustainability. The city largely due to COVID-19 is preparing its society & economy for business continuity during crises. In line with such efforts, data is being used to model grand designs and concepts of urban data infrastructure, which could then be used to launch pilot experiments in sustainability and urban management. On the other hand, Jakarta, which boasts Southeast Asia's largest urban population is further pushing for greater data collection throughout the city. It is doing so by focusing on real-time analysis, integration, and application of data for urban planning & management, especially in the areas of transportation and environmental sustainability. Such factors boost the hyperconnectivity market growth in the upcoming years.
KEY BENEFITS FOR STAKEHOLDERS
The study provides an in-depth hyperconnectivity market analysis along with the current trends and future estimations to elucidate the imminent investment pockets.

Information about key drivers, restraints, and opportunities and their impact analysis on the hyperconnectivity market size is provided in the report.

The Porter's five forces analysis illustrates the potency of buyers and suppliers operating in the hyperconnectivity industry.

The quantitative analysis of the global hyperconnectivity market for the period 2021–2031 is provided to determine the hyperconnectivity market potential.
 Hyperconnectivity Market Report Highlights
Aspects
Details
Market Size By 2031
USD 2.2 trillion
Growth Rate
CAGR of 21.7%
Forecast period
2021 - 2031
Report Pages
480
By Organization Size

Large Enterprises
Small and Medium-sized Enterprises

By Industry Vertical

BFSI
Manufacturing
IT and Telecom
Retail and E-commerce
Healthcare
Media and Entertainment
Government
Others

By Component
By Product

Enterprise Wearable Devices
Middleware Software
Cloud Platforms
Business Solutions
Network and Communication
Others

By Region

North America (U.S., Canada)
Europe (UK, Germany, France, Italy, Spain, Rest of Europe)
Asia-Pacific (China, Japan, India, Australia, South Korea, Rest of Asia-Pacific)
LAMEA (Latin America, Middle East, Africa)

Key Market Players
Cisco Systems, Inc., Extreme Networks, Iberdrola, S.A., Fujitsu Limited, Avaya Inc., IBM Corporation, Oracle Corporation, Broadcom Inc., PathPartner Technology, Microsoft Corporation