Hypersonic Technology Market Statistics 2030 -
The global hypersonic technology market was valued at $4.98 billion in 2020, and is projected to reach $12.18 billion by 2030, registering a CAGR of 9.7%.
The COVID-19 outbreak led to adverse economic situations across the world and especially impacted the deployment of high investment technologies such as hypersonic technologies. The development and testing of hypersonic technologies for the defense sector across various nations were put on hold owing to adverse economic conditions and disruption in the supply chain of key components. The economic downfall witnessed throughout the world has impacted the adoption of efficient and fast technologies such as hypersonic missiles and aircraft. With the ongoing vaccination across the globe, the hypersonic technology industry is expected to attract investments and consequently come on track in the coming years.
In aerodynamic studies, a hypersonic speed is that significantly surpasses speed of sound, often specified as starting at speeds of Mach 5 (Mach number is an important quantity to compare the speed of any object with a speed of sound) and above. Hypersonic technologies for instance, long-range missiles; theater-reach and global-reach aircraft designed to deliver weapons or for reconnaissance missions; and space launch vehicles have a Mach number between 5 and 10. Hypersonic vehicles can enable a new class of flight vehicles that enable faster access to space, rapid military response at long range, and other advantages.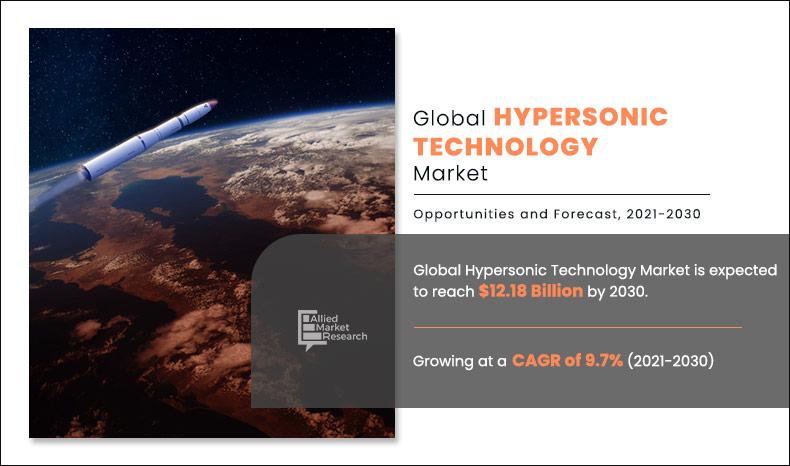 The market is divided on the basis of launch mode, end-user, type, and region. The launch mode segment is further divided into air launched, surface launched, and subsea launched. On the basis of end user, it is segmented into military, air force, navy, and space. By type, it is segmented into hypersonic glide vehicle, hypersonic cruise missile, and hypersonic spaceplanes. Region wise, the market is analyzed across North America, Europe, Asia-Pacific, and LAMEA.
Key players operating in the global hypersonic technology market include BAE Systems plc, Dynetics, Inc., Hermeus Corp., Lockheed Martin Corporation, MBDA, Northrop Grumman Corporation, Raytheon Technologies Corporation, Reaction Engines, The Boeing Company, and Velontra.
Rise in number of territorial conflicts throughout the world
Six countries lay overlapping rights to the South and East China Seas, which is an area that is abundant in natural gas and hydrocarbons, and via which trillions of dollars of international trade flow happen annually. As China enlarges its naval dominance and constructs military bases on man-made islands, it has been met by increasing forcefulness from other regional claimants such as Japan, Vietnam, and the Philippines. Frequent standoffs range from the Senkaku/Diaoyu Islands on China's eastern edge, to the long stretch of archipelagos in the South China Sea that encompasses hundreds of islands.  U.S. has also built up its maritime presence in the area, indicating its higher role in the clashes, which, if not handled properly, might turn part of Asia's naval regions from flourishing trade channels into grounds of continuous conflicts. Rise in conflicts across different parts of the world to gain dominance in commercial or defense arenas is expected to drive growth of the global hypersonic technology market during the forecast period. Advantages offered by hypersonic technologies in case of war-like situations can be really helpful in taking urgent military decisions. Hypersonic vehicles fly faster than five times the speed of sound and enable a new class of flight vehicles that enable rapid military response at long range. These factors are expected to open new avenues for growth of the hypersonic technology market during the forecast period. 
Increase in developments regarding deployment of hypersonic technologies across the world
U.S. is aiming to deploy hypersonic weapons in the coming years, amid the rise in initiatives by both Russia and China to deploy significantly hypersonic technologies much sooner than the U.S. Russia claimed in 2019 that its Avengard missile was operational and has recently upgraded Kh-32s with the capability to carry hypersonic missiles, while China has developed DF-17, which could potentially strike the U.S. mainland if fired from a naval vessel.
U.S. continues its investments, which previously included major contracts to develop hypersonic weapons (Hacksaw). U.S. is also developing a common missile body for use by multiple military branches (C-HGB). By 2027, the Institute for Defense and Government (IDGA) projects an estimated global total of $127.3 billion is expected to be spent on hypersonic weaponry alone and Defense Department budget numbers in the U.S. are expected to reach $2.5 billion in classified hypersonic work by 2024. Aerospace giant, Boeing is developing its own hypersonic transportation technology and startups such as Hermeus are underway in for development of Mach 5 jet, which would make travel time between New York to Paris as short as 90 minutes. Such developments are expected to fuel growth of the hypersonic technology market during the forecast period.
Testing challenges of hypersonic technologies
According to the most recent study on the hypersonic technologies conducted by the Institute for Defense Analyses (IDA) in 2014, the U.S. has 48 critical hypersonic test facilities and mobile assets that were necessary at that point for maturation of hypersonic technology. These facilities are intended to simulate unique conditions experienced by a missile in hypersonic flight including speed, pressure, and atmospheric heating effects unique to travel at hypersonic velocities. According to that report, these resources comprised 10 DoD hypersonic ground test facilities, 11 DoD open-air ranges, 11 DoD mobile assets, 9 NASA facilities, 2 Department of Energy facilities, and 5 assorted industry/academic facilities. However, the report also noted that no current U.S. facility can provide full-scale, time-dependent, coupled aerodynamic and thermal-loading environments for flight durations necessary to evaluate these characteristics above Mach 8. This implies that the U.S. needs more Federally Funded Research and Development Centers (FFRDCs), more testing facilities, more research and development laboratories; and other requirements. Moreover, the U.S. would need facilities capable of testing navigation guidance and control systems, thermal propulsion systems, heat resistant materials, and shielding. All these factors are expected to incur a huge cost for testing of hypersonic technologies, which is expected to limit growth of the hypersonic technology market during the forecast period.
Advancements in scramjet technology for hypersonic missiles
Scramjet engine is crucial for acquiring hypersonic speeds, and thus, only a few nations across the world have the capability to develop scramjet technology for hypersonic missiles. Although, in recent years, nations such as India, the U.S., and Australia have pushed development of scramjet technology. For instance, in September 2020, India successfully tested an indigenously-developed hypersonic technology demonstrator vehicle (HSTDV) powered by a scramjet engine. With the successful launch, India joined the club of nations that have mastered the hypersonic technology. In November 2020, the U.S. Air Force Research Laboratory completed a series of tests of a scramjet engine. Furthermore, in January 2021, the U.S. and Australia joined forces to build air-launched hypersonic cruise missiles that could shift the military balance of power in Asia-Pacific. The new U.S.-Australian project known as the Southern Cross Integrated Flight Research Experiment, or SCIFiRE, is an Allied Prototyping Initiative that was formally announced by two nations in December 2020. Development of a powerful and reliable scramjet engines is essential for hypersonic technologies and rise in initiatives regarding production of efficient scramjet engines globally is expected to propel growth of the hypersonic technology market during the forecast period.
COVID-19 Impact Analysis
The COVID-19 impact on the hypersonic technology market is unpredictable, and is expected to remain in force till the second quarter of 2021.
The COVID-19 outbreak forced governments across the globe to implement stringent lockdown and ban import–export of raw materials items for most of 2020. This led to sudden fall in the availability of important raw materials for manufacturing ground defense equipment.
Moreover, nationwide lockdown forced parts manufacturing facilities to partially or completely shut their operations.
Adverse impacts of the COVID-19 pandemic have resulted in delays in activities and initiatives regarding development of modern hypersonic technologies globally.
Key Benefits For Stakeholders
This study presents analytical depiction of the global hypersonic technology market analysis along with the current trends and future estimations to depict imminent investment pockets.
The overall hypersonic technology market opportunity is determined by understanding profitable trends to gain a stronger foothold.
The report presents information related to key drivers, restraints, and opportunities of the global hypersonic technology market with a detailed impact analysis.
The current hypersonic technology market is quantitatively analyzed from 2020 to 2030 to benchmark the financial competency.
Porter's five forces analysis illustrates the potency of the buyers and suppliers in the industry.
KEY MARKET SEGMENTS
By Launch Mode
 
Air Launched
Surface Launched
Subsea Launched
By End-User
 
Military
Air Force
Navy
Space
By Type
 
Hypersonic Glide Vehicle
Hypersonic Cruise Missile
Hypersonic Spaceplanes    
By Region
 
North America
Europe

Germany
UK
France
Russia
Rest of Europe

Asia-Pacific

China
Japan
India
South Korea
Rest of Asia Pacific

LAMEA

Latin America
Middle East
Africa
KEY PLAYERS
 
BAE Systems plc
Dynetics, Inc.
Hermeus Corp.
Lockheed Martin Corporation
MBDA
Northrop Grumman Corporation
Raytheon Technologies Corporation
Reaction Engines
The Boeing Company
Velontra