Identity As A Service Market Research, 2031
The global identity as a service market was valued at $5.8 billion in 2021, and is projected to reach $53 billion by 2031, growing at a CAGR of 25.2% from 2022 to 2031.
Due to an increase in the culture of working from home around the world, the market is anticipated to expand quickly following the pandemic. Although the IDaaS industry has experienced substantial growth in recent years, enterprises are quickly moving their operations to digital platforms as a result of the COVID-19 pandemic. This is attributable to governments in the majority of countries lifting the lockdown and restrictions on public movement, and to travel and tourism resumed globally with the necessary care to promote local economies, which will assist to drive market growth.
Identity as a Service (IDaaS) is the term used to describe identity and access management (IAM) services that are offered via the cloud and are paid for via subscription. IDaaS offers administrators protection from security problems due to its ability to automate a variety of user account-related operations. It reduces company risk and saves time and money by standardizing and automating crucial identity, authentication, and permission management components.  Numerous services, including ID verification, user access control, multi-factor authentication and compliance management, are included in IDaaS that combines the advantages of cloud computing Identity as a Service with enterprise-class identity and access management-as-a-service. User IDs are managed and authenticated using IDaaS. It also aids in preventing unauthorized users and cybercriminals from accessing private information. 
Furthermore, increasing number of identity frauds and enhanced integration with IoT devices primarily drive the growth of the identity as a service market. However, data privacy issues involving consumer information and critical application outsourcing hamper the market growth to some extent. Moreover, integration of evolving technologies to improve digital identities is expected to provide lucrative opportunities for the market growth during the forecast period.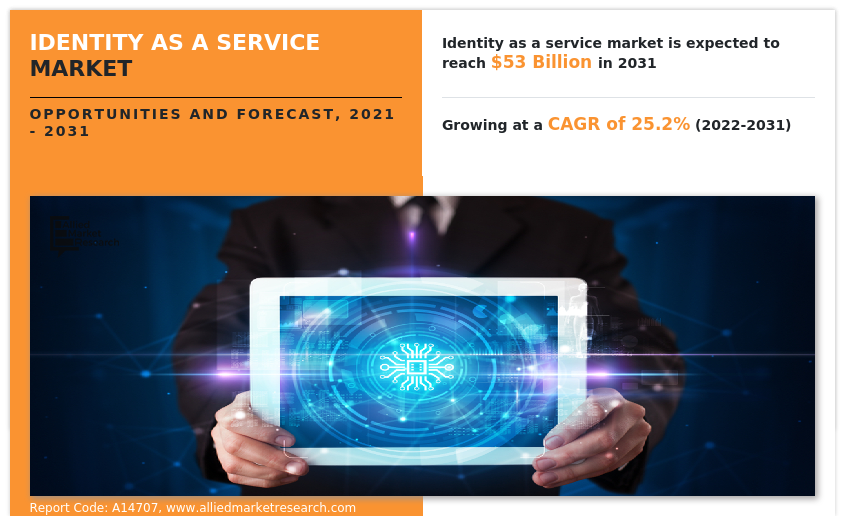 The identity as a service market is segmented into Component, Deployment Type, Enterprise Size and Industry Vertical.
The global identity as a service market is segmented on the basis of component, enterprise size, deployment type, industry vertical, and region. On the basis of component, it is segregated into provisioning, single-sign-on, advanced authentication, audit, compliance and governance, directory services and password management. On the basis of enterprise size, it is segregated into large enterprise and SMEs. On the basis of deployment, it is segregated into public cloud, private cloud and hybrid cloud. On the basis of industry vertical, it is segregated into BFSI, IT and telecom, energy and utilities, government, manufacturing, healthcare, retail and consumer goods, and others. On the basis of region, the identity as a service market forecast is divided into North America, Europe, Asia-Pacific, and LAMEA.
The identity as a service industry is dominated by key players such as CyberArk, Google LLC, IBM, Microsoft Corporation, Okta, OneLogin, Inc., Oracle Corporation, Ping Identity, SailPoint Technologies and Thales. These players have adopted various strategies to increase their market penetration and strengthen their position in identity as a service industry.
Depending on enterprise size, the large enterprise segment dominated the identity as a service market size in 2021 and is expected to maintain its dominance in the upcoming years, owing to the increasing adoption of IDaaS devices and cloud computing by enterprises, which significantly aids in market growth. However, the SMEs segment is expected to witness highest growth, owing to expansion of BYOD policy usage and the demand to uphold compliance standards.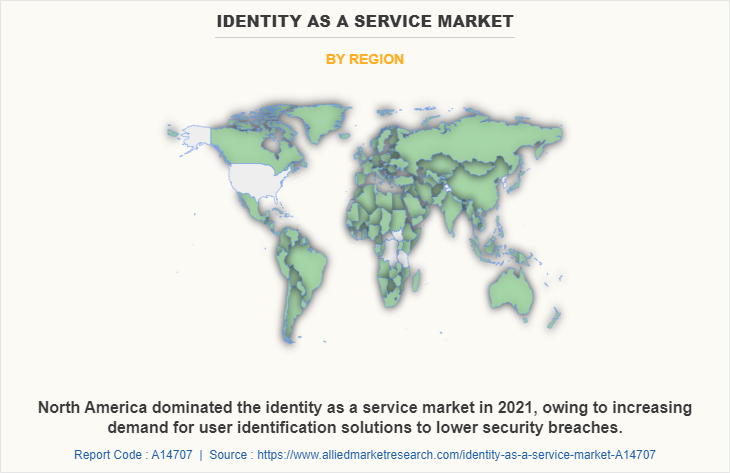 Region-wise, North America dominated the identity as a service market share in 2021, owing to the adoption of BYOD and increase in the number of online transactions are driving the market in the region. Demand for IDaaS is high in countries such as the U.S. and Canada. However, Asia-Pacific is expected to contribute significant growth in 2021, owing to adoption mobile, cloud, and new generation technologies. It has become highly essential to secure applications and authenticate users and maintain control over business-critical information to minimize the risk associated with the data breach.
Top impacting factors 
Increasing number of identity frauds  
Organizations across all industries continue to face a threat from cybercrimes on critical applications and infrastructure. The intricacy of cyberattacks increases daily. Threats may be from the outside world or from within the company, like a rogue employee. These cyberattacks cause system failures, data breaches, and financial losses. Eventually corporations have significant financial difficulties as these earnings, and their reputations are frequently put at risk. By resulting in payment stoppage, bank account fraud, and service degradation, these schemes have the ability to harm client relationships and erode trust. In addition to reputational harm and financial losses, organizations may suffer indirect costs like a drop in productivity, low employee morale, and a deterioration of the brand image. Due to the growing threat of cyberattacks, identity management increasingly plays a key driver in an organization's IT operations. When used by all businesses, IDaaS can lessen the possibility of these frauds and the associated financial damage. 
Enhanced integration with IoT devices  
IDaaS frameworks are changing to support Identity of Things. To address the problems unique to loT, IDaaS providers are continuously enhancing their existing solutions and services with device-centric capabilities. In order to provide a single IDaaS solution that includes an integrated solution for employee, customer, and loT solution, suppliers are rearranging their product portfolio. Market dynamics and technological advancement are anticipated to change with the entry of multiple device-centric IDaaS providers and anticipated mergers and acquisitions in this space. On the other hand, the IoT IDaaS industry is still in its infancy, with a number of providers rearranging their unified IDaaS solutions to meet the demand for IoT IDaaS solutions. Additionally, various small-scale projects are being undertaken by the specialized loT IDaaS providers to demonstrate the legitimacy and efficacy of a solution that has been specifically designed for loT IDaaS. The IoT IDaaS market is anticipated to develop into an integrated loT security solution that will feature an integrated root-of-trust solution, device-centric identity and access management, end-to-end data security, thorough device visibility and granular access control, among other things. Continued emphasis and spending on digital transformation initiatives across industrial sectors and geographic regions as well as the rising acceptance of next-generation wireless technologies like LP WAN, 56, and Gigabit LTE are further drivers driving the market's expansion.
Key Benefits For Stakeholders
This report provides a quantitative analysis of the market segments, current trends, estimations, and dynamics of the identity as a service market analysis from 2021 to 2031 to identify the prevailing identity as a service market opportunities.
The market research is offered along with information related to key drivers, restraints, and opportunities.
Porter's five forces analysis highlights the potency of buyers and suppliers to enable stakeholders make profit-oriented business decisions and strengthen their supplier-buyer network.
In-depth analysis of the identity as a service market growth segmentation assists to determine the prevailing market opportunities.
Major countries in each region are mapped according to their revenue contribution to the global market.
Market player positioning facilitates benchmarking and provides a clear understanding of the present position of the market players.
The report includes the analysis of the regional as well as global identity as a service market trends, key players, market segments, application areas, and market growth strategies.
 Identity as a Service Market Report Highlights
Aspects
Details
Market Size By 2031
USD 53 billion
Growth Rate
CAGR of 25.2%
Forecast period
2021 - 2031
Report Pages
466
By Component

Provisioning
Single-Sign-On (SSO)
Multi-Factor Authentication (MFA)
Audit, Compliance and Governance
Directory Services
Password Management

By Deployment Type

Public cloud
Private cloud
Hybrid cloud

By Enterprise Size
By Industry Vertical

BFSI
IT and Telecom
Manufacturing
Government and Public Sector
Energy and Utilities
Healthcare
Others

By Region

North America (U.S., Canada)
Europe (UK, Germany, France, Italy, Spain, Rest of Europe)
Asia-Pacific (China, India, Japan, Australia, South Korea, Rest of Asia-Pacific)
LAMEA (Latin America, Middle East, Africa)

Key Market Players
Oracle Corporation, SailPoint Technologies, Thales, OneLogin, Inc., Ping Identity, Google LLC, Okta, Microsoft Corporation, International Business Machines Corporation, CyberArk