Image Recognition Market Statistics: 2025
Image recognition technology is the process of identifying and detecting an object or a feature in a digital image or video. The field of image recognition has gained widespread acclaims in the past few years. Image recognition system uses the data shared by users through various platforms such as social networks, apps, and websites. It uses a technology that detects places, people, items, buildings, logos, and different variables in pictures with the help of artificial intelligence. This concept is used in many applications such as smart photo libraries, targeted advertising, security surveillance, toll booth monitoring, and systems for factory automation. Numerous companies, such as Microsoft, Google, Facebook, Apple, and Pinterest have invested heavily in research to develop image recognition and related applications. The global image recognition market size was valued at $17,911 million in 2017, and is projected to reach $86,001 million by 2025, growing at a CAGR of 21.8% from 2018 to 2025.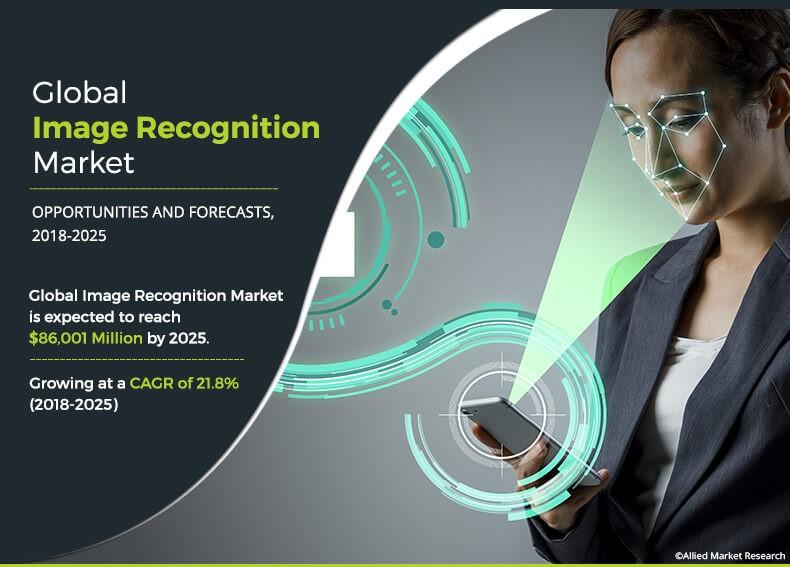 Get more information on this report: 
The cloud segment dominated the overall image recognition market share in 2017 and is expected to continue this trend during the forecast period, owing to its increased adoption in verticals such as media and entertainment, banking, financial services, and insurance (BFSI), and government. Moreover, numerous organizations have been implementing cloud-based image recognition solutions to secure confidential data and reinforce their marketing endeavors, which drive the growth of the market.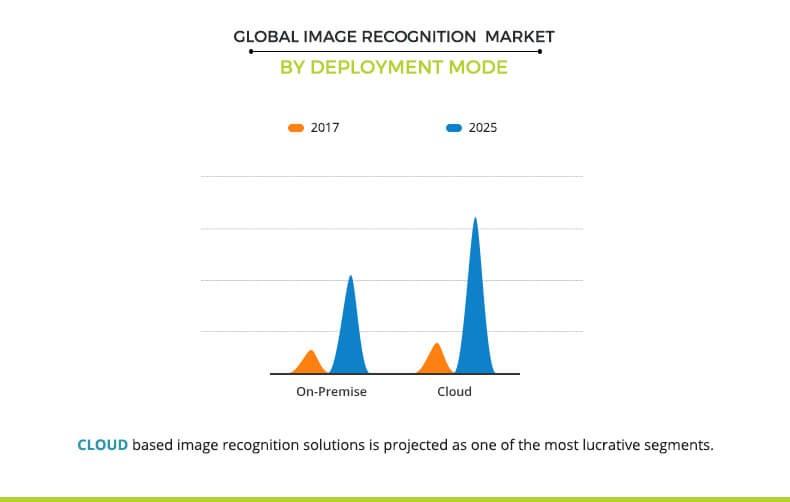 Get more information on this report: 
The retail segment dominated the overall image recognition market in 2017 and is expected to continue this trend during the forecast period owing to its increased adoption in this industry to drive in-store promotion and consumer engagement.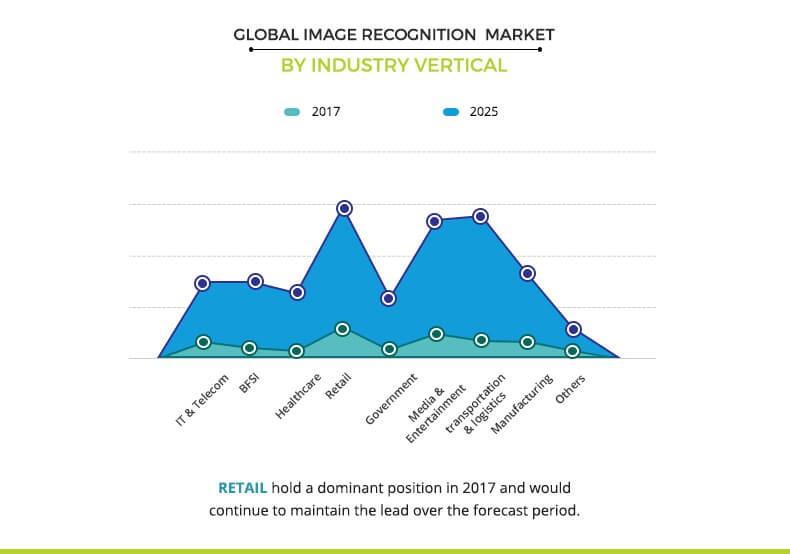 Get more information on this report: 
The facial recognition technology is expected to witness the highest growth rate in the upcoming years owing to increase in its usage in both law enforcement and non-law enforcement applications. For instance, Western Australia is planning to implement facial recognition technology for enforcing bans on purchasing alcohol by certain individuals.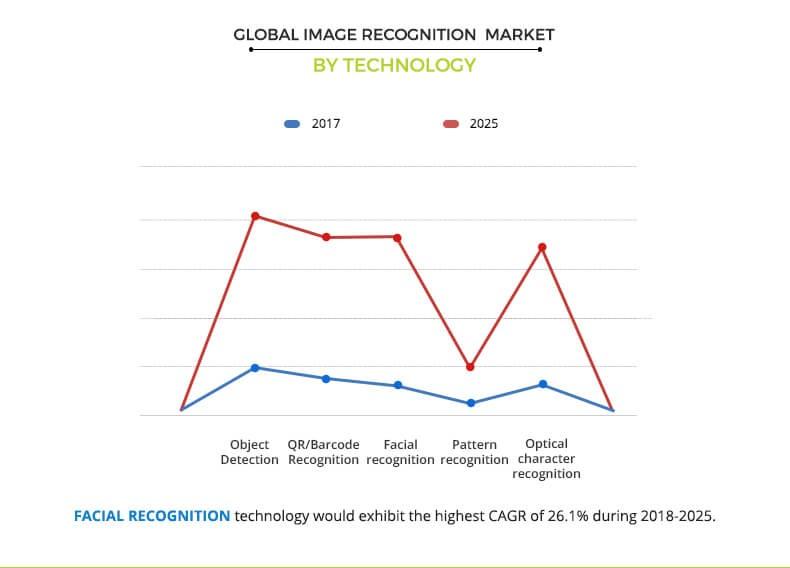 Get more information on this report: 
North America dominated the overall image recognition market in 2017, owing to the rise in the number of electronic gadgets and smartphone users integrated with image recognition applications in this region. However, Asia-Pacific is expected to witness the highest growth rate during the forecast period primarily due to the growing trend towards e-governance in the region.
The report focuses on the growth prospects, restraints, and trends of global image recognition market analysis. The study provides Porters five forces analysis of the image recognition industry to understand the impact of various factors such as bargaining power of suppliers, competitive intensity of competitors, the threat of new entrants, threat of substitutes, and bargaining power of buyers, on the growth of the image recognition market.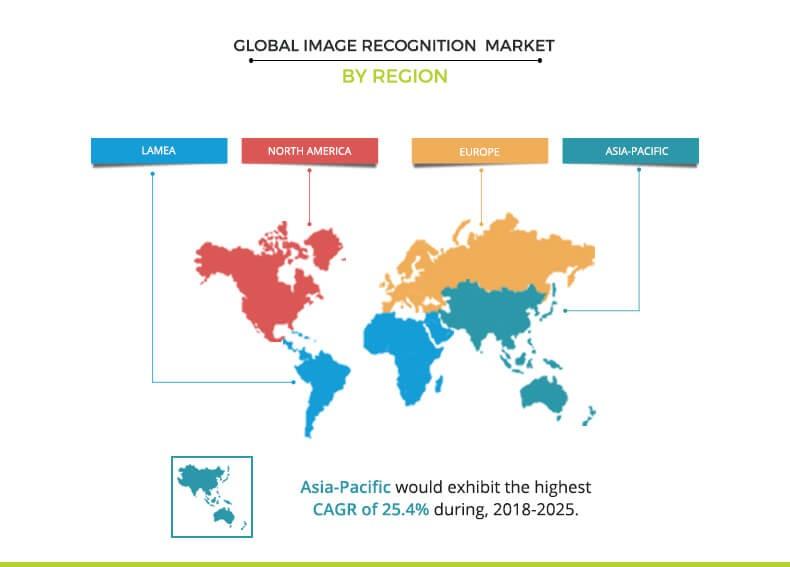 Get more information on this report: 
Segment review
The global image recognition market is segmented based on deployment mode, component, industry verticals, technology, applications, and regions. Based on deployment mode, the market is bifurcated into cloud and on premise. In terms of component, the market is categorized into hardware, software, and services. In terms of industry verticals, the market is classified into IT & telecom, BFSI, healthcare, retail, government, media & entertainment, transportation & logistics, manufacturing, and others. Based on technology, the market is segmented into object detection, QR/barcode recognition, facial recognition, pattern recognition, and optical character recognition. Based on application, it is divided as scanning & imaging, security & surveillance, image search, augmented reality, marketing & advertisement. Based on the region, the market is analyzed across North America, Europe, Asia-Pacific, and LAMEA.
The key players operating in the global image recognition market include IBM Corporation, Imagga Technologies Ltd., Amazon Web Services, Inc., Qualcomm Incorporated, Google LLC, Microsoft Corporation, NEC Corporation, LTU technologies, Catchoom Technologies S.L., and Intel Corporation.
Top impacting factors
The rise in popularity of media cloud services, technological advancements in facial recognition technology, surge in mobile devices equipped with cameras and increase in demand for security applications and products enabled with image recognition functions drive the market growth. However, high initial cost of installation would hamper the image recognition market growth during the forecast period. Furthermore, supportive regulations that mandate the use of image recognition solutions and rising demand of image recognition in healthcare industry are expected to provide lucrative opportunities for the market.
Technological advancements in facial recognition technology
Face recognition is widely accepted in government applications, but has gained more prominence in commercial applications. Recent research and development (R&D) efforts have resulted in considerable improvements in technology, which drives the growth of the facial recognition segment. For instance, emergence of advanced 3D facial recognition, and facial analytics address the limitations of 2D recognition systems. Moreover, deployment of face recognition biometrics for surveillance purpose has increased for identifying terrorists and criminals without imposing on an individuals privacy in public places. Moreover, implementation of face recognition technology for machine-readable travel documents (MRDs) such as biometric passports and visas, has resulted in wide acceptance of this technology, which fuels the growth of the image recognition market.
Supportive regulations that mandate the use of image recognition solutions
Supportive regulations such as health insurance portability and accountability act (HIPAA), which mandate the use of these solutions require the healthcare providers to use electronics health records (EHR). It has the advantage of easy access to files from any computer. However, it requires the authorized people who can access the data, in which facial recognition technology plays a crucial role in identifying and authentication. Moreover, in the retail sector, many countries have initiated e-Payment drives such as by India and Thailand. As the e-Payment or cashless transaction increases, the necessity to secure trade is of paramount importance. Hence, payment service providers and mobile segments are integrating image recognition solutions for authentication, which boosts the image recognition industry growth. For instance, in March 2015, E-commerce giant, Alibaba Group, and online payment service, Alipay, have integrated facial recognition technology to take the place of passwords for online payments. Moreover, in December 2017, Intel and Foxconn planned to launch "pay via face identification" technology, which is expected to allow consumers to make payments for entertainment and retail services using Intel's multi-access edge computing 5G solution along with advanced facial-recognition technology and artificial intelligence.
Impact of covid-19 on Image Recognition Market:
With different ways emerging to diagnose Covid-19 disease, scientists and researchers have been utilizing chest X-ray images for image recognition and classification with the help of convolutional neural networks (CNNs).
Governments of many countries have been using facial recognition technology to prevent the spread of coronavirus through tracking patients that escape quarantine spaces, determining rise in temperature of infected individuals, and maintain social distancing regulations.
Offices, residential areas, shops, and malls in which facial recognition technology has been used for opening and closing of doors would help in reducing possibility of transmission.
Key Benefits for Image Recognition Market:
This study includes the analytical depiction of the global image recognition market trends and future estimations to determine the imminent investment pockets.
The report presents information related to key drivers, restraints, and opportunities.
The current image recognition market is quantitatively analyzed from 2017 to 2025 to highlight the financial competency of the industry.
Porters five forces analysis illustrates the potency of buyers & suppliers in the global image recognition industry.
 Key Market Segments & Key Market Players
Segments
Sub-segments
By Deployment Mode
By Component

Hardware
Software
Service

By Industry Vertical

IT & Telecom
BFSI
Healthcare
Retail
Government
Media & Entertainment
Transportation & Logistics
Manufacturing
Others

By Technology

Object Detection
QR/Barcode Recognition
Facial Recognition
Pattern Recognition
Optical Character Recognition

By Application

Scanning & Imaging
Security & Surveillance
Image Search
Augmented Reality
Marketing & Advertising

By Region

North America (U.S, Canada, Mexico)
Europe (UK, Germany, France, Italy, Russia, Rest of Europe)
Asia-Pacific (China, India, Japan, Singapore, Australia, South Korea, Rest of Asia-Pacific)
LAMEA (Latin America, Middle East, Africa)

Key Market Players
AMAZON WEB SERVICES, INC. (AMAZON.COM, INC), CATCHOOM, GOOGLE (ALPHABET INC.), INTERNATIONAL BUSINESS MACHINES CORPORATION (IBM), IMAGGA TECHNOLOGIES LTD., INTEL CORPORATION, LTU TECHNOLOGIES, MICROSOFT CORPORATION, NEC CORPORATION, QUALCOMM TECHNOLOGIES, INC.