Implantable Cardiac Monitors Market Statistics - 2030
The global implantable cardiac monitors market was valued at $500.02 million in 2020, and is projected to reach $974.42 million by 2030, growing at a CAGR of 7.2% from 2021 to 2030. Implantable cardiac monitor (ICM) is a small electrophysiology (EP) device that is used for long-term monitoring of heart electrical activity of a patient to detect arrhythmias. The technology can eliminate the need for a bulky external Holter monitor that requires wire attached to the patient. ICMs can be inserted under the skin during the office visit and record cardiac data continuously for up to 4.5 years. It allows doctor to remotely monitor the heartbeat while performing daily activities. Some of the examples of the ICMs primarily include reconstructive joint replacements, cardiac pacemakers, defibrillators, stents, valves, electrical leads/batteries, tissue-engineered constructs, and drug delivery systems. In addition, it is called as cardiac event recorder that is placed under the chest skin by performing a minor surgery. Implantable loop recorder can capture information that a standard electrocardiogram (ECG) or Holter monitor may miss, particularly arrhythmias that are brief or infrequent. Implantable loop recorder monitors heartbeat for longer time, hence, is expected to capture condition of heart if the patient faints. Information from an implantable loop recorder help the doctor confirm a diagnosis and develop treatment plan.
The COVID-19 pandemic restrained the industry growth significantly, owing to decline in demand for ICMs. All routine implantable surgeries were suspended in countries during the pandemic as medical professionals, auxiliaries, as well as patients undergoing implant procedures have high risk of cross-infection in the COVID-19 pandemic. Thus, the outbreak of COVID-19 has negatively impacted the implantable cardiac monitors market size.
The growth of the implantable cardiac monitors market share is driven by longevity offered by this device, implantable nature of this monitor which does not require patient to be admitted to hospital, and patient can be monitored while performing his or her daily activities. Moreover, increase in incidence of patients suffering from atrial fibrillation, rise in prevalence of myocardial infraction, and surge in unhealthy lifestyle contribute toward the implantable cardiac monitors market trends. However, availability of alternative mode of treatment and inflated cost of this device are expected to hinder the implantable cardiac monitors market growth. Conversely, increase in awareness among patients about these devices and treatment options for management of cardiac disorders is expected to provide lucrative opportunities for the growth of implantable cardiac monitors industry.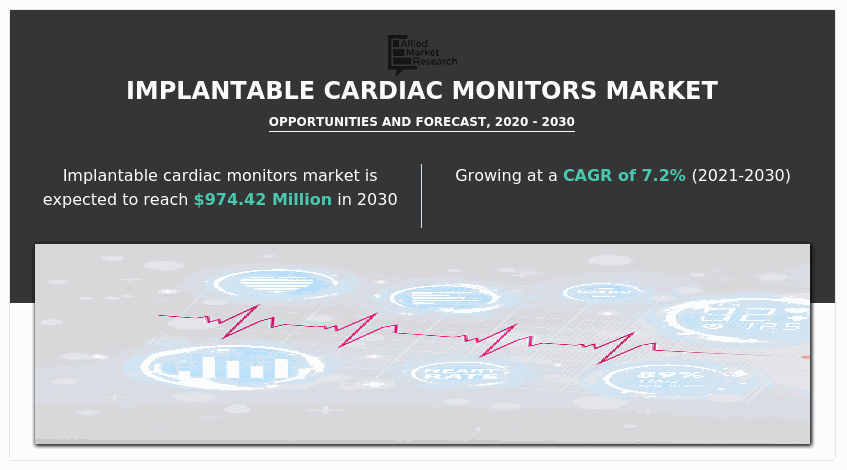 The global implantable cardiac monitors market size is segmented on the basis of indication, end user, and region. Depending on indication, it is categorized into cardiac arrhythmias, atrial fibrillation, and epilepsy & unexplained falls. According to end user, it is classified into hospitals and clinics, home settings, and ambulatory surgical centers. Region wise, it is analyzed across North America, Europe, Asia-Pacific, and LAMEA.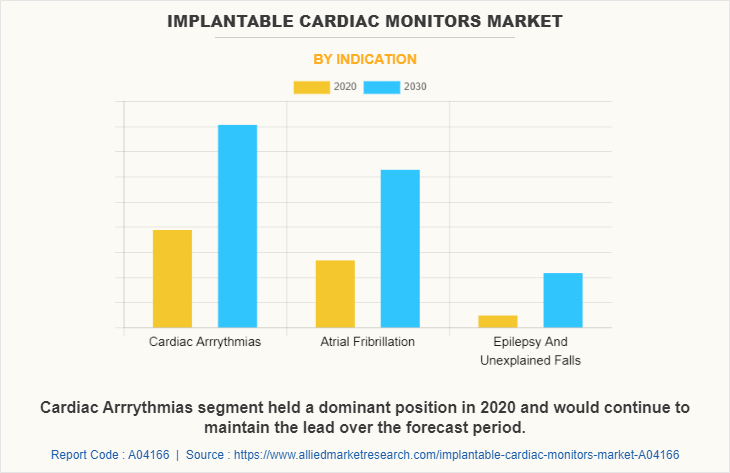 Depending on the indication, cardiac arrhythmias segment dominated the implantable cardiac monitors market size in 2020 and is anticipated to remain dominant during the forecast period. Cardiac arrhythmias accounted for a significant share, due to the growth in incidences of cardiac arrhythmias and high mortality rate for these cardiac arrhythmias. For instance, according to WHO, an estimated 17.7 million individuals die each year due to cardiac arrhythmias, which is projected to be 31% of all deaths globally. This increase in cardiac arrhythmias globally is expected to create demand for implantable cardiac monitors, which would further create lucrative opportunities for key market players globally.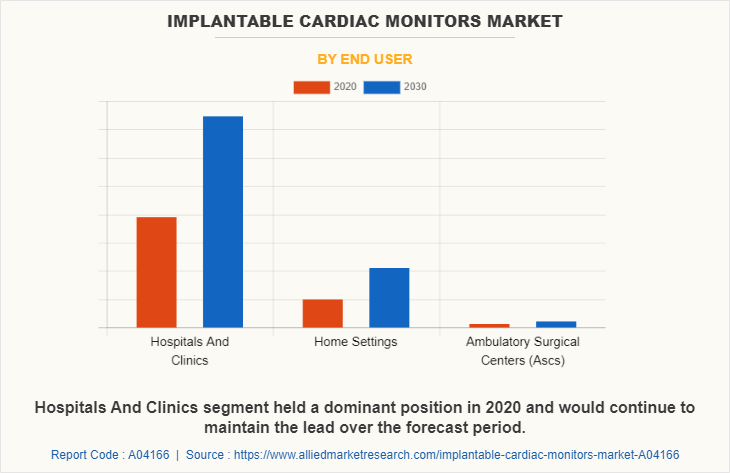 According to end user, hospitals and clinics dominated the market in 2020, and is anticipated to remain dominant during the forecast period, due to devices cannot be operated outside the hospitals and require trained professionals for carrying out the surgery. Also, high usage of cardiac monitoring devices in hospitals and clinics for acute care, non-acute care, and non-treatment purposes drives the hospital segment in forecast period.
The global implantable cardiac monitors market based on region is segmented into North America, Europe, Asia-Pacific and LAMEA. North America dominated the market in 2020 and is expected to remain dominant throughout the implantable cardiac monitors market forecast period. This is attributed to increase in incidence of chronic heart diseases, surge in demand for implantable cardiac devices, rise in availability of advanced healthcare facilities with trained medical professionals, surge in number of R&D activities along with presence of key players, and growth in government investments in healthcare system. The U.S. implantable cardiac monitor market accounted for the majority share of the North American market in 2020, owing to unhealthy lifestyles of the people leading to cardiovascular disorders, and growth in aging population, which is highly susceptible to such abnormalities.
However, Asia-Pacific is expected to experience highest growth rate during the forecast period. Moreover, Japan and China are expected to grow at highest CAGR in Asia-Pacific implantable cardiac monitors market, due to improvement in healthcare infrastructure, rise in number of hospitals equipped with advanced instruments, development of the R&D sector, rise in healthcare reforms, and technological advancements in the field of implants.
The report provides a comprehensive analysis of the key players operating in the global implantable cardiac monitors market such as Abbott Laboratories, Biotronik SE & Co. KG, Boston Scientific Corporation, Edwards Lifescience Corporation, General Electric Company, Koninklijke Philips N.V., LivaNova PLC, Medtronic plc, Nihon Kohden Corporation and Phoenix Heart Center. The other players of the global implantable cardiac monitors market include Astellas Pharma, Inc., Sigma-Aldrich Corporation, Agilent Technologies, Inc., ReliantHeart Inc., Abiomed, Inc., Basilea Pharmaceutical Ltd., Berlin Heart GmbH, Schiller AG, and Jarvik Heart, Inc.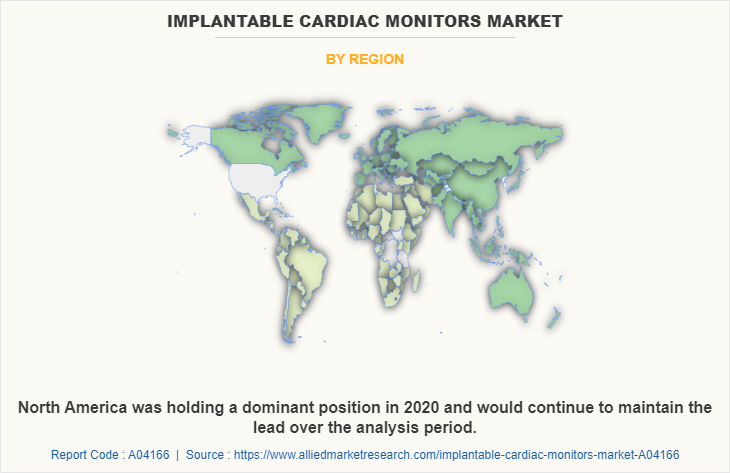 Key Benefits For Stakeholders
This report provides a quantitative analysis of the market segments, current trends, estimations, and dynamics of the implantable cardiac monitors market analysis from 2020 to 2030 to identify the prevailing Implantable Cardiac Monitors Market opportunity.
The market research is offered along with information related to key drivers, restraints, and opportunities.
Porter's five forces analysis highlights the potency of buyers and suppliers to enable stakeholders make profit-oriented business decisions and strengthen their supplier-buyer network.
In-depth analysis of the implantable cardiac monitors market segmentation assists to determine the prevailing market opportunities.
Major countries in each region are mapped according to their revenue contribution to the global market.
Market player positioning facilitates benchmarking and provides a clear understanding of the present position of the market players.
The report includes the analysis of the regional as well as global implantable cardiac monitors market trends, key players, market segments, application areas, and market growth strategies.
 Implantable Cardiac Monitors Market Report Highlights
Aspects
Details
By Indication

Cardiac Arrrythmias
Atrial Fribrillation
Epilepsy And Unexplained Falls

By End User

Ambulatory Surgical Centers (Ascs)
Hospitals And Clinics
Home Settings

By Region

North America (U.S., Canada, Mexico)
Europe (Germany, France, United Kingdom, Italy, Spain, Rest of Europe)
Asia-Pacific (Japan, China, Australia, India, South Africa, Rest of Asia-Pacific)
LAMEA (Brazil, Saudi Arabia, South Africa, Rest of LAMEA)

Key Market Players
ABBOTT LABORATORIES, EDWARDS LIFE SCIENCE CORPORATION, Boston Scientific Corporation