Implantable Defibrillators Market Overview 2030:
The global Implantable Defibrillators market size was valued at $3,300.00 million in 2020, and is projected to reach $5,612.62 million by 2030, registering a CAGR of 5.3% from 2021 to 2030. An implantable cardioverter-defibrillator (ICD) is a small battery-powered device placed in the chest to detect and stop irregular heartbeats (arrhythmias). An ICD continuously monitors the heartbeat and delivers electric shocks, when needed, to restore a regular heart rhythm. Patients need an ICD if they have a dangerously fast heartbeat that keeps the heart from supplying enough blood to the rest of the body (such as ventricular tachycardia or ventricular fibrillation) or if user is at high risk of such a heart rhythm problem (arrhythmia), usually because of a weak heart muscle.
The COVID-19 outbreak is anticipated to have a positive impact on growth of the global Implantable Defibrillators market. Rise in heart patients and cardiovascular diseases and as they are highly prone to get infected by COVID-19, and risk of sudden cardiac arrest (SCA) in COVID-19 patients are propelling the growth of the implantable defibrillators market during the pandemic.
An ICD differs from a pacemaker, which is an implantable device that can prevent dangerously slow heartbeats. A traditional ICD is implanted in the chest and the wires (leads) attach to the heart. Implant procedure requires invasive surgery. Whereas, a subcutaneous ICD (S-ICD) is another option, which is implanted under the skin at the side of the chest below the armpit. It is attached to an electrode that runs along the breastbone. An S-ICD is larger than a traditional ICD but does not attach to the heart.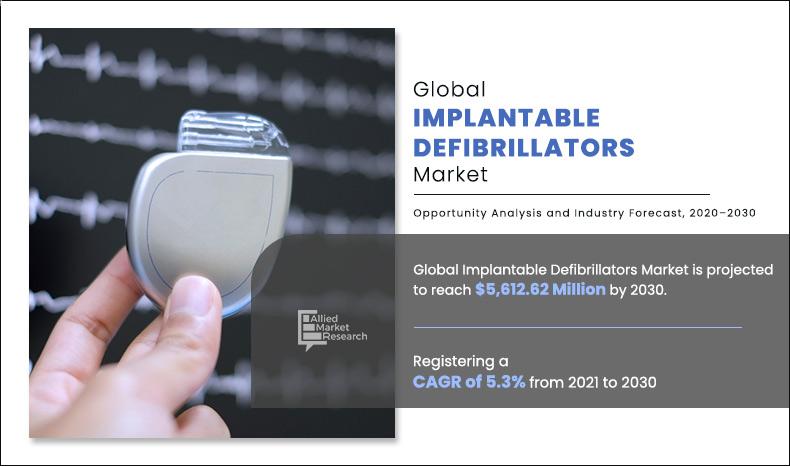 The demand for implantable defibrillators is expected to increase globally during the forecast period, owing to rapid increase in geriatric population and rise in incidences of sudden cardiac arrest (SCA). However, factors such as lack of awareness toward the advantages of using implantable defibrillators, high cost of implantable defibrillators, and unfavorable reimbursement policies are anticipated to hamper the implantable defibrillator market growth. Rise in demand for ICDs for patients with nonischemic cardiomyopathy reduces the risk of mortality to around 23%, which is expected to offer new opportunities for the market players. The impact of driving factors is expected to surpass that of the restraints. Moreover, emergence of new technologies and increase in adoption of S-ICDs are anticipated to provide new growth opportunities in the future.
Impact of COVID-19 Pandemic on Implantable Defibrillator Market (Pre & Post Analysis)
The COVID-19 pandemic has had a significant impact on the implantable defibrillators market.  The COVID-19 outbreak positively influenced growth of the market. Rise in cases of coronavirus across the globe put a heavy strain on the healthcare sector. Rise in heart patients and cardiovascular diseases and as they are highly prone to get infected by COVID-19, there is a strong growth of heart implants during the pandemic. COVID-19 can affect the cardiovascular system, resulting in myocardial injury, arrhythmias, intravascular thrombosis, and sudden cardiac death. Reports have suggested association between COVID-19 activity and cardiac arrests in the community and within in‐hospital settings. Life-threatening arrhythmias have been variably reported among patients hospitalized for COVID-19 infection. Sudden cardiac arrest (SCA) in COVID-19 patients is an alarming concern for clinicians, which has amplified demand for implantable defibrillators. Defibrillator shock episodes have increased during the higher COVID-19 activity.
Implantable Defibrillators Market SegmentationThe implantable defibrillator market in this report is studied on the basis of product type and region. On the basis of product type, the market is divided into transvenous implantable cardioverter-defibrillator (T-ICDs), subcutaneous implantable cardioverter defibrillators (S-ICDS), and cardiac resynchronization therapy defibrillator (CRT-D). Region wise, it is analyzed across North America, Europe, Asia-Pacific, and LAMEA.
Implantable Defibrillators Market

---
By Product Type
Subcutaneous Implantable Cardioverter Defibrillators (S-Icds) segment held a dominant position in 2020.
Get more information on this report :
Request Sample Pages
Segment review
By product type, the transvenous implantable cardioverter-defibrillator (T-ICDs) segment currently dominates the global implantable defibrillators market and is expected to continue during the forecast period as T-ICDs are the most commonly used devices to treat heart disorders for higher precision and targeted functioning.
Region segment review
Region wise, North America dominated the market in 2020, owing to a rise in the incidence of sudden cardiac arrest (SCA), increase in the adoption of S-ICDs, high purchasing power, and availability of advanced healthcare facilities. However, Asia-Pacific is expected to witness considerable implantable defibrillator market growth during the forecast period due to its high population base, increasing disposable incomes, and improvement in patient awareness about ICD devices.
The major companies profiled in this report include Abbott, Biotronik SE & Co. KG, Boston Scientific Corporation, Fukuda Denshi Co. Ltd., Imricor Medical Systems, Koninklijke Philips N.V., LivaNova Plc Company, Medtronic Plc, Microport scientific corporation, and Nihon Kohden Corporation.
Implantable Defibrillators Market

---
By Region
Asia- Pacific region would exhibit the fastest CAGR of 6.0% during the forecast period.
Get more information on this report :
Request Sample Pages
Key Benefits For Stakeholders
The study provides an in-depth analysis of the global implantable defibrillator market along with the current trends and future estimations to explain the imminent investment pockets.
A comprehensive analysis of the factors that drive and restrict the implantable defibrillators market growth is provided in the report.
Comprehensive quantitative analysis of the industry from 2020 to 2030 is provided to enable the stakeholders to capitalize on the prevailing implantable defibrillator market opportunities.
Extensive analysis of the key segments of the industry helps to understand the application and products of implantable defibrillators used across the globe.
Key market players and their strategies have been analyzed to understand the competitive outlook of the implantable defibrillator market.
 Implantable Defibrillators Market Report Highlights
Aspects
Details
By Product Type

Transvenous Implantable Cardioverter-Defibrillator (T-ICDs)
Subcutaneous Implantable Cardioverter Defibrillators (S-ICDS)
Cardiac Resynchronization Therapy Defibrillator (CRT-D)

By Region

North America (U.S., Canada, Mexico)
Europe (Germany, France, UK, Italy, Spain, Rest of Europe)
Asia-Pacific (Japan, China, Australia, India, South Korea, Rest of Asia-Pacific)
LAMEA (Brazil, Saudi Arabia, South Africa, Rest of LAMEA)

By Key Market Players

Abbott
Biotronik SE & Co. KG
Boston Scientific Corporation
Fukuda Denshi Co. Ltd.
Imricor Medical Systems
Koninklijke Philips N.V.
Livanova Plc Company
Medtronic Plc
Microport Scientific Corporation
Nohen Kohden Corporation