Impression Die Forging Market Overview:
The Global Impression Die Forging Market size was $18,293.6 million in 2017, and is projected to reach $27,163.6 million in 2025, growing at a CAGR of 5.2% from 2018 to 2025.Impression die forging, also referred to as closed die forging, is a metal deformation process that employs pressure to compress a piece of metal to fill an enclosed die impression. In most of the impression die forging processes, a succession of impression dies are used to modify the material into the final desired shape or form. This process involves two dies, each containing a single impression or a series of multiple impressions that cut into each die. Typically, the bottom die is fixed in a set position and the upper die is generally raised at a height. While they are separated, desired quantity of metal is heated to a particular temperature and is positioned between them. Extreme amount of force is then applied to deform the metal, and it is forced to flow into the die chambers while the excess is removed. Two types of pressing equipment are generally used for impression die forging process: mechanical forging and hydraulic forging.
The global Impression Die Forging market for impression die forging is driven by the improving global economic conditions, innovations in components and manufacturing process, and developing end user industries. The market growth is restrained by the rising input metal and labor costs and high cost of impression die forging process.
Segment Overview
The global market for impression die forging is segmented based on component type, metal type, order type, end user industry, and geography. The market is analyzed across four regions namely, North America, Europe, Asia-Pacific, and LAMEA, along with their prominent countries. Based on component type, it is classified into landing gears, jet engine & turbine shafts, crankshafts, connecting rods, gears, and others. Other components segment accounted for dominant share of the market in 2017 and is expected to maintain its position throughout the forecast period. Few components considered under others segment include pistons, flanged connectors, axles, railway wheels, shrouds, valves, piston rods, piping products, cylinders, levers, impellers, shafts, and casing. By metal type, it is divided into steel alloys, titanium alloys, iron-based heat-resistant alloys, nickel-based alloys, and others. Steel is the most commonly used metal for closed die forging owing to its versatile properties that include ductility for load bearing components, high hardness for use as a cutting tool, malleability for machining, shaping & drilling operations, and high temperature resistance. Typically, steel refers to carbon steel and stainless steel.
Based on order type, the market is bifurcated into custom forgings and catalogue forgings. Custom forgings dominated the global market in 2017 and is estimated to grow at a CAGR of 5.2% during 2018-2025. Custom-forged components are used in aircraft, submarines, refineries, power-generating stations, space craft, processing plants, missiles, offshore oil rigs, pressure vessels, deep-sea submersibles, off-the-road equipment, scientific research equipment, and other specialized applications.
By geography, Asia-Pacific generated the maximum revenue, and is estimated to grow at a CAGR of 5.2%, followed by North America. China is one of the largest producers of forgings, and has developed them with high precision and efficiency.
Impression Die Forging Market Segmentation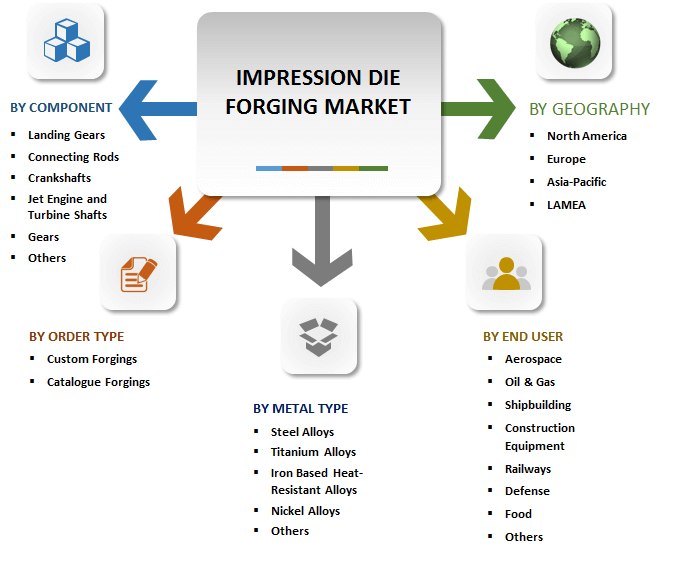 Top Impacting Factors for Impression Die Forging Market
Improving economic conditions: The growth of this market is associated with the economic and market conditions across the globe. Forging companies have developed lean, resilient, flexible, and adaptable operations to sustain the market competition. There is significant growth in end user industries such as aerospace, oil & gas, shipbuilding, construction equipment, and others. This has created high demand for closed die forged components among low cost manufacturing countries such as China and India. The impact of this factor is high in developed countries and is expected to have an impact on the markets in the developing countries in the near future.
Innovation in equipment and process: There has been an increase in demand for complex and innovative products in the fast developing end user market. Equipment suppliers have focused on developing new products with automated closed die forging process. These new machines have the capability to forge extra-large nickel- and titanium-based alloy parts for commercial aerospace applications. The impact of automation on the growth of the global impression die forging market is moderate in the present scenario, but is expected to increase during the forecast period.
Growth in end user industries: The key end user industries in the market include oil & gas, aerospace, shipbuilding, defense, and others. Increase in investments in these industries is expected to propel the demand for forged components. For instance, heavy investment in the oil & gas sector is expected to boost the demand for forged products such as drill heads and gas lift mandrels.
Increasing input costs: The impression die forging market operates under highly challenging market conditions due to volatile material prices and decreasing profit margins. Small- and medium-sized organizations that face difficulty in dealing with surge in prices of crude oil and metal, operate in this segment. However, dearth of skilled manpower could limit the market growth
Major players operating in this market include ATI, Aubert & Duval, Bharat Forge Limited, Bifrangi SpA, Böhler Schmiedetechnik GmbH & Co KG, Ellwood Group Inc., Mahindra Forgings Europe AG, Maschinenfabrik Alfing Kessler GmbH, Nippon Steel & Sumitomo Metal, Riganti Spa, SAMMI Metal Products Co. Ltd, Siderforgerossi Group S.p.A, Siepmann-Werke GmbH & Co. KG, and ULMA Lazkao Forging.
Key Benefits
This study provides an in-depth analysis of the global impression die forging market, along with current trends and future estimations to identify the potential investment pockets.
Key drivers, restraints, and opportunities and their impact analysis are elucidated in the report.
Porter's five forces analytical model illustrates the competitiveness of the market by analyzing various parameters such as threat of new entrants, threat of substitutes, strength of the buyers, and strength of the suppliers.
Value chain analysis signifies the key intermediaries involved and elaborates their roles and contribution to value addition at each stage.
Quantitative analysis of the current market and estimations from 2018 to 2025 is provided to highlight the financial competency of the market.
Impression Die Forging Market Key Segmentation:
The global impression die forging market is segmented on the basis of component type, metal type, order type, end user industry, and geography.
By Component Type
Landing Gears
Jet Engines & Turbine Shafts
Crankshafts
Gears
Connecting Rods
Others
By Order Type
Custom Forgings
Catalogue Forgings
By Metal Type
Steel
Titanium Alloys
Iron-Based Heat-Resistant Alloys
Nickel-Based Alloys
Others
By End User Industry
Aerospace
Oil & Gas
Shipbuilding
Construction Equipment
Railways
Defense
Food
Others
Key Players
ATI
Aubert & Duval
Bharat Forge Limited
Bifrangi SpA
Böhler Schmiedetechnik GmbH & Co KG
Ellwood Group Inc.
Mahindra Forgings Europe AG
Maschinenfabrik Alfing Kessler GmbH
Nippon Steel & Sumitomo Metal
Riganti Spa
SAMMI Metal Products Co. Ltd.
Siderforgerossi Group S.p.A
Siepmann-Werke GmbH & Co. KG
ULMA Lazkao Forging