India Aerospace Coating Market Overview:
The India aerospace coating market was valued at $80 million in 2016, and is projected to reach $130 million by 2023, growing at a CAGR of 7.2% from 2017 to 2023.
In the aerospace industry, protective coatings are employed to offer high resistance against corrosion, solar heat & UV rays, fog, and climatic stress, which are responsible for causing wear & tear of metal surfaces. In addition, they reduce the overall weight of the aircraft, which leads to reduced CO2 emission. Commercial aviation, military aviation, and general aviation makes use aerospace coatings to reduce maintenance cost and overall weight to meet the emission standards. Specialized resins such as polyurethane resins, epoxy resins, and others such as silicone, polyester, and acrylic are used as aerospace coating materials.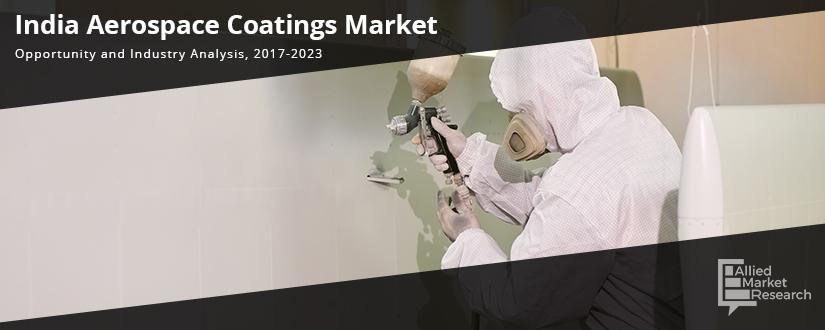 Growth of aviation industry in India has been a major driver for the India aerospace coating market. Furthermore, development of chromium-free technology has surged the demand for aerospace coatings in India. However, fluctuating raw material prices and harmful environmental impact of chromium & lead-based heavy metals have hampered the market growth. On the contrary, the use of nanotechnology in the manufacturing of aerospace coating is expected create new opportunities for the market growth.
The report segments the India aerospace coating market based on resin type, technology, user type, end-use industry, and application. On the basis of resin type, the market is divided into epoxy, polyurethane, and other. Depending on technology, it is classified into solvent-based, water-based, powder, and others. By user type, it is categorized into original equipment manufacturer and maintenance, repair, and overhaul. According to end-use industry, it is fragmented into commercial aviation, military aviation, and general aviation. By application, it is bifurcated into exteriors and interiors.
The India aerospace coatings market is highly consolidated with operating key players such as Akzonobel N.V., BASF SE, Henkel AG, Hentzen Coatings, Inc., IHI Ionbond AG, Mankiewicz GEBR, Mapaero, PPG Industries, INC, The Sherwin-Williams Company, and Zircotec Ltd.
India Aerospace Coating Market Share, by Technology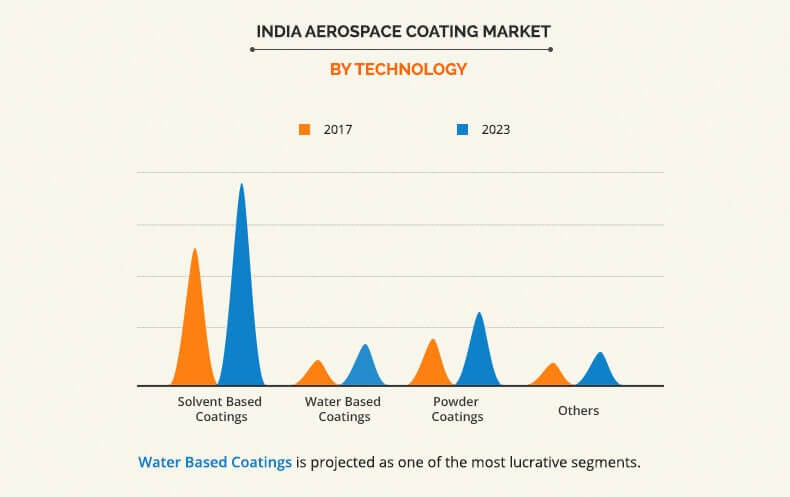 Water-based coatings is anticipated to witness high growth rate during the forecast period, owing to ease of clean up, lower VOCs, decreased fire hazard, and less requirement of petroleum-based raw materials in coatings.
India Aerospace Coating Market, by Resin Type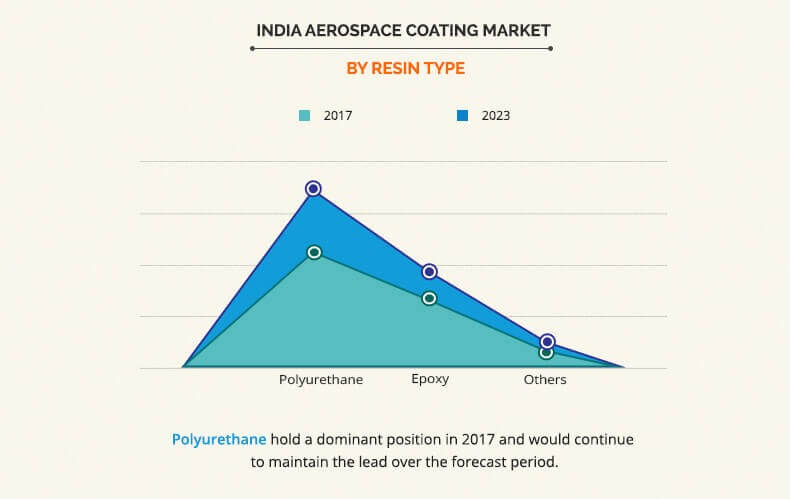 Polyurethanes is projected to be the most lucrative segment, as they offer more defense against chemical, staining, and abrasions as compared to other coatings. Moreover, it acts as a UV inhibitor to protect aircraft from corrosive effects of UV rays. In addition, it is durable as well as elastic, and does not crack under excessive pressure even if the fillers underneath experience cracks.
India Aerospace Coating Market, by End-use Industry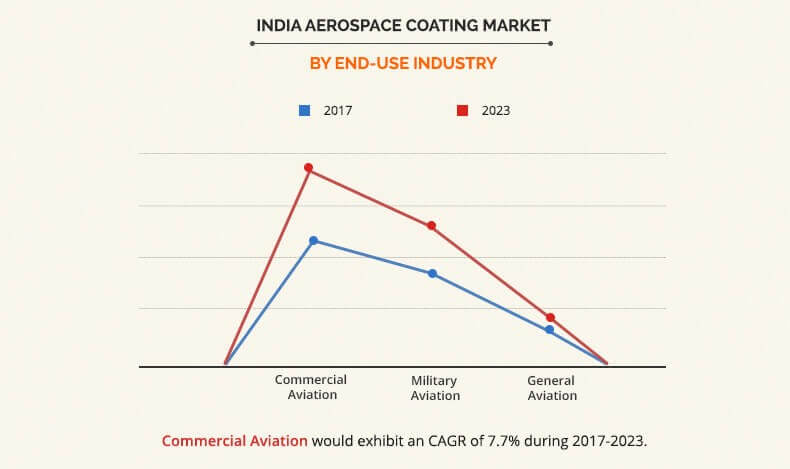 Based on end-use industry, the commercial aviation segment is estimated to grow at the highest CAGR during the forecast period. Increase in number of air travelers, rise in cargo traffic, and upsurge in international trade have boosted the demand for coatings in the commercial aviation industry, thereby supplementing the growth of the India aerospace coatings market.
Key Benefits for India Aerospace Coating Market:
Porter's five forces analysis helps to analyze the potential of buyers & suppliers and the competitive scenario of the industry for strategy building.
It outlines the current trends and future scenario of the market from 2017 to 2023 to understand the prevailing opportunities and potential investment pockets.
Major countries in each region have been mapped according to their individual revenue contribution to the global/regional market.
The key drivers, restraints, and opportunities and their detailed impact analyses are elucidated in the study.
The profiles of key players along with their key strategic developments are enlisted in the report.
 India Aerospace Coating Market Report Highlights
Aspects
Details
By Resin Type

Epoxy
Polyurethane
Others

By Technology

Water based
Solvent based
Powder coating
Others

By User Type

Original Equipment Manufacturer
Maintenance, Repair, & Overhaul

By End Use Industry

Commercial Aviation
Military Aviation
General Aviation

By Application
Key Market Players
AkzoNobel N.V., BASF SE, Henkel AG & Co. KGaa, Hentzen Coatings, Inc., IHI Ionbond AG., Mankiewicz Gebr. & Co., Mapaero, PPG Industries, Inc., The Sherwin-Williams Company., Zircotec