India Automotive Lighting Market Overview:
India Automotive Lighting Market is expected to garner $3.1 billion by 2022, registering a CAGR of 5.6% from 2016-2022. Lighting is a vital component in automotive vehicles, playing an important role in automotive safety. The vehicle consists of different lights to increase the visibility in darkness and bad weather conditions along with the increase in conspicuity. The lighting system comprises lighting and signaling devices, which are placed at different locations such as front, rear, side, and interiors. Lighting provides illumination for the driver and helps other vehicle drivers and pedestrians on the road to detect the vehicle's position, direction of movement, and size. It also enhances the aesthetic looks to both interior and exterior parts of the vehicle.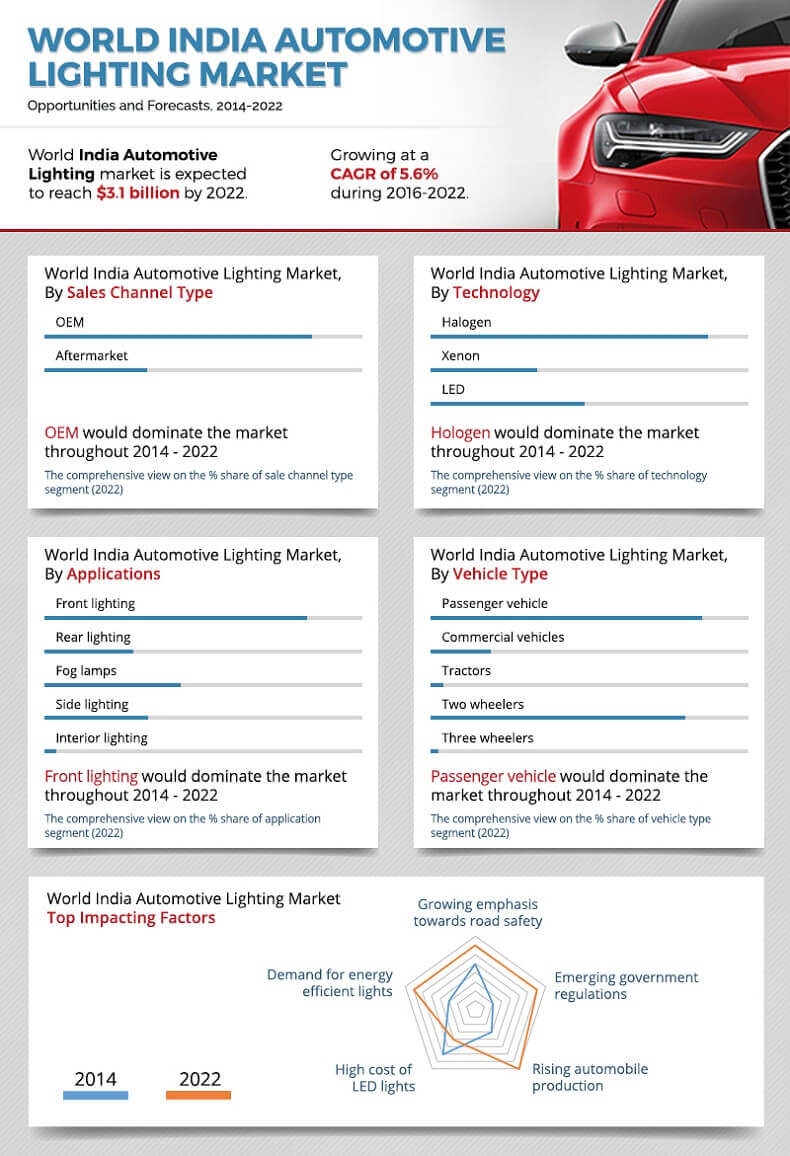 The Indian automotive lighting market has witnessed significant growth on account of increased automotive sales and economic growth. In addition, it is driven by increasing population and concerns about vehicle safety triggered by government regulations.
Key players profiled in the report include Koninklijke Philips N.V., Phoenix Lamps Limited, Lumax Industries Limited, Osram Licht AG, GE Lighting, Magneti Marelli S.p.A., Koito Manufacturing Co. Ltd., Hella KGaA Hueck & Co., Valeo, and Neolite ZKW Lightings Pvt. Ltd.
Top Impacting Factors
Growing emphasis towards road safety: Rising number of road accidents during bad weather conditions and night is the prime concern among vehicle drivers. This has risen the demand for reliable and brightened automotive lights. Therefore, the growing emphasis over enhanced road safety through high-performance automotive lights has created the need to develop advanced lights providing better illumination in the darkness. 
Emerging government regulations: The Indian government has formulated various regulations regarding sufficient installation of lighting equipment in passenger vehicles. Few regulations are still in the process of being laid down to improve the safety of vehicle in bad weather conditions. The regulations regarding energy-efficient vehicles support the installation of LED lights in vehicles. Thus, such regulations are expected to fuel the growth of the automotive lighting market.
Growing automobile sales: Automobile sales has witnessed notable growth rate in India. The revival of economy has particularly supported the growth in the recent past. This growing trend is expected to continue during the forecast period with sizeable demand of passenger vehicle and two-wheelers. Automotive lighting industry, which depends on the state of automotive industry for its growth, is expected to certainly benefit from this ongoing rising vehicle sale.
Numerous technological advancements were observed in the commercial automotive lighting through time. The automotive lighting market has witnessed the advent of incandescent lamps, halogen lamps, and xenon lamps owing to the technological innovations and developments. Currently, the segment for LED lighting technology is gaining widespread popularity worldwide. The following table depicts a comparison of the various technologies based on different parameters: 
Comparison of automotive lighting technologies
| Parameters | Halogen lamps | Xenon lamps | LED lights |
| --- | --- | --- | --- |
| Basic operating elements | Tungsten filament | Electrodes and xenon gas | Diodes |
| Average luminous efficacy | 11–20 lumen per watt | 70–100 lumen per watt | 80–110 lumen per watt |
| Life span | Nearly 3,000 hours | Nearly 20,000 hours | Nearly 50,000 hours |
Low purchasing and replacement cost along with the easy availability of halogens supplement the adoption of halogens in automotive lighting. Factors such as the enhanced aesthetics and longevity of halogen lamps are key factors that influence the halogen market. However, the high energy efficiency of LEDs is a key factor that is expected to limit the adoption of halogen lights during the forecast period. At present, a major factor that restricts the LED market growth is its expensive price; however, the ongoing technological advancements are anticipated to result in the lowered costs of LEDs in the future. This may lead to a decline in the sales of halogen lights towards the end of the analysis period, which is attributed to the increasing adoption of LEDs as an effective replacement for halogen lamps.
Halogen automotive lights are offered by all the leading players in India. Osram recently developed the Night Breaker Unlimited, a halogen automotive lamp with improved brightness, longer focus, and whiter light. These headlamps also provide better visibility and response time. Philips also offers a wide range of halogen automotive lamps with white, blue, and yellow illuminations.
Key Benefits:
The study provides an in-depth analysis of the India automotive lighting market, with current trends and future estimations to elucidate the imminent investment pockets.
The report provides information regarding key drivers, restraints, and opportunities with an impact analysis.
Porter's five forces and SWOT analysis of key market players highlight the growth strategies adopted by them.
The value chain analysis signifies the key intermediaries involved and elaborates their roles and value additions at every stage.
The quantitative analysis of the market from 2014 to 2022 is provided to elaborate the market potential.
 India Automotive Lighting Market Report Highlights
Aspects
Details
By Technology
By Vehicle Type

Passenger Vehicles
Commercial Vehicles
Two-Wheelers
Three-Wheelers
Tractors

By Application

Front/Headlamps
Rear Lighting
Side Lighting
Interior Lighting
Fog Lamps

By Sales Channel

Original Equipment Manufacturer (OEM) Product
Aftermarket Product

Key Market Players
Magneti Marelli S.p.A., Osram Licht AG, GE Lighting, Koito Manufacturing Co. Ltd., Hella KGaA Hueck & Co., Valeo, Koninklijke Philips N.V., Phoenix Lamps Limited, Lumax Industries Limited, Neolite ZKW Lightings Pvt. Ltd.