The India ceramic tiles market size was valued at $3,720.2 million in 2019, and is projected to reach $7,144.7 million by 2027, growing at a CAGR of 8.6% from 2020 to 2027. By volume, the India ceramic tiles market was 821 million square meter (MSM) in 2019, and is projected to reach 1,384 MSM by 2027, growing at a CAGR of 6.9% from 2020 to 2027.
Ceramic tiles are manufactured from clay for flooring choices. The ceramic tiles are made from raw materials such as kaolin, bentonite, sand, feldspar, and glass. They are most commonly used, owing to their features such as resistant to scratch, environment friendly, durable, and others. In addition, vitrified tiles are the type of ceramic tiles, which are used as alternative to granite and marble flooring. They are generally used for outdoor walls and flooring, owing to the properties such frost and water resistant.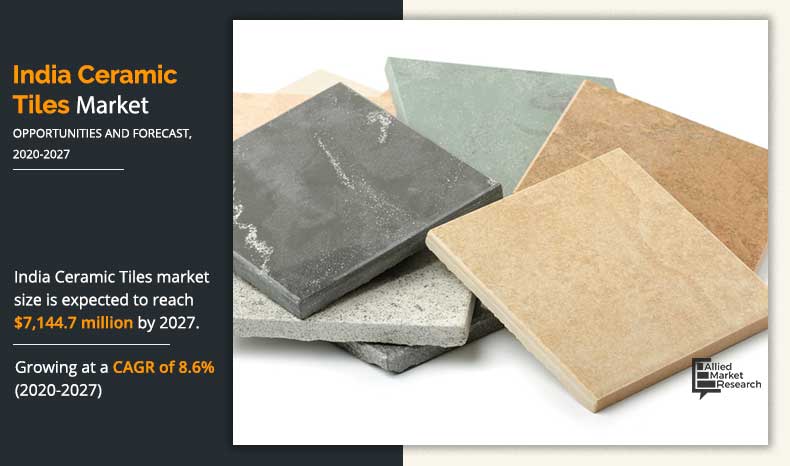 The Government of India has launched several programs which are helping tile industry to grow and flourish. The government has built more than 110 million toilets in the past 60 months to eliminate the open defecation in the country. Moreover, programs such as Swachh Bharat Mission (SBM) in urban and rural areas has successfully boost the ceramic tile industry, owing to the growing demand of small size tiles. After the implementation of government programs such as cluster development program (MSE-CDP) ceramic tile industry has witness around 6% to 8% growth annually. In addition, under the MSE-CDP scheme, the government offers aid for infrastructure expansion and development of other technological and backup service. Similarly, under the Credit Linked Capital Subsidy Scheme (CLCSS), the Government of India provides around 15% capital subsidy for development of plant and installation of machinery.
India Ceramic Tiles Market

---
By Type
Others segment is projected to grow at a highest CAGR
The growth in urbanization boost the demand for residential and commercial construction market in the country, which has fueled rapid growth for the India ceramic tiles market. The recovery and growth in the construction industry is one of the major factors that drive the growth of the India ceramic tiles market. High demand for residential and commercial structure has significant impact on the growth of the India ceramic tiles market. India is witnessing an absolute growth in urban population, owing to growing income levels of the middle-class and stable democracy. Moreover, nearly 10 million people are migrating to the urban area every year in India, which is expected to form 77 new cities with more than 1 million population by 2030. 
India Ceramic Tiles Market

---
By Application
Wall tiles segment holds dominant position in 2019
However, COVID-19 pandemic has shut-down the production of ceramic tiles in India, mainly owing to the prolonged lockdown in two quarters of year 2020. This has hampered the growth of  India ceramic tiles market  significantly from last few months, as is likely to continue during 2020. Moreover, the COVID-19 has already affected the residential and commercial construction industry in the first quarter of 2020 and is likely to cause a negative impact on the market growth throughout the year.
India Ceramic Tiles Market

---
By End-user
Residential segment holds a dominant position in 2019 and is expected to grow at a highest rate during the forecast period.
The Goods and Services Tax (GST), low tile replacement rate, and popularity of natural stones for flooring hinder the growth of the India ceramic tiles market. Furthermore, technological advancements in tile production machines and innovations in tile printing technologies such as 3D printing, digital printing, and others is expected to offer lucrative opportunities for the market players. Moreover, such technologies are supporting the companies to manufacture mosaics designs rectangular to hexagon shapes or large-format slabs. Furthermore, the development of ink-jet digital printing technology is creating lucrative opportunity for the market growth. For example, in August 2019, the Mumbai based Monotech Systems Limited developed Pixeljet UV wide-format series of printers, which provides seven varieties of wide-format for attractive tile printing.
The India ceramic tiles market is segmented on the basis of type, end user, application, and construction type. The market segmentation based on type includes ceramic, vitrified, and others. Based on application, the market is bifurcated into floor tiles and wall tiles. By end user, the market is segmented into residential and non-residential. Based on construction type, the market is bifurcated into new construction and renovation & replacement.
Competition Analysis
The key companies profiled in the India ceramic tiles market report include Kajaria, Somany, Prism Johnson, Asian Granito, RAK Ceramics, Simpolo, Varmora, Orient Bell Ceramics, Nitco Tiles, and Sun Heart.
The major players operating in the India ceramic tiles market have adopted key strategies such as product launch and business expansion to strengthen their market outreach and sustain the stiff competition in the market. For instance, in June 2019, Asian Granito India Ltd opened its display showroom with a wide range of tiles and sanitaryware at Himmatnagar, Gujarat. The 25,000 sq ft showroom will have an exclusive range of products such as ceramic tiles, vitrified tiles, outdoor, marble, composite marble, and others. The showroom has a wide range of 1,400 + products in all sizes and designs.
Key Benefits For Stakeholders
The report provides an extensive analysis of the current and emerging India ceramic tiles market trends and dynamics.  

In-depth India ceramic tiles market analysis is conducted by constructing estimations for the key segments between 2019 and 2027. 

Extensive analysis of the India ceramic tiles market is conducted by following key product positioning and monitoring of the top competitors within the market framework.

A comprehensive analysis of all the regions is provided to determine the prevailing opportunities.

The India ceramic tiles market forecast analysis from 2020 to 2027 is included in the report.

The key market players operating in the market are profiled in this report, and their strategies are analyzed thoroughly, which help understand the competitive outlook of the ceramic tiles market industry. 
India Ceramic Tiles Market Segments
By Type
By Application
By End User
Residential
Non-residential
By Construction Type
New Construction
Renovation & Replacement
Key Players
Kajaria
Somany
Prism Johnson
Asian Granito
RAK Ceramics
Simpolo
Varmora
Orient Bell Ceramics
Nitco Tiles
Sun Heart
 India Ceramic Tiles Market Report Highlights
Aspects
Details
By TYPE
By APPLICATION
By END USER

Residential
Non-Residential

By CONSTRUCTION TYPE

New Construction
Renovation & Replacement

Key Market Players
Kajaria Ceramic Ltd., RAK Ceramics., Sunshine Tiles Co Pvt Ltd., Nitco Limited, Somany Ceramics Ltd., Asian Granito India Ltd., Simpolo Ceramics Pvt Ltd., Prism Johnson Ltd, Varmora Granito Pvt Ltd., Orient Bell Limited.