COVID-19
Pandemic disrupted the entire world and affected many industries.
Get detailed COVID-19 impact analysis on the India Costume Jewelry Market
Request Now !
The India Costume Jewelry market size was valued at $1,788.6 million in 2019, and is estimated to reach $2,126.3 million by 2027, registering a CAGR of 7.0% from 2019 to 2027. 
Costume jewelry refers to a variety of decorative items worn for personal adornment that are produced as low-cost decorative elements to complement a specific fashionable outfit or garment. It is also known as trinkets, fake jewelry, fashion jewelry, fallalery or junk jewelry.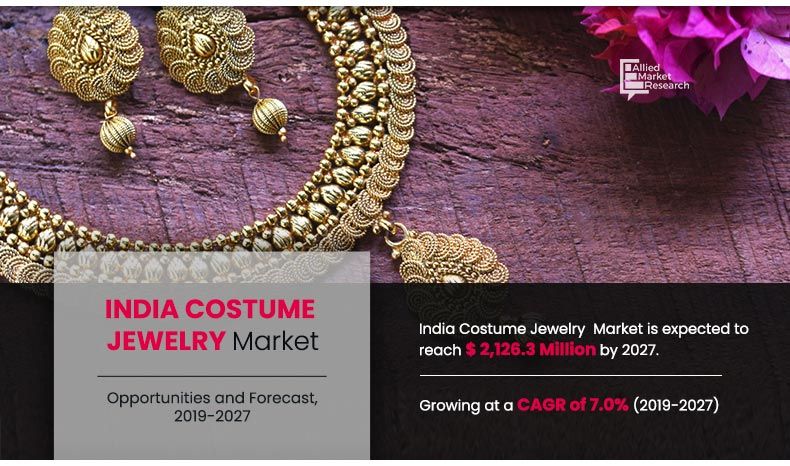 Get more information on this report : Request Sample Pages
In the last year, the demand for costume jewelry has increased by more than 80%. People, particularly women, have adopted higher grooming standards as a result of being influenced by daily soaps. They imitate the jewelry and costumes worn by television celebrities. Furthermore, with rising living standards and disposable income, customers undoubtedly prefer to purchase branded items. 
Due to the low cost of costume jewelry, it is much easier to build a collection for both casual and formal occasions. Working women, in general, prefer to change their jewelry (earrings, neckpieces, rings) to match their outfits. As gold prices have risen rapidly, so the popularity of costume jewelry has also increased.
When compared to authentic jewelry, costume jewelry is safer to wear. Customers feel more secure wearing fake jewelry in today's society, where theft and crime are on the rise. Costume jewelry is available in an infinite number of exquisite designs and can be purchased easily. 
Traditional jewelry cannot be altered to reflect current trends. Due to their low cost, costume jewelry, on the other hand, can be worn and discarded in accordance with current trends. Previously, women were the only ones who wore jewelry, but in recent years, men have taken an interest in adorning themselves with it. For the male gender, specially designed costume jewelry such as bracelets, rings, chains, pendants, and earrings are readily available.
Furthermore, a significant increase in product usage among the working population across the country will enhance market trends. Furthermore, thriving ecommerce activities and increased web penetration in remote areas have created a huge growth potential for untapped markets in rural areas, which will strengthen the India costume jewelry market growth over the forecast period. 
However, rising raw material costs, unorganized supply chain management activities, and changing trade laws will cause an impact on market growth over the forecasted period. Nonetheless, lower production costs of costume jewelry will help to reduce the negative impact on the market growth and open up new horizons of growth for the India costume jewelry market in the coming years. 
Costume jewelry has gained traction in the Indian market as a result of changes in lifestyle, an increase in disposable income, and a rise in the prices of precious metal jewelry, which contributes to the growth of the India costume jewelry market. Moreover, changes in jewelry packaging styles fuel the growth of the India costume jewelry market. Additionally, aggressive advertising and celebrity endorsement have aided the India costume jewelry industry's growth.
Women are no longer confined to their homes and have joined to the workforce in massive numbers as they have gained complete independence. Working women are a significant segment that contributes to the India costume jewelry market because they are either employed in high-level positions or own their own businesses. This results in more disposable income, but these women are usually busy and cannot visit boutique stores as frequently as they would like.
Online retailing is essentially women's savior because the variety and convenience it provides is simply unbeatable. Women can shop whenever and wherever they want with the click of a button. Another factor that cannot be neglected is the importance placed on personal appearance in today's corporate world.There is a growing desire among women to both look and feel good and this should make them look more closely at the India costume jewelry market.
India Costume Jewelry Market

---
By Product Type
Earrings

segment is expected to grow at highest CAGR of 8.0% during the forecast period
Get more information on this report : Request Sample Pages
Customers can now easily compare not only products and prices, but also design, service level, product origin, and even manufacturer or supplier details which is possible due to availability of internet, e-Commerce, and numerous online portals and review websites.The amount of information available, as well as the relevant details, have helped to make the India costume jewelry market far more transparent. As a result, an increasing number of customers are turning to the internet to fulfil their costume jewelry shopping needs.
The COVID-19 pandemic had a negative impact on the India costume jewelry market. India's rigorous social distancing and lockdown policies during the pandemic have resulted in a massive migration of workers from urban to rural areas. As a result, there was a labor shortage in the ornament manufacturing industry. Furthermore, the outbreak caused a decline in the rate of raw material import and export from one country to another, resulting high costs and scarcity of materials. 
The India Costume Jewelrymarket segmentation is done on the basis of type, gender, and mode of sale. Depending on type, the market is categorized intonecklaces & chains, earrings, rings, cufflinks & studs, bracelets and others.Based on gender, the India costume jewelry market is bifurcated into male and female.According to mode of sale, the India costume jewelry market is fragmented into retail sale and online sale.
India Costume Jewelry Market

---
By Gender
Female

segment is expected to grow at highest CAGR of 7.3% during the forecast period.
Get more information on this report : Request Sample Pages
By type, the earringssegment garnered the highestmarket share in 2020, as it is highly demanded by both end users that is men and women. On the basis of gender, the femalesegment is anticipated to dominate theIndia costume jewelrymarket share during the forecast period. This is attributed toongoing fashion trends that attract female group easily with various ornaments. Depending on distribution channel, the retail sale segment led the India costume jewelrymarket in 2020. This is attributed to the fact that Indian consumers prefer to shop jewelry from various retailers or retail shops as compared to online sales channel.
The prominent players operating in the India costume jewelryindustryinclude Avon Products Inc., Voylla, Zaveri Pearls, Pipa Bella, Sukkhi Fashion Jewelry, Romoch, Tanishq, Swarovski Group, Tribe Amrapali, Isharya, Yellow Chimes, Kushal's, Youbella, SIA, Peora, and Pooja Jewels. These major players are adopting number of strategies such as product launch, merger & acquisition, acquisition, joint venture, and partnership to create brand identity in the India Costume Jewelry market. 
India Costume Jewelry Market

---
By Mode of Sale
Retail Sale

segment is expected to grow at highest CAGR of 7.5% during the forecast period.
Get more information on this report : Request Sample Pages
Key Benefits For Stakeholders
This report provides a quantitative analysis of the current trends, estimations, and dynamics of the India Costume Jewelrymarket from 2021 to 2028 to identify the prevailing market opportunities.
Porter's five forces analysis highlights the potency of buyers and suppliers to enable stakeholders to make profit-oriented business decisions and strengthen their supplier–buyer network.
In-depth analysis of the market segmentation assists to determine the prevailing market opportunities.
Major countries in each region are mapped according to their revenue contribution to the global market. 
The market player positioning segment facilitates benchmarking while providing a clear understanding of the present position of the key market players.
The report includes analysis of the regional as well as the global market, key players, market segments, application areas, and growth strategies.
Key Market Segments
By Product Type
Necklaces & Chains
Earrings
Rings
Cufflinks & studs
Bracelets
Others
By Gender
By Mode of Sale
CHAPTER 1:INTRODUCTION
1.1.Report description
1.2.Key benefits for stakeholders
1.3.Key market segments
1.4.Research methodology
1.4.1.Primary research
1.4.2.Secondary research
1.4.3.Analyst tools and models
CHAPTER 2:EXECUTIVE SUMMARY
2.1.Key findings of the study
2.2.Snapshot of India costume jewelry market
2.3.CXO perspective
CHAPTER 3:MARKET OVERVIEW
3.1.Market definition and scope
3.2.Key findings
3.2.1.Top investment pockets
3.2.2.Top player positioning
3.2.3.Top impacting factors
3.3.Porter's five forces analysis
3.4.Market dynamics
3.4.1.Drivers
3.4.1.1.Rapid urbanization
3.4.1.2.Surge in online sales of jewelry
3.4.1.3.Changes in jewelry styles and attractive marketing strategies
3.4.1.4.Rise in number of fashion-conscious consumers
3.4.1.5.High prices of gold and silver jewelries
3.4.2.Restraints
3.4.2.1.Stringent regulations imposed on import and export of goods
3.4.2.2.Less durability of costume jewelry
3.4.3.Opportunities
3.4.3.1.Increase in demand for artificial jewelry products
3.4.3.2.Inclination toward automation
3.5.Parent/peer market overview
3.6.Supply chain analysis
3.7.Impact of COVID-19
CHAPTER 4:COSTUME JEWELRY MARKET, BY PRODUCT TYPE
4.1.Overview
4.1.1.Market size and forecast
4.2.Necklaces & chains
4.2.1.Key market trends, growth factors, and opportunities
4.2.2.Market size and forecast
4.3.Earrings
4.3.1.Key market trends, growth factors, and opportunities
4.3.2.Market size and forecast
4.4.Rings
4.4.1.Key market trends, growth factors, and opportunities
4.4.2.Market size and forecast
4.5.Cufflinks & studs
4.5.1.Key market trends, growth factors, and opportunities
4.5.2.Market size and forecast
4.6.Bracelets
4.6.1.Key market trends, growth factors, and opportunities
4.6.2.Market size and forecast
4.7.Others
4.7.1.Key market trends, growth factors, and opportunities
4.7.2.Market size and forecast
CHAPTER 5:COSTUME JEWELRY MARKET, BY GENDER
5.1.Overview
5.1.1.Market size and forecast
5.2.Male
5.2.1.Key market trends, growth factors, and opportunities
5.2.2.Market size and forecast
5.3.Female
5.3.1.Key market trends, growth factors, and opportunities
5.3.2.Market size and forecast
CHAPTER 6:COSTUME JEWELRY MARKET, BY MODE OF SALE
6.1.Overview
6.1.1.Market size and forecast
6.2.Retail sale
6.2.1.Key market trends, growth factors, and opportunities
6.2.2.Market size and forecast
6.3.Online sale
6.3.1.Key market trends, growth factors, and opportunities
6.3.2.Market size and forecast
CHAPTER 7:COMPETITION LANDSCAPE
7.1.Top winning strategies
7.2.Product mapping
7.3.Competitive dashboard
7.4.Competitive heat map
7.5.Key developments
7.5.1.Acquisition
7.5.2.Business Expansion
7.5.3.Product Launch
CHAPTER 8:COMPANY PROFILES
8.1.Avon Products, Inc. (Avon)
8.1.1.Company overview
8.1.2.Key executives
8.1.3.Company snapshot
8.1.4.Product portfolio
8.1.5.Business performance
8.2.Isharya
8.2.1.Company overview
8.2.2.Key executives
8.2.3.Company snapshot
8.2.4.Product portfolio
8.3.Kushal's
8.3.1.Company overview
8.3.2.Key executives
8.3.3.Company snapshot
8.3.4.Product portfolio
8.4.Peora fashion private limited
8.4.1.Company overview
8.4.2.Key executives
8.4.3.Company snapshot
8.4.4.Product portfolio
8.5.Pipa Bella
8.5.1.Company overview
8.5.2.Key executives
8.5.3.Company snapshot
8.5.4.Product portfolio
8.5.5.Key strategic moves and developments
8.6.Pooja Jewels
8.6.1.Company overview
8.6.2.Key executives
8.6.3.Company snapshot
8.6.4.Product portfolio
8.7.Romoch
8.7.1.Company overview
8.7.2.Key executives
8.7.3.Company snapshot
8.7.4.Product portfolio
8.8.SIA Jewelry
8.8.1.Company overview
8.8.2.Key executives
8.8.3.Company snapshot
8.8.4.Product portfolio
8.9.Sukkhi Fashion Jewelry
8.9.1.Company overview
8.9.2.Key executives
8.9.3.Company snapshot
8.9.4.Product portfolio
8.10.Swarovski Group
8.10.1.Company overview
8.10.2.Key executives
8.10.3.Company snapshot
8.10.4.Product portfolio
8.10.5.Key strategic moves and developments
8.11.Tanishq
8.11.1.Company overview
8.11.2.Key executives
8.11.3.Company snapshot
8.11.4.Product portfolio
8.11.5.Business performance
8.11.6.Key strategic moves and developments
8.12.Tribe Amrapali
8.12.1.Company overview
8.12.2.Key Executives
8.12.3.Company snapshot
8.12.4.Product portfolio
8.13.Voylla
8.13.1.Company overview
8.13.2.Key executives
8.13.3.Company snapshot
8.13.4.Product portfolio
8.13.5.Key strategic moves and developments
8.14.Yellow Chimes
8.14.1.Company overview
8.14.2.Key executives
8.14.3.Company snapshot
8.14.4.Product portfolio
8.15.Youbella
8.15.1.Company overview
8.15.2.Key executives
8.15.3.Company snapshot
8.15.4.Product portfolio
8.16.Zaveri pearls
8.16.1.Company overview
8.16.2.Key executives
8.16.3.Company snapshot
8.16.4.Product portfolio
LIST OF TABLES
TABLE 01.INDIA COSTUME JEWELRY MARKET REVENUE, BY PRODUCT TYPE, 2019–2027 ($MILLION)
TABLE 02.INDIA COSTUME JEWELRY MARKET REVENUE FOR NECKLACES & CHAINS, BY REGION, 2019–2027 ($MILLION)
TABLE 03.INDIA COSTUME JEWELRY MARKET REVENUE FOR EARRINGS, BY REGION, 2019–2027 ($MILLION)
TABLE 04.INDIA COSTUME JEWELRY MARKET REVENUE FOR RINGS, BY REGION, 2019–2027 ($MILLION)
TABLE 05.INDIA COSTUME JEWELRY MARKET REVENUE FOR CUFFLINKS & STUDS, BY REGION, 2019–2027 ($MILLION)
TABLE 06.INDIA COSTUME JEWELRY MARKET REVENUE FOR BRACELETS, BY REGION, 2019–2027 ($MILLION)
TABLE 07.INDIA COSTUME JEWELRY MARKET REVENUE FOR OTHERS, BY REGION, 2019–2027 ($MILLION)
TABLE 08.INDIA COSTUME JEWELRY MARKET REVENUE, BY GENDER, 2019–2027 ($MILLION)
TABLE 09.INDIA COSTUME JEWELRY MARKET REVENUE FOR MALE, BY REGION, 2019–2027 ($MILLION)
TABLE 10.GLOBAL INDIA COSTUME JEWELRY MARKET REVENUE FOR FEMALE, BY REGION, 2019–2027 ($MILLION)
TABLE 11.INDIA COSTUME JEWELRY MARKET REVENUE, BY MODE OF SALE, 2019–2027 ($MILLION)
TABLE 12.INDIA COSTUME JEWELRY MARKET REVENUE FOR RETAIL SALE, BY REGION, 2019–2027 ($MILLION)
TABLE 13.INDIA COSTUME JEWELRY MARKET REVENUE FOR ONLINE SALE, BY REGION, 2019–2027 ($MILLION)
TABLE 14.AVON: KEY EXECUTIVES
TABLE 15.AVON: COMPANY SNAPSHOT
TABLE 16.AVON: PRODUCT PORTFOLIO
TABLE 17.AVON PRODUCTS INC: NET SALES, 2018–2020 ($MILLION)
TABLE 18.ISHARYA: KEY EXECUTIVES
TABLE 19.ISHARYA: COMPANY SNAPSHOT
TABLE 20.ISHARYA: PRODUCT PORTFOLIO
TABLE 21.KUSHAL'S: KEY EXECUTIVES
TABLE 22.KUSHAL'S: COMPANY SNAPSHOT
TABLE 23.KUSHAL'S: PRODUCT PORTFOLIO
TABLE 24.PEORA FASHION PRIVATE LIMITED: KEY EXECUTIVES
TABLE 25.PEORA FASHION PRIVATE LIMITED: COMPANY SNAPSHOT
TABLE 26.PEORA FASHION PRIVATE LIMITED: PRODUCT PORTFOLIO
TABLE 27.PIPA BELLA: KEY EXECUTIVES
TABLE 28.PIPA BELLA: COMPANY SNAPSHOT
TABLE 29.PIPA BELLA: PRODUCT PORTFOLIO
TABLE 30.POOJA JEWELS: KEY EXECUTIVES
TABLE 31.POOJA JEWELS: COMPANY SNAPSHOT
TABLE 32.POOJA JEWELS: PRODUCT PORTFOLIO
TABLE 33.ROMOCH: KEY EXECUTIVES
TABLE 34.ROMOCH: COMPANY SNAPSHOT
TABLE 35.ROMOCH: PRODUCT PORTFOLIO
TABLE 36.SIA JEWELRY: KEY EXECUTIVES
TABLE 37.SIA JEWELRY: COMPANY SNAPSHOT
TABLE 38.SIA JEWELRY: PRODUCT PORTFOLIO
TABLE 39.SUKKHI FASHION JEWELRY: KEY EXECUTIVES
TABLE 40.SUKKHI FASHION JEWELRY: COMPANY SNAPSHOT
TABLE 41.SUKKHI FASHION JEWELRY: PRODUCT PORTFOLIO
TABLE 42.SWAROVSKI GROUP: KEY EXECUTIVES
TABLE 43.SWAROVSKI GROUP: COMPANY SNAPSHOT
TABLE 44.SWAROVSKI GROUP: PRODUCT PORTFOLIO
TABLE 45.TANISHQ: KEY EXECUTIVES
TABLE 46.TANISHQ: COMPANY SNAPSHOT
TABLE 47.TANISHQ: PRODUCT PORTFOLIO
TABLE 48.TANISHQ: NET SALES, 2018–2020 ($MILLION)
TABLE 49.TRIBE AMRAPALI: KEY EXECUTIVES
TABLE 50.TRIBE AMRAPALI: COMPANY SNAPSHOT
TABLE 51.TRIBE AMRAPALI: PRODUCT PORTFOLIO
TABLE 52.VOYLLA: KEY EXECUTIVES
TABLE 53.VOYLLA: COMPANY SNAPSHOT
TABLE 54.VOYLLA: PRODUCT PORTFOLIO
TABLE 55.YELLOW CHIMES: KEY EXECUTIVES
TABLE 56.YELLOW CHIMES: COMPANY SNAPSHOT
TABLE 57.YELLOW CHIMES: PRODUCT PORTFOLIO
TABLE 58.YOUBELLA: KEY EXECUTIVES
TABLE 59.YOUBELLA: COMPANY SNAPSHOT
TABLE 60.YOUBELLA: PRODUCT PORTFOLIO
TABLE 61.ZAVERI PEARLS: KEY EXECUTIVES
TABLE 62.ZAVERI PEARLS: COMPANY SNAPSHOT
TABLE 63.ZAVERI PEARLS: PRODUCT PORTFOLIO
LIST OF FIGURES
FIGURE 01.KEY MARKET SEGMENT
FIGURE 02.SNAPSHOT OF INDIA COSTUME JEWELRY MARKET
FIGURE 03.TOP INVESTMENT POCKETS
FIGURE 04.TOP PLAYER POSITIONING
FIGURE 05.TOP IMPACTING FACTORS
FIGURE 06.MODERATE BARGAINING POWER OF SUPPLIERS
FIGURE 07.HIGH BARGAINING POWER OF BUYERS
FIGURE 08.HIGH THREAT OF SUBSTITUTES
FIGURE 09.MODERATE THREAT OF NEW ENTRANTS
FIGURE 10.HIGH INTENSITY OF RIVALRY
FIGURE 11.INDIA COSTUME JEWELRY MARKET: DRIVERS, RESTRAINTS, AND OPPORTUNITIES
FIGURE 12.PARENT/PEER MARKET OVERVIEW
FIGURE 13.SUPPLY CHAIN ANALYSIS
FIGURE 14.INDIA COSTUME JEWELRY MARKET, BY PRODUCT TYPE, 2019 (%)
FIGURE 15.INDIA COSTUME JEWELRY MARKET, BY GENDER, 2019 (%)
FIGURE 16.INDIA COSTUME JEWELRY MARKET, BY MODE OF SALE, 2019 (%)
FIGURE 17.TOP WINNING STRATEGIES, BY YEAR, 2018–2021*
FIGURE 18.TOP WINNING STRATEGIES, BY DEVELOPMENT, 2018–2021* (%)
FIGURE 19.TOP WINNING STRATEGIES, BY COMPANY, 2018–2021*
FIGURE 20.PRODUCT MAPPING OF TOP 16 KEY PLAYERS
FIGURE 21.COMPETITIVE DASHBOARD OF TOP 16 KEY PLAYERS
FIGURE 22.COMPETITIVE HEATMAP OF TOP 16 KEY PLAYERS
FIGURE 23.AVON PRODUCTS INC: NET SALES, 2018–2020 ($MILLION)
FIGURE 24.TANISHQ: NET SALES, 2018–2020 ($MILLION)