India Disposable Gloves Market Overveiw:
Disposable gloves are primarily used in the healthcare and food industry, as a protection measure to avoid cross infection between caregivers and patients. Over the past few years, various variants of disposable gloves have been developed, such as natural rubber, nitrile, vinyl, neoprene, and others. Each of the variants renders a unique benefit over conventional gloves; which in turn increases its applications in various food service, clean room, industrial application, and other industries. For instance, nitrile gloves are more puncture-resistant, frictionless, and offer longer shelf life than latex gloves. India disposable gloves market generated $303 million in 2017, and is projected to reach $760 million by 2025, growing at a CAGR of 12.4% from 2018 to 2025. In terms of volume, the market is growing at a CAGR of 8.3% from 2018 to 2025.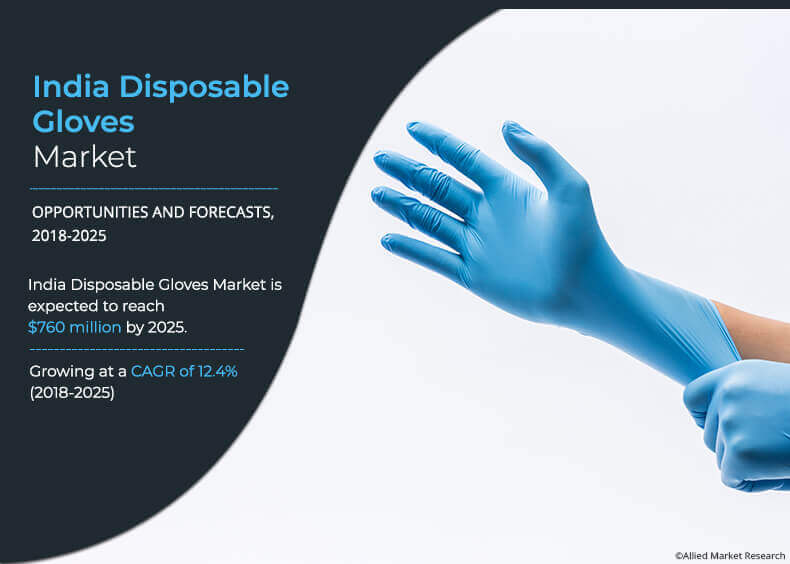 The Indian healthcare industry is witnessing considerable growth due to growth in health awareness among the population. Therefore, increasing the scope for developing disposable gloves manufacturing sites across the country, mainly in the southern zone. However, the glove manufacturers need to invest extensively to increase production capacity due to increase in the demand for disposable gloves. Moreover, India mainly depends on the import of disposable gloves due to less production capacity. For instance, the demand for disposable surgical gloves is high among the surgical team members due to the constant change of gloves during surgery, as use of single gloves for longer time is unsafe, owing to the fear of contamination, long exposure to external environment, and carelessness. Therefore, these factors are expected to fuel the growth of the market, and India is anticipated to be one of the fastest growing disposable gloves markets in Asia in the near future.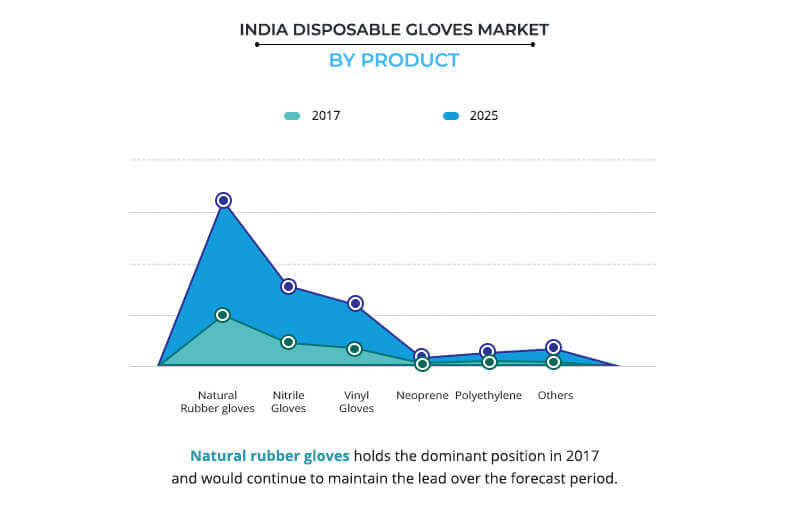 The major factors that drive the growth of the India disposable gloves market include rise in concerns for safety and hygiene and growth in number of end users. In addition, technological advancements are anticipated to propel the market growth. However, less production capacity and toxic reaction to certain gloves are expected to hamper the market growth. On the contrary, growth in healthcare sector is anticipated to provide lucrative opportunities for the India disposable glove manufacturers in the near future.
Product segment review
Based on product, the market is classified into natural rubber gloves, nitrile gloves, vinyl gloves, neoprene, polyethylene, and others. The natural rubber gloves segment generated the highest revenue in 2017 and is anticipated to maintain its dominance throughout the forecast period as these gloves are widely used in healthcare settings for protection against disinfectants and other related harmful chemical agents. In addition, these are less costly as compared to nitrile and neoprene gloves.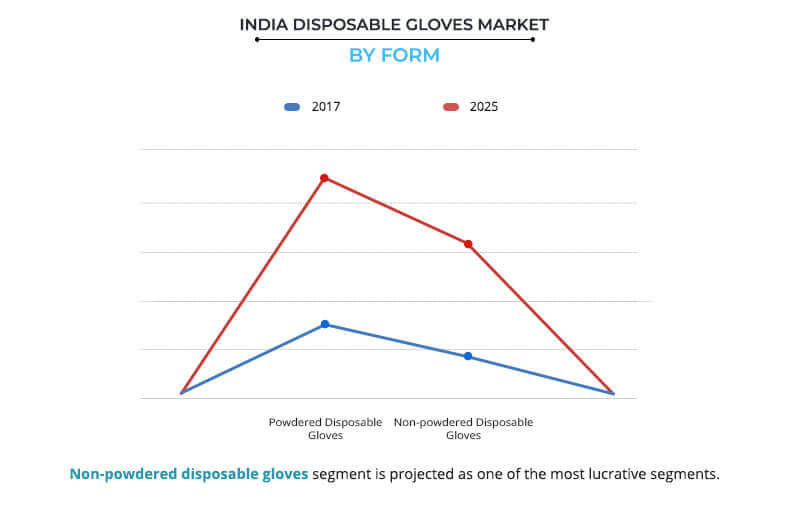 Form segment review
Based on the form of disposable gloves, the market is bifurcated into powdered gloves and non-powdered gloves. The non-powdered gloves segment is projected to exhibit the highest growth during the forecast period as these gloves are harmless due to their powder-free nature, which decreases the chemical reaction especially during surgeries and examination processes. In addition, these non-powdered gloves are less messy than the powdered ones.
The key players operating in the India disposable gloves market include Ansell Limited, Hartalega Holdings Berhad (Gloveon), B. Braun Melsungen AG, Semperit AG Holding, Medline Industries, Inc., MRK Healthcare Pvt. Ltd., RFB Latex Limited, Primus Gloves Private Limited, Kanam Latex Industries Pvt. Ltd., and Asma Rubber Products Pvt. Ltd. The other players operating in this market include Sara Healthcare P Ltd., Vijayalakshmi Health & Surgicals Pvt. Ltd., Dahanu Rubber Gloves Manufacturing Co., Plasti Surge Industries Pvt. Ltd., Safeshield India Rubber Products Pvt. Ltd., Sara Healthcare Pvt. Ltd., and 3p India.
Key Benefits for India Disposable Gloves Market:
This report provides a detailed quantitative analysis of the current market trends and future estimations from 2018 to 2025, which assists to identify the prevailing market opportunities.

An in-depth analysis of various regions is anticipated to provide a detailed understanding of the current trends to enable stakeholders formulate region-specific plans.

A comprehensive analysis of the factors that drive and restrain the growth of the India disposable gloves market is provided.

An extensive analysis of various regions provides insights that are expected to allow companies to strategically plan their business moves.
 India Disposable Gloves Market Report Highlights
Aspects
Details
By Product

Natural Rubber Gloves
Nitrile Gloves
Vinyl Gloves
Neoprene gloves
Polyethylene gloves
Others

By Form

Powdered Disposable Gloves
Non-powdered Disposable Gloves

By Application

Medical
Non-Medical
Industrial

By Distribution Channel

Wholesaling and Direct Selling
Medical Store
Online Store

Key Market Players
Ansell Limited, Asma Rubber Products Pvt. Ltd., B. Braun Melsungen AG, Hartalega Holdings Berhad, Kanam Latex Industries Pvt. Ltd., Medline Industries, Inc., MRK Healthcare Pvt. Ltd., Primus Gloves Private Limited, RFB Latex Limited, Semperit AG Holding