India Home Automation Market Outlook - 2026
The India home automation market size was valued at $1,790.9 million in 2018, and is expected to reach at $13,574.1 million by 2026, growing at a CAGR of 29.8% during the forecast period 2019-2026.
Smart home refers to homes with appliances such as electronic devices is controlled or operated by user via smartphone or a mobile app. Smart devices include appliances such as lighting devices, air conditioning units, ovens, refrigerators, audio & video entertainment systems, and cooling & heating units. The user monitors and controls the functions of smart home devices with home automation technology. There are two types of home automation technology—wireless system and wiring system. The wireless system includes Z-wave, Wi-Fi, Infrared (IR), Bluetooth, and others. The wired systems include cabling for the integration of sensors and smart home systems in the home with internet cables and connectors.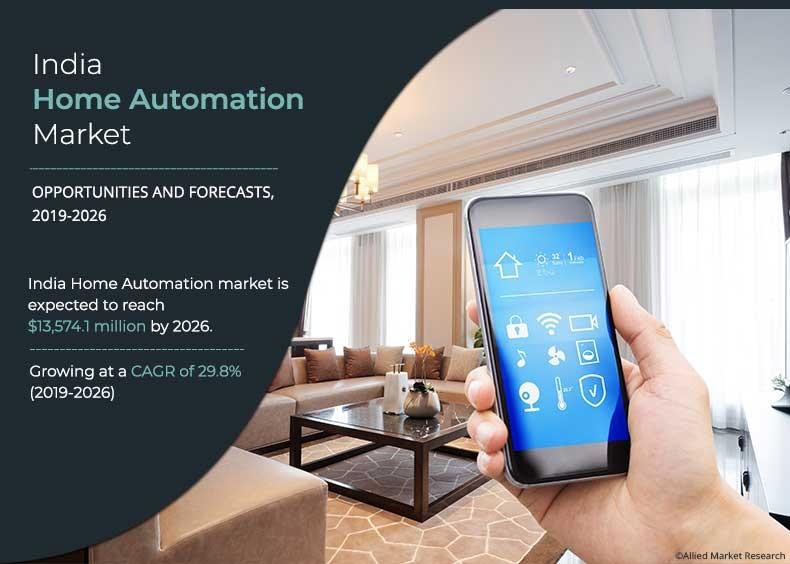 The advantages of home automation are safety and security, convenience, low utility costs, and time saving.  The main focus to implement home automation in India is security, and energy efficiency.  The home automation technology allows to control the heating and cooling systems in home, which can save considerable energy. Moreover, lights can be automatically switched on or off during sunrise or sunset as well as while leaving or entering the respective room.
The cost effectiveness is one of the driving factors for the India home automation market. Multiple cities, especially Pune, and Mumbai, witness considerable growth in adoption of smart home system every year that are backed by various competitors, which offers home automation at a low cost, thus increasing the India home automation market scope. Surge in economical video surveillance for security solutions that are integrated with real-time analytics are anticipated to boost the growth of the India home automation market. Moreover, the development of smart kitchen appliances such as smart coffeemaker, intelligent oven, precision cooker, and smart grill, has enhanced IoT for smart homes, which continues to provide profitable business opportunities to the players in India home automation market.
However, the market penetration of home automation systems in India is less as compared to other developing nations, owing to the limited connectivity and lower average bandwidth. Furthermore, the lack of standardization of products and components in smart home can lead to failure of the system. Such factors hamper the India home automation market growth.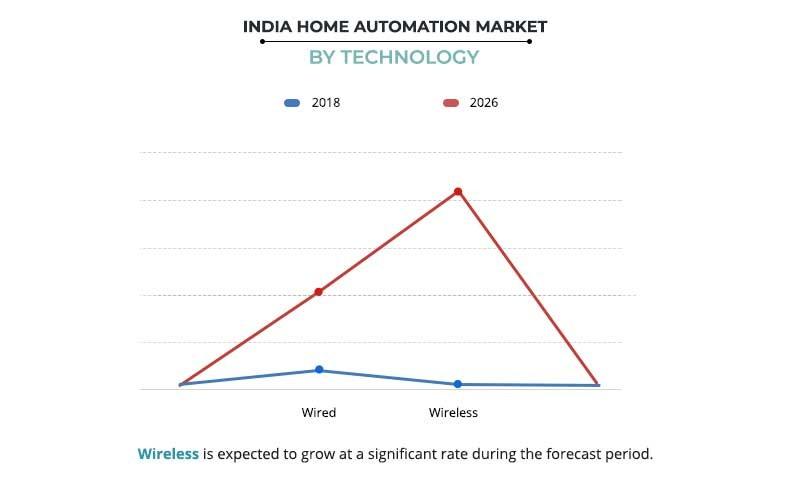 There has been a rise in smart home startups such as Oakter, Inoho, IFIHomes, and Home Brain in India owing to the government of India programs such as 'Make in India', and 'Digital India'. Many players are developing advanced technologies and devices for the smart home industry in India. For instance,  Schneider Electric launched the Easergy P3 in the Indian market in May 2018. It is a medium-voltage protection relay, which combines real-time analytics with advanced technologies and solutions powered by Internet Of Things. Similarly, Apple Inc. developed HomeKit that  allows iPhone users to control individual smart home devices such as garage door openers, lights, and security cameras. These factors offer lucrative growth opportunities for the India home automation market.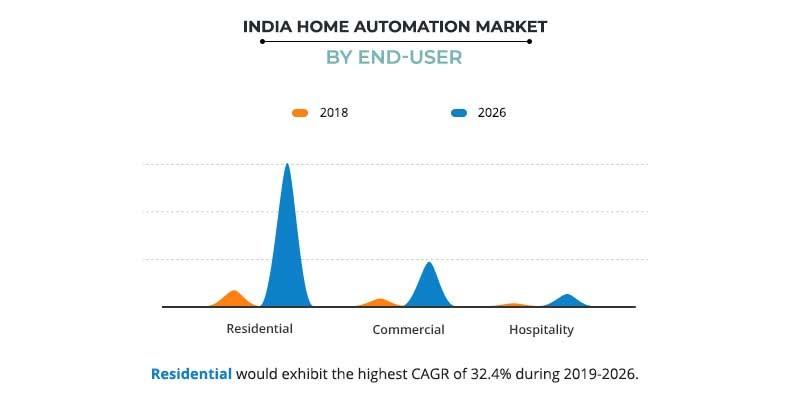 The India home automation market is segmented on the basis of product, technology, and end user. By product, the India home automation market is segregated into lighting, security & safety, HVAC, entertainment, and others. The lighting segment is further divided into relays, dimmers, switches, and others. Security & safety is sub-segmented into bells, locks, security cameras, and others. In 2018, the India home automation share is highest among the Security & safety segment, owing to the growth in urbanization. The HVAC segment is further classified into thermostats, sensors, control valves, and others. Entertainment is subdivided into home theater system, audio, volume & multimedia controls, and others. The others segment includes wall panels, ceiling plates, fans, and wires. Depending on technology, the market is bifurcated into wired and wireless. By end user, it is fragmented into residential, commercial, and hospitality.
COMPETITION ANALYSIS
The key players operating in the market include Fueblabs, Larsen & Toubro, Schneider, Johnson Controls, Harman International, Home Brain, PERT, Silvan Innovation, Oakter, and Elan Home Systems. Many players in the India home automation market adopted product launch, product development, collaboration, and business expansion as their key developmental strategies to sustain the intense competition and improve their product portfolio.
For instance, Harman Professional Solutions collaborated with Zoom Video Communications, Inc. in February 2019 to improve their products for the controller applications for commercial spaces. Through this collaboration companies have developed AMX Acendo Core Collaboration System and the Zoom Meetings service with Zoom Rooms Controller app. Similarly, Johnson Controls launched Metasys 10.0, in December 2018. It is designed to deliver more unified building management. It provides the facility personnel with smarter building automation, faster responses to critical alarms, and new integrations in fire detection, security, and lighting systems with a single common interface. Furthermore,  Nortek Security and Control, LLC expanded its Nortek Security & Control New Home Program in February 2019, which includes a complete line-up of solutions. It also includes smart home control, automation, security, access control, and entertainment solutions that cover every aspect of the home.
Key Benefits for India Home Automation Market:
The report provides an extensive analysis of the current and emerging India home automation market trends and dynamics.  
In-depth India home automation market analysis is conducted by constructing market estimations for the key market segments between 2018 and 2026.
Extensive analysis of the market is conducted by following key product positioning and monitoring of the top competitors within the market framework.
A comprehensive analysis of all regions is provided to determine the prevailing opportunities.
The India home automation market forecast analysis from 2018 to 2026 is included in the report.
 Key market players are profiled in this report and their strategies are analyzed thoroughly, which help to understand the competitive outlook of the India home automation industry.
India Home Automation Market Segments:
By Product Type
Lighting

Relays
Dimmers
Switches
Others

Security and safety

Bells
Locks
Security cameras
Others

HVAC

Thermostats
Sensors
Control Valves
Others

Entertainment

Home Theater System
Audio, Volume and Multimedia Controls
Others

Others
By Technology
By End-user
Residential
Commercial
Hospitality
Key Players
Elan home systems
Fueblabs
Harman International
Home brain
Johnson Controls
Larsen & Toubro
Oakter
PERT
Schneider
Silvan Innovation