India PVC Pipes Market Overview:
The India PVC Pipes Market size was valued at $3,159 million in 2016 and is anticipated to expand at a CAGR of 10.2% to reach $6,224 million by 2023. Polyvinyl chloride (PVC) is the third largest selling plastic commodity after polyethylene & polypropylene. It is beneficial over other materials, owing to its chemical resistance, durability, low cost, recyclability, and others; thus, it can replace wood, metal, concrete, and clay in different applications. PVC pipes are manufactured by extrusion method in a variety of dimensions such as solid wall or cellular core construction. They are corrosion resistant, cost-effective, flame resistant, easy to install & handle, and environmentally sound, with long service life.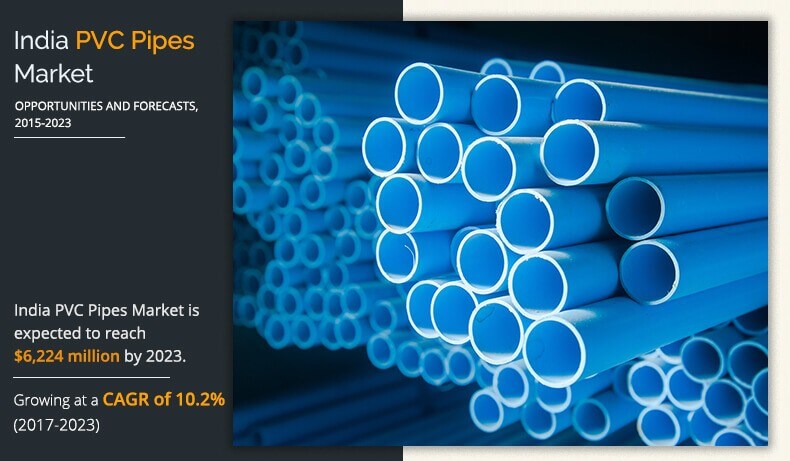 Upsurge in the demand for pipes in the irrigation sector and building & construction industry is the major driving factor for India PVC pipes market. Moreover, increased focus of government on rural water management supports the demand for PVC pipes in India. However, availability of substitutes such as HDPE & ABS hampers the growth of the India PVC pipes market. In addition, toxicity of PVC pipes restricts the market growth. Conversely, rise in awareness towards clean water supply in rural areas and increase in investment in the developing regions of the country are anticipated to offer growth opportunities for the market.
PVC pipes are applicable in drain-waste-vent (DWV), sewers, water mains, water service lines, irrigation, conduit, and various industrial installations. This report focuses on India polyvinyl chloride (PVC) pipes market by type, which includes chlorinated, unplasticized, and plasticized PVC pipes. Moreover, PVC pipes market analysis includes different type of materials such as PVC resin, stabilizers, plasticizers, lubricants, pigment base, and others.
Top Investment Pocket
With respect to applications, sewer & drain is the most lucrative segment, followed by water supply, irrigation, plumbing, and others. Significant demand for PVC pipes in various industries and development of infrastructure in the emerging economies are expected to drive the market growth. EPA, REACH, and other regulatory bodies have implemented guidelines for use of PVC material in various industries to control and safeguard the interest of consumers. East India is the major region to drive the demand for PVC pipe products, owing to abundant cultivation of tea.
Segment Review
Chlorinated PVC pipes (CPVC) is projected to be the dominant segment during the forecast period, owing to their superior properties such as usefulness in handling corrosive fluids at temperature range up to 210°F and low thermal conductivity. They serve the same application as other PVC pipes, but are majorly preferred for high-temperature applications. CPVC pipes can be joined using solvent welding, threading, or flanging.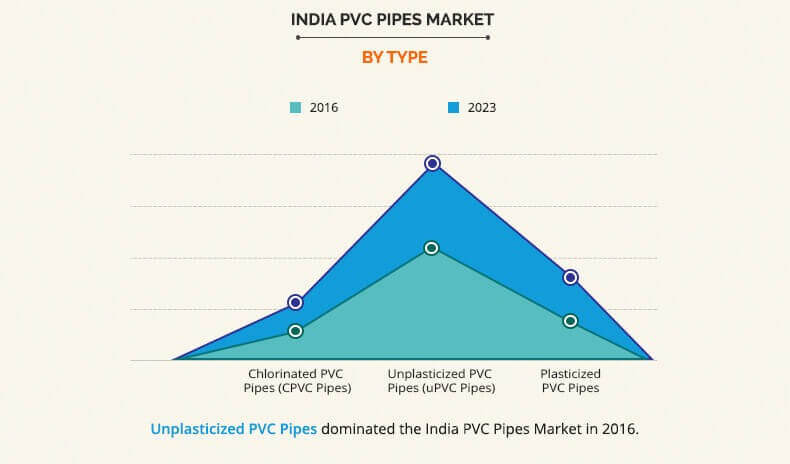 East India Review
East India is popularly known for tea cultivation, which requires significant water supply, which boosts the demand for PVC pipes, as they are used to irrigate tea plantations. Steady growth in urbanization in the Eastern region is further expected increase the demand for PVC pipes. Moreover, the development in infrastructure is anticipated to surge the demand for PVC pipes in the region.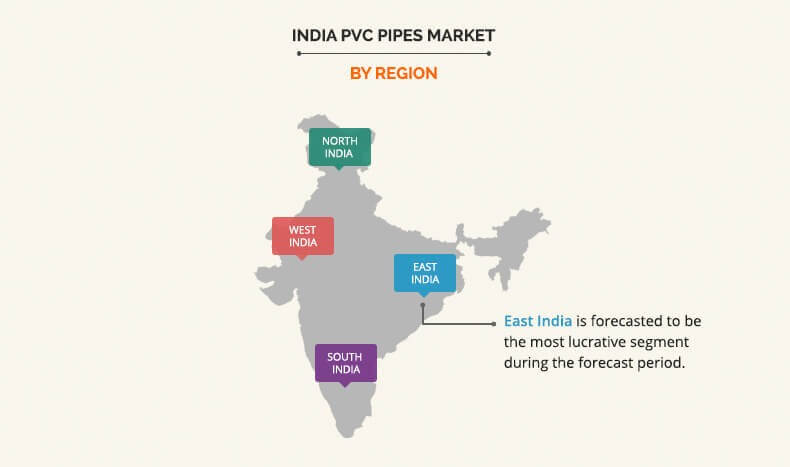 The key players operating in the India PVC pipes market are Aashirvad Pipes, Supreme Pipes, Astral Pipes, Finolex Industries Ltd., Prince Piping System, Ori-plast, Utkarsh India, Dutron Group, Kankai Pipes, and Captain Pipes.
Other major players (not profiled in report) are Mexichem, Radius Systems Ltd., National Pipes & Plastics, Georg Fischer Ltd., REHAU, Uponor, Astral Pipes, Yonggao Co., Ltd., Vinidex Pty Ltd, COEMAC, and Adequa Water Solutions, S.A.
Key Benefits
This report provides an extensive analysis of the current trends, future estimations, and dynamics from 2015 to 2023 of the India PVC pipes market, which assist to identify the prevailing opportunities
Extensive market analysis predicts the types, applications, and materials that are currently used along with the variants that would gain prominence in the future.
Detailed analysis is conducted by following key product positioning and monitoring the top competitors within the market framework.
Key players are profiled and their strategies are analyzed thoroughly, which portray the competitive market outlook.
 India PVC Pipes Market Report Highlights
Aspects
Details
By Type

Chlorinated PVC pipes (CPVC pipes)
Unplasticized PVC pipes (uPVC)
Plasticized PVC Pipe

By Material

PVC Resin
Stabilizers
Plasticizers
Lubricant
Pigment Base
Others

By Application

Irrigation
Water Supply
Sewer & drain
Plumbing
Oil & Gas
Heating, Ventilation, and Air Conditioning (HVAC)
Others

BY CUSTOMER TYPE

Institutional
PSUs
Private players

By Region

North India
West India
East India
South India

Key Market Players
Aliaxis Group S.A. (Aashirvad Pipes Pvt. Ltd.), Astral Poly Technik Limited, Captain Pipes Ltd., Dutron Polymers Limited, Finolex Industries Limited, Kankai Pipes & Fittings Private Limited, Ori-Plast Limited, Prince Pipes and Fittings Ltd., The Supreme Industries Limited, Utkarsh Tubes & Pipes Limited