India RFID Market Outlook-2030
The India RFID market size was valued at $523.7 million in 2020, and is projected to reach $1,864.5 million by 2030, registering a CAGR of 14.1% from 2021 to 2030.
The retail segment has been negatively impacted by the emergence of COVID-19 pandemic.
Radio Frequency Identification (RFID) denotes to a technology in which the information contained in RFID tags is captured by the RFID reader through radio waves. It uses electromagnetic field to automatically track & identify tags attached to items. The RFID system consists of radio receiver, radio transponder, and transmitter. When the RFID tag is triggered by an electromagnetic pulse from RFID reader device, the tag transmits information, typically a recognizing inventory number, back to the reader device. This number can be utilized to track inventory items.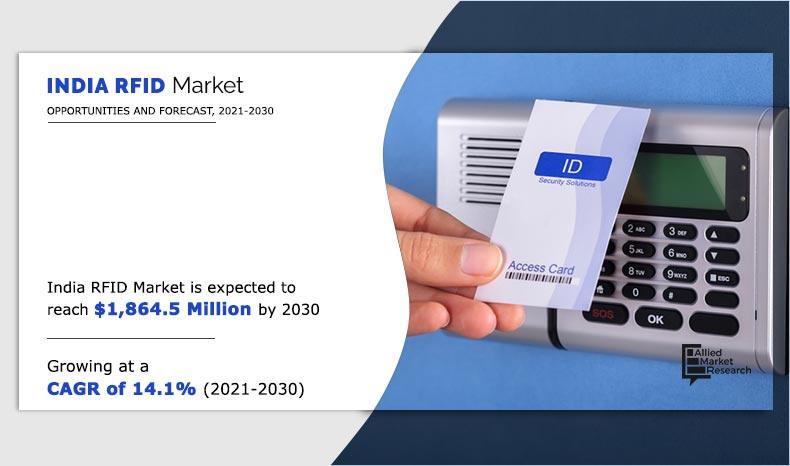 RFID is an evolving wireless technology for automatic identifications, access controls, security & surveillance, database management, tracking, logistics, and inventory control. RFID tags can be either active or passive. An active tag has an integrated battery and frequently transmits its ID signal. However, a passive tag is smaller & cheaper since it has no battery and instead the tag utilizes the radio energy diffused by the reader. In addition, a battery-assisted passive tag has an integrated small battery, which works only in the presence of an RFID reader. RFID systems are of three types, low frequency, high frequency, and ultra-high frequency. These frequencies vary greatly by region and country.
The growth of the India RFID market size is anticipated to be driven by factors such as availability of cost-effective RFID solutions and high return on investment. In addition, increasing installation of RFID systems in manufacturing units to improve productivity boosts the overall market growth. However, high purchase cost acts as a major restraint of the India RFID industry. On the contrary, high demand for contact-tracing solutions is expected to create lucrative opportunities for the India RFID industry.
The India RFID market share is segmented into product type, frequency, and application. By product type, the market is classified into tags, readers, and software & services. Depending on frequency, it is categorized into low frequency, high frequency, and ultra-high frequency. On the basis of application, the market is fragmented into commercial, animal tracking, transportation, agriculture, security & access control, healthcare, retail, logistics & supply chain, and others.
India RFID Market

---
By Product Type
High Frequency segment is projected as one of the most lucrative segments.
Leading RFID market manufacturers, such as Honeywell International Inc., NXP Semiconductors, and Zebra Technologies Corp., are focusing on their investment on technologically advanced, cost-effective, and more secure products & solutions for various applications.     
India RFID Market

---
By Tag Type
Passive RFID Tags segment is expected to secure leading position during forecast period.
Top Impacting Factors
The prominent factors that impact the India RFID market growth are increased efficiency offered by RFID tags and rise in demand for RFID in banking and healthcare sectors. In addition, growing shift of retailers toward RFID products drives the India RFID market growth. However, tag collision concerns restrict the market growth. On the contrary, innovation of cloud-based systems is expected to create lucrative opportunities for the market.  
Competition Analysis
Competitive analysis and profiles of the major India RFID market players, such as Alien Technology, LLC, Avery Dennison Corporation, Bar Code India Limited (BCI), Bartech Data Systems Pvt. Ltd, Bartronics India Limited, Honeywell International Inc., Identiv, Inc., Infotek Software & Systems Ltd. (i-TEK), NXP Semiconductors N.V., and Zebra Technologies Corporation, have been covered in the report.
Covid-19 Impact Analysis
The outbreak of COVID-19 has significantly affected the electronics and semiconductor sector. Business and manufacturing units across various countries were closed, owing to increase in number of COVID-19 cases, and are expected to remain close in 2021. Furthermore, partial or complete lockdown has disrupted Indian supply chains, posing challenges for manufacturers to reach customers.
The COVID-19 pandemic is impacting the society and overall economy across the globe. The impact of this outbreak is growing day-by-day as well as affecting the overall business globally. The crisis is creating uncertainty in the stock market and is resulting in falling business confidence, massive slowing of supply chain, and increasing panic among the customer segments.
Asian countries under lockdowns have suffered major loss of business and revenue due to shutdown of manufacturing units. The operations of the production and manufacturing industries have been heavily impacted by the outbreak of the COVID-19 disease, which further impacted the growth of the India RFID market.
In addition, the COVID-19 pandemic has impacted the electronics sector, as production facilities have stalled, which, in turn, boosted the demand for electronics and semiconductor products in industries. Its major impact includes large manufacturing interruption across India and interruption in Chinese parts exports, which may hinder the India RFID market.
Key Benefits For Stakeholders
This study comprises analytical depiction of the India RFID market along with the current trends and future estimations to depict the imminent investment pockets.
The overall India RFID market analysis is determined to understand the profitable trends to gain a stronger foothold.
The report presents information related to key drivers, restraints, and opportunities with a detailed impact analysis.
The current India RFID market forecast is quantitatively analyzed from 2020 to 2030 to benchmark the financial competency.
Porter's five forces analysis illustrates the potency of the buyers and the India RFID market share of key vendors.
The report includes the India RFID market trends and the market share of key vendors.
Key Market Segments
By Product Type
Tags
Readers
Software & Services
By Frequency
Low Frequency
High Frequency
Ultra-High Frequency
By Application
Commercial
Animal Tracking
Transportation
Agriculture
Security & Access Control
Healthcare
Retail
Logistics & Supply Chain
Others
Key Players
Alien Technology, LLC
Avery Dennison Corporation
Bar Code India Limited (BCI)
Bartech Data Systems Pvt. Ltd
Bartronics India Limited
Honeywell International Inc.
Identiv, Inc.
Infotek Software & Systems Ltd. (i-TEK)
NXP Semiconductors N.V.
Zebra Technologies Corporation