Indian Dental Consumables Market Overview:
The Indian Dental Consumables Market was valued at $116,397 thousand in 2016, and is projected to reach $232,527 thousand by 2023, registering a CAGR of 10.3% from 2017 to 2023. Dental consumables include medical devices such as dental sundries and small equipment that are used for the treatment of patients suffering from dental caries and periodontal diseases.
Segment Review
The other dental consumables segment is expected to generate maximum revenue for the Indian dental consumables market, owing to increase in prevalence of dental issues, which require use dental consumables for quality treatment.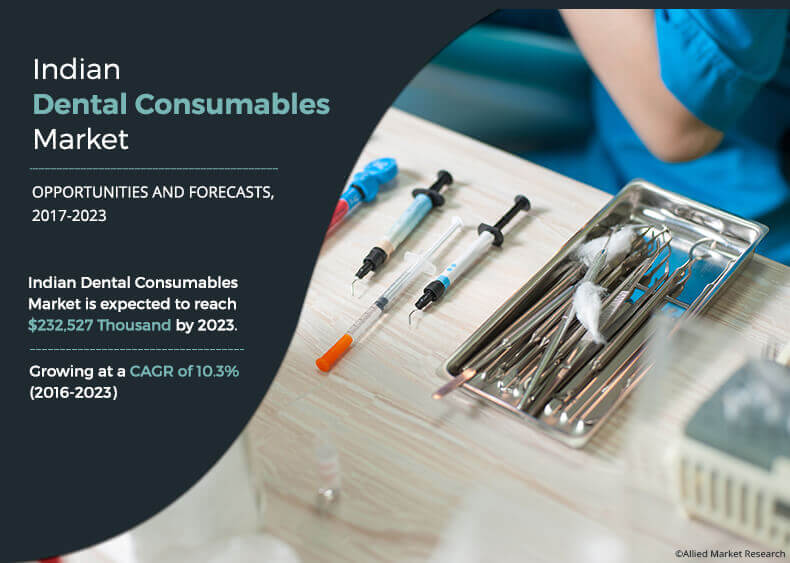 Increase in Dental Tourism in India
The Indian dental consumables market is witnessing prominent growth, owing to increase in dental tourism due to low cost of dental treatment in the country and availability of specialized professionals who deliver quality treatment. Dental treatment in the developed nations such as Europe and North America is expensive as compared to India. The population suffering from dental problems in these geographical areas prefer to travel to India to get quality treatment at a low cost. Thus, increase in dental tourism is expected to propel the growth of the Indian dental consumables market.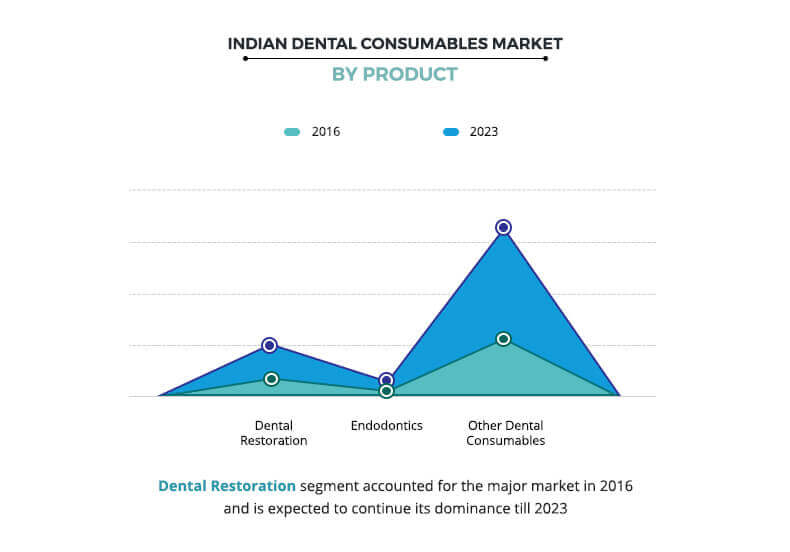 The key players profiled in the report include 3M Company, Anand Meproducts Pvt. Ltd., Danaher Corporation, Dentsply Sirona, Indident, Institut Straumann AG, Mil Medical Dental Systems Pvt. Ltd., Osstem Implant Co., Ltd., Prime Dental Products Pvt. Ltd., Zimmer Biomet, and Mani Inc. Other prominent players operating in the market include KAVO G C, Ivoclar-Vivadent, Nobel Biocare, Mecktron, Aceton, and others.
Key Benefits
The study provides an in-depth analysis of the Indian dental consumables market with current trends and future estimations to elucidate the imminent investment pockets.
The report provides quantitative analysis of the industry from 2016 to 2023 to enable the stakeholders to capitalize on the prevailing market opportunities.
Extensive analysis of the country market helps to understand the adoption of dental consumables for various treatment procedures.
Competitive intelligence highlights the business practices, followed by leading market players across various geographies.
Indian Dental Consumables Market Segments:
By Product
Dental Restoration

By Material

Metals
Polymers
Ceramics
Biomaterials

Endodontics

Endodontic Files (Root Canal Treatment)

By Material Type

Stainless Steel Files
Alloy Files

By Type

Handheld RC Files
Rotary Files

Obturators
Permanent Endodontic Sealers

Other Dental Consumables

Dental Splints
Dental Sealants
Dental Burs

Long Straight Shank (HP)
Latch-type Shank (RA)
Friction Grip Shank (FG)

Dental Impression Materials
Dental Disposables
Bonding Agents
By Location
Top Five Metro Cities
Next 40 Towns
Rest of India
 Indian Dental Consumables Market Report Highlights
Aspects
Details
By PRODUCT

DENTAL RESTORATION

Dental restoration materials

Metals
Polymers
Ceramics
Biomaterials

ENDODONTICS

Endodontics files (root canal treatment)

Stainless steel files
Alloy files
Handheld RC files
Rotary files

Obturators
Permanent endodontic sealers

OTHER DENTAL CONSUMABLES

Dental splints
Dental sealants
Dental burs

Long straight shank (HP)
Latch-type shank (RA)
Friction grip shank (FG)

Dental impression materials
Dental disposables
Bonding agents

By LOCATION

TOP FIVE METRO CITIES
NEXT 40 TOWNS
REST OF INDIA
INDIA DENTAL CONSUMABLES, MARKET SHARE ANALYSIS (2016)

Institut Straumann AG
. Danaher Corporation
Dentsply Sirona
Zimmer Biomet Holdings
3M Company
Others

By Region

North America (U.S., Canada, Mexico)
Europe (France, Germany, Italy, Spain, UK, Russia, Rest of Europe)
Asia-Pacific (China, Japan, India, South Korea, Australia, Thailand, Malaysia, Indonesia, Rest of Asia-Pacific)
LAMEA (Brazil, South Africa, Saudi Arabia, UAE, Argentina, Rest of LAMEA)

Key Market Players
PRIME DENTAL PRODUCTS PVT LTD, MANI, INC., INDIDENT MEDICAL DEVICES, DANAHER CORPORATION, ZIMMER BIOMET HOLDINGS, INC., DENTSPLY SIRONA INC., 3M COMPANY, OSSTEM IMPLANT CO., LTD., ADIN DENTAL IMPLANT SYSTEMS LTD., ANAND MEPRODUCTS PVT., LTD., INSTITUT STRAUMANN AG