Indoor Flooring Market Research, 2031
The global indoor flooring market size was valued at $133.3 billion in 2021, and is projected to reach $226.3 billion by 2031, growing at a CAGR of 5.4% from 2022 to 2031.
Due to COVID-19 the entire indoor flooring market was affected owing to lockdown, where sales, supply chain, and construction activities were hampered and the manufacturing plants were either closed or were running in limited capacity. The pandemic has disturbed indoor flooring businesses and suppliers around the globe.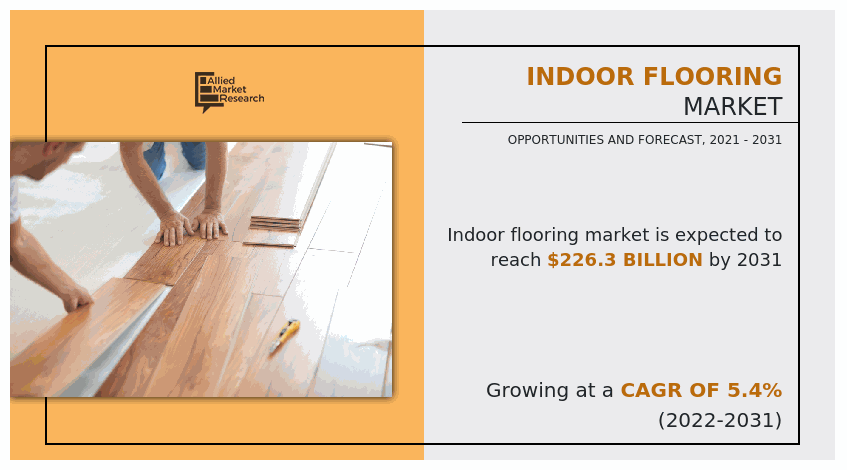 The indoor flooring market size was valued at $1,33,288.0 million in 2021, and is projected to reach $2,26,305.0 million by 2031, registering a CAGR of 5.4% from 2022 to 2031. Building materials used to construct floors in residential, commercial, and industrial buildings are known as indoor flooring items. Indoor flooring is put when a new building or an old structure is being renovated. Interior infrastructure benefits from indoor flooring. Indoor flooring is available in a variety of materials, colors, and designs. Expansionary fiscal policy on infrastructure construction is likely to boost demand for flooring. The flooring market has seen an increase in insulation demand, as a well-insulated floor creates a better sound environment because of increased need for comfort and privacy as a result of noisier surroundings. As a result, demand for insulation is increasing, resulting in market development. Consumer preferences for aesthetically better designs, textures, and colors, as well as low-maintenance and easy-to-install floorings, are expected to propel market growth.
In addition, increase in urban population increases the commercial construction activity. The global urban population is rapidly increasing, according to World Bank data. New commercial construction projects, such as business complexes, hospitals, housing facilities, and shopping malls, are being prompted by rise in urban population. Consumers are investing their hard-earned money in high-quality residential complexes with exquisite flooring finishes, which boosts flooring activity.
The indoor flooring market is segmented on the basis of material type, construction type, end user, and region. On the basis of type, the market is divided into ceramic tiles, carpet, vinyl, linoleum, & rubber, wood laminate, and others. On the basis of construction type, the market is divided into new construction and renovation. On the basis of end user, the market is divided into residential and industrial & commercial. Region-wise, the global market analysis is conducted across North America (the U.S., Canada, and Mexico), Europe (UK, France, Germany, Russia, and Rest of Europe), Asia-Pacific (China, Japan, India, South Korea, and Rest of Asia-Pacific), and LAMEA (Latin America, the Middle East, and Africa).
Indoor Flooring Market

---

By Type
The ceramic tiles segment was the highest revenue contributor in 2021.
On the basis of material type, the ceramic tiles segment generated largest revenue in 2021, due to their unique appearance and fire-retardant properties, which increased the use of indoor ceramic tiles. These panels are also scratch-resistant and waterproof, and are made to be lightweight and durable. Rise in urbanization leads to increase in residential infrastructure construction, and thus, countries such as the U.S., China, and India have increased the demand for ceramic tiles, further driving the indoor flooring market growth.
Indoor Flooring Market

---
By Region
Asia-Pacific garnered the largest market share in global indoor flooring market in 2021.
On the basis of region, Asia-Pacific registered highest revenue in 2021 in indoor flooring market, owing to rise in investment in commercial and residential constructions. Furthermore, the region's market expansion is predicted to be fueled by a large increase in the trend of home improvement and repair. As a result, the increase in number of new building and infrastructure projects is likely to provide profitable prospects for industry participants.
Indoor Flooring Market

---

By Construction Type
The renovation segment dominated the market in 2021.
On the basis of construction type, the new construction segment accounted for highest revenue in the global indoor flooring market in 2021 owning to rise in investment in residential and commercial construction around the globe.
The novel coronavirus (COVID-19) rapidly spread across various countries and regions in 2019, causing an enormous impact on lives of people and the overall community. It began as a human health condition and has now become a significant threat to global trade, economy, and finance. The COVID-19 pandemic halted production of many products in the indoor flooring market, owing to lockdowns. Furthermore, the number of COVID-19 cases is expected to reduce in the future with the introduction of the vaccine for COVID-19 in the market. This has led to the reopening of indoor flooring companies at their full-scale capacities. This is expected to help the market recover by the mid of 2022. After COVID-19 infection cases begin to decline, equipment & machinery producers must focus on protecting their staff, operations, and supply networks to respond to urgent emergencies and establish new methods of working.
Competition Analysis
The key players that operating in the indoor flooring market are Armstrong Flooring, Inc., Beaulieu International Group, Ecore International, Forbo International SA, Interface, Inc., Mats Inc., Mohawk Industries, Inc., Shaw Industries Group, Inc., Tarkett, and Toli Corporation.
Key Benefits For Stakeholders
This report provides a quantitative analysis of the market segments, current trends, estimations, and dynamics of the indoor flooring market analysis from 2021 to 2031 to identify the prevailing indoor flooring market opportunities.
The

indoor flooring

industry 

research is offered along with information related to key drivers, restraints, and opportunities.
Porter's five forces analysis highlights the potency of buyers and suppliers to enable stakeholders make profit-oriented business decisions and strengthen their supplier-buyer network.
In-depth analysis of the indoor flooring market forecast segmentation assists to determine the prevailing market opportunities.
Major countries in each region are mapped according to their revenue contribution to the global market.
Market player positioning facilitates benchmarking and provides a clear understanding of the present position of the market players.
The report includes the analysis of the regional as well as global indoor flooring market trends, key players, market segments, application areas, and market growth strategies.
 Indoor Flooring Market Report Highlights
Aspects
Details
By Type

Wood & Laminate
Others
Ceramic Tiles
Carpet
Vinyl, Linoleum & Rubber

By Construction Type

New Construction
Renovation

By End-User

Residential
Commercial & Industrial

By Region

North America (U.S., Canada, Mexico)
Europe (Germany, France, Russia, U.K., Rest of Europe)
Asia-Pacific (China, India, Japan, South Korea, Rest Of Asia Pacific)
LAMEA (Latin America, Middle East, Africa)

Key Market Players
Armstrong Flooring, Inc., Beaulieu International Group, Ecore International, Forbo International SA, Interface, Inc., Mats Inc., Mohawk Industries, Inc., Shaw Industries Group, Inc., Tarkett, Toli Corporation