Industrial Alcohols Market Overview:
Global Industrial Alcohols Market was valued at $100,535 million in 2016, and is expected to reach $198,610 million by 2023, registering a CAGR of 10.2% from 2017 to 2023. Industrial alcohols act as a reagent as well as a solvent in various industrial applications in the pharmaceuticals, personal care, energy sector, and chemical industries. These alcohols are used in applications other than beverages. In addition, multi-functionality increases the adoption in various end-use applications. Moreover, ethanol, being the majorly produced and consumed alcohol, is widely utilized as a biofuel worldwide. These fuels are produced by fermentation of sugars derived from wheat, corn, sugar beets, sugar cane, and molasses. Furthermore, it is used in petrol engines as an alternative to gasoline. In addition, alcohols such as methanol, benzyl alcohol, and isopropyl alcohol are also used in the production of food products, flavorings, cosmetics, and adhesives.
Global Industrial Alcohols Market Segmentation
The global industrial alcohols market is segmented based on type, application, source, and geography. On the basis of type, it is classified into isopropyl alcohol, methyl alcohol, ethyl alcohol, isobutyl alcohol, benzyl alcohol, and others (pentanol and methyl-1-butanol). Based on source, it is categorized into molasses, sugar, grains, fossil fuels, and others (whey and grapes). On the basis of application, it is divided into fuel, chemical intermediates & solvent, pharmaceuticals, personal care products, food ingredients, and others (adhesives and coatings). On the basis of processing method, it is divided into fermentation and synthetic. Geographically, it is analyzed across North America, Europe, Asia-Pacific, and LAMEA.
The global industrial alcohols market is driven by in the growing demand for biofuels among end users for energy security and increasing demand for low-priced feedstock in the chemical industry. Moreover, surge in demand for organic solvents due to excellent properties of these alcohols, such as high-octane number and more flammability characteristics, boosts the market growth in transportation. In addition, shortage of petroleum and rise in prices of energy have aggravated the problem of energy crisis; leading to increasing utilization of alcohols as an energy source. Further, bioethanol is mixed with gasoline and diesel for use as a fuel in automobiles. Moreover, government mandates to use 22% ethanol blended petrol in Brazil coupled with blend of 10% ethanol with petrol (gasohol) in the U.S. for routine usage in cars have propelled the market growth.
In addition, proactive government initiatives and increasing use of methanol in chemical industries coupled with spiraling growth in production facilities are expected to drive the market growth. Moreover, increase in the number of partnerships between companies to reduce greenhouse gas emissions, and reduce dependence of the energy sector on imported fossil fuels are expected to boost the market growth. However, fluctuating prices of feedstocks, such as molasses, are expected to hamper the production of alcohol, thereby hampering the market growth.
Top Investment Pockets
The fuel application segment is anticipated to be the most lucrative for investment and is estimated to grow at the highest CAGR during the forecast period, owing to the increased usage of ethanol as a motor fuel in the automotive industry and less dependence of greenhouse gas emissions from vehicles. Thus, blended ethanol as a transportation fuel is further gaining demand in the developing countries, such as China, Thailand, and India, which in turn boosts the market growth.
Top Investment Pockets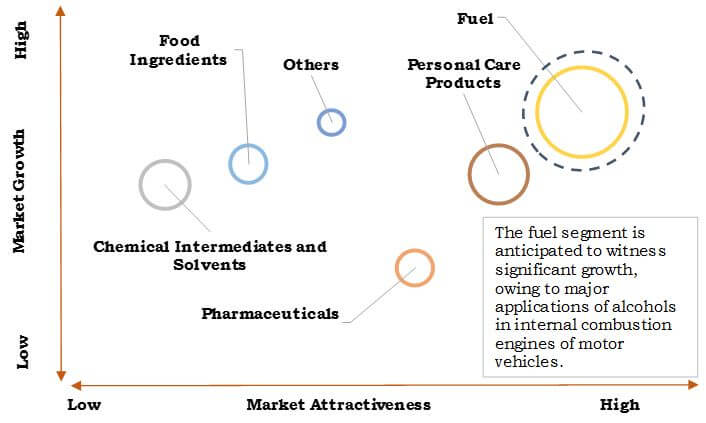 Segment Review
The grains segment dominated the global market in 2016, and is anticipated to maintain this trend throughout the forecast period. The sugar segment is expected to grow at a CAGR of 10.4%.
Industrial Alcohols Market Share, by Source, 2016 (%)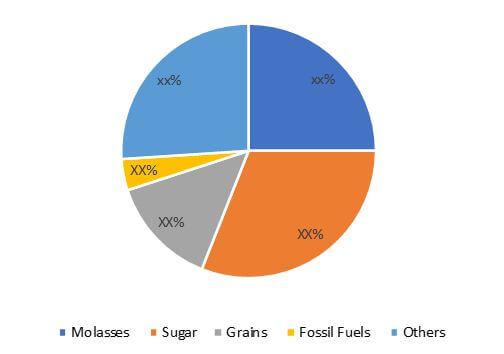 Geographical Review
North America accounted for a significant share of the global market revenue in 2016, followed by LAMEA and Europe. The enhanced production of industrial solvents from agricultural wastes and algae in countries, such as U.S. and Brazil, has created higher demand for ethanol as a major source of octane as well as a conveyance fuel.
India Industrial Alcohols Market Value, 2016-2023 ($million)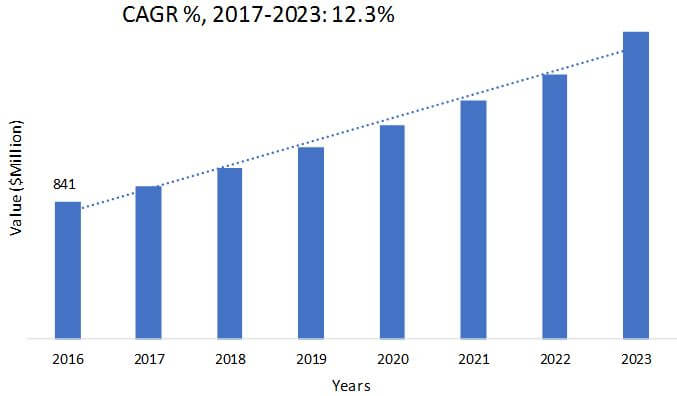 The key players operating in the industry such as Cargill Inc., MGP Ingredients Inc., Green Plains Inc., Birla Sugar, Cristalco, Greenfield Specialty Alcohols, Flint Hills Resources, Sigma Aldrich, The Andersons Inc., and BASF SE invest in R&D activities to develop advanced products to cater to the requirements of the market.
The other players in the value chain (profiles not included in the report) include Haike Chemical Group, Lanxess, Exxon Mobil Corporation, Eastman Chemical, Birla Sugar, Khemani Group, Ethanol Company Ltd., Dollex Industries, and Praj Industries.
Key Benefits
The report provides an extensive analysis of the global industrial alcohols market share, size and trend from 2016 to 2023 to determine the prevailing opportunities.
Comprehensive analysis of the factors that drive and restrict the market growth is provided in the market.
Extensive analysis of the industry is conducted by following product benchmarking, positioning, and monitoring the top competitors within the global market.
Porters five forces analysis highlights the potency of buyers & suppliers to enable stakeholders to make profit-oriented business decisions and strengthen their supplier-buyer network.
The report provides key insights on strategic industrial alcohols industry analysis of various companies and the value chain analysis of the alcohol industry.
 Industrial Alcohols Market Report Highlights
Aspects
Details
By Type

Isopropyl Alcohol
Methyl Alcohol
Ethyl Alcohol
Isobutyl Alcohol
Benzyl Alcohol
Others (Pentanol and Methyl-1-Butanol)

By Application

Fuel
Chemical Intermediates & Solvent
Pharmaceuticals
Personal Care Products
Food Ingredients
Others application (Adhesives and Coatings)

By Source

Molasses
Sugar
Grains
Fossil Fuels
Others Source (Whey and Grapes)

By Processing Method
By Geography

North America
Europe

Germany
France
UK
Spain
Hungary
Rest of Europe

Asia-Pacific

India
China
Thailand
Rest of Asia-Pacific

LAMEA

Brazil
Argentina
South Africa
Rest of LAMEA

Key Market Players
CARGILL, MGP INGREDIENTS, GREEN PLAINS INC., BIRLA SUGAR, CRISTALCO, GREENFIELD SPECIALTY ALCOHOLS, FLINT HILLS RESOURCES, SIGMA ALDRICH, THE ANDERSONS INC., BASF