Industrial Batteries Market Overview - 2030
As per the industrial batteries market analysis, the global industrial batteries market was valued at $9.0 billion in 2020, and industrial batteries market forecast is projected to reach $30.8 billion by 2030, growing at a CAGR of 13.2% from 2021 to 2030. Since 2018, the annual deployed capacity of industrial batteries has increased with 200%. From traditional batteries having been used majorly in one consumer electronics during the 90s and early 2000, industrial batteries are now powering several end-use applications such as grid storage and uninterrupted power systems. Industrial batteries are used in remote, difficult-to-reach areas where equipment/devices are required to be self-powered, and recharging & replacement of batteries is difficult or is not possible. The basic components equipped in these batteries majorly include cathode, anode, and electrolyte, out of which the cathode occupies around 30% of the overall battery cost. Industrial batteries are rechargeable, which are commonly used as a power source in various data centers, grid storage, and telecommunication centers. Lithium-ion battery, nickel-based, and lead-based industrial batteries are the most common types used in industrial applications.
The industrial batteries market has been negatively impacted due to the wake of the COVID-19 pandemic, owing to unavailability of labor, raw material shortage and decreasing consumption trends. For instance, covid-19 pandemic has pushed leading battery manufacturer Exide to sell its North America manufacturing operations for its survival.
Ongoing advancements in industrial batteries industry, increase in annual deployed capacities for industrial batteries, stringent government regulations implemented to control increasing pollution are some of the major drivers currently driving the global industrial batteries market trend. In addition, industrial batteries are increasingly being used in applications such as backup power for telecom base stations and data centers or to power fork lifts, which significantly contributes toward the industrial batteries market growth. As per the research conducted by the Statistical Review of World Energy in 2020, the global annual renewable energy (including biofuels) posted a record increase in consumption in energy terms (3.2 EJ). This was the largest increment for any source of energy in 2019. Furthermore, industrial batteries do not emit hazardous acids such as sulfuric acid, which promotes environmental sustainability, thereby contributing toward the growth of the global market.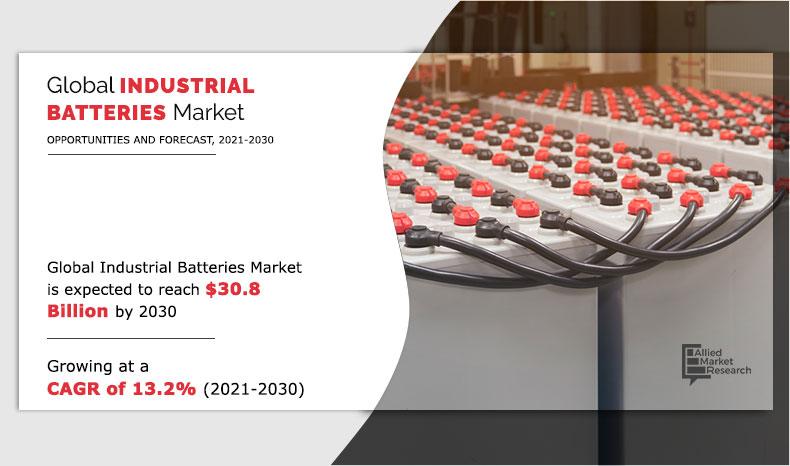 Get more information on this report : Request Sample Pages
Moreover, depletion of natural resources, increase in carbon emissions, and continuous efforts taken by both public & private sectors to reduce carbon emissions and save fuel consumption contribute toward the market growth. Implementation of government regulations related to carbon emission is anticipated to increase the use of lithium-ion battery thereby expected to fuel the industrial batteries market shares globally.
Manufacturers develop improved solutions and various equipment for specific requirement along with improved technology and fuel efficiency to reduce operation cost and enhance productivity of industrial batteries. These requirements have increased the demand for industries batteries in equipment manufacturing applications. To introduce new battery technologies, majority of industrial batteries manufacturers are collaborating with battery raw material suppliers to strengthen the supply of battery raw materials as the global industrial batteries market is depicted to increase at a fast pace creating abundant opportunities during the forecast period.
However, high price of lithium-ion batteries is likely to hamper the growth of industrial batteries market during the forecast period. According to PowerTech Systems, engaged in manufacturing, distributing, exporting, and importing of an exhaustive range of Frequency Inverters, AC Drives, and VFD, the cost of lithium-ion battery is 805.3 USD/KWh, whereas the cost of lead-acid battery is 172.6 USD/KWh. This has declined the adoption rate of these batteries across different applications, thereby limiting the global industrial batteries market size. Owing to regional concentration of industrial battery raw materials, metals reserves in countries such as China and DRC create the risk of supply shortages in case of any export restrictions.
The global industrial batteries market is segmented into type, application, and region. 
Industrial Batteries Market

---
By Type
Lithium-ion battery is projected to create abundant $ opportunity till 2030
Get more information on this report : Request Sample Pages
On the basis of type, the global industrial batteries market is categorized into lithium-ion battery (lithium cobalt oxide, lithium magnesium oxide, lithium titanite, and others), nickel-based, and lead based. The applications of industrial batteries include telecom & data communication, uninterruptible power supply (UPS), energy, equipment, grid storage, and others (railways, utility, and security.).
Region wise, the market is studied across North America, Europe, Asia-Pacific, and LAMEA. 
The major companies profiled in this report include Johnson Controls, Inc., Exide Technologies, Inc., Enersys, Inc., Saft Groupe S.A., GS Yuasa Corp., Northstar Battery Company LLC, C&D Technologies, Inc., Robert Bosch GmbH, East Penn Manufacturing Co., and LG Chem.
Industrial Batteries Market

---
By Application
Telecom and data communication is projected as the most lucrative segment.
Get more information on this report : Request Sample Pages
Asia-Pacific accounted for the largest share of the market in 2020, owing to rapid industrialization in China and India coupled with presence of manufacturing facilities.
In terms of type, the lithium-ion battery segment accounted for the largest market share in 2020, and is projected to grow at a CAGR of 13.0% from 2021 to 2030, owing to increase in demand for lithium-ion batteries among different industry verticals. 
By application, the telecom & data communication segment garnered the highest revenue share in 2020, and is expected to register a CAGR of 11.7%. Presently, increasing demand for reliable and dependable power solutions to support large scale manufacturing facilities to ensure data safety and security is expected to fuel the growth of telecom & data communication segment. 
Industrial Batteries Market

---
By Region
Aisa Pacific holds a dominant position in 2020 and would continue to maintain the lead over the forecast period.
Get more information on this report : Request Sample Pages
Impact Of Covid-19 On The Global Industrial Batteries Market
The COVID-19 pandemic has negatively affected the global economy and subsequent shrinking of the GDP in global economies, thereby changing consumer spending patterns globally.
The pandemic has disrupted the global industrial sector due to unavailability of labor and raw material shortage. This led to demand–supply gaps, thus hampering industrial batteries production.
Several legal liabilities over business due to the COVID-19 pandemic have pushed leading industrial battery manufacturers to completely shut down the manufacturing capacities. 
Thus, the abovementioned factors are expected to hamper the global industrial battery market growth.
Key Market Segments
By Type
Lithium-Ion Battery

Lithium Cobalt Oxide
Lithium Magnesium Oxide
Lithium Titanite
Others

Nickel-based
Lead-based
By Application
Telecom & Data Communication
Uninterruptible Power Supply (UPS)
Energy
Equipment
Grid Storage
Others (Railways, Utility, and Security)
By Region
North America
Europe

Germany
France
Italy
Spain
UK
Rest of Europe

Asia-Pacific

China
Japan
India
South Korea
Rest of Asia Pacific

LAMEA

Brazil
Saudi Arabia
South Africa
Rest of LAMEA