Industrial Brakes Market Research, 2030
The global industrial brakes market size was valued at $1,295.20 million in 2020, and is projected to reach $1,957.31 million by 2030, growing at a CAGR of 4.1% from 2021 to 2030. Industrial brakes are the type of systems that are used for construction, forestry, axle, trailer, defense, agricultural, material handling, and utility applications. These brakes slow down or provide complete stoppage. These brakes use friction for holding rotating or movable parts in its place when required and converts kinetic energy that is generated through the friction between surfaces to halt the movement. These brakes provide complete safety that is growing in use in different industries.
The industrial brakes market was hampered during the outbreak of COVID-19 pandemic, owing to restrictions on construction activities, which also affected resales sector. In addition, the home warranty services could not be effectively sold through banks and financial channels.
The construction and manufacturing industry is growing, owing to rise in government spending over infrastructure projects and increase in demand for commercial and residential segments. Growth in construction projects is bringing more demand for construction equipment such as excavators, backhoe, graders, bulldozers, trenchers and many other construction equipment used for construction applications. This equipment has different performance needs to handle larger amount of weight. Brakes used helps in letting construction equipment to handle larger quantity of load. In addition, growing production and demand for equipment drives the industrial brakes market. In addition, use of robots for different industries is growing. For instance, industrial robots are used for manufacturing applications to provide pick and place operations. Major risks associated with using large robots over different industries is the non-commanded motion that requires immediate action to stop robots. Brakes used for robots help in providing dynamic stopping during emergency. In addition, growth in use of robots for better productivity in different industries and factories drive demand for the industrial brakes market.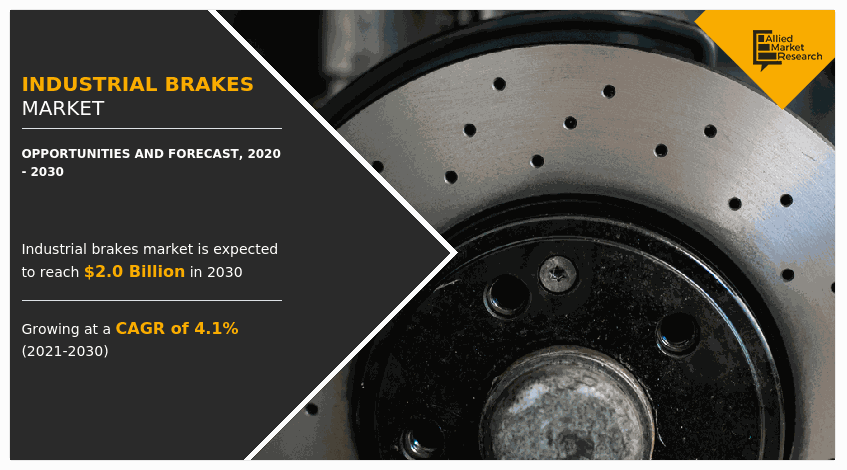 However, industrial brakes are made up of different kind of materials such as  kevlar, fiberglass, fibers, metal, and ceramic to provide high durability for regular industrial usage. Hence, manufacturing using these materials leads to higher cost. This is leading various industries to use servo motors as an alternative due to lower cost and similar functionality . In addition, different countries are bringing industrial safety standards such as minimum safety standards in Europe. This deals with safety and preventing injury and harm that could be caused to humans during the use of the equipment. Hence this is also preventing the use  of certain industrial machines which is limiting the manufacturing of industrial brakes.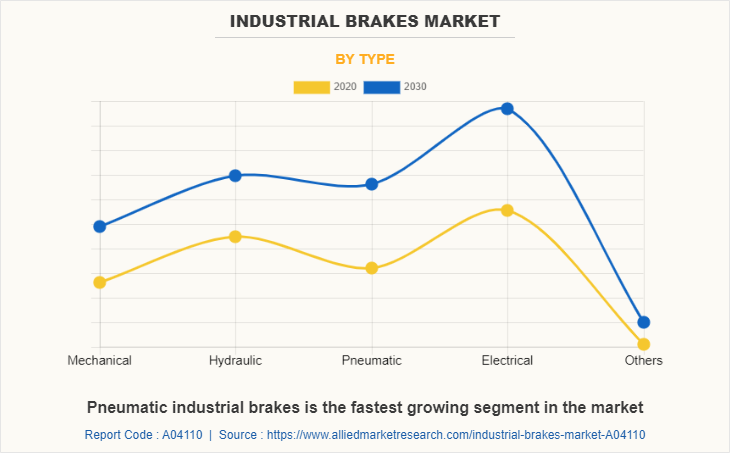 Furthermore, during the outbreak of the COVID-19 pandemic, construction, manufacturing, hotel, and tourism industries were majorly affected. Manufacturing activities were halted or restricted. Construction and transportation activities, along with their supply chains, were hampered on a global level. This led to decline in manufacturing of industrial brakes as well as their demand in the market, thereby restraining the industrial brakes market growth. Conversely, industries are gradually resuming their regular manufacturing and services. This led to re-initiation of companies manufacturing industrial brakes at their full-scale capacities, which helped the industrial brakes market share to recover by end of 2021.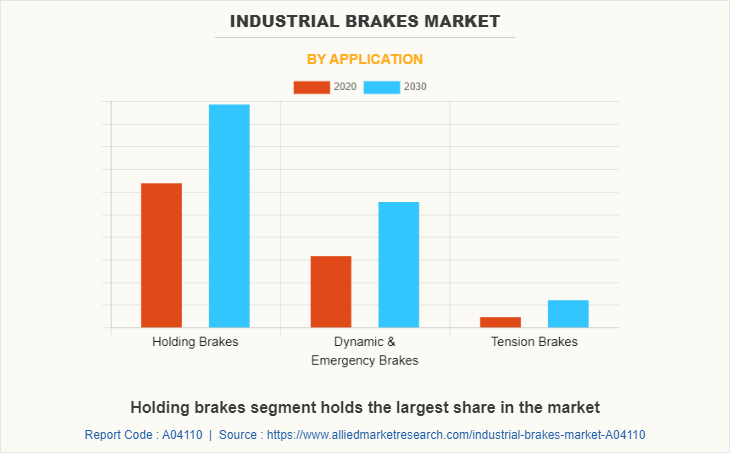 Manufacturing of electric and automatic vehicles is growing, owing to certain benefits it offers over manual functioning vehicles such as reducing the speed prior to collision of vehicle, providing safety to pedestrians, reducing speed of moving vehicles, and handling emergency situations. Brakes used in vehicles are equipped with different sensors such as ultrasonic, infrared, radar, and lidar to scan objects and people nearby to vehicles. It helps in providing instant action for reducing speed, which provides better safety to users. Owing to this various manufacturers are considering use of brakes with sensors, which is expected to offer new industrial brakes market opportunities.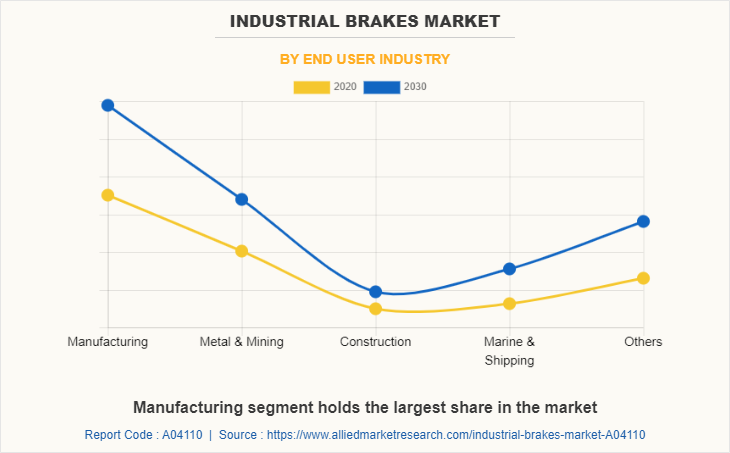 The global industrial brakes market is segmented on the basis of type, application, end user industry, and region. By type, the market is divided into mechanical, hydraulic, pneumatic, electrical, and others. By application, it is divided into holding brakes, dynamic & emergency brakes, and tension brakes. By end user industry, it is divided into manufacturing, metal & mining, construction, marine & shipping, and others. Region wise, the global industrial brakes market analysis is conducted across North America (the U.S., Canada, and Mexico), Europe (the UK, France, Germany, Italy, and rest of Europe), Asia-Pacific (China, Japan, India, South Korea, and rest of Asia-Pacific), and LAMEA (Latin America, the Middle East, and Africa).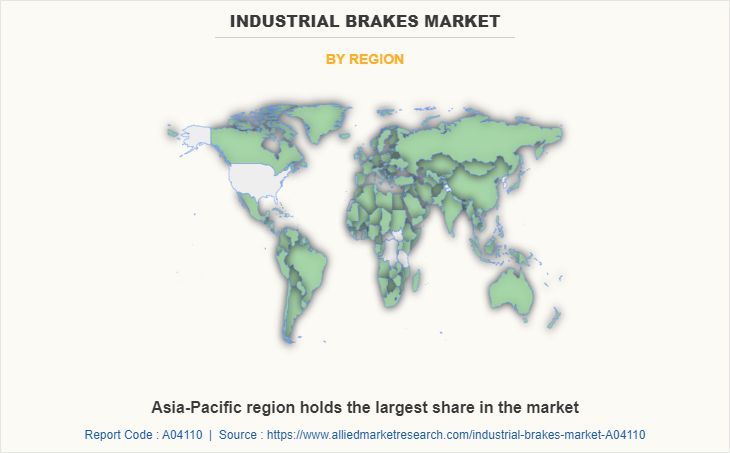 On the basis of type, in 2020, the electrical segment dominated the industrial brakes industry, in terms of revenue, whereas the others segment is expected to witness growth at the highest CAGR during the forecast period. As per application, in 2020, the holding brakes segment led the industrial brakes market, however, the tension brakes segment is expected to exhibit highest CAGR in the future. By end user industry, the manufacturing segment led the market in 2020, in terms of revenue; however, the others segment is anticipated to register highest CAGR during the forecast period. Region wise, Asia-Pacific garnered the highest revenue in 2020; however, LAMEA is anticipated to register highest CAGR during the forecast period.
COMPETITOR ANALYSIS
The major players profiled in the industrial brakes market include AKEBONO BRAKE INDUSTRY CO., LTD., Altra Motion, Antec Group, Carlisle Brake & Friction, Comer Industries Spa (Walterscheid Powertrain Group), Coremo Ocmea S.p.A., Dellner Bubenzer , Eaton, Ringspann GmbH , and SIBRE.
Major companies in the market have adopted product launch, business expansion, agreement, and acquisition as their key developmental strategies to offer better products and services to customers in the industrial brakes market.
Key Benefits For Stakeholders
This report provides a quantitative analysis of the market segments, current trends, estimations, and dynamics of the industrial brakes market forecast from 2020 to 2030 to identify the prevailing market opportunities.
The market research is offered along with information related to key drivers, restraints, and opportunities.
Porter's five forces analysis highlights the potency of buyers and suppliers to enable stakeholders make profit-oriented business decisions and strengthen their supplier-buyer network.
In-depth analysis of the industrial brakes market segmentation assists to determine the prevailing market opportunities.
Major countries in each region are mapped according to their revenue contribution to the global market.
Market player positioning facilitates benchmarking and provides a clear understanding of the present position of the market players.
The report includes the analysis of the regional as well as global industrial brakes market trends, key players, market segments, application areas, and market growth strategies.
 Industrial Brakes Market Report Highlights
Aspects
Details
By Type

Mechanical
Hydraulic
Pneumatic
Electrical
Others

By Application

Holding Brakes
Dynamic & Emergency Brakes
Tension Brakes

By End User Industry

Manufacturing
Metal & Mining
Construction
Marine & Shipping
Others

By Region

North America (U.S., Canada, Mexico)
Europe (Germany, United Kingdom, France, Italy, Rest of Europe)
Asia-Pacific (China, Japan, South Korea, India, Rest of Asia-Pacific)
LAMEA (Latin America, Middle East, Africa)

Key Market Players
Dellner Bubenzer, Comer Industries Spa (Walterscheid Powertrain Group), Eaton, Antec Group, AKEBONO BRAKE INDUSTRY CO., LTD., carlisle brake & friction, Altra Motion, Coremo Ocmea S.p.A., SIBRE, ringspann gmbh