Industrial Carbon Nanotubes Market Outlook - 2030
The global industrial carbon nanotubes market size was valued at $2.3 billion in 2020, and is projected to reach $10.3 billion by 2030, growing at a CAGR of 16.3% from 2021 to 2030.
The COVID-19 pandemic triggered a global industrial slowdown, thus drastically hampering the supply as well as the demand for industrial-grade CNTs.
Industrial carbon nanotubes are a sub-segment of carbon nanotubes, which are less pure when compared with other CNT products. On the basis of number of graphene sheets used, CNTs are classified into two types—single-walled CNTs (SWCNTs) and multi-walled CNTs (MWCNTs). MWCNTs also consist of double-walled CNTs. They are used as structural polymer composites for automotive and aerospace components due to their superior mechanical properties, such as strength and flexibility. CNT reinforced fibers are stiffer when compared with steel and resistant to external wear & tear. CNTs have high electrical conductivity, which makes them ideal for use in conductive polymer composites. They are used as conductive fillers in ESD materials, EMI shielding, and electronics packaging. Further, as they have high aspect ratio, lower addition of CNT is enough to obtain the desired electrical conductivity. CNTs are good electron field emitters for use in flat panel displays, touch screens, and various sensors. In addition, CNTs offer high charge carrying capacity and high surface area. They are the preferred material for use as electrodes in capacitors and batteries. 
The global industrial carbon nanotubes market is presently driven by factors such as a consistent demand for lightweight structural composites and additives. Carbon nanotubes-based ESD materials are used in fuel pumps, fuel filter housings, connectors, reservoirs, line clips, and electronic housings. In the electronics industry, CNTs are used to produce electromagnetic interference (EMI) shielding composites and antistatic packaging materials. CNTs are slowly replacing other additives such as carbon black particles, carbon fibers, or metallic fibers. The demand for CNTs is on a significant rise in the aerospace & defense industry, owing to its superior properties and capability to facilitate designing of lightweight parts. Wind turbine blades (WTBs) can be enhanced using CNTs that are embedded in a polymer matrix. Rise in environmental concerns due to increase in use of petroleum products and coal as a major energy source have increased the adoption of renewable energy sources. Therefore, government organizations in various countries offer subsidies and funds to promote the usage of renewable energy sources such as wind, solar, and others.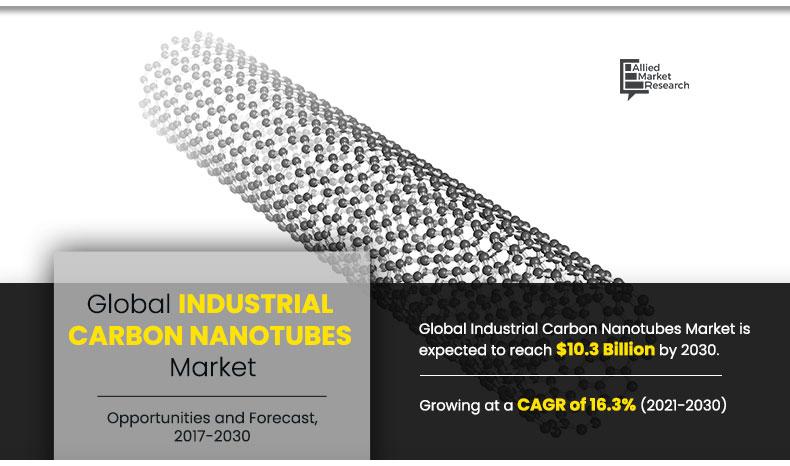 Get more information on this report : Request Sample Pages
High costs of manufacturing lead to a restricted investment opportunity, thus hampering the setup of a new CNT manufacturing plant. Hence, only companies capable of investing huge capital are seen as potential new players. Moreover, scaled-up CVD process faces challenges such as slow growth, poor yield, inconsistent material quality, and lack of real-time process control. During the forecast period, advancements in nanotechnology in terms of manufacturing process and reinforcing with diverse materials are expected to lead the novel CNT applications. Carbon nanotube manufacturers and academic organizations are actively pursuing this sector to find new ways to incorporate nanoparticles. Such activities are anticipated to be opportunistic for industrial carbon nanotubes market growth.  The carbon nanotubes market analysis is done by type, technology, application, and region
On the basis of type, the global industrial carbon nanotubes market is classified into single-walled carbon nanotubes (SWCNT) and multi-walled carbon nanotubes (MWCNT). On the basis of technology, the global industrial carbon nanotubes market is divided into arc discharge, laser ablation, CVD, catalytic CVD, high pressure carbon monoxide, CoMoCAT, floating catalyst, and others. On the basis of application, the market is segmented into electronics & semiconductor, energy storage, structural composites, chemical materials, medical & pharmacy, and others. The electronics & semiconductor is further sub-segmented into display, integrated circuits, transistors, industrial sensors, superconductors, and others. The energy storage segment consists of Li-ion battery, lead acid battery, fuel cells, solar PV cells, hydrogen storage, and electrochemical. Structural composites include aerospace, defense, sporting goods, wind turbine, automotive, construction, rubber & tires, and others. Chemical materials include coatings, adhesives and sealants, catalyst, water filtration, polymers, fire retardants, and others. Medical & pharmacy consists of transdermal drug delivery, cancer treatment, proteomics, and others. On the basis of region, the market is studied across North America, Europe, Asia-Pacific, Middle East, Africa, and South America. Presently, Asia-Pacific accounts for the largest share of the market, followed by Europe and North America.
The major companies profiled in this report include Arkema SA, Cabot Corporation, CHASM Advanced Materials Inc., CHEAPTUBES, Hyperion Catalysis International, Jiangsu Tiannai Technology Co. Ltd., Klean Industries, Kumho Petrochemical, LG Chem, Nano-C, Nanocyl SA, Nanostructured & Amorphous Materials Inc., Nopo Nanotechnologies, OCSiAl, Ossila Ltd., Raymor Industries, Showa Denko K.K., Thomas Swan and Co. Ltd., Tokyo Chemical Industry Co. Ltd., and Toray Industries.
Industrial Carbon nanotubes market, by region 
The Asia-Pacific industrial carbon nanotubes market size is projected to grow at the highest CAGR of nearly 17.5%, in terms of revenue during the forecast period. Presence of a vast manufacturing base in countries, such as China, Japan, Australia, and India, is expected to drive the demand for CNTs during the forecast period.
Get more information on this report : Request Sample Pages
Industrial Carbon nanotubes market, by type
The single-walled carbon nanotube segment is projected to grow at a high CAGR of 20.9%, owing to its comparatively superior electronic properties, thereby making it ideal for ESD materials.
Get more information on this report : Request Sample Pages
Industrial Carbon nanotubes market, by technology
CVD method accounted for the largest market share, owing to commercial adoption of various CVD methods by key players. Other technology segment is projected to be the fastest growing segment, owing to proactive research and development in alternative techniques for synthesizing CNTs in larger quantities
Get more information on this report : Request Sample Pages
Industrial Carbon nanotubes market, by application
Structural composites segment accounted for the largest share in the global industrial carbon nanotubes market, owing to the adoption of CNTs in automotive and aerospace sectors for structural composites. The medical & pharmacy segment is projected to grow at the fastest CAGR of 18.86%, owing to the increasing use of CNTs in drug delivery and biosensing applications
Get more information on this report : Request Sample Pages
Key benefits for stakeholders
Porter's five forces analysis helps analyze the potential of buyers & suppliers and the competitive scenario of the industry for strategy building.
It outlines the current industrial carbon nanotubes market trends and future estimations from 2017 to 2030 to understand the prevailing opportunities and potential investment pockets.
The major countries in the region have been mapped according to their individual revenue contribution to the regional market.
The key drivers, restraints, and opportunities and their detailed impact analysis are explained in the study.
The profiles of key players and their key strategic developments are enlisted in the report.
Impact Of Covid-19 On The Global Indsutrial Carbon Nanotubes Market
The COVID-19 pandemic has negatively affected the global economy and subsequent shrinking of the GDP in global economies, thereby changing consumer spending patterns globally.
Due to a reduction in labour and limits on manufacturing operations, the global automotive supply chain was disrupted, resulting in a shortage of essential automotive components. Furthermore, during the predicted period, uncertainty about economic conditions led to a drop in consumer confidence, hurting consumer spending. Vehicle sales are projected to drop as a result of this.
Overall, decline in manufacturing output as a result of partial operations and shortage of workforce & raw materials is expected to decrease the demand for CNTs during the forecast period. 
Financial turbulence in leading economies may delay commissioning of new renewable electricity projects, wind mills & tidal energy farms, biofuel facilities, and renewable heat investments. 
In addition, the renewable sector in most of the countries is largely dependent on imports from other countries, notably from China. China, the known source of this pandemic, has been the most affected one in terms of material supply and material transport due to COVID-19. 
The above factors are expected to impact the global industrial carbon nanotubes market growth during the forecast period.
Key market segments
By Type
Single-Walled Carbon Nanotubes (SWCNTs)
Multi-Walled Carbon Nanotubes (MWCNTs)
By Technology
Arc Discharge
Laser Ablation
CVD
Catalytic CVD
High Pressure Carbon Monoxide
CoMoCAT
Floating Catalyst
Others 
By Application
Electronics & Semiconductor    

Display
Integrated Circuits
Transistors
Industrial Sensors
Superconductors
Others

Energy Storage    

Li-ion Battery
Lead Acid Battery
Fuel Cells
Solar PV Cells
Hydrogen Storage
Electrochemical

Structural Composites    

Aerospace: Airframe, Body Parts, Others
Defense: Bulletproof Vests, Combat Jackets, Protection Blankets, and Others    
Sporting Goods: Golf Sticks, Tennis Rackets, Helmets, Sports Bicycle, and Others
Wind Turbine
Automotive
Construction
Rubber & Tires
Others

Chemical Materials    

Coatings, Adhesives and Sealants
Catalyst
Water Filtration
Polymers
Fire Retardants
Others

Medical & Pharmacy    

Transdermal Drug Delivery
Cancer Treatment
Proteomics
Others

Others    
By Region
North America
Europe

Germany
France
UK
Italy 
Spain
Rest of Europe

Asia-Pacific

China
Japan
India
South Korea
Australia
Rest of Asia-Pacific

Middle East

Saudi Arabia
Qatar
UAE
Rest of Middle East

Africa

Egypt
South Africa
Rest of Africa

South America

Brazil
Chile
Rest of South America
Key players in the global industrial carbon nanotubes market are:
Arkema SA
Cabot Corporation
CHASM Advanced Materials Inc.
CHEAPTUBES  
Hyperion Catalysis International
Jiangsu Tiannai Technology Co. Ltd.
Klean Industries
Kumho Petrochemical
LG Chem
Nano-C
Nanocyl SA
Nanostructured & Amorphous Materials Inc.
Nopo Nanotechnologies
OCSiAl
Ossila Ltd.
Raymor Industries
Showa Denko K.K.
Thomas Swan and Co. Ltd.
Tokyo Chemical Industry Co. Ltd.
Toray Industries