Industrial Cobot Market Outlook - 2026
The global industrial cobot market size was $0.65 billion in 2018 and is estimated to reach $12.48 billion by 2026, growing at CAGR of 44.8% from 2019 to 2026. Collaborative robots are robots intended to interact with humans in a shared workplace or to work safely in close proximity. Cobots are designed to be used within a defined collaborative workspace with human workers, and typically have some built-in safety mechanisms to support. 
Industrial cobots are used for fulfilling repetitive or injury-prone tasks such as machine tending or palletizing while the human worker performs higher-value upstream or downstream manual tasks. In addition, Cobots perform the actions in the same way as human, but at high speed and efficiency.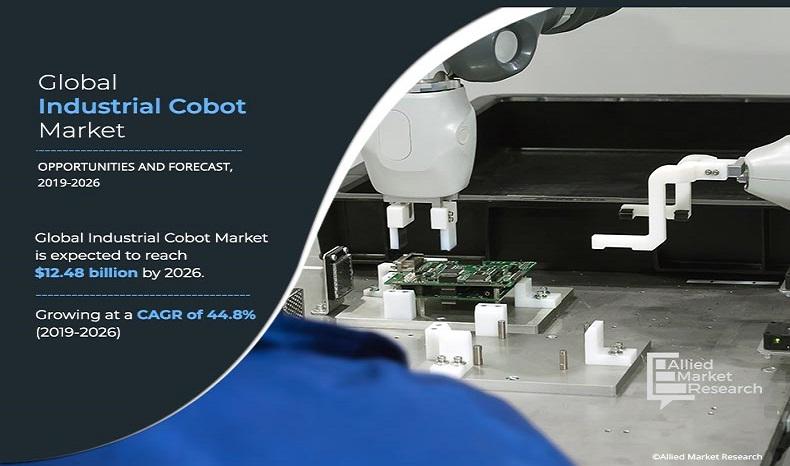 Cobots are much smaller and easily deployed in a wide range of manufacturing industries as compared to other machines. These are different than industrial robots, which tend to be large robots that weld and spray paint in a car manufacturing industry. Increase in demand for performing tasks that need higher payload capacity is expected to contribute to the rise in demand. The ability of cobots to work effectively with employees in an uncaged environment has led to an increased installation in the industry. The co-robots are designed with advanced sensors, software, and end of arm tooling (EOATs) that helps in prevention of employee injuries.
The growth of the industrial cobot market is driven by rise in demand for automation, availability of affordable and energy-efficient industrial cobots, and surge in investment in R&D activities. However, high installation cost limits the growth of the market. Furthermore, rise in robot installation in various industry verticals across the globe offers lucrative opportunities for the industrial cobot market growth.
Technological advancements enable developers to design new and innovative products, while maintaining the affordability of the product. The adoption of industrial cobots, such as cobot arms, has increased by small and medium businesses, owing to their low cost and enhanced usability. Cobot arms are collaborative robots that are energy efficient and designed to cater to specific applications that are machine tending, pick & place, and other operations.
Segmentation
The industrial cobot market is segmented on the basis of application, end user, and region. On the basis of application, the market is categorized into material handling, machine tending, test/Inspection, value added processing, and transport. End users covered in the study include automotive, electronics, food & beverages, manufacturing, healthcare, and others. By region, the market is analyzed across North America, Europe, Asia-Pacific, and LAMEA.
Industrial Cobot Market

---
By Application
Value Added Processing applications segment is projected as one of the most lucrative segments.
Top Impacting Factors
The significant impacting factors in the industrial cobot market include rise in demand for automations, availability of affordable and energy-efficient industrial cobots, and surge in investments in R&D activities. However, high installation cost is expected to hinder the market growth. Conversely, increase in installation of robots in various industry verticals across the globe is projected to offer remunerative opportunities to the industrial cobot market. Each of these factors is anticipated to have a definite impact on the market during the forecast period. 
Some major factors impacting the industrial cobot market growth are given below:
Rise in Demand for Automation
Several companies focus on the automation of operational processes to reduce cost, save time, deliver high-quality products, and increase productivity to meet the stiff competition. Industrial cobots automate the internal processes and reduce workload of employees by working in collaboration with workers for better efficiency. They are used in the manufacturing industry for raw material handling and finished product packaging in factories for wielding and assembling., In addition, these robots are used in infrastructure and logistics projects for  monitoring and reducing human labor. In addition, it is designed in such a way that it can perform task directly in cooperation with a human during operation safely.
Industrial Cobot Market

---
By End User
Manufacturing segment is expected to secure leading position during forecast period.
High Installation Cost
High installation cost and integration capabilities required for the initial setup of industrial cobots restrain their adoption. Initial investment and maintenance cost of employing robotics systems are high due to the integration of high-quality hardware coupled with efficient software control system. The need for high initial investment limits the use of industrial cobotics in the professional and personal use segments. Industrial cobotic systems are predominantly used in manufacturing; automotive; infrastructure; agriculture; food & beverage; metals; and chemical, rubber & plastics industries. 
Growing Robot Installation in Various Industry Verticals Across the Globe
Emerging economies in Asia-Pacific and LAMEA have adopted industrial cobotics solutions for various professional uses, and this is expected to facilitate faster growth in terms of efficiency. Earlier, the use of industrial cobots was restricted to the automotive and manufacturing industries; however, industries such as food & beverage, metals, chemical & material industries, aerospace, and electronics have deployed industrial cobots. Increase in demand from the food & beverages sector for raw material handling, packing finished products, and logistics has increased the sales of industrial cobots. The precision & optics sectors use robots for analysis of a variety of food products on the basis of quality, composition, and authenticity. In the future, the adoption of robotics technology is expected to increase further leading to the industrial cobot market.
Competitive Analysis
The key players profiled in the industrial cobot market report include ABB Ltd, The Fanuc Corporation, Kawasaki Heavy Industries Ltd., Nachi Fujikoshi Corporation, Yaskawa Electric Corporation, KUKA AG, Seiko Epson Corporation, Staubli International AG, Universal Robots A/S, and Teradyne. These key players have adopted strategies, such as product launches, business expansion, mergers & acquisitions, agreements, geographical expansion, and collaborations, to enhance their industrial cobot market share.
Industrial Cobot Market

---
By Geography
Asia Pacific region would exhibit the highest CAGR of 47.6% during 2019-2026
Key Benefits for Stakeholders:
This study includes the analytical depiction of the global industrial cobot market along with the current trends and future estimations to determine the imminent investment pockets.
The market size is determined to understand the profitable trends to gain a stronger foothold.
The report presents information related to key drivers, restraints, and opportunities with a detailed impact on the industrial cobot market analysis.
The current industrial cobot market forecast is quantitatively analyzed from 2018 to 2026 to benchmark the financial competency.
Porter's five forces analysis illustrates the potency of the buyers and suppliers in the industrial cobot industry.
The report includes the industrial cobot market trends and market share of key vendors.
 Industrial Cobot Market Report Highlights
Aspects
Details
By Application

Material Handling
Machine Tending
Test/Inspection
Value Added Processing
Transport

By End User

Automotive
Electronics
Food & Beverages
Manufacturing
Healthcare
Others

By Region

North America (U.S., Canada, Mexico)
Europe (Germany, France, Italy, UK, Rest of Europe)
Asia-Pacific (Japan, China, South Korea, India, Rest of Asia-Pacific)
LAMEA (Latin America, Middle East, Africa)

Key Market Players
ABB, The Fanuc Corporation., Kawasaki Heavy Industries Ltd., KUKA AG, Yaskawa Electric Corporation, Nachi Fujikoshi Corporation, Seiko Epson Corporation, Staubli International AG, Universal Robots A/S, Teradyne