The global industrial controls market size was valued at $121.48 billion in 2019, and is projected to reach industrial controls market size $170.12 billion by 2027, registering a CAGR of 5.91%. Industrial control systems comprise various automation equipment, machines, and components. These systems are developed to monitor, control, and perform various industrial tasks & automate processes with high precision, improved product quality, and reliability. ABB Ltd., Mitsubishi Electric Factory Automation, Siemens, Honeywell International Incorporation, Emerson Electric Company, and Schneider Electric SA are some of the key players which have major industrial controls market share.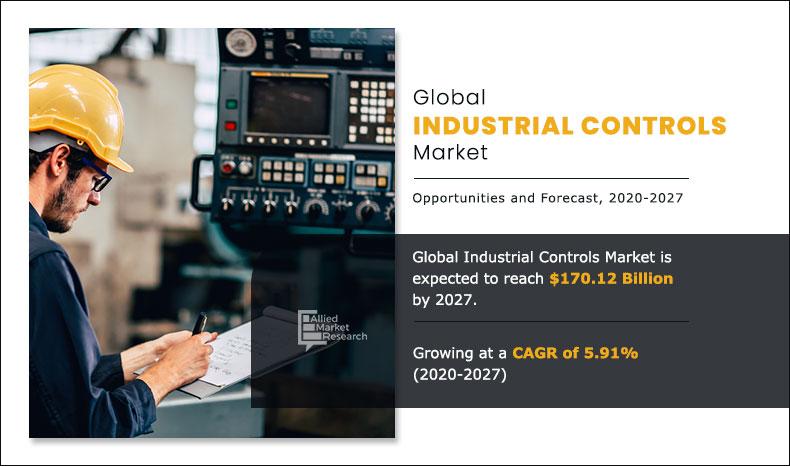 Increase in demand for cloud-based services and growth in deployment of smart grid solutions to protect critical infrastructures from cyberattacks provide lucrative growth opportunities to the industrial controls market. Organizations are constantly renovating solutions to improvise control and monitoring methods for systems, which offer real-time visibility to control suspicious behavior and take required actions, owing to cyber-attacks on critical infrastructure. Thus, owing to this factor, the industry is estimated to gain momentum during the forecast period. Further, some of the leading companies in the market have innovated new technologies and systems to expand portfolio of industrial control systems and witnessed significant industrial controls market growth.
The industrial controls market is segmented based on control system, components, end user, and region. Based on control system, it is categorized into distributed control system (DCS), supervisory control & data acquisition system (SCADA), manufacturing execution system (MES), and others (safety instrumented system (SIS), marine integrated control & monitoring systems (ICMS), and others). Depending on component, it is categorized into modular terminal blocks, relays and optocouplers, surge protectors, marking systems, printing, ferulles cable lugs, handtools, testers, enclosure products, PCB connectors and terminals, heavy duty connectors, analog signal conditioner, electronics housings, power supplies, industrial Ethernet, remote IO. Industrial Ethernet is further sub segmented into industrial Ethernet active and industrial Ethernet passive. Also, remote IO segment is again classified into sensor actuator interface active and sensor actuator interface passive. 
The end users of the industrial control systems are classified into automotive, utility, electronics & semiconductors, mining, and others (chemical, fiber & textiles, food & beverage, infrastructure, plastics, life science, water treatment, marine & machinery, and metals). Based on region, the market is analyzed across North America, Europe, Asia-Pacific, and LAMEA. Region-wise, the industrial controls industry trends are analyzed across North America (the U.S., Canada, and Mexico), Europe (UK, Germany, France, Italy, and Rest of Europe), Asia-Pacific (China, Japan, India, and Rest of Asia-Pacific), and LAMEA (Latin America, the Middle East, and Africa).
Industrial Controls Market

---
By Control System
DCS is projected as one of the most dominant segments.
Top Impacting Factors
Demand for IoT-based smart solutions & automation in various industries, mass production in manufacturing sector, and adoption of industrial control system in various end use such as automotive and mining and rise in R&D investments drive the industrial control market growth. However, increase in cyber-attacks, unavailability of authentication procedures, lack of skilled professionals, and awareness regarding industrial security solutions restraint the industrial control market growth. Furthermore, deployment of smart grid for protection of critical infrastructure from cyber-attacks and cloud computing for industrial control system (ICS) creates lucrative opportunities for the industry controls market.
Increase in demand for mass production in manufacturing industries
Demand for automation is increasing rapidly in various industrial applications as it helps to achieve low cost and high-quality production results. Moreover, industrial controls offer system integrators to create automation, where it helps to provide repeatable & consistent results with increased productivity and improved product quality. In addition, quality control issue involved with human error is minimized, owing to efficiency, reliability, and faster work rate of systems.
Industrial Controls Market

---
By Component
Industrial Ethernet segment is expected to secure leading position during forecast period.
Growth in adoption of industrial control system by industries and rise in R&D investments
Industrial control systems are being adopted majorly to automate and control processes as demand for automation is growing rapidly in the industrial sector. In addition, various manufacturing industries are focused to attain safe, fast, and efficient production results, which further drives the need for industrial automation.
Competition Analysis
Competitive analysis and profiles of the major industrial control market players, such as ABB Ltd., Emerson Electric Corporation, Honeywell International Incorporation, Kawasaki Roboticss control system, Mitsubishi Electric Factory Automation, Omron Corporation, Rockwell Automation, Inc., Siemens, Schneider Electric SA, and Yokogawa Electric Corporation are studied. The prominent players adapt various business strategies to increase market demand. For instance, in November 2020, ABB launched its Ability Edgenius Operations Data Manager, a cloud computing software that uses IoT technology for connection and communication between devices and machines and provides real time operation data for visualization, analysis and action.
Industrial Controls Market

---
By Region
Asia-Pacific would exhibit the highest CAGR of 7.2% during 2020-2027
Covid-19 Impact Analysis
The industrial control market has been significantly impacted by the COVID-19 outbreak as production facilities of electronics and semiconductor industries have been shut down, owing to slowdown and unavailability of workforce across the globe. COVID-19 outbreak has caused a significant and protracted drop in manufacturing utilization. In addition, travel bans & facility closures kept workers out of their factories, which led to slowdown in growth of the industrial control market in 2020.
However, the negative impact of COVID-19 on the industrial controls industry is expected to stay for a short period and by early 2021 the market is anticipated to observe robust recovery rate along with extensive demand for installation of industrial control systems around the globe.
Key Benefits For Stakeholders
This study comprises analytical depiction of the global industrial controls market along with the current trends and future estimations to depict the imminent investment pockets.
The overall industrial controls market analysis is determined to understand the profitable trends to gain a stronger foothold.
The report presents information related to key drivers, restraints, and opportunities with a detailed impact analysis.
The current industrial controls market forecast is quantitatively analyzed from 2019 to 2027 to benchmark the financial competency.
Porter's five forces analysis illustrates the potency of the buyers and the industrial controls market share of key vendors.
The report includes the industrial controls market trends and the market share of key vendors.
 Industrial Controls Market Report Highlights
Aspects
Details
By Control System

Distributed control system (DCS)
Supervisory control & data acquisition system (SCADA)
.Manufacturing execution system (MES)
Others

By Component

Modular Terminal Blocks
Relays & Optocouplers
Surge Protectors
Marking Systems
Printing
Ferulles Cable Lugs
Handtools
Testers
Enclosure products
.PCB connectors and terminals
Heavy duty connectors
Analog signal conditioner
Electronic housings
Power supplies
Industrial ethernet
Remote IO

By End User

Automotive
Utility
Electronics & Semiconductors
Mining
Other

By Region

North America (U.S., Canada, Mexico)
Europe (UK, Germany, France, Italy, Rest of Europe)
Asia-Pacific (China, India, Japan, Rest of Asia-Pacific)
LAMEA (Latin America, Middle East, Africa)

Key Market Players
EMERSON ELECTRIC CO., MITSUBISHI ELECTRIC CORPORATION, SCHNEIDER ELECTRIC, HONEYWELL INTERNATIONAL INC., YOKOGAWA ELECTRIC CORPORATION, SIEMENS AG, OMRON CORPORATION, ROCKWELL AUTOMATION, INC., ABB, KAWASAKI ROBOTICS (KAWASAKI HEAVY INDUSTRIES, LTD.)