Industrial Dehumidifier Market Research, 2031
The global industrial dehumidifier market size was valued at $839.3 million in 2021, and is projected to reach $1411.7 billion by 2031, growing at a CAGR of 5.2% from 2022 to 2031. Industrial dehumidifier is a crucial component of various process and manufacturing industries. It is used for reducing and controlling humidity across industries such as warehouses, corporate offices, garages, and factories. This is achieved by blowing ambient air via a fan around the condenser coils containing a refrigerant. The moisture in the ambient air gets condensed over the condenser coil and it is then collected in a tank. Industrial dehumidifier comprises four basic parts, which are fan compressor, reheater, compressor cooling coils, and reservoir unit. 
The industrial dehumidifier market was hampered during the outbreak of COVID-19 pandemic, owing to restrictions on manufacturing activities. In addition, industrial dehumidifier market could not be effectively installed through OEMs during the lockdown period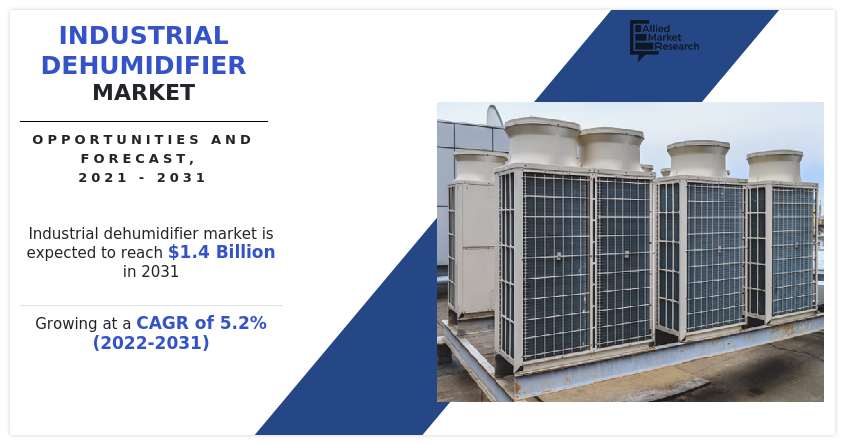 A large number of processes and manufacturing industries are susceptible to high level of moisture in the air. Since high humidity can corrode machineries, it can lead to bacterial growth in the premises, which eventually can lead to spread of diseases. Moreover, the industries such as pharmaceutical and food & beverages utilize processes that produce immense humidity. In addition, these industries deal with products that are consumed by people, thus, any contamination in the products can result in drastic consequences, such as diseases or death. As a result, such industries extensively use industrial dehumidifiers as a precautionary measure to avoid any untoward incidents. Furthermore, the electronics industry is witnessing rise, owing to growth in demand for electronics products, surge in penetration of e-commerce platforms, and increase in disposable income of people across the world. Electronics are highly susceptible to moisture content in the air, therefore, the electronics industry makes significant use of  industrial dehumidifiers. Furthermore, rise in global trade and e-commerce industry is witnessing a rapid growth which in turn is fueling the growth in the number of warehouses. As a result, demand for industrial dehumidifiers has experienced a major boost as warehouses are one of their major end users. Thus, growth of e-commerce industry is a major industrial dehumidifier market opportunity. 
Major players in the industry offer a wide range of industrial dehumidifiers for applications in various industries. Furthermore, they have launched new and advanced dehumidifiers to stay competitive in the market. Manufacturers such as Refcon Technologies & Systems Pvt. Ltd. and Risen Thermohygro Services Pte. Ltd. offer a wide range of industrial dehumidifiers for application in various industries.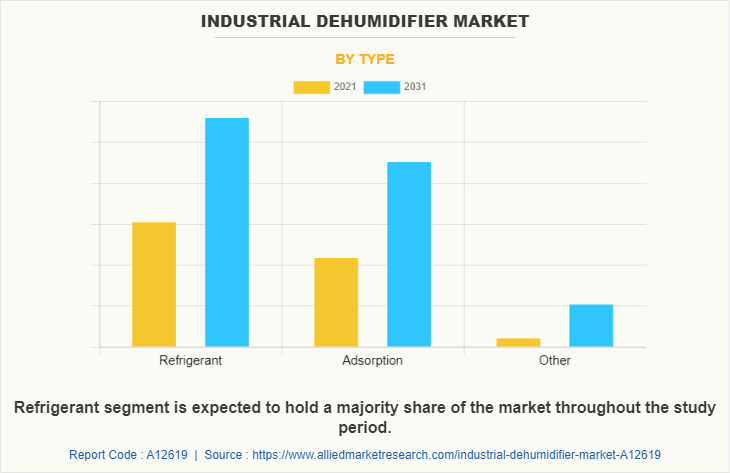 The novel coronavirus spread rapidly across various countries and regions, causing an enormous impact on the lives of people and overall community. It began as a human health condition and later became a significant threat to global trade, economy, and finance. The COVID-19 pandemic halted production of many components of industrial dehumidifiers due to the lockdown. The economic slowdown initially resulted in reduced spending on various industrial dehumidifiers by different users. However, owing to the introduction of various vaccines, the severity of COVID-19 pandemic  significantly reduced. As of mid-2022, the number of COVID-19 cases has significantly reduced. This led to full-fledged reopening of industrial dehumidifier manufacturing companies at their full-scale capacities. Furthermore, it has been more than two years since the outbreak of this pandemic, and many companies have already shown notable signs of recovery.
Industries situated in coastal regions as well as cold areas drive the constant demand for industrial dehumidifiers. Moreover, rise in industrialization in southern Asia is expected to boost the demand for industrial dehumidifiers. Furthermore, various government initiatives meant to support the growth of small-scale industries especially in developing nations are anticipated to positively influence the industrial dehumidifier market growth.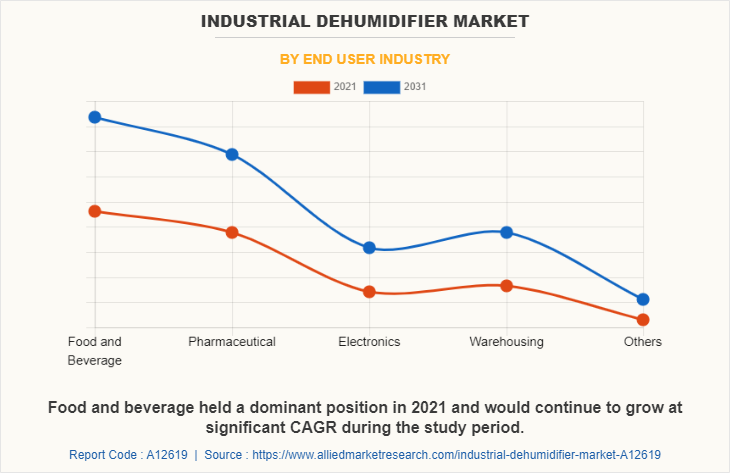 The industrial dehumidifier market is segmented into Type, Installation and End User Industry. By type, the market is categorized into refrigerant, adsorption, and others. On the basis of installation type, it is bifurcated into floor and ceiling. Depending on end-user industry, it is divided into foods & beverages, pharmaceuticals, electronics, warehousing, and others. Region wise, the market is analyzed across North America, Europe, Asia-Pacific, and LAMEA. Asia-Pacific held the largest industrial dehumidifier market share in 2021, and is anticipated to maintain this trend throughout the forecast period. This is attributed to the growth of the pharmaceutical industry.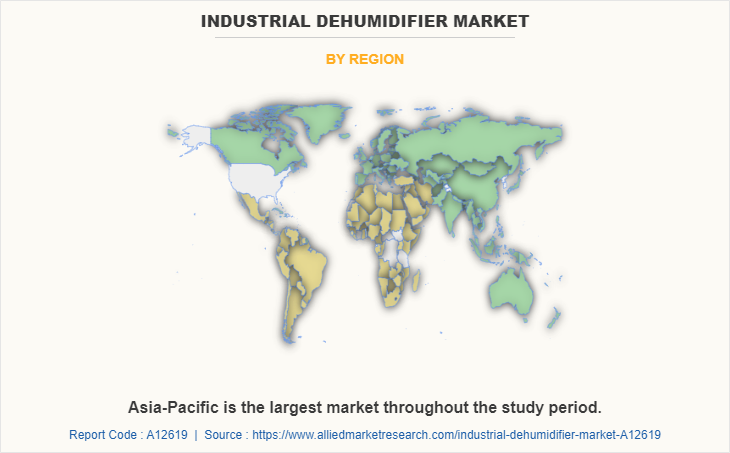 Competition Anslysis 
The key companies profiled in the industrial dehumidifier market forecast report include Bry-Air, Carrier Global Corporation, Condair Group, Dantherm Group, Hangzhou Conloon Electric Co., Johnson Controls International Plc, Munters Group AB, Refcon Technologies and Systems Pvt. Ltd., Trane Technologies Plc, and Zhejiang Oulun Electric Co., Ltd.
Key Benefits For Stakeholders
This report provides a quantitative analysis of the market segments, current trends, estimations, and dynamics of the industrial dehumidifier market analysis from 2021 to 2031 to identify the prevailing industrial dehumidifier market opportunities.
The market research is offered along with information related to key drivers, restraints, and opportunities.
Porter's five forces analysis highlights the potency of buyers and suppliers to enable stakeholders make profit-oriented business decisions and strengthen their supplier-buyer network.
In-depth analysis of the industrial dehumidifier market segmentation assists to determine the prevailing market opportunities.
Major countries in each region are mapped according to their revenue contribution to the global market.
Market player positioning facilitates benchmarking and provides a clear understanding of the present position of the market players.
The report includes the analysis of the regional as well as global industrial dehumidifier market trends, key players, market segments, application areas, and market growth strategies.
 Industrial Dehumidifier Market Report Highlights
Aspects
Details
By Type

Refrigerant
Adsorption
Other

By Installation
By End User Industry

Food and Beverage
Pharmaceutical
Electronics
Warehousing
Others

By Region

North America (U.S., Canada, Mexico)
Europe (Germany, France, Italy, UK, Rest of Europe)
Asia-Pacific (China, Japan, India, South Korea, Rest of Asia-Pacific)
LAMEA (Latin America, Middle East, Africa)

Key Market Players
Trane Technologies Company, LLC., Mitsubishi Electric Corporation, Carrier Global Corporation, Blue Star Limited, Hiver Aircon Pvt. Ltd., Airedale International Air Conditioning Ltd., ORION MACHINERY CO., LTD., Daikin industries, ltd.