Industrial Emission Control Systems Market Overview:
Global Industrial Emission Control Systems Market is expected to garner $21,133 million by 2022. Electrostatic precipitators (ESP) are estimated to dominate the market from 2015-2022. Industrial emission control systems monitor and reduce harmful products that are released by combustion and other emission processes, which cause environmental pollution. Industrial segments, such as power generation, cement, mining & metals, chemical industries, and others, use these equipment to convert hazardous air contaminants such as unburned hydrocarbons, carbon monoxide, nitrogen oxides, and sulfur oxides into water vapor and carbon dioxide, which can be safely released into the atmosphere.
Regulatory agencies such as the Environmental Protection Association (EPA) have placed stringent limitations on acceptable emission levels that can be released into the atmosphere. Compliance with these regulations has led industries to increase their usage of emission control systems, while failure in adoption of these standards results in governments imposing substantial fines.The global market for industrial emission control systems is driven by the stringent environmental regulation standards, increase in industrialization, rise in usage of coal for power in developing countries, and growth in the cement sector. The market growth is restrained by the growth in use of alternate sources of energy such as solar, wind, and hydropower and decrease in coal power investments in developed economies.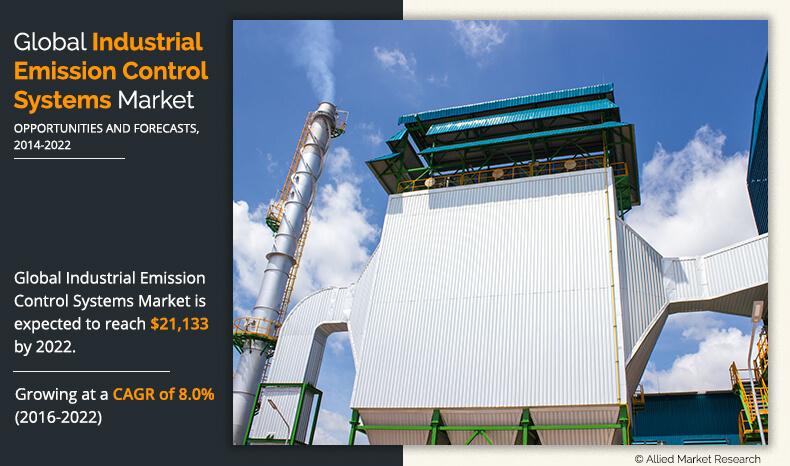 Segment Overview:
The global market for industrial emission control systems is segmented based on equipment type, emission source, and geography. The market is analyzed across four regions, namely, North America, Europe, Asia-Pacific, and LAMEA, along with their prominent countries. Based on equipment type, it is divided into electrostatic precipitators, fabric filters, scrubbers, cyclones, thermal oxidizers, and others. Electrostatic precipitators led the industrial emission control systems market. Electrostatic precipitators are capable of operating at over 99% efficiency levels and have applications in power plants, steel & paper mills, smelters, cement plants, and petroleum refineries. Thermal oxidizers equipment are estimated to grow at the highest CAGR during the forecast period owing to increase in applications in industries and their high efficiency levels.
Based on geography, Asia-Pacific is the major contributor to the revenue, followed by North America. Governments in these regions are in the process of implementing stringent regulations to effectively regulate emissions from the industrial segment. The emission control systems market in Asia-Pacific is also driven by the newly formulated mercury emission regulations.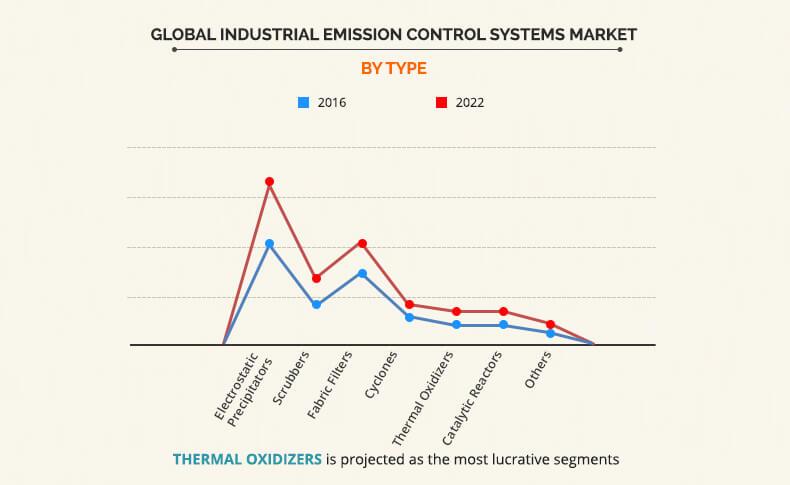 Top Impacting Factors for Global Industrial Emission Control Systems Market
Stringent Emission Regulations:
The market for industrial emission control systems is affected by the emission regulations on the industries. Industrial sectors such as refineries, power plants, chemical & petrochemical sectors, mining & metals industries need to largely comply with these standards or potentially face substantial fines that will have a significant impact on their operations and profitability. The impact of these regulations is currently high, which is expected to continue to have severe impact on the adoption and relative growth of the market.
Cement Industry Growth: Cement and lime producing industries are key end-user segments for industrial emission control systems. These industries generate the most harmful emissions such as carbon dioxide, particulate, NOx, and SOx, which have adverse impact on the environment causing occupational hazards, and adverse effects on crops, orchids, and building. Cement industry is also highly regulated with respect to air pollution standards and release of harmful emissions. The growth in the cement industry due to infrastructure developing increases the potential growth for industrial emission control systems.
Industrial Growth in Emerging Countries:
The industrial growth in emerging countries is driven by China and India. Globalization has led to various manufacturing companies from developed countries to migrate to these low-cost countries. This establishment of local manufacturing companies increases the demand for emission control systems. With the rise in industrialization, environmental regulations in emerging regions are also being directed towards cleaner working environments and reduction in environmental emissions.
Major players operating in this market include General Electric Company, Mitsubishi Hitachi Power Systems Ltd., Fujian Longking Co., Ltd, Johnson Matthey PLC, Ducon Technologies Inc., Babcock & Wilcox Co., AMEC Foster Wheeler PLC, CECO Environmental Corp, Hamon Corporation, Thermax Ltd, and BASF SE.
Other players in the value chain include APC Technologies Inc., Auburn Systems LLC, Air Clear LLC, Epcon Industrial Systems, Anguil Environmental Systems Inc., PPC Air Pollution Control Systems, Advanced Cyclone Systems, Dust Control Systems Ltd, Pennar Industries, Marsulex Environmental Technologies, and United Air Specialists Inc.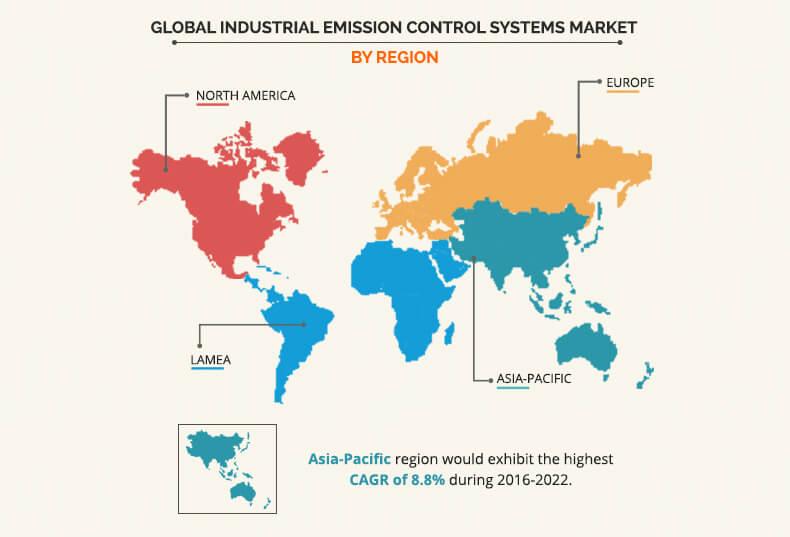 Key Benefits
The study provides an in-depth analysis of the global industrial emission control systems market, with current trends and future estimations to elucidate the imminent investment pockets.
Information regarding key drivers, restraints, and opportunities with a detailed impact analysis is explained.
Porter's Five Forces Model illustrates competitiveness of the market by analyzing various parameters such as threat of new entrants, threat of substitutes, strength of the buyers, and strength of the suppliers.
Value chain analysis signifies the key intermediaries involved and elaborates their roles and value additions at every stage.
Quantitative analysis of the market from 2014 to 2022 is provided to elaborate the market potential.
Industrial Emission Control Systems Market Segmentation:
By Equipment Type
Electrostatic Precipitators
Fabric Filters
Scrubbers
Cyclone Separators
Thermal Oxidizers
Catalytic Reactors
Others
By Emission Source
Power Generation
Cement
Chemical & Petrochemical
Pulp & Paper
Manufacturing
Mining & Metals
Others
By Geography
North America
U.S.
Canada
Mexico
Europe
Germany
UK
France
Russia
Rest of Europe
Asia-Pacific
China
Japan
India
South Korea
Rest of Asia-Pacific
LAMEA
Latin America
Middle East
Africa
Key Players in The Value Chain
General Electric Company
Mitsubishi Hitachi Power Systems
Fujian Longking Co., Ltd
Johnson Matthey PLC
Ducon Technologies Inc.
Babcock & Wilcox Co.
Amec Foster Wheeler PLC
CECO Environmental Corp
Hamon Corporation
Thermax Ltd
BASF SE
APC Technologies Inc.
Auburn Systems LLC
Air Clean LLC
Epcon Industrial Systems
Anguil Environmental Systems
PPC Air Pollution Control Systems
Advanced Cyclone Systems
Dust Control Systems Ltd
Pennar Industries
Marsulex Environmental Technologies
United Air Specialists Inc.
 Industrial Emission Control Systems Market Report Highlights
Aspects
Details
By EQUIPMENT TYPE

Electrostatic Precipitator
Scrubbers
Fabric Filters
Cyclone Separators
Thermal Oxidizers
Catalytic Reactors
Others

By EMISSION SOURCE

Power Generation
Cement
Pulp and Paper
Chemical Industry
Mining and Metal Processing Industry
Manufacturing
Others

By Region

North America (U.S., Canada, Mexico)
Europe (France, Germany, Italy, Spain, UK, Russia, Rest of Europe)
Asia-Pacific (China, Japan, India, South Korea, Australia, Thailand, Malaysia, Indonesia, Rest of Asia-Pacific)
LAMEA (Brazil, South Africa, Saudi Arabia, UAE, Argentina, Rest of LAMEA)

Key Market Players
Amec Foster Wheeler, GEA Group AG, Hamon Group, Johnson Matthey PLC, Ducon Technologies Inc., DUSTEX CORPORATION, Mitsubishi Hitachi Power Systems Environmental Solutions Ltd., BASF SE, BABCOCK & WILCOX ENTERPRISES, Fujian Longking Co., Ltd, General Electric Company (GE), Thermax Ltd., CECO Environmental