The global industrial floor coating market size was valued at $5,899.2 million in 2020, and is projected to reach $9,485.8 million by 2030, registering a CAGR of 4.8% from 2021 to 2030. Floor coatings are strong, protective coverings that are often utilized for industrial or commercial flooring when corrosion or excessive wear is expected. These floor coverings are also utilized to brighten or define facilities, direct traffic, and hide discolored concrete, among other things.
The COVID 19 outbreak has affected the growth of the industrial floor coating industry owing to the lockdown measure in the countries and delay in manufacturing and production of industrial floor coating which are utilized in wide range of industries for floor coating.
Abrasion, wear & tear, collisions, corrosion, and chemical exposure are all common occurrences on industrial floors. Industrial floor coatings provide a comprehensive solution to all of the aforementioned issues at a significantly reduced cost. As a result, more businesses are turning to industrial floor coatings over alternative solutions. In addition, due to many regulatory factors and certifications, industries are forced to use the product. In addition, companies are launching technical advancement coatings for corrosion protection and smooth surface. For instance, in March 2019, PPG industries launched its new line of PPG ENVIROCRON Extreme protection edge coatings, which provide smooth surface and corrosion resistant with just one-coat system and offer exceptional combining uniform edge coverage. Thus, industrial floor coating market growth is being influenced by rapid industrialization, particularly in emerging nations. Attributed to increased environmental awareness among end-users, the industrial floor coatings industry has witnessed an increase in the penetration of advanced floor coatings.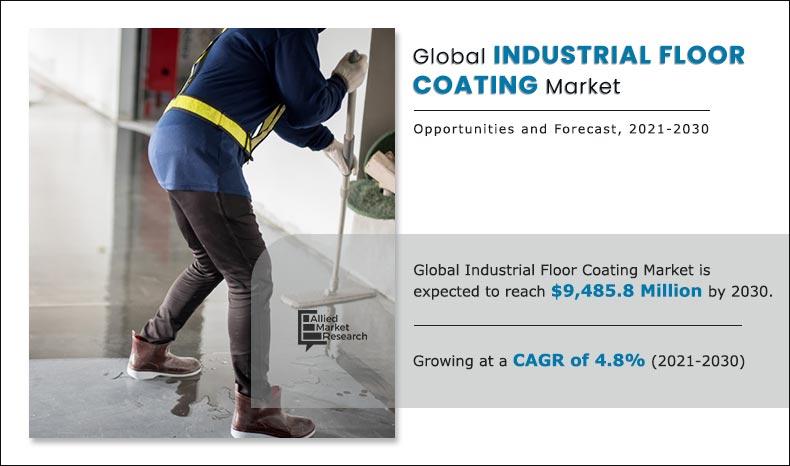 The novel coronavirus has rapidly spread across various countries and regions, causing enormous impact on the lives of people and overall community. Originating as a crisis to human health, it now poses significant threat to worldwide trade, economy, and finance. The impact of lockdown, owing to COVID-19 is vague and economic recovery of industrial floor coating manufacturers is completely based on their cash reserves. 
The industry trend will be influenced by the rising use of bio-renewable resources in floor coatings. The simplicity of application and quick curing of bio-renewable coatings, which allow for floor use in a short period of time following coating, are significant factors surging the product demand. For instance, in May 2020, Lubrizol Corporation launched Lanco 1390 F, which offers ink coating and bio-based inorganically modified surface. In addition, the product is capable of delivering new level surface protection and matting efficiency without affecting friction. 
Industrial Floor Coating Market

---
By Resin Type
Epoxy segment is projected to grow at a significant CAGR
Attributed to the growing trend of end-user industries using floor-protective materials and increase in demand from end-user sectors, such as industries, commercial spaces, and residential, the industrial floor coating market is expected to develop rapidly. By resin type, epoxy floor coating can be applied seamless and is also easy to maintain for longer duration. Increased floor coating efficiency, high mechanical strength, high chemical and temperature resistance, and exceptional & superior finishing ability all contribute to the market growth. However, rapid growth in competition in this market hinders the growth of the industrial floor coating market. 
With many nations in Asia-Pacific remaining predominantly rural, economic growth is expected to encourage continued urbanization. Furthermore, population expansion in these nations is predicted to increase the demand for housing and commercial infrastructure, which would drive the industrial floor coating market during the forecast period. The Indian government's initiative "Housing for All by 2022" is also a game changer for the sector. As a result of these factors, the demand for floor coatings in the region is increasing.
Industrial Floor Coating Market

---
By End User Industry
Others segment holds dominant position in 2020
The industrial floor coating market is segmented on the basis of resin type, flooring material, component, end-user industry, and region. Based on resin type, the market is divided into epoxy, polyaspartic, polyurethane, anhydrite, and others. The flooring material segment is classified into concrete, mortar, and terrazzo. The component segment is categorized into one component, two component, three component, and others. By end-user industry, it is fragmented into chemical, food and beverages, healthcare, transportation and aviation, and others. Region-wise, the market is analyzed across North America, Europe Asia-Pacific, and LAMEA.
Competition Analysis
Key companies profiled in the report include BASF SE, Cipy Polyurethanes Pvt. Ltd., Cornerstone Flooring, Don Construction Products Ltd., Fosroc, Inc., MAPEI S.p.A., RPM International Inc., Sika AG, Twintec Group Limited, and VIACOR Polymer GmbH. Product launch is the key strategy being adopted by leading players to remain competitive in the market. For instance, in December, 2019, BASF, a Germany-based multinational chemical company, launched MasterTop XTC solution, a high-performance flooring system with unique material characteristics and high durability.
Industrial Floor Coating Market

---
By Region
Asia-Pacific holds a dominant position in 2020 and is expected to grow at a significant rate during the forecast period.
Key Benefits For Stakeholders
The report provides an extensive analysis of the current and emerging industrial floor coating market trends and dynamics.  
In-depth industrial floor coating market analysis is conducted by constructing market estimations for key market segments between 2020 and 2030. 
Extensive analysis of the industrial floor coating market is conducted by following key product positioning and monitoring of top competitors within the market framework.
A comprehensive analysis of all the regions is provided to determine the prevailing opportunities.
The global industrial floor coating market forecast analysis from 2021 to 2030 is included in the report.
The key players within industrial floor coating market are profiled in this report and their strategies are analyzed thoroughly, which help understand the competitive outlook of the industrial floor coating industry. 
 Industrial Floor Coating Market Report Highlights
Aspects
Details
BY RESIN TYPE

Epoxy
Polyaspartic
Polyurethane
Others

BY FLOORING MATERIAL
BY COMPONENT

One component
Two component
Three components
Others

BY END USER INDUSTRY

Chemical
Food and Beverages
Healthcare
Transportation and Aviation
Others

BY REGION

North America (U.S., Canada, Mexico)
Europe (Germany, France, UK, Russia, Rest of Europe)
Asia-Pacific (China, India, Japan, South Korea, Rest of Asia-Pacific)
LAMEA (Latin America, Middle East, Africa)

Key Market Players
BASF SE, CIPY POLYURETHANES PVT. LTD., CORNERSTONE FLOORING, DON CONSTRUCTION PRODUCTS LTD., FOSROC, INC., MAPEI S.P.A., RPM INTERNATIONAL INC., SIKA AG, TWINTEC GROUP LIMITED, VIACOR POLYMER GmbH