Industrial Flooring Market Research, 2031
The global industrial flooring market size was valued at $7.9 billion in 2021, and is projected to reach $13.5 billion by 2031, growing at a CAGR of 5.4% from 2022 to 2031.
Industrial flooring is typically used to improve the aesthetic appeal of the floor by offering a variety of bespoke designs, as well as improving the texture and color. They are simple to maintain, long-lasting, antibacterial, and resistant to a variety of environmental variables. Industrial flooring has waterproof and slip-resistant qualities, making it ideal for use in tough industrial situations. They are commonly seen in business settings such as fitness facilities, workplaces, manufacturing plants, and hotels.
The COVID 19 outbreak has affected the growth of the industrial flooring industry owing to the lockdown measure in different countries and delay in manufacturing and production of industrial flooring materials such as epoxy, anhydrite, and others.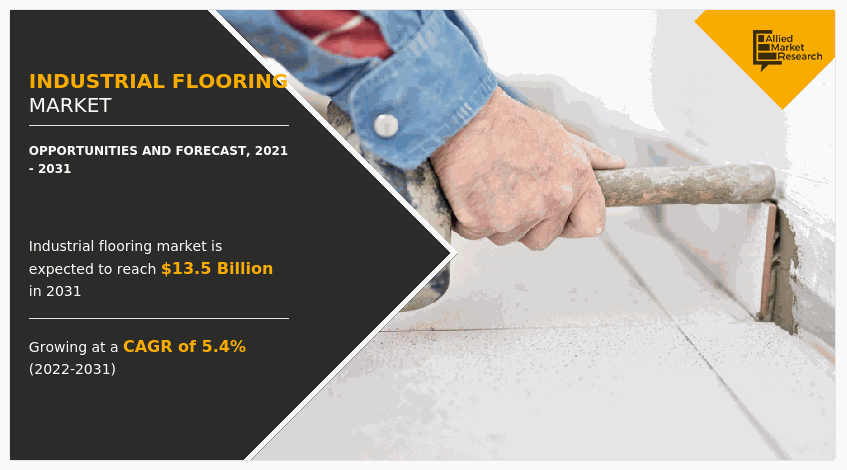 In addition, food and beverage industry's growing demand for industrial flooring to minimize concrete degradation throughout the manufacturing process is likely to drive the market for industrial flooring forward. The rise of the industrial flooring sector is also linked to the growth of the food and beverage industry, which is ascribed to increased consumer and government spending on the food industry, particularly in India, China, and the United States. The market for industrial flooring is expected to grow faster as more rules and regulations related workplace safety and cleanliness are implemented. The food industry's floor must be clean, hygienic, and thoroughly disinfected, according to EU regulations 852/2004, 853/2004, and 854/2004. Also, the floor material should be easy to clean, non-absorbent, and durable. Moreover, Continuous product innovation by manufacturers in the industrial material products is predicted to be a prominent trend in the industry, fueling the growth of the industrial flooring market. For example, Royal DSM enabled their new bio-based self-matting resin, Decovery SP-2022 XP, in January 2020, and coating formulators Ciranova and Arboritec AB successfully integrated it into products launched at Domotex 2020. In the flooring business, the resin allows for easier application and improved aesthetic and functional performance. As a result, all such factors are expected to boost ehr industrial flooring market growth.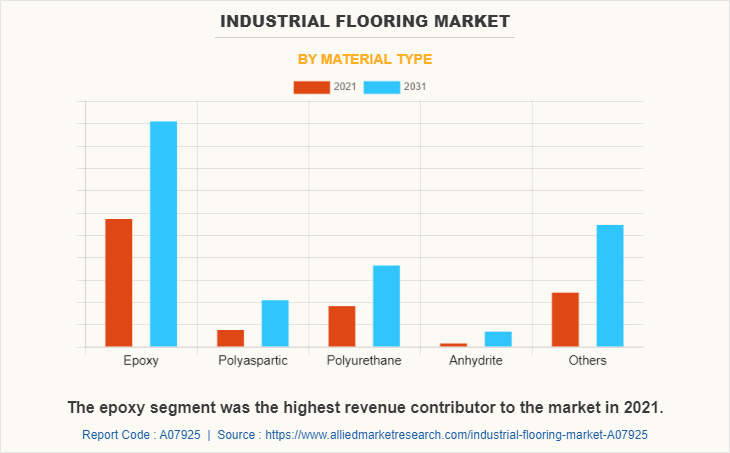 By material type, the material type segment is classified into epoxy, polyaspartic, polyurethane, anhydrite, and others. Epoxy segment have attracted the attention of industrial flooring solutions providers. The growth trajectories in the industrial flooring market are influenced by the rise in demand for various systems in food and beverages, chemical, pharmaceutical, mechanical manufacturing, logistics, and healthcare. Organic food companies are increasingly using Epoxy-chemistries as they become more concerned with health benefits and consumer happiness.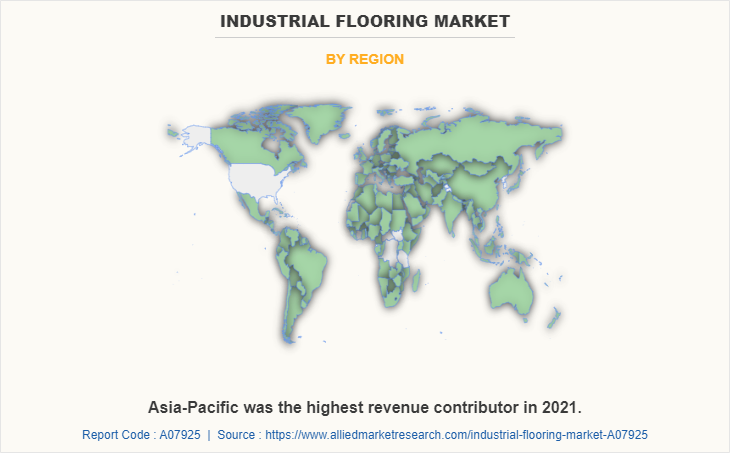 On the basis of region, Asia Pacific was the largest revenue generating region in 2021. The constant search for new solutions the fast rate of industrialization in many parts of the Asia Pacific region drives the industrial flooring market. Commercial amenities such as transportation, warehouses, and burgeoning industrial activity in SEZs have seen a significant increase in demand. New concrete reinforcement and laying processes are increasing the number of prospects in the industrial flooring sector. The process of choice aids in improving performance characteristics such as strength and flexibility. Moreover, the growing government support, an example being setting of SEZs in china. However, North America is expected to be the fastest growing region in the industrial flooring market forecast period due to rise in industrial construction rates in the region, which have risen as a result of flooring in industrial facilities should portray performance that are a proper combination of quick install ability, aesthetics, economy, longevity, slip resistance, functionality, quality, durability, and moisture resistance. Further, as a result of technological advancement, the industrial flooring market in the region has expanded to a great extent. This is further expected to boost the industrial flooring market share in North America during the forecast period.
The novel coronavirus (COVID-19) rapidly spread across various countries and regions in 2019, causing an enormous impact on lives of people and the overall community. It began as a human health condition and has now become a significant threat to global trade, economy, and finance. The COVID-19 pandemic halted production of many products in the industrial flooring market, owing to lockdowns. Furthermore, the number of COVID-19 cases is expected to reduce in the future with the introduction of the vaccine for COVID-19 in the market. This has led to the reopening of industrial flooring companies at their full-scale capacities. This is expected to help the market recover by the mid of 2022. After COVID-19 infection cases begin to decline, equipment & machinery producers must focus on protecting their staff, operations, and supply networks to respond to urgent emergencies and establish new methods of working.
The industrial flooring industry is segmented into end user industry, thickness and material type. Based on thickness, the market is segmented into light duty, medium duty, and heavy duty. The material type segment is classified into epoxy, polyaspartic, polyurethane, anhydrite, and others. By end user industry, it is segmented into chemical, food & beverages, healthcare, transportation & aviation, and others. Region wise, the market analysis is conducted across North America (the U.S., Canada, and Mexico), Europe (the UK, France, Germany, Italy, and Rest of Europe), Asia-Pacific (China, Japan, India, South Korea, and Rest of Asia-Pacific), and LAMEA (Latin America, the Middle East, and Africa).
Competition Analysis
The key players that operating in the Industrial Flooring Market are BASF SE, Cipy Polyurethanes Pvt. Ltd., Cornerstone Flooring, Don Construction Products Ltd., Fosroc, Inc., MAPEI S.p.A., RPM International Inc., Sika AG, Twintec Group Limited, and VIACOR Polymer GmbH.
Key Benefits For Stakeholders
This report provides a quantitative analysis of the market segments, current trends, estimations, and dynamics of the industrial flooring market analysis from 2021 to 2031 to identify the prevailing industrial flooring market opportunities.
The market research is offered along with information related to key drivers, restraints, and opportunities.
Porter's five forces analysis highlights the potency of buyers and suppliers to enable stakeholders make profit-oriented business decisions and strengthen their supplier-buyer network.
In-depth analysis of the industrial flooring market segmentation assists to determine the prevailing industrial flooring market opportunity.
Major countries in each region are mapped according to their revenue contribution to the global market.
Market player positioning facilitates benchmarking and provides a clear understanding of the present position of the market players.
The report includes the analysis of the regional as well as global industrial flooring market trends, key players, market segments, application areas, and market growth strategies.
 Industrial Flooring Market Report Highlights
Aspects
Details
By End User Industry

Chemical
Food and Beverages
Healthcare
Transportation and Aviation
Others

By Thickness

Light duty
Medium Duty
Heavy Duty

By Material

Epoxy
Polyaspartic
Polyurethane
Anhydrite
Others

By Region

North America (U.S., Canada, Mexico)
Europe (Germany, France, Italy, U.K., Rest of Europe)
Asia-Pacific (China, India, Japan, South Korea, Rest of Asia-Pacific)
LAMEA (Latin America, Middle East, Africa)

Key Market Players
Cornerstone Flooring, VIACOR Polymer GmbH, Fosroc, Inc., Cipy Polyurethanes Pvt. Ltd., Don Construction Products Ltd., MAPEI S.p.A, BASF SE, RPM International Inc., Sika AG, Twintec Group Limited