Industrial Furnaces Market Outlook - 2026
The global industrial furnaces market size was valued at $10,958.5 million in 2018 and is projected to reach $16,996.5 million in 2026, growing at a CAGR of 5.4% from 2019 to 2026. An industrial furnace is a thermal inclusion and is employed to process and treat raw materials at high temperatures in solid as well as liquid state. It is an industrial heat-treating system that heats above 1,000 degree Fahrenheit. Industrial furnaces are employed by a variety of industries such as manufacturing, iron and steel making, glass making, non-ferrous metals production, calcination in cement production, and ceramic processing. The major objectives of using an industrial furnace are to use heat proficiently (so that losses are minimum), and to manage and control the diverse phases (gas, liquid, or solid) moving at various speeds for different temperatures and times such that corrosion and erosion of the refractory are least. 
One of the major factors that drives the growth of the industrial furnaces market include the recurring demand for iron and steel accompanied by other significant materials and metals. In addition, factors such as rise in adoption of electric industrial furnaces and increase in demand for lightweight vehicles, owing to technological advancements, fuel the growth of the global market. Moreover, many automotive component producers utilize industrial furnaces to manufacture and heat treat metallic automotive parts, which are used in automotive assembly. This upward trend of manufacturing lightweight metal components in the automotive industry coupled with the growth in production and sales of automobiles drives the market growth.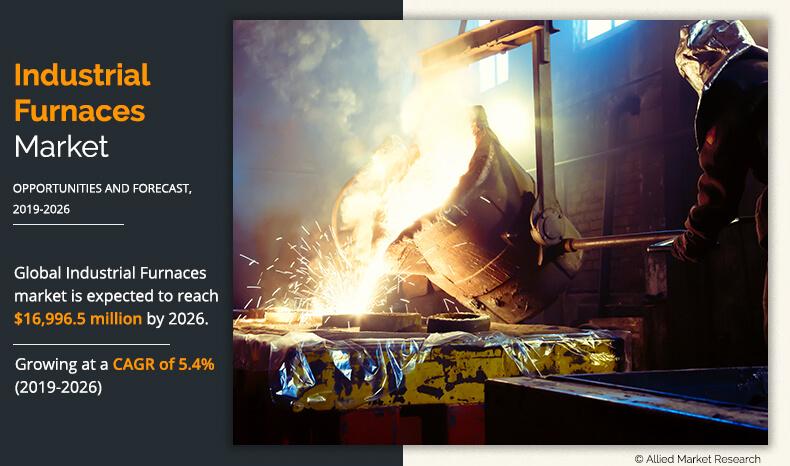 Get more information on this report : Request Sample Pages
Furthermore, rise in adoption of state-of-the-art technologies such as industry 4.0 and the industrial internet of things (IIoT) has transformed the entire scenario of industrial furnaces by offering enhanced efficiencies and automation. Therefore, such technologies thrive an opportunity for manufacturers of industrial furnaces, who adopt advanced technologies at an early stage. 
However, the industrial furnace is a one-time investment for any manufacturing plant as it has a lifespan of approximately 10-15 years, consequently, having a low replacement rate. This factor may restrain the growth of the global market. In addition, many of the advanced countries such as the U.S., Japan, and Germany are well fortified with enough manufacturing units and a smaller number of production facilities have been established in the past few years. Therefore, this is anticipated to negatively influence the development of the industrial furnace market during the forecast period.
Industrial Furnaces Market

---
By Furnace Type
Electrically Operated Industrial Furnace segment is projected to grow at a significant CAGR
Get more information on this report : Request Sample Pages
The global industrial furnaces market is segmented into furnace type, arrangement, end user, and region. Depending on furnace type, the market is divided into gas/fuel operated industrial furnace and electrically operated industrial furnace. The gas/fuel operated industrial furnace segment is anticipated to dominate the global market throughout the study period. Based on end user, the market is segregated into metals & mining, transportation, oil & gas, chemical, and others. The metals & mining segment is expected to dominate the market during the forecast period. On the basis of arrangement, the market is bifurcated into tube or clamshell type, box type, bottom loading & car bottom furnace, top loading furnace, and others. 
Industrial Furnaces Market

---
By Arrangement
Box Type

segment holds dominant position in 2018
Get more information on this report : Request Sample Pages
Region wise, the industrial furnaces market is analyzed across North America (the U.S., Canada, and Mexico), Europe (Germany, France, the UK, Italy, and rest of Europe), Asia-Pacific (China, Japan, India, South Korea, and rest of Asia-Pacific), and LAMEA (Latin America, the Middle East, and Africa). Europe is expected to dominate the market throughout the forecast period. The Asia-Pacific region is projected to experience high growth during the forecast period, owing to expansion of the automotive and steel sector in the region. Moreover, growth in investments in construction activities and surge in mechanical & manufacturing equipment manufacturers in the emerging markets are also expected to fuel the industrial furnaces market growth in the region.
Industrial Furnaces Market

---
By Region
Europe

holds a dominant position in 2018 and is expected to grow at a moderate rate during the forecast period.
Get more information on this report : Request Sample Pages
Competition Analysis
The key market players profiled in the report include ANDRITZ AG, Carbolite Gero Limited, Epcon Industrial Systems, LP, Gasbarre Products, Inc., International Thermal Systems LLC, Ipsen International GmbH, NUTEC Group, SECO/WARWICK S.A., Thermcraft Incorporated, and Thermal Product Solutions.
The major players operating in the global industrial furnaces market have adopted key strategy such as acquisition to strengthen their market outreach and sustain the stiff competition in the market. For instance, in May 2018, NUTEC BICKLEY acquired Olson Industries, based in PA, U.S. Olsen Industries is a supplier of industrial furnaces and process heating equipment to the manufacturers in various fields. The acquisition has enhanced NUTEC's current offerings of the industrial furnaces' product ranges.
Key Benefits for Stakeholders:
The report provides an extensive analysis of the current and emerging industrial furnaces market trends and dynamics.  
In-depth industrial furnaces market analysis is conducted by constructing estimations for the key segments between 2018 and 2026. 
Extensive analysis of the industrial furnaces market is conducted by following key product positioning and monitoring of the top competitors within the market framework.
A comprehensive analysis of all the regions is provided to determine the prevailing opportunities.
The global industrial furnaces market forecast analysis from 2018 to 2026 is included in the report.
The key market players operating in the market are profiled in this report, and their strategies are analyzed thoroughly, which help understand the competitive outlook of the industrial furnaces industry. 
Global Industrial Furnaces Market Segments:
By Furnace Type
Gas/fuel Operated Industrial Furnace
Electrically Operated Industrial Furnace
By Arrangement
Tube or Clamshell Type
Box Type
Bottom Loading & Car Bottom Furnace
Top Loading Furnace
Others
By End-User
Metals & Mining
Transportation
Oil & Gas
Chemicals
Others
By Region
North America
Europe

Germany
France
Italy
Russia
Rest of Europe

Asia-Pacific

China
India
Japan
South Korea
Rest of Asia-Pacific

LAMEA

Latin America
Middle East 
Africa
Key Players
ANDRITZ AG
Carbolite Gero Limited
Epcon Industrial Systems, LP
Gasbarre Products, Inc.
International Thermal Systems LLC
Ipsen International GmbH
NUTEC Group
SECO/WARWICK S.A.
Thermcraft Incorporated
Thermal Product Solutions