Industrial Hearables Market Outlook - 2026
The global industrial hearables market size is expected to reach $2,038.3 million by 2026 from $151.7 million in 2018, growing at a CAGR of 37.6% from 2019 to 2026. Hearable technology is referred to as a hybrid technology, which combines the advantage of wearable technology with hearing devices. These devices are used for sound applications, audio masking, directional hearing, audio analysis, noise cancellation, and other applications, in various industry verticals.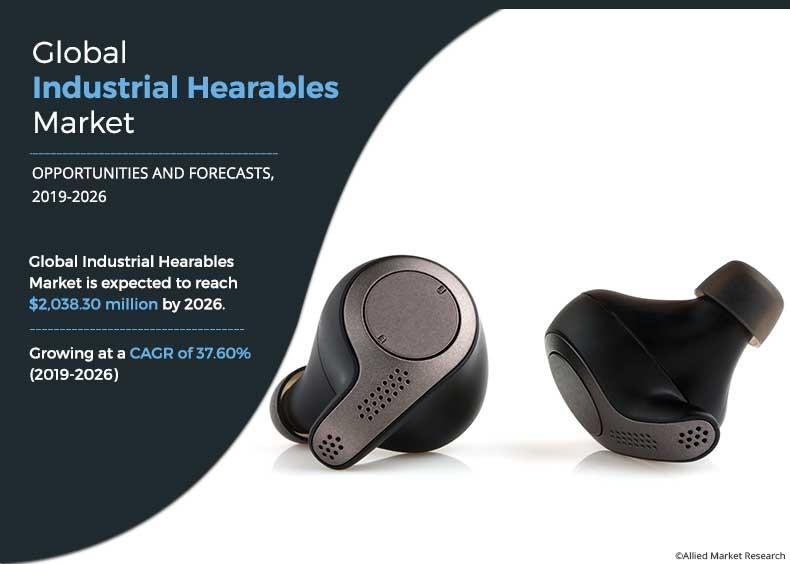 Hearable devices in industrial applications are now enabled with built-in voice-enabled virtual assistant and wireless communication features. In addition, these devices ensure hearing aids among users in noisy working environments in an industry or enterprise. Furthermore, hearables are featured with biometric, proximity, movement, and other sensors that enable it to collect context about user. These smart headsets also improve the listening experience of an user. In industrial areas, hearables are also useful for short range and long range inter team communication. These wireless devices are interconnected via wireless connectivity technologies such as Bluetooth, Wi-Fi, cellular network, DECT, and others.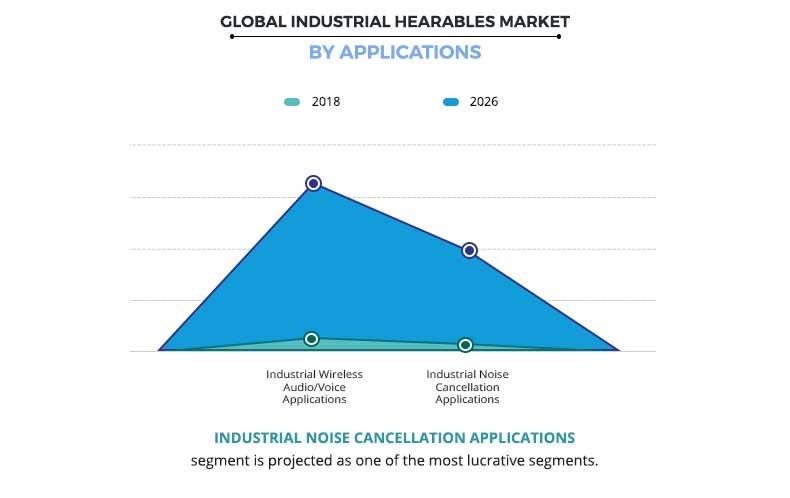 The increase in demand for wireless headphones majorly contributes to the industrial hearables market growth, owing to shift in preference of consumers from wired headphones to wireless headphones. These wireless headphones are connected with Bluetooth and Wi-Fi technology, which enables the users to link their phones to other devices and headsets. In addition, hearable computing is the next emerging technology that promotes hands-free calling and communication, ensures voice communication in a noisy environment, and provides a solution by combining signals from in-ear and external microphones. This in turn propels the demand for hearable devices in the industrial sector. Furthermore, surge in need for mobility services is also driving the market growth. However, various wireless technologies used in the hearable leads to rapid discharge of the battery and high cost of advanced hearable solutions can hinder the growth of industrial hearables market.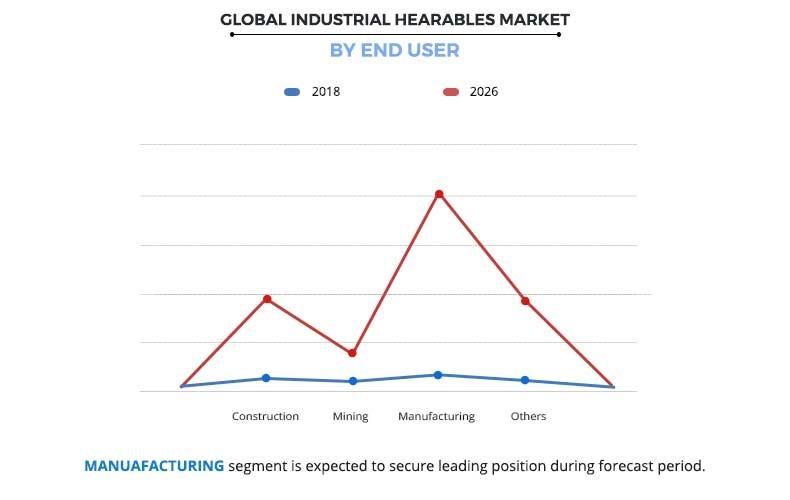 Nonetheless, growth in focus toward adoption of hearing devices to prevent hearing loss is expected to provide growth opportunities to the market players, as government organizations and major companies operating in the hearable devices market are striving toward the development of hearable devices. Their aim is to eliminate hearing damage among workers by providing suitable protection in the form of headsets and other devices to cover their ears and block the loud noises. Moreover, rapid advancements in hearable technology are also projected to provide lucrative opportunities for the industrial hearables market. For instance, cellular connectivity with 5G network improves the reliability of mobile data transmissions and provides an opportunity for untethered standalone hearables. 
The global industrial hearable market is analyzed by type, technology, application, end user, and region. Based on type, it is fragmented into in ear and over ear segments. The over ear hearables segment dominated the industrial hearables market in terms of revenue in 2018 and is expected to follow the same trend during the forecast period.  On the basis of technology, the market is segregated into DECT, Bluetooth, Wi-Fi, and others. The other technology segment accounted for the highest market share in 2018, whereas the Bluetooth technology segment is expected to grow at the highest CAGR from 2019 to 2026.  The applications covered in this study include industrial wireless audio/voice application, and industrial noise cancellation application. By end-user, it is categorized into construction, mining, manufacturing, and others. The global industrial hearables market is dominated by the industrial audio/voice applications segment in terms of value and volume.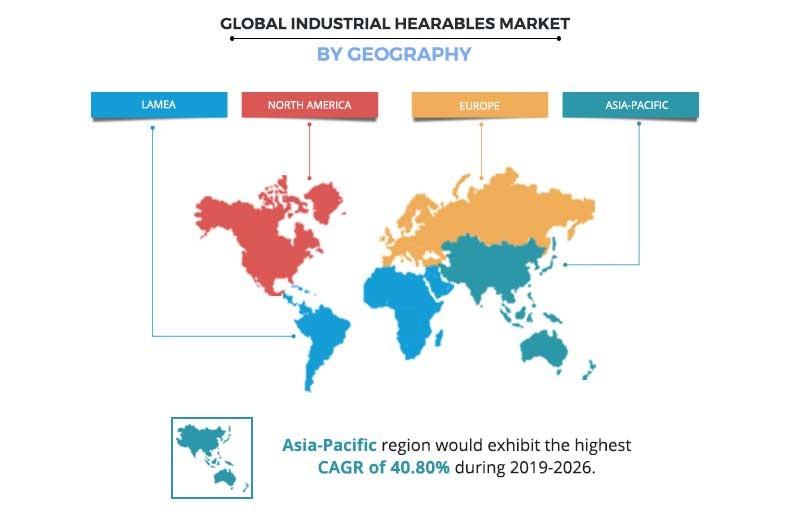 Based on region, the global industrial hearables market is analyzed across North America (U.S., Canada, and Mexico), Europe (UK, Germany, Russia, France, and others), Asia-Pacific (China, India, Japan, Korea, and others), and LAMEA (Latin America, Middle East, and Africa).  Asia-Pacific accounted for the highest share, owing to the increased presence of the manufacturing and construction industry, wherein industrial hearables are extensively required for noise cancellation and communications. Europe was the second largest contributor in terms of revenue and is expected to witness significant growth during the forecast period, owing to governments initiative toward prevention of hearing loss due to noise pollution in the industrial area. For instance, manufacturing, construction, and other industrial sectors are on the rise in Europe, where about 29% workers are exposed to hazardous levels of noise during at least one-quarter of their time in the workplace and 11% workers are exposed at all times. However, this trend is experiencing growth and this kind of noise-induced hearing loss is permanent and irreversible. Thus, European Union Directive 2003/10/EC is regulated in industries to prevent workers from exposure to harmful noise. 
Top Impacting Factors
The significant impacting factors in the industrial hearables market include increase in demand for wireless headphones, emerging hearable computing, and surge in need for mobility services. However, high cost of advanced hearable devices pose a major threat, thus hampering the market growth globally. Conversely, increase in focus toward adoption of hearing devices to prevent hearing loss and technological advancements in hearable devices are projected to offer remunerative opportunities to the industrial hearables market. Each of these factors is anticipated to have a definite impact on the industrial hearable market during the forecast period. 
Competition Analysis
Competitive analysis and profiles of the major industrial hearables market players, such as Eartex Ltd., EERS Global Technologies Inc., Firecom, Fujikon, NoiseBuster (Pro Tech Technologies, Inc.), QuietOn, Setcom Corporation, Sonetics Corporation, Sensear Pty Ltd., and Silentium are provided in this report. 
Key Benefits for Industrial Hearables Market:
This study comprises analytical depiction of the global industrial hearables market size along with the current trends and future estimations to depict the imminent investment pockets.
The overall industrial hearables market analysis is determined to understand the profitable trends to gain a stronger foothold.
The report presents information related to key drivers, restraints, and opportunities with a detailed impact analysis.
The current industrial hearables market forecast is quantitatively analyzed from 2019 to 2026 to benchmark the financial competency.
Porter's five forces analysis illustrates the potency of the buyers and suppliers in the industrial hearables market.
The report includes the industrial hearables market share of key vendors and industrial hearables market trends.
 Industrial Hearables Market Report Highlights
Aspects
Details
By Type
By Technology

DECT
Bluetooth
Wi-Fi
Others

By Application

Industrial wireless audio/voice application
Industrial voice cancellation application

By End User

Construction
Mining
Manufacturing
Others

By Region

North America (U.S., Canada, Mexico)
Europe (Germany, France, UK, Italy, Rest of Europe)
Asia-Pacific (Japan, China, India, South Korea, Rest of Asia-Pacific)
LAMEA (Latin America, Middle East, Africa)

Key Market Players
Eartex Ltd., EERS Global Technologies Inc., Firecom, Fujikon, NoiseBuster (Pro Tech Technologies, Inc.), QuietOn, Setcom Corporation, Sonetics, Sensear Pty. Ltd., Silentium