The global industrial hemp market size was valued at $4.9 billion in 2019, and is projected to reach $18.6 billion by 2027, registering a CAGR of 22.4% from 2021 to 2027. Industrial hemp or hemp is a variety of Cannabis sativa plant species this is grown especially for the commercial purpose. Industrial hemp is a fast-growing, environmentally friendly plant with a low cost to produce. It is also one of the multipurpose and sustainable crops in the world. Moreover, industrial hemp can be refined into a variety of commercial items such as rope, paper, clothing, textiles, insulation, paint, biodegradable plastics, food, biofuel and animal feed. 
Hemp which is also known as cannabis is used in psychoactive drug which is extracted from cannabis plants. Hemp is used for medical or recreational purposes. In addition, hemp helps in reducing pain by altering pain perception pathways in the brain. It is also helpful in preventing conditions that causes chronic pain such as arthritis, migraine, fibromyalgia and endometriosis. It may also reduce cancer treatment side effects like loss of appetite.  Moreover, owing to hemp effect on limbic system, doctors prescribes industrial hemp to treat the following mental and neurological health conditions like anxiety, multiple sclerosis, post-traumatic stress disorder (PTSD), epilepsy, Parkinson's disease and Tourette syndrome. Furthermore, the relaxing benefit of hemp improves sleep disorders like insomnia. Thus, multiple benefits of hemp further boost the demand of industrial hemp market.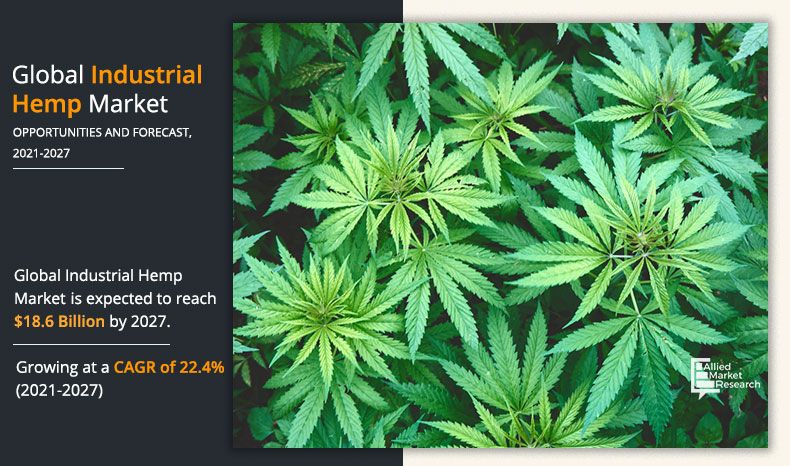 The hemp industry continues to provide substantial innovations with respect to the cultivation and machinery to develop hemp plants more effectively. Innovation in cultivation and machinery will give farmer the capability to make the plantation and harvest of industrial hemp triple in volume. However, companies providing hemp and hemp-derived products needs compliance with various regulatory guidelines worldwide.
Across the globe, countries practice and regulate various levels of legalization for various types of hemp. The severe regulatory rules and norms relating to the manufacture and sales of industrial hemp across different states in the similar country could be different for stakeholders and producers to comply with. Furthermore, the norms related with hemp containing tetrahydrocannabinol (THC) and cannabidiol (CBD) also remain great varied from state to state and country to country, which further leads to compliance related with the trading of the commodity. For example, in the U.S. diversified legal policies must be taken into consideration these policies consists of licensure of growers, certification of seed, regulation, legal protection of growers and state-wide commissions. Thus, strict rules and regulation of government across the globe regarding the production of industrial hemp and its diversified uses hampers the growth of the market.
Industrial Hemp Market

---
By Type
Hemp oil segment dominates the global market and is expected to retain its dominance throughout the forecast period.
With the sudden outbreak of COVID-19 pandemic, majority of the countries had imposed lockdowns, and curfews which has hugely impacted lifestyles, health & wellbeing, and also affected the manufacturing industries, thereby affecting the growth of industrial hemp industry to some extent.
The industrial hemp market has been segmented based on type, application, source and region. Based on type, the industrial hemp market is segmented into hemp seed, hemp oil, hemp fiber and others. Based on application the global market is studied across food and beverages, textiles, personal care products, pharmaceuticals and others. On the basis of source, the market is categorized into conventional and organic. Region wise, the market is studied across North America, Europe, Asia-Pacific, and LAMEA.
Industrial Hemp Market

---
By Application
Pharmaceuticals segment is expected to grow at a highest CAGR of 25.8% during the forecast period.
Based on type, the global industrial hemp market is segmented into hemp seed, hemp oil, hemp fiber and others. Hemp oil constitute a major market share; however, the hemp fiber segment is projected to experience growth at the highest CAGR during the industrial hemp market forecast period. There has been a significant increase in the application of hemp fiber in diverse industries like animal bedding, furniture, agriculture and automobile thus driving market expansion.
Based on application, the market is classified into food and beverages, textiles, personal care products, pharmaceuticals and others. Personal care products leads in terms of market share and is expected to continue to grow with robust CAGR during the forecast period. Increase in industrial hemp uses in variety of products including face cream, glow oil, face mask, hand wash, body wash, protector cream, lip balm to augment the industrial hemp market growth. 
Industrial Hemp Market

---
By Source
Organic segment is expected to grow at a highest CAGR of 24.4% during the forecast period.
By source, the market is categorized into conventional and organic. The conventional segment held the major industrial hemp market share in the market, and is projected to remain dominant during the forecast period. However, the organic segment is anticipated to garner significant market growth during the upcoming years.
The key players profiled in the report includes Hempco Food and Fiber Inc., Ecofibre, Hemp Inc., GenCanna, HempFlax Group B.V., The Konoplex Group, South Hemp, Plains Industrial Hemp Processing Ltd., MH medical hemp and Hempro International GmbH & Co. KG
Industrial Hemp Market

---
By Region
Asia-Pacific dominates the market and is expected to grow with a CAGR of 20.4% during the forecast period
Key Benefits For Stakeholders
This report provides a quantitative analysis of the market segments, current trends, estimations, and dynamics of the industrial hemp market analysis from 2019 to 2027 to identify the prevailing industrial hemp market opportunities.
The market research is offered along with information related to key drivers, restraints, and opportunities.
Porter's five forces analysis highlights the potency of buyers and suppliers to enable stakeholders make profit-oriented business decisions and strengthen their supplier–buyer network.
In-depth analysis of the industrial hemp market segmentation assists to determine the prevailing market opportunities.
Major countries in each region are mapped according to their revenue contribution to the global market. 
Market player positioning facilitates benchmarking and provides a clear understanding of the present position of the market players.
The report includes the analysis of the regional as well as global industrial hemp market trends, key players, market segments, application areas, and market growth strategies. 
 Industrial Hemp Market Report Highlights
Aspects
Details
By Type

Hemp Seed
Hemp Oil
Hemp Fiber
Others

By Application

Food and Beverages
Textiles
Personal Care Products
Pharmaceuticals
Others

By Source
By Region

North America (U.S., Canada, Mexico)
Europe (UK, Germany, France, Russia, Italy, Spain, Rest of Europe)
Asia-Pacific (China, Japan, India, Australia & New Zealand, Korea, ASEAN, Rest of Asia-pacific)
LAMEA (Brazil, South Africa, Turkey, Saudi Arabia, Rest of LAMEA)

Key Market Players
ECOFIBRE LTD, GENCANNA, HEMP, INC, AURORA CANNABIS INC., HEMPFLAX GROUP B.V., HEMPRO INT. GMBH & CO. KG, MARIJUANA COMPANY OF AMERICA, INC., MH MEDICAL HEMP GMBH, PLAINS INDUSTRIAL HEMP PROCESSING LTD., SOUTH HEMP TECNO S.R.L.