Industrial Sensors Market Outlook - 2027
The global industrial sensors market size is expected to reach $35.47 billion by 2027 from $18.81 billion in 2019, growing at a CAGR of 9.77% from 2020 to 2027. Industrial sensor is a device that detects events or changes in the environment and subsequently provides corresponding output. These sensors play a vital role in factory automation and Industry 4.0. Motion sensors, environmental sensors, and vibration sensors are used to monitor the condition of equipment, from linear or angular positioning, tilt sensing, leveling, and shock or fall detection. 
The manufacturing industry segment impacted negatively, due to COVID-19 Pandemic.
They sense physical input such as light, heat, motion, moisture, pressure, or any other entity, and respond by producing an output on a display or transmit the information in electronic form for further processing.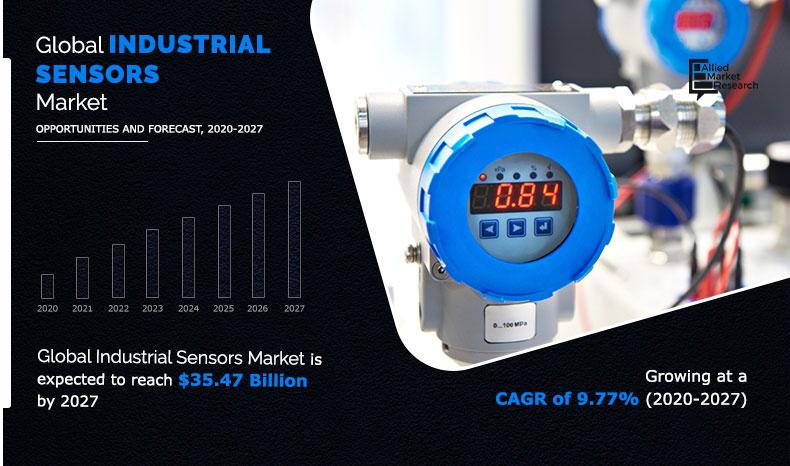 These define major applications in water level monitoring systems, environmental monitoring, energy saving in artificial lighting, and equipment fault diagnostics. 
A wide variety of sensors are available for practically any industrial needs. For mission-critical industrial applications, industrial sensors can help to improve processes and offer unmatched asset protection. Sensing technology and its various applications are constantly evolving in line with advancements in technology and business needs. Sensors are available to detect a wide variety of real-world properties–from distance to heat to pressure. 
In addition, industrial sensors are used to measure physical, chemical, or biological quantities with accuracy and repeatability. Their reliability has resulted in widespread adoption and use across various industries ranging from healthcare to infrastructure to manufacturing. Furthermore, infrastructure systems such as smart grid, smart homes, smart water networks, and intelligent transportation connect through the concept of Internet of Things (IoT), where there is extensive use of sensors. 
Industrial Sensors Market

---
By Sensor Type
Image sensor segment will grow at a highest CAGR of 11.8% during 2020 - 2027
The prominent factor that drives the industrial sensors market size includes surge in penetration of Internet of Things & Industry 4.0, increase in trend of industrial automation. The sensor technology is indispensable to a broad range of industries, providing critical information about parameters such as pressure, temperature, flow, gas, position, and humidity sensors which can have a profound impact on a number of processes or systems. In the modern era, Industry 4.0 improves manufacturing and industrial automation across different industry verticals. Several sensing devices empower robotic processes such as debarring, grinding, polishing, and sanding.   
Moreover, promising government regulations towards the usage of industrial sensors fuels the growth of the global industrial sensors market. However, one of the major restraints is the high initial cost of sensors, which hamper the industrial sensors market growth. Although the integration of sensors increases the industrial automation level, it incurs additional cost, thereby limiting their use in cost-sensitive applications. In addition, high development costs involved in R&D activities to develop new products acts as a key challenge, especially for cash-deficient, small- & medium-sized sensor manufacturers. On the contrary, rise in adoption of smart sensors in several industries is anticipated to provide lucrative opportunities for the expansion of the industrial sensors industry during the forecast period. 
Segmentation Analysis
The global industrial sensors market is segmented into sensor type, industry vertical, and region. On the basis of sensor type, it is categorized into image sensor, pressure sensor, temperature sensor, level sensor, position sensor, humidity sensor, force sensor, and others. Depending on industry vertical, it is fragmented into manufacturing, pharmaceutical, chemical, oil & gas, energy & power, and mining. 
Industrial Sensors Market

---
By Industry Vertical
Manufacturing segment is expected to secure leading position during forecast period.
Region wise, the industrial sensors market trends are analyzed across North America (U.S., Canada, and Mexico), Europe (Germany, France, UK, Italy, and rest of Europe), Asia-Pacific (China, Japan, India, South Korea, and rest of Asia-Pacific), and LAMEA (Latin America, Middle East, and Africa).  
Top Impacting Factors
The prominent factors that drive the growth of the industrial sensors market include surge in penetration of Internet of Things & Industry 4.0, increase in industrial automation, and supportive government regulations toward the usage of industrial sensors. However, high initial cost of the sensor device restricts the industrial sensors market growth. Conversely, rise in adoption of smart sensors in several industries is anticipated to provide potential opportunities for the expansion of the  market.   
Competitive Analysis
Competitive analysis and profiles of the major Honeywell, Texas Instruments, Siemens, STMicroelectronics, Amphenol Corporation, TE Connectivity, Rockwell Automation, NXP Semiconductors, Infineon Technologies, and Renesas Electronics are provided in this report.  
COVID-19 Impact Analysis 
COVID-19 is having a large impact on both consumer and the economy. Manufacturing hubs have been temporarily working at low efficiency to contain the COVID-19 spread. This has majorly affected the supply chain of the market by creating shortages of materials, components, and finished goods. Lack of business continuity has ensured significant negative impacts on shareholder returns, and revenue, which are expected to create financial disruptions in the industrial sensors industry.
The impact of COVID-19 on the manufacturing industry has significantly affected the global economy. Electronic components, such as sensors, PCBs, LED chips & wafers, ICs, and other semiconductor devices, are mostly imported from China. Attributed to the temporary shutdown of manufacturing units, the prices of semiconductor components have increased by 2-3%, owing to shortage of supplies. 
Shortages of critical components and materials have significantly impacted the global supply chains. In addition, reductions in various capital budgets and delay in various planned projects in various end-use industries have hampered the global economy. 
Industrial Sensors Market

---
By Region
Asia-Pacific region would exhibit the highest CAGR of 10.70% during 2020-2027
Key Benefits For Stakeholders
This study comprises analytical depiction of the global industrial sensors market outlook along with the current trends and future estimations to depict the imminent investment pockets. 
The overall industrial sensors market analysis is determined to understand the profitable trends to gain a stronger foothold. 
The report presents information related to key drivers, restraints, and industrial sensors market opportunities with a detailed impact analysis. 
The current industrial sensors market forecast is quantitatively analyzed from 2019 to 2027 to benchmark the financial competency. 
Porter's five forces analysis illustrates the potency of the buyers and the industrial sensors market share of key vendors.   
 Industrial Sensors Market Report Highlights
Aspects
Details
By SENSOR TYPE

Image Sensor
Pressure Sensor
Temperature Sensor
Level sensors
Position Sensor
Humidity Sensor
Force Sensor
Others

By INDUSTRY VERTICAL

Manufacturing
Oil & Gas
Chemical
Pharmaceutical
Energy & Power
Mining

By Region

North America (US, Canada, Mexico)
Europe (Germany, UK, France, Italy, rest of Europe)
Asia-Pacific (China, Japan, South Korea, India, rest of Asia-Pacific)
LAMEA (Latin America, Middle East, Africa)

Key Market Players
STMicroelectronics, TE Connectivity Ltd., TEXAS INSTRUMENTS INCORPORATED, Honeywell International Inc., Renesas Electronics Corporation, Infineon Technologies, NXP Semiconductors, Siemens AG, Amphenol Corporation, ROCKWELL AUTOMATION, INC.