Infrared Camera Market Outlook - 2026
The global infrared camera market was valued at $744.8 million in 2019, and is projected to reach $1,378.47 million by 2026, registering a CAGR of 8.7% from 2020 to 2026.
An infrared camera is a non-contact device that detects infrared energy and converts it into electronic signal, which is then processed to produce a thermal image on the monitor. The heat sensed by infrared cameras is precisely quantified and measured to monitor the thermal performance and to identify heat-related problems. Recent innovations, particularly in the detector technology, and incorporation of built-in visual imaging along with automatic functionality and infrared software development are expected to deliver more cost-effective thermal analysis solutions in the coming years.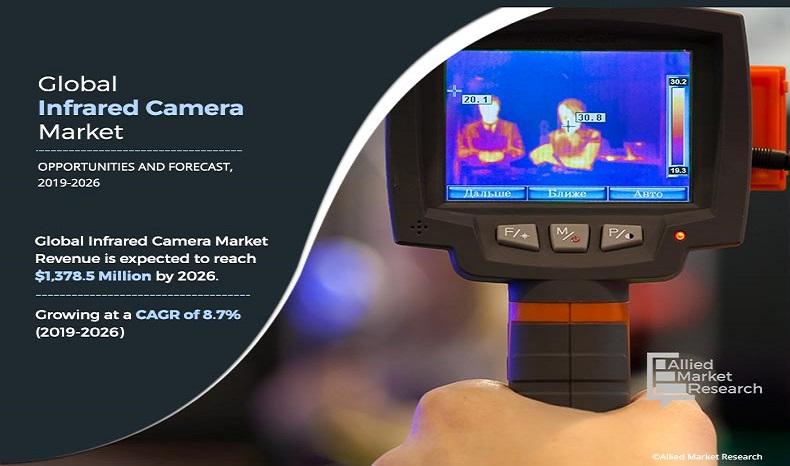 Infrared camera system is mostly used for long range imaging, as the camera employs highly sensitive technology. A cooled thermal imaging camera consists of an imaging sensor that is integrated with a cryocooler, which lowers the sensor temperature to cryogenic temperatures. Infrared cameras are mostly contained in a vacuum-sealed case and cryogenically cooled. Cooling is one of the most important aspect of infrared cameras during the operation of semiconductor materials as they might get blinded by their own radiation.
Asia-Pacific is the fastest growing region globally. It is the most lucrative market for infrared cameras due to availability high-end enhanced technologies, increase in demand for smart electronics, and growth in the manufacturing industries. Moreover, various supportive non-profit organizations toward embedded systems fuel the market growth. These organizations take various initiatives to build power infrastructure with advanced technologies, which is expected to drive the infrared camera market size. Asia-Pacific is leading the infrared camera market share and is expected to be the fastest growing regional segment in the near future, with the highest CAGR. With an increase in demand for security and surveillance systems, organizations across verticals are realizing the importance of infrared cameras to ensure efficient detection.
Infrared Camera Market

---
By Technology
Cooled IR Cameras are expected to be the most lucrative segment
Infrared cameras in healthcare are used to provide detailed information of patient's body temperature distribution to identify various disease patterns. Usage of these cameras ensure imaging of smallest temperature differences in high resolution. For instance, InfraTec, a thermographic measurement technology company based in Germany developed its VarioCAM series, with highest thermal resolutions in the cooled infrared camera segment. These infrared camera systems are equipped with close-up lenses to analyze smallest body regions in detail. Thus, skin reactions like perspiration or temperature changes of the eyes are observed in an accurate way with the help of these camera and are proving to be one of infrared camera market trends globally.
Infrared Camera Market

---
By End Use
Defense & Military generated the highest revenue in 2019
Furthermore, increase in adoption of infrared cameras in security and surveillance and quality control & inspection boosts the growth of the global infrared camera market. However, high acquisition and maintenance cost hampers the market growth. Moreover, increase in popularity of infrared cameras in commercial end uses and rise in usage of infrared camera in short wave infrared range (SWIR) are expected to offer lucrative opportunities for the infrared camera market growth globally.
Infrared Camera Market

---
By Region
Asia-Pacific is expected to be the most lucrative segment
SEGMENTATION
The global infrared camera market size is analyzed by technology, end use, and region. By technology, the market is bifurcated into cooled IR camera and uncooled IR camera. By end use, it is divided into defense & military, industrial, commercial surveillance, automotive, and others. By region, it is analyzed across North America, Europe, Asia-Pacific, and LAMEA, along with its prominent countries.
The key players profiled in the infrared camera industry include Leonardo DRS, Global Sensor Technology Co., ltd., Xenics, AIM Infrarot-Module GmbH, Lynred, FLIR System Inc., L3 Technologies, SemiConductor Devices, Boston Electronics Corporation, and Hamamatsu Photonics. These key players have adopted strategies such as product portfolio expansion, mergers & acquisitions, agreements, geographical expansion, and collaborations to enhance their market penetration.
TOP IMPACTING FACTORS
The factors such as increase in end use of IR camera in security and surveillance, growth in adoption of infrared cameras in quality control and inspection, high initial acquisition and maintenance cost of infrared camera, and emerging trends toward increase in popularity of infrared cameras in commercial end use and for SWIR are expected to significantly affect the growth of the global infrared camera market. These factors are anticipated to either drive or hamper the infrared camera market growth.
Increase in end use of infrared cameras in security and surveillance
Public safety is of top priority in the world. Public safety agencies are investing in numerous new technologies to ensure efficiency. With surge in crime rates, antisocial behavior, and terrorist attacks, the government has introduced new technologies and strategies to ensure public safety and security. It has become necessary to improve the system and responses for catastrophic attacks and to find safe, cost-effective, and feasible solutions. Various infrared cameras are being adopted for surveillance in defense, homeland security, perimeter surveillance, and enforcement fields. Enhanced features such as excellent performance, superior imaging capabilities, and high reliability on the fields drive the growth of the market. In addition, these cameras can also be integrated with pan and tilt positioning system to create a complete surveillance system for various end uses. Furthermore, infrared cameras offer long range detection up to 50 km even in complete darkness. This feature adds traction to the market growth and offers lucrative opportunities for the infrared camera market share globally.
High initial acquisition and maintenance cost
Infrared cameras are quite expensive and faces significant obstacles for its adoption majorly in the developing nations. Lack of adequate funding from the government in developing countries such as Qatar, South Korea, and others for adoption of the security technologies is expected to hamper the growth of the market. The use of enhanced technology involves major investment, which acts as a barrier for the infrared camera market. Enhanced surveillance cameras for various end uses are of various ranges depending on the features and the number of cameras and monitoring systems purchased. The installation and maintenance of these infrared cameras are usually high, which increases the cost of the technology. Thus, initial investment is anticipated to restrain the growth of the infrared camera market analysis.
Increase in usage of infrared cameras for SWIR
Cooled infrared cameras are majorly used for long and medium range. However, with increase in advancements in technologies, these infrared cameras are being used for short range end uses. Cooled infrared cameras majorly use InGaAs focal plane array with low dark current and low defective pixel count. For short range end uses, infrared cameras are used for metrology measurements in SWIR spectrum. In addition, these infrared cameras for short range allow low-noise levels at 220 frames-per-second rates approximately. Various companies are developing products that are being used for short ranges along with medium and long-range wavelength. Infrared cameras for SWIR provide vision enhancements and promotes passive cooling under various end uses. In addition, these cameras under short range are used for semiconductor inspection, spectroscopy, hyperspectral imaging, and laser beam profiling, which is anticipated to create lucrative infrared camera market opportunity globally.
Key Benefits for Stakeholders
This study includes the analytical depiction of the infrared camera market forecast along with the current trends and future estimations to determine the imminent investment pockets.
The report presents information regarding the key drivers, restraints, and opportunities in the Infrared Camera market.
The infrared camera market growth is quantitatively analyzed from 2019 to 2026 to highlight the financial competency of the industry.
Porter's five forces analysis illustrates the potency of the buyers and suppliers in the industry.
 Infrared Camera Market Report Highlights
Aspects
Details
By Technology

COOLED IR CAMERA
UNCOOLED IR CAMERA

By End Use

DEFENSE & MILITARY
INDUSTRIAL
COMMERCIAL SURVEILLANCE
AUTOMOTIVE
OTHERS

By Region

North America (U.S., Canada, Mexico)
Europe (UK, Germany, France, Russia, Rest of Europe)
Asia-Pacific (China, Japan, India, South Korea, Rest of Asia-Pacific)
LAMEA (Latin America, Middle East, Africa)

Key Market Players
XENICS, L3 TECHNOLOGIES, LEONARDO DRS, SEMICONDUCTOR DEVICES., HAMAMATSU PHOTONICS, FLIR SYSTEM, AIM INFRARED MODULE GMBH, BOSTON ELECTRONICS, LYNRED, GLOBAL SENSOR TECHNOLOGY CO., LTD