Infrared Detector Market Overview:
Infrared Detector Market is expected to garner $466 million by 2022, registering a CAGR of 9.7% during the forecast period 2016 - 2022.
Infrared detector is used to detect infrared radiation to measure heat and detect motion. It is integrated with different devices used in surveillance, automobiles, testing, detection, and measurement. Infrared detectors that convert infrared radiation into electrical signal are one of the most significant group of sensors in defense system applications. These detectors also play a major role in applications such as medical, automotive, industrial, security, and consumer electronics. Fast growing industrial sector, government investment, and economic incentives for defense sector have further supported the growth of global infrared detector market. These are highly effective as compared to other detectors for safety and monitoring purposes due to their compact size and ability to detect infrared light from far distances. However, high installation cost and limited accuracy in certain conditions could limit the market growth. Technological advancements in the infrared detector technology and decline in prices in future could provide potential growth opportunities for the market.
Segment Overview:
The global infrared detector market is segmented on the basis of type, spectral range, application, and geography.
Global infrared detector market segmentation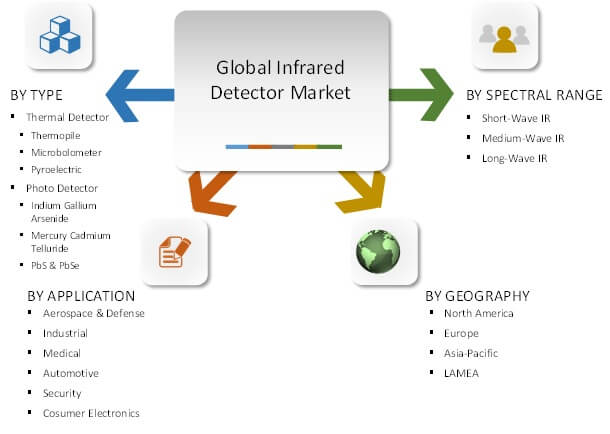 By type, photo infrared detectors dominated due to its wider application. Moreover, thermal detectors have been considerably less exploited in commercial and military systems. Among various spectral range, Long-Wave IR detectors dominated the global market due to their ability to sense thermal signs and provide excellent detection capability in low-light-level conditions.
Top Factors Impacting Global Infrared Detector Market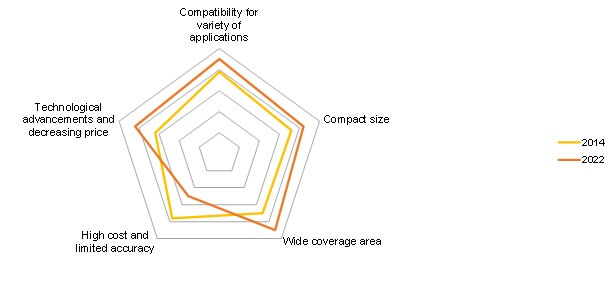 Compatibility for Variety of Applications
Infrared detectors are recognized for their compatibility in various applications. They are used for security and monitoring purposes, non-contact temperature sensing, infrared gas analysis, flame detection, temperature control systems, detection of human presence, and infrared spectroscopy. In addition, they are also used in several every day events and can be found in houses, cars, and shopping malls.
High Cost and Limited Accuracy
Infrared detectors are more expensive than other detectors as they require additional semiconductor components for increased sensitivity. Cooling techniques also increase their overall cost. In addition, temperature change and extreme air turbulence may affect their performance. The environment needs to be clean, without dust, and less humid for more accurate results. Infrared detectors detect infrared images based on the temperature variations of objects so they cannot detect differences in objects that have a very similar temperature range. This leads to inaccuracy in many circumstances.
Asia-pacific is Expected to Be the Most Lucrative Market for Infrared Detectors
Asia-Pacific infrared detector market is expected to grow at the fastest CAGR during the forecast period owing to robust governmental support and a huge consumer electronic industry. Large scale adoption of the infrared detectors in the latest range of applications such as security, consumer electronics, and smart homes has fueled the market growth. Furthermore, the presence of various key companies have catalyzed the market.
Competitive Landscape
The report provides a comprehensive analysis of major market players such as Texas Instruments Inc., Honeywell International Inc., Omron Corporation, Excelitas Technologies Corp., Hamamatsu Photonic K.K., FLIR Systems Inc., Murata Manufacturing Co., Ltd., Raytheon Company, Sofradir, and Nippon Avionics and the prominent strategies adopted by them.
Top Winning Strategies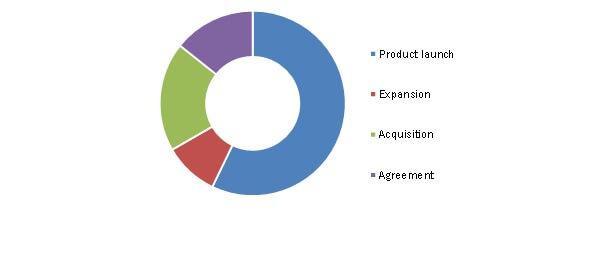 Infrared detector market is largely driven by product launch and acquisition. For instance, Honeywell International Inc. and Omron Corporation have acquired local infrared detector manufacturer companies to enhance their global outreach and increase their market share. Moreover, expansion and agreement are other wining strategies adopted by key players.
Top Winning Strategies in Global Infrared Detector Market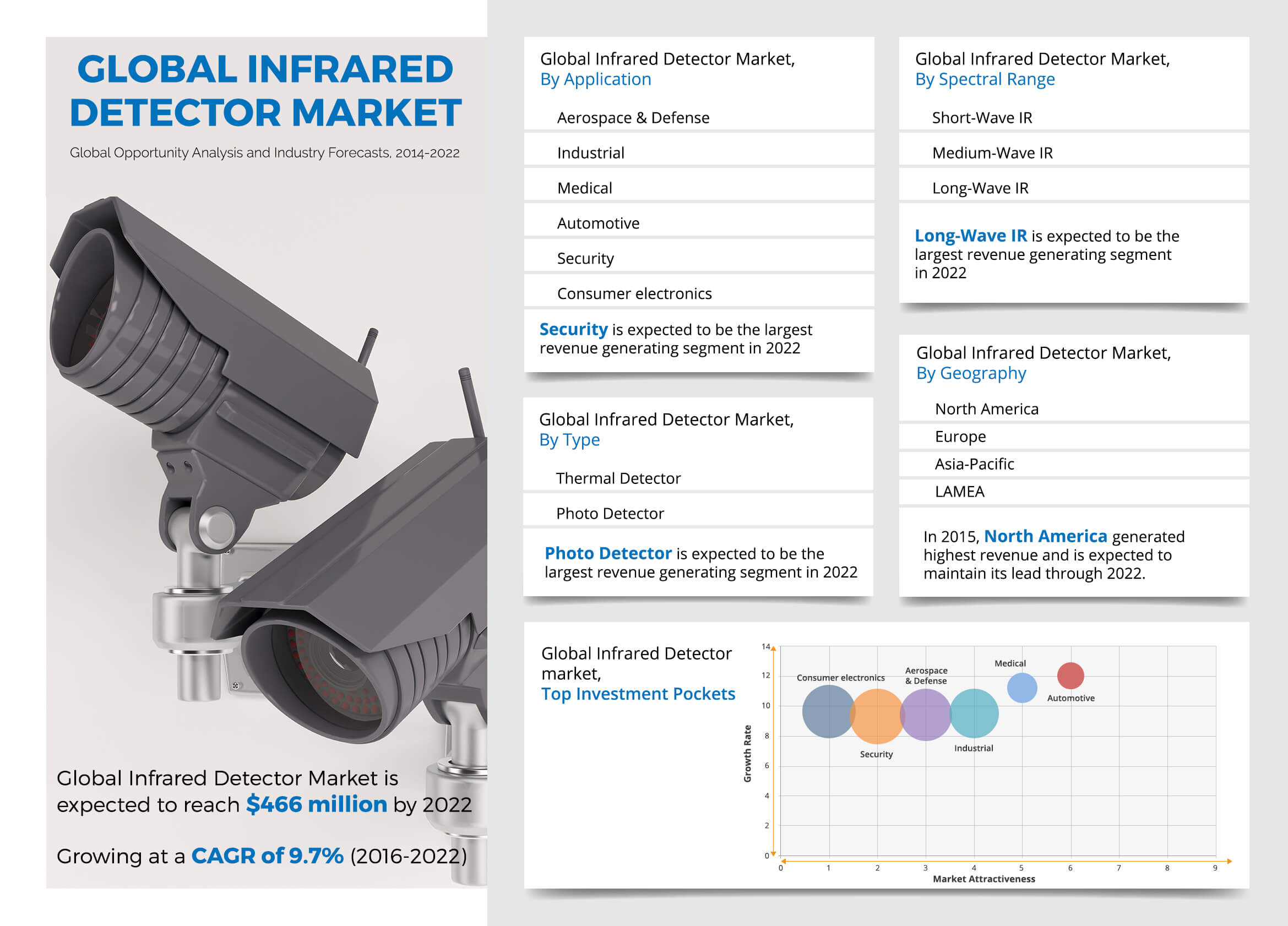 Key Benefits
The study provides an in-depth analysis of the global infrared detector market to elucidate the prominent investment pockets in the market.
Current and future trends are outlined to determine the overall market scenario and single out profitable trends
The report provides information regarding key drivers, restraints, and opportunities with impact analysis
Geographically, the market is analyzed based on four regions namely, North America, Europe, Asia-Pacific, and LAMEA
Analysis of value chain is conducted for better understanding of the role of intermediaries
 Infrared Detector Market Report Highlights
Aspects
Details
By Type

THERMAL DETECTOR
PHOTO DETECTOR

By Spectral Range

SHORT-WAVE IR
MEDIUM-WAVE IR
LONG-WAVE IR

By Application

Aerospace & Defense
Industrial
Medical
Automotive
Security
Consumer Electronics

By Geography

North America
EUROPE

U.K
Germany
Italy
Rest of Europe

ASIA-PACIFIC

China
Japan
India
Rest of Asia-Pacific

LAMEA

Latin America
Middle East
Africa

Key Market Players
TEXAS INSTRUMENTS INC., HONEYWELL INTERNATIONAL INC, OMRON CORPORATION, EXCELITAS TECHNOLOGIES CORP, HAMAMATSU PHOTONICS K.K., FLIR SYSTEMS, INC., MURATA MANUFACTURING CO., LTD., RAYTHEON COMPANY, SOFRADIR, NIPPON AVIONICS CO., LTD.