Infusion pump is a collective pump that conveys fluids like nutrients and drugs. The rates at which the fluids are transported are supervised by software. The software also governs the user Interface and the pumping mechanism to maintain the rate and performs other important functions like safety. These pumps are external devices. These fluids are transported by the pump by means of arterial, intravenous and subcutaneous routs.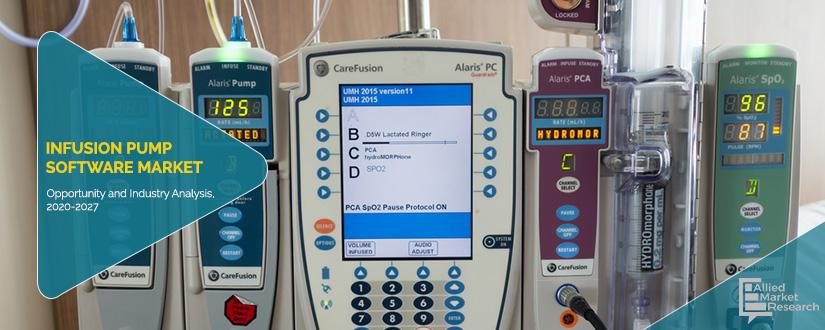 They are basically two types of 1) stationary purpose and 2) portable purpose.
Stationary infusion pumps are used in the hospitals which cannot be moved from one place to another.
Portable infusion pumps are used while travelling, are mobile and can be used at home care.
Infusion pumps are used for pain relievers, fluids, chemotherapy drugs and insulin as the patients under medication require conditional and accurate doses. 
These pumps are also used treatment of chronic disorders and diabetes. If we have a look at the statistics from the past few years it is observed that the prevalence rates of chronic disorders are increasing and the advances in technology has helped healthcare sector at improving. Because of this the use of infusion pumps will increase.
COVID-19 scenario analysis:
With the outbreak of COVID-19 globally and the stipulated lockout, there is an ongoing downturn in the healthcare market. Aside from communities, COVID-19 was equally disastrous for major world economies, especially the healthcare sector. Prominent stakeholders are continuing to adapt their strategy to the rapidly changing situation. COVID-19 is projected to have significant long-term impacts on the healthcare industry. Countries and major players would have to undertake critical healthcare changes until the crisis takes a back seat.
Technological progress, cost containment, and increased access will in the near future be an integral part of healthcare reforms. Digital health and telehealth have taken a front seat in the ongoing outbreak.
COVID-19 re-emphasized the importance of remote diagnosis, care, and consultation. Over the past few years, regulatory and behavioral barriers have slowed Telehealth growth. However, since many healthcare providers are currently working on video conferencing and telephone calls, this segment's growth will increase several folds over the next two years. The social distancing measures also mandated online consultation of patients with moderate symptoms. In addition, it greatly reduces the burden on hospitals already swamped by counts of COVID-19 patients. Medical IoT devices that live at home with patients are now being used for optimizing outpatient treatment and minimizing repeat visits, and these devices can be further used in a crisis situation. The pandemic led to severe resource constraints. This is expected to result in the development of competitive pricing and value-based pricing models, which will accelerate the market growth in the future.
Owing to such factors, COVID 19 is expected to have a significant impact on infusion pump software market.
Top impacting factors: Market Scenario Analysis, Trends, Drivers and Impact Analysis: 
Factors like rising levels of pollution and increasing government regulations and initiatives for environmental protection and medication are driving the growth of infusion pump market. Initiatives taken for environmental protection, environmental testing services being privatized and increasing demand for ambulant and domiciliary care are also contributing positively to the growth of the market. Additionally, technological developments and presence of many large hospitals are also boosting the growth to some extent.
In some developed regions, people are having elevated acceptance of specialist infusion devices and chronic diseases software good awareness about health also driven the use of Infusion pumps.
On the other hand, products being frequently recalled from the market are restricting the market growth during the forecast period.
New product launches to flourish the market:
On October 2nd, 2019, B. Braun has integrated smart pumps. They did this in association with Stanley healthcare at Saratoga Hospital.
On May 14th, 2018, Baxter got clearance for its New Spectrum IQ Infusion System from U.S. FDA.
In March 2018, Baxter signed a partnership with First Databank (FDB) for integrating FDB's Infusion Knowledge.
In August 2017, BS got into the US market and launched of BD Institute for Medication Management Excellence in New Jersey. This institute focuses on enhancing end-to-end IV infusion Safety for the patient.
Surge in usage in hospital applications:
Infusion pumps are widely used in nursing homes, hospitals and at home. Use of infusion pumps has increased considerably in hospitals to supervise various fluids to patients. This infusion pumps usually are smart pumps. As the technology keeps on evolving the use of smart pumps in hospitals will keep on increasing.
Many hospitals have also adopted to specialty infusion pumps which are connected via network. These pumps collect the clinical data and distribute them in the library updates by using central server. This is helping in minimizing the cost. These pumps help medication teams to plan the pump safety data, thus improving the quality of care and patient end result. The focus of these pumps is to reduce medication errors and pull off safe drug administration, while reducing labor time as well as costs.
Many hospitals are also using networked specialty infusion pumps. These low quantity and accurate syringe pumps help in preventing medication errors in areas where medication requires precision and accuracy. Moreover, this solution in reducing costs of upgrading pump software and collecting pump safety data every time for CQI programs.
Key benefits of the report:
This study presents the analytical depiction of the global infusion pump software industry along with the current trends and future estimations to determine the imminent investment pockets.
The report presents information related to key drivers, restraints, and opportunities along with detailed analysis of the global infusion pump software market share.
The current market is quantitatively analyzed to highlight the global infusion pump software market growth scenario.
Porter's five forces analysis illustrates the potency of buyers & suppliers in the infusion pump software market.
The report provides a detailed global infusion pump software market analysis based on competitive intensity and how the competition will take shape in coming years. 
Questions answered in the infusion pump software Market research report:
What are the leading market players active in the infusion pump software market?
What the current trends will influence the market in the next few years?
What are the driving factors, restraints, and opportunities in the market?
What are the projections for the future that would help in taking further strategic steps?
 Infusion Pump Software Market Report Highlights
Aspects
Details
By Type

Interoperability Software
Clinical Workflow Software
Dose Error Reduction Software

By Indication

Insulin Infusion
Chemotherapy
General Infusion
Pain and Anesthesia Management
Enteral Infusion

By End User

Hospitals
Home Healthcare Settings
Ambulatory Centers Settings
Academic and Research Institutes

By Region

North America (U.S., Canada, Mexico)
Europe (France, Germany, Italy, Spain, UK, Rest of Europe)
Asia-Pacific (China, Japan, India, South Korea, Australia, Rest of Asia-Pacific)
LAMEA (Brazil, South Africa, Saudi Arabia, Rest of LAMEA)

Key Market Players
Agilent Technologies, Becton Dickinson and Company, Medtronic Plc., ICU Medical Inc., Roche Diagnostics, Micrel Medical Devices, Baxter International Inc., Fresenius Kabi, Terumo Corporation, B Braun Melsungen AG