Injection Molded Plastics Market Overview:
Global Injection Molded Plastics Market is estimated to reach $162.1 billion by 2020, growing at a CAGR of 4.9% during 2015-2020. Injection molding is a manufacturing process for producing plastic products by injecting molten material into a mold where it is melted, cooled and subsequently solidified as the final part or product. Both thermoplastic and thermosetting injection molded plastics are used for manufacturing of various parts and components across industries. The major thermoplastic polymers used in injection molding are polypropylene, low-density polyethylene, high-density polyethylene, polycarbonate, polystyrene, polyvinyl chloride, polyurethane, polysulfone etc. Epoxy resin, polyester and melamine formaldehyde are some of the thermosetting polymers used for injection molding purpose.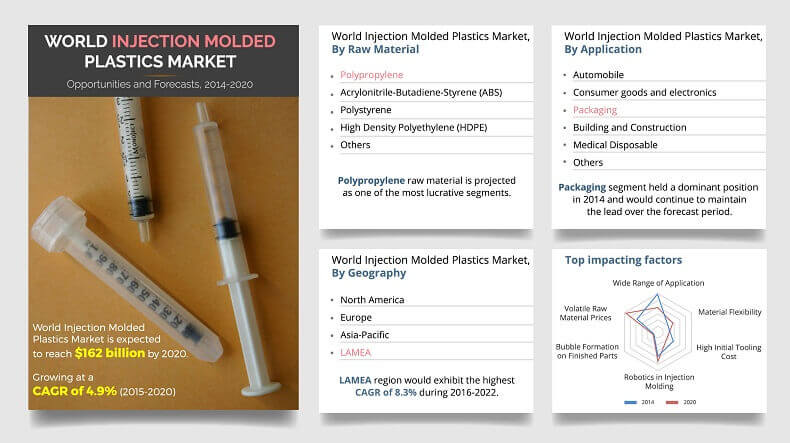 Injection molded plastics are used in production of complex and intricate shaped parts for precision with least waste. Owing to these advantages, injection molded plastics are used in manufacturing process of automotive components, interior wrapping, and miscellaneous assembly parts. It is also used in packaging applications to produce packaging parts & components to increase the aesthetics and consumer friendliness of the packaging products. Injection molded plastics are widely preferred in building and construction purposes owing to the strength, durability, and appearance of the injection molded plastic parts. In building and construction, these plastic parts or components are majorly employed for piping systems, insulation, wall board, and roofing purposes. Healthcare industry is the fastest growing application segment for injection molded plastics industry during the forecast period. Blood sample analysis cuvettes, pregnancy test devices, housings for needles, parts of medical devices are few of the preferred segments, owing to the lightweight, cost-effectiveness and easy serializable properties of injection molded plastic. 
Injection molded plastics are used with automated process thereby reducing manufacturing cost. It also reduces the waste production in manufacturing process. Low production waste and faster production process would augment the growth of injection molded plastics market. Along with this, the process has ability to use different types of plastics simultaneously to manufacture plastic parts. Furthermore, technological advancement in injection molding process where robots are used to perform different operations such as finishing and assembling injection molded parts and loading components into the injection molding would foster the growth of the market. However, high initial tooling cost and volatile petroleum prices may hamper the growth of the market.
Segment Review
World injection molded plastics market is segmented based on the raw material type, application, and geography. On the basis of raw materials, world injection molded plastics market is segmented into polypropylene, high density polyethylene (HDPE), polystyrene and acrylonitrile butadiene styrene including others. Amongst them, polypropylene is the leading raw material used in injection molded plastic owing to its easy to mold nature, electrical insulating properties, heat resistance and low cost. In 2014, polypropylene accounted for around 39% of the world injection molded plastics market.  
Further, on the basis of application, the market is segmented into automotive, consumer goods & electronics, packaging, building & construction and healthcare. Packaging is the leading application segment for injection molding which accounts for around 37% of the world demand in 2014. Rigid packaging used in industrial and consumer packaging industry are estimated to fuel demand for injection molded plastics in packaging industry. 
Geographically, world injection molded plastics market is segmented into North America, Europe, Asia-Pacific, and LAMEA. North America is the leading market for injection molded plastics which accounted for around 35.0% of the total market share in 2014. Asia-Pacific and LAMEA exhibited a large scale demand for injection molded plastics due to the growing application in building & construction, consumer appliances, and automotive industries. Asia-Pacific is expected to grow at CAGR of 5.7% during 2015-2020. 
India Review:
It was with polystyrene that the Indian plastics industry made a favorable beginning in the year 1957. Among the developing countries, India maintains its major stand as one of the most promising exporters of plastics. The plastic industry has excellent potential in terms of infrastructure, availability of cheap labor and capacity. Hence, this industry is supported by a large number of polymer producers and manufacturers of plastic process machinery and mold manufacturers. Besides this, increasing use of plastic parts, owing to increasing industrialization is expected to boost the Indian injection molded plastics market. 
Top Winning Strategies:
The companies in this market have adopted various marketing strategies like new product launch, expansion, joint venture and acquisition to retain their competitiveness in the world injection molded plastics market. The report provides a comprehensive analysis of leading companies and highlights the competition in the market. Product launch is the key strategy adopted by the leading players in injection molded plastics market. 
The key companies profiled in this report are BASF SE, Exxon Mobil, DuPont, Dow Chemical Company, Huntsman Corporation, LyondellBasell, Eastman, SABIC, CNPC and INEOS. 
KEY BENEFITS:
This injection molded plastics market report provides a detailed analysis of the factors that drive and restrict the market growth. 
The projections of injection molding in plastic industry are based on the analyses of the current trends and future potential for the period of 2014–2020 in terms of value and volume.
SWOT analyses of leading players highlight the internal environment of leading companies for effective strategy formulation.
This report provides the quantitative analysis of the current size and estimations during the period of 2014-2020 to identify the latent opportunities.
This global injection molded plastics market report provides an exhaustive analysis of the application with respect to the raw material type to understand the trend of preferred raw materials used in each application segment.
A comprehensive analysis of all geographic regions have been provided to determine the prevailing opportunities present in these regions.
 Injection Molded Plastics Market Report Highlights
Aspects
Details
By Row Material

Polypropylene
Acrylonitrile Butadiene Styrene (ABS)
Polystyrene
High Density Polyethylene (HDPE)
Others (Polyamide and Polyvinyl Chloride)

Polyamide
Polyvinyl Chloride

By Application

Automobile
Consumer Goods & Electronics
Packaging
Building & Construction
Healthcare

By Geography

North America
Europe

Germany
France
Italy
Others

Asia-Pacific

India
China
Malaysia
Others

LAMEA

Key Market Players
Exxon Mobil, E. I. Dupont De Nemours And Company, Dow Chemical Company, BASF SE, Huntsman Corporation, LyondellBasell, Eastman, Saudi Basic Industries Corporation (SABIC), China National Petroleum Corporation (CNPC), INEOS Group Holdings S.A.