The global injection molding machine market size was valued at $9,424.8 million in 2020, and is projected to reach $15,854.9 million by 2030, registering a CAGR of 4.9% from 2021 to 2030. Injection molding machines are mechanical systems that are designed to manufacture a wide range of plastic products in mass volume. Injection molding machines are available in various sizes and specifications, thereby making it suitable for use in various manufacturing industries. 
The COVID-19 outbreak has negatively affected the growth of the global injection molding machines industry owing to the lockdown measure in different countries globally and delay in manufacturing and production of injection molding machines.
The rise in global population has significantly increased the demand for products such as processed food & beverages, medicines, automobiles, and electronics. This has fueled the use of plastic, owing to its versatility and capability to be tailored according to specific requirements. The rapid increase in use of plastic of the injection molding market growth, owing to advantages such as reduced requirement of labor, high production rate, and reduced wastage. Furthermore, the ability of injection molding machines to work with a wide range of plastics, further increases its usability.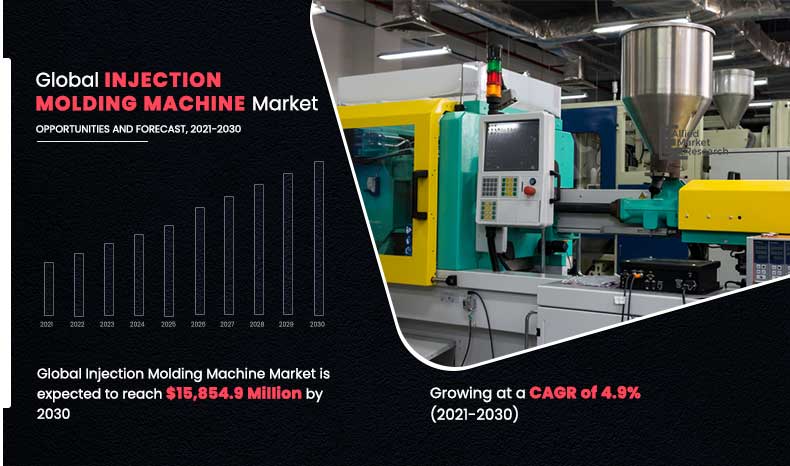 Governments across the globe focus on the development of the manufacturing sector for increasing economy. For instance, 'Make in India' initiative launched by the Indian Government and 'Made in China 2025' initiative by the Chinese government have positively influenced the manufacturing sector in the Asia-Pacific region. The increase in manufacturing activities have fueled the demand for a wide range of plastic components and packaging solutions, thereby positively influencing the injection molding machine market opportunity. The Asia-Pacific region is also emerging as a major automotive hub, owing to rapid growth of automotive industry in countries such as China and India. China is the world's largest automotive market in terms of manufacturing capacity as well as annual sales. As of 2020, India has 25 registered vehicles per 1000 people, and the number is expected to cross 150 vehicles per 1000 people by 2040. This further propels market growth as injection molding is extensively used for manufacturing a wide range of interior and exterior components in the automotive industry. In addition, major players in the industry are developing products that offer increased efficiency. For instance, in September 2021, Sumitomo (SHI) Demag Plastics Machinery GmbH, introduced IntElect S 100/460-250, which is a fully automatic and highly efficient, all-electric injection molding machine that can be used for the production of medical components.
Injection Molding Machine Market

---
By Machine Type
Hydraulic segment holds dominant position in 2019
The novel coronavirus has rapidly spread across various countries and regions, causing an enormous impact on the lives of people and the overall community. It began as a human health condition and has now become a significant threat to global trade, economy, and finance. The COVID-19 pandemic has halted the production of automobiles and electronics due to lockdown. Furthermore, the number of COVID-19 cases are expected to reduce in the near future as the vaccine for COVID-19 is introduced in the injection molding machine market. This has led to the reopening of injection molding manufacturing companies at their full-scale capacities. This will help the market to recover by the start of 2022. As COVID-19 infection cases started declining, injection molding manufacturers are commencing their operations. They must now focus on protecting their staff, and supply networks to respond to urgent emergencies and establish new methods of working.
Furthermore, increase in demand for electronics and other products fueled by rise in population and increase in purchasing capacity of masses are anticipated to boost the injection molding machine market growth of the global manufacturing industry. In addition, development of newer technologies, significantly increase the efficiency and production capacity of injection molding machines. These factors are anticipated to positively influence the market during the forecast period.
Injection Molding Machine Market

---
By Clamping Force
More than 500 tons segment holds majority of the market share in 2019
The injection molding machine market is segmented on the basis of clamping force, machine type, pressure type, application, and region. By clamping force, the market is categorized into less than 200 tons force, 200-500 tons force and more than 200-500 tons force. By machine type, the market is divided into all-electric, hydraulic and hybrid. By solution, the market is segmented into new sales and aftermarket. By pressure type, the market is categorized into low pressure and high pressure.  On the basis of application, it is categorized into automotive, packaging, electronics, healthcare, consumer goods, toy making, building and construction, home appliances and other. Region-wise, the market is analyzed across North America, Europe, Asia-Pacific, and LAMEA. Asia-Pacific dominated the market in 2020, accounting for the highest share, and is anticipated to maintain this trend throughout the forecast period. This is attributed to rise in demand for electronic products, automobiles and consumer goods fueled by increase in population.
Competition Analysis
Key companies profiled in the injection molding machine market report include ARBURG, ENGEL, Haitian International, Husky Injection Molding Systems, KraussMaffei Group, Milacron Holdings Corp., Nissei Plastic Industrial Co., Ltd., Sumitomo Heavy Industries, The Japan Steel Works, and Ube Industries, Ltd.
Injection Molding Machine Market

---
By Region
LAMEA is expected to grow at highest CAGR during forecast period
Key Benefits For Stakeholders
The report provides an extensive analysis of the current and emerging injection molding machine market trends and dynamics. 
In-depth injection molding machine market analysis is conducted by constructing market estimations for key market segments between 2021 and 2030.
Extensive analysis of the injection molding machine market is conducted by following key product positioning and monitoring of top competitors within the market framework.
A comprehensive analysis of all the regions is provided to determine the prevailing opportunities.
The global injection molding machine market forecast from 2021 to 2030 is included in the report.
The key players within market are profiled in this report and their strategies are analyzed thoroughly, which help understand the competitive outlook of the injection molding machine industry.
 Injection Molding Machine Market Report Highlights
Aspects
Details
By CLAMPING FORCE

Less than 200 tons force
.200-500 tons force
More than 200-500 tons force

By MACHINE TYPE

.All-electric
Hydraulic
Hybrid

By SOLUTION
By PRESSURE TYPE

Low pressure
High pressure

By APPLICATION

Automotive

Interior
Trim
Exterior
Others

Packaging

Market analysis, by type

Caps and closures
Thinwall containers
Lids
Personal care
Containers
PET Preforms
Others

Market analysis, by tonnage

Less than 100 tons
100-200 tons
200-300 tons
300-400 tons
400-500 tons
More than 500 tons

Market analysis, by machine type

Injection Blow Molding
Injection Compression molding
Injection Molding

PET

Electronics
Healthcare
Consumer goods
Toy making
Building and construction

Flooring
Windows
.Doors
Others

Home appliances
Others

By Region

North America (U.S., Canada, Mexico)
Europe (France, Germany, Italy, Spain, UK, Russia, Rest of Europe)
Asia-Pacific (China, Japan, India, South Korea, Australia, Thailand, Malaysia, Indonesia, Rest of Asia-Pacific)
LAMEA (Brazil, South Africa, Saudi Arabia, UAE, Argentina, Rest of LAMEA)

Key Market Players
BMB S.P.A., ENGEL AUSTRIA GmbH, SUMITOMO HEAVY INDUSTRIES, LTD., HAITIAN INTERNATIONAL HOLDING LIMITED, NIIGON MACHINES LTD., CHINA NATIONAL CHEMICAL CORPORATION LTD. (KRAUSSMAFFEI GROUP GmbH), UBE INDUSTRIES, LTD., HILLENBRAND INC. (MILACRON HOLDINGS CORP.), NISSEI PLASTIC INDUSTRIAL CO., LTD., ARBURG GmbH + CO KG, HUSKY INJECTION MOLDING SYSTEMS LTD., THE JAPAN STEEL WORKS, LTD. (JSW), SHIBAURA MACHINE CO. LTD