The inorganic salts market size was valued at $92.2 billion in 2020, and is projected to reach $150.7 billion by 2030, at a CAGR of 5.1% from 2021 to 2030.
Statement for COVID-19 banner: Disruptions in supply chain and temporary interruptions in manufacturing caused due to the lockdown measures, has severely affected the agriculture, construction and pharmaceuticals industry, thereby momentarily decreasing the demand for inorganic salts in 2021.
Inorganic salts include various types of salts such as oxides, halides, carbonates, sulfates, acetates, chlorides, fluorides, hypochlorites, nitrates, phosphates, silicates, and sulfides. Physical and chemical properties and uses of each of these classes of inorganic salts differ from each other. Each class of these inorganic salts can be further distinguished based on bound functional groups. For instance, carbonates can be combined with calcium, magnesium, or potassium to obtain calcium carbonate, magnesium carbonate, and potassium carbonate. Inorganic salts are also part of the human body. They are essential for maintenance of various metabolic processes, conduct nerve impulses, and are part of the bones.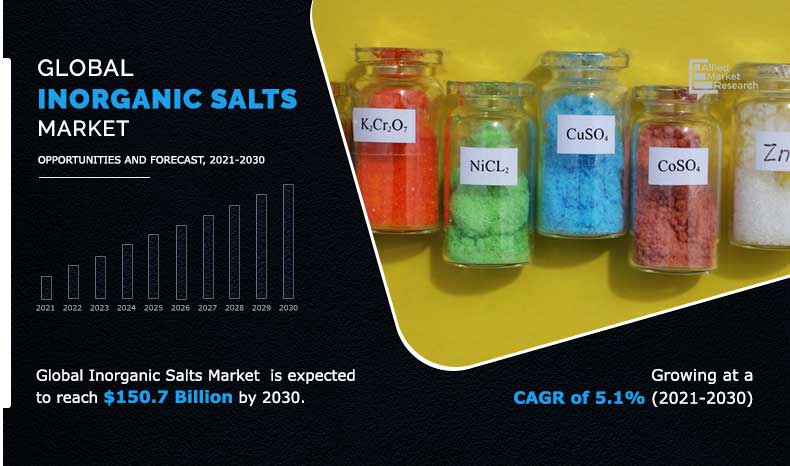 Inorganic salts are used in several industries. The growth of the fertilizer and pesticide industry is one of the main drivers of the inorganic salt market. The use of calcium salts, ammonium phosphates, nitrates, zinc salts, and others to improve soil nutrient levels is a major driver of growth in the inorganic salt market. In addition, the growing rubber industry is driving the growth of the zinc oxide market, which is an important component of rubber vulcanization. Magnesium oxide is an important inorganic salt. It is used as an antacid in the pharmaceutical industry, as an Epsom salt in cement manufacturing, and as an important ingredient in papermaking. Growth in the pharmaceutical and construction and construction industries is a further driver of the inorganic salt market. 
However, the toxic nature of some of the inorganic salts, for example, alkyl halides, such as chloroform and chloro flouro carbons are restraining the market of inorganic salts. Research in biotechnology is opening new avenues for inorganic salts. Inorganic salts are used as reagents in modern biotechnological devices such as HPLC (High Pressure Liquid Chromatography). This is expected to open new areas of opportunity for the market of inorganic salts.
The global inorganic salts market is segmented on the basis of type, application, and region. On the basis of type, the inorganic salts industry is divided into sodium salts, magnesium salts, calcium salts, potassium salts, and ammonium salts. On the basis of application, the market is classified into agriculture, pharmaceuticals, cement, rubber processing, food, and others. Region wise, the market is studied across North America, Europe, Asia-Pacific, and LAMEA. 
The major companies profiled in this inorganic salts market report include BEHN MEYER, Eastman Chemical Company, GFS Chemicals, Inc., Hunter Chemical LLC, Lanxess, Lenntech, LobaChemie Pvt. Ltd, Merck KGaA, Otsuka Chemical Co., Ltd, and Thermo Fisher Scientific Inc., The global inorganic salts market report provides in-depth competitive analysis as well as profiles of these major players.
Inorganic salts market, by type
By type, the sodium salts segment held the largest share of more than 58.5% in the inorganic salts market in 2020 due to their broad spectrum of applications across various industries.
Inorganic Salts Market

---
By Type
Sodium Salts is projected as the most lucrative segment.
Inorganic salts market, by application
By application, agriculture segment held the largest share in the inorganic salts market in 2020 and is growing at a CAGR of 5.3% during 2021-2030 due to the use of inorganic salts in augmenting the soil nutrients and thereby improving the yield.
Inorganic Salts Market

---
By Application
Agriculture is projected as the most lucrative segment.
Inorganic salts market, by region 
By region, the Asia-Pacific region is projected to grow at the highest CAGR from 2020 to 2030. Emerging economies in Asia-Pacific are expected to experience significant demand for inorganic salts as a result of the expansion of the applications, due to rapid economic development and urbanization.
Inorganic Salts Market

---
By Region
Asia Pacific holds a dominant position in 2020 and would continue to maintain the lead over the forecast period.
Key benefits for stakeholders
Porter's five forces analysis helps analyze the potential of buyers & suppliers and the competitive scenario of the inorganic salts industry for strategy building.
It outlines the current inorganic salts market trends and future estimations from 2020 to 2030 to understand the prevailing opportunities and potential investment pockets.
The major countries in the region have been mapped according to their individual revenue contribution to the regional market.
The key drivers, restraints, & inorganic salts market opportunities and their detailed impact analysis are explained in the study.
The profiles of key players and their key strategic developments are enlisted in the report.
Impact of COVID-19 on the global inorganic salts market
Some of the major economies suffering from the COVID-19 crisis include Germany, France, Italy, Spain, the UK, Norway, and others. Many industries have been shut down due to lack of raw material availability and disruptions in the supply chain, owing to the virus outbreak. The worldwide lockdown has suspended the agriculture, pharmaceuticals and construction activities, which results in declining demand for inorganic salts.
The pandemic has disrupted economies worldwide, impacting almost every industry. Core industries such as the agricultural and food industry were also hampered. Due to lockdowns and social distancing, hotels and restaurants had to shut leaving farmers with no buyers for their produce. 
Global exports were also hit hard with stringent customs regulations, transport and logistic issues, and lockdowns at global, national, and regional levels. 
On the other hand, as food is an essential commodity, demand for agricultural production increased. Hence, to meet this growing demand and make sure that crops are not damaged, use of fertilizers and pesticides increased. For instance, Moroccan phosphates giant, OCP, sold 11.3 million tons of finished fertilizers in 2020, up from 9 million tons in 2019. Hence, increased use of fertilizers and pesticides impacted the inorganic salts market share in 2020.
 Inorganic Salts Market Report Highlights
Aspects
Details
BY TYPE

Sodium salts
Magnesium salts
Calcium salts
Potassium salts
Ammonium Salts

BY APPLICATION

Agriculture
Pharmaceuticals
Cement
Rubber processing
Food
Others

BY REGION

North America (U.S., Canada, Mexico)
Europe (Germany, UK, France, Spain, Italy, Rest of Europe)
Asia-Pacific (China, Japan, India, South Korea, Australia, Rest of Asia-Pacific)
LAMEA (Brazil, Saudi Arabia, South Africa, Rest of LAMEA)

Key Market Players
BEHN MEYER, EASTMAN CHEMICAL COMPANY, GFS CHEMICAL, Hunter Chemical LLC, LANXESS AG, Lenntech, LobaChemie Pvt. Ltd, MERCK KGAA, Otsuka Chemical Co., Ltd, THERMO FISHER SCIENTIFIC