Insecticides Market Overview: 
Insecticides Market is expected to garner $16.7 billion by 2020, registering a CAGR of 5.0% during the forecast period 2014 to 2020. Insecticides are a specific type of pesticides used to obliterate insects. Among different types of insecticides, globally organophosphate market leads in terms of both revenue generator and consumption chiefly due to its cost effectiveness as well as its ability to be applied on wide range of crops and targeted insects. Pyrethroid has the second largest usage in agriculture, as it is highly effective even when used in low quantities and therefore, it is less hazardous to the environment and human health.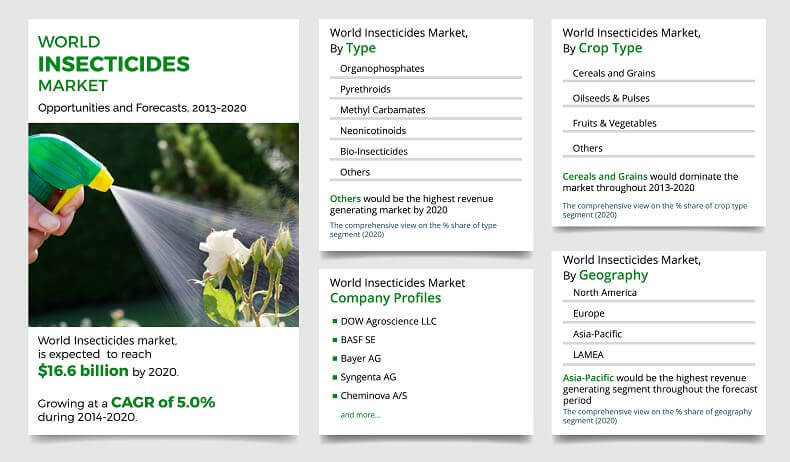 Market demand for bio-based insecticides is also increasing, as it is environmentally-friendly in nature. Bayer AG, Cheminova A/S, Syngenta AG, BASF FMC Corporation, Adama Agricultural Solutions Ltd, Monsanto, DOW Agroscience LLC, Nufarm Ltd, and Du Pont are some of the key market players operating in the market. The companies are focused on 'new product launch' to enhance their market share. In 2014, DOW Agroscience launched two insecticides, namely, 'Sequoia' and 'Closer'. Bayer Cropscience has also launched a new insecticide, called 'Sivanto'.
The global insecticides market is segmented on the basis of type, crop type and geography. Global insecticide market by type is categorized into organophosphates, pyrethroids, methyl carbamates, neonicotinoids and others. Bio-insecticide is gaining acceptance due to its low level of toxic influence on the natural environment. Currently, the bio insecticide market holds a limited share in the global insecticide market in terms of value and volume both. Geographically, the global insecticide market is segmented into North America, Europe, Asia-Pacific and LAMEA. Asia-Pacific dominates the global market over the other regions both in terms of value and volume. One of the prime factors for the market dominance of the Asian region is the limited usage of insecticides in the production of crops in both North America and Europe, as these regions are focusing on harvesting genetically modified crops. Secondly, especially in India, tropical weather and high volume of production of cereals such as paddy, cotton and others are major driving factors for the market of insecticides.
INSECTICIEDS MARKET KEY BENEFITS:
In-depth coverage of the global insecticides market including drivers, restraints and opportunities would help professionals to better understand market behavior
Detailed strategic studies of key market leaders, partnerships and acquisitions in the global insecticides market would be informative for strategy professionals in the corporate sector
The projections in the report are made by analyzing the current market trends and future market potential for the period of 2013-2020 in terms of value as well as volume
Porter's Five Forces analysis examines the competitive structure of the global insecticide market and would assist market strategists in making decisions. 
Pin-point analysis of geographic segments helps to identify opportunities for growth within the global insecticide market
The current and future trends on the global market provides fair idea about insecticides market and future scope for the market players
 Insecticides Market Report Highlights
Aspects
Details
BY PRODUCT TYPES

Organophosphates
Pyrethroids
Methyl Carbamates
Neonicotinoids
Other Insecticides

BY CROP TYPE

Cereals and Grains
Oilseeds & Pulses
Fruits & Vegetables
Others

BY GEOGRAPHY

North America

United States
Canada
Mexico

Europe

France
Germany
Italy
Spain
Rest of Europe

Asia-Pacific

India
China
Australia
Rest of Asia

LATIN AMERICA, MIDDLE EAST, AFRICA

Brazil
Argentina
Rest of Latin America, Middle East, Africa

Key Market Players
DOW Agroscience LLC, BASF SE, Bayer AG, Syngenta AG, Cheminova A/S, FMC Corporation, Adama Agricultural Solutions Ltd, Nufarm Ltd, E.I Du Pont de Numerous and Company, Monsanto