Insomnia Market Market Statistics - 2030
The global insomnia market was valued at $4.3 billion in 2020, and is projected to reach $6.3 billion by 2030, growing at a CAGR of 3.9% from 2021 to 2030. Insomnia is a common sleep disorder that can make it hard to fall asleep, hard to stay asleep, or cause to wake up too early and not be able to get back to sleep. The common causes of insomnia include, stress, irregular sleep schedules, poor sleeping habits, mental health disorders, such as anxiety and depression, physical illnesses and pain, medications, neurological problems, and specific sleep disorders.
The COVID-19 outbreak is anticipated to have a positive impact on the growth of the insomnia market. The COVID-19 pandemic resulted in job losses for many workers as industries were not operating properly, which contributed in rise in stress in people. Furthermore, fear of the pandemic led to depression in some people globally. Thus, increase in coronasomnia, a stress and depression associated with COVID-19 pandemic, surge the demand for insomnia drugs and drive the growth of the market.
The growth of the global insomnia market size is majorly driven by the increase in prevalence of different types of sleep disorders, such as insomnia and parasomnias, increase in mental depression, and other painful conditions. Mental depression results in difficulty in sleep. For instance, the World Health Organization (WHO) reported that around 280 million population globally suffers from depression. Thus, increase in mental depression across the global population contributes in the insomnia market growth. Furthermore, long-term consumption of some medication for chronic disease treatment possess some side effects, which are believed to affect the patient's quality of sleep. Thus, increase in prevalence of chronic diseases, such as cancer, drives the growth of the market. For instance, according to National Institute of Cancer (NIC), an estimated 1,806,590 new cases of cancer were diagnosed in the U.S in 2020. The cancer chemotherapy results in various side effects on patents body and also affects the quality of sleep in patients.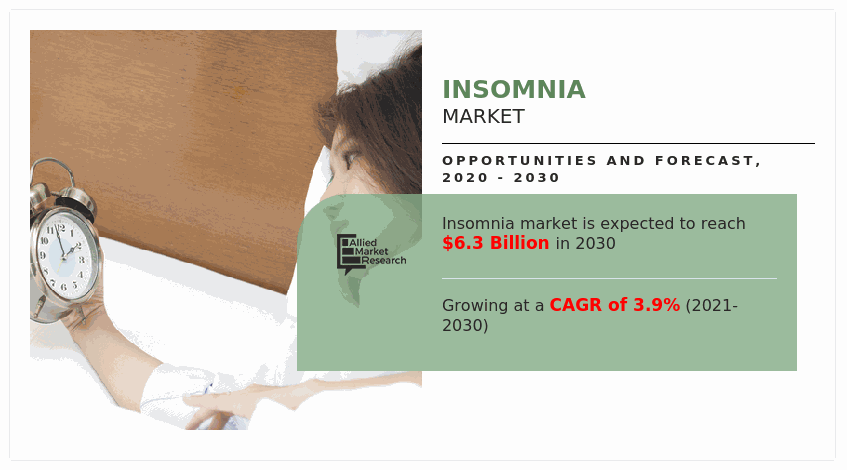 In addition, surge in work-related stress contributes in growth of insomnia market size. The rise in workload and hectic work schedules lead to poor quality of sleep. Furthermore, many people are working on odd time shifts, such as security officers, as well as the manufacturing industries operate for 24 hours. These odd time work shifts affect the quality and cycle of sleep. Moreover, increase in number of insomnia centers and sleep diagnostic centers, contributes in the growth of the market. The insomnia centers assist people to improve their sleep quality and sleep diagnostic centers are used as diagnostic lab for detecting sleep disorders. Furthermore, increase in adoption of non-pharmacological sleep therapy drives the growth of the market. Insomnia is commonly associated with the mental condition of person. Hence, non-pharmacological therapy, such as hypnotherapy, yoga, and cognitive behavioral therapy focus on improving a person's mental state, and drive the insomnia industry. In addition, as many people face physical difficulties while sleeping, such as snoring, increase in need for sleeping aid devices are available to improve sleep quality. These sleeping aid devices are included in the non-pharmacological insomnia medical devices segment and it contributes in the growth of the insomnia treatment market.
Advancement in non-pharmacological therapy for sleep and new product launches in the insomnia industry are anticipated to contribute toward the growth of the market. For instance, in June 2021, Eisai Co., Ltd., a global leader that develops, manufactures, and markets a broad range of innovative life science products, announced the launch of DAYVIGO (lemborexant), which is an orexin receptor antagonist used for the treatment of insomnia in adults, characterized by difficulties with sleep onset and/or sleep maintenance. This factor is expected to drive the growth of insomnia treatment market. However, side effects associated with the long-term use of anti-insomnia drugs impede the growth of this market. In addition, the development of advanced technology in healthcare and lifestyle sectors surge the demand for the insomnia market share. Advancement in mobile phone software and health watches are available in market, which are designed to record and assist the sleeping pattern of users. These advanced software have marked an impact in diagnosis and assistance in sleep of users. Hence, handy availability of such advanced software and devices contributes in the growth of the market.
Furthermore, the COVID-19 pandemic resulted in salary pay cuts of workers, while many workers lost their jobs, which contributes in stress and depression in people. For instance, according to the World Health Organization (WHO), as of December 19, 2021, over 273 million cases were diagnosed and over 5.3 million deaths were reported globally due to COVID-19. In addition, according to a report of British Broadcasting Corporation (BBC) published in January 2021, many people and healthcare workers experienced insomnia linked to the stress of lifestyle during COVID-19, which is also known as coronosomnia. Due to the COVID-19 pandemic, increase in mental stress and depression surge the demand for insomnia treatment, and hence has a positive impact on the market.
Insomnia Market Segmentation
The insomnia market is segmented on the basis of therapy type and region. By therapy type, the market is categorized into non-pharmacological therapy and pharmacological therapy. The non-pharmacological therapy, is further fragmented into hypnotherapy, cognitive behavioral therapy, medical devices, and other non-pharmacological therapy. On the basis of pharmacological therapy, it is further segregated into prescription sleep aids and over-the-counter sleep aids.
Insomnia Market

---
By Therapy Type
Pharmacological Therapy segment held a dominant position in 2020 and would continue to maintain the lead over the forecast period.
Get more information on this report :
Request Sample Pages
By region, the market is analyzed across North America (the U.S., Canada, and Mexico), Europe (Germany, France, UK, Italy, Spain, and Rest of Europe), Asia-Pacific (Japan, China, Australia, India, South Korea, and Rest of Asia-Pacific), and LAMEA (Brazil, South Arabia, South Africa, and LAMEA).
Segment Review
Depending on therapy type, the pharmacological therapy segment dominated the market in 2020, and this trend is expected to continue during the forecast period, owing to rise in prevalence of insomnia and increase in number of key player to manufacture therapeutic drug for insomnia. However, the non-pharmacological therapy segment is expected to witness considerable growth during the forecast period, due to increase in demand for yoga and cognitive behavioral therapy, and advancement in technology in the healthcare sector.
Depending on region, North America garnered the majority the insomnia market share in 2020, and is expected to dominate the insomnia market forecast period, owing to rise in prevalence of insomnia, high incidence of work related stress, and well-established healthcare infrastructure, such as presence of insomnia centers in the region. However, Asia-Pacific is expected to register the highest CAGR of 5.5% from 2021 to 2030, owing to increase in the number of geriatric population, odd time work shifts, and high population base.
The key players operating in the global insomnia market include, Minerva Neurosciences Inc., Currax Pharmaceuticals LLC, Eisai, Co. Ltd., Merck & Co. Inc., Pfizer, Inc., Sanofi, Takeda Pharmaceutical Company Ltd., Vanda Pharmaceuticals, Viatris (Mylan NV), and Zydus Cadila.
Insomnia Market

---
By Region
North America was holding a dominant position in 2020 and would continue to maintain the lead over the analysis period.
Get more information on this report :
Request Sample Pages
Key Benefits For Stakeholders
This report provides a quantitative analysis of the market segments, current trends, estimations, and dynamics of the insomnia market analysis from 2020 to 2030 to identify the prevailing insomnia market opportunity.
The market research is offered along with information related to key drivers, restraints, and opportunities.
Porter's five forces analysis highlights the potency of buyers and suppliers to enable stakeholders make profit-oriented business decisions and strengthen their supplier-buyer network.
In-depth analysis of the insomnia market segmentation assists to determine the prevailing market opportunities.
Major countries in each region are mapped according to their revenue contribution to the global market.
Market player positioning facilitates benchmarking and provides a clear understanding of the present position of the market players.
The report includes the analysis of the regional as well as global insomnia market trends, key players, market segments, application areas, and market growth strategies.
 Insomnia Market Report Highlights
Aspects
Details
By Therapy Type

Non pharmacological Therapy
Pharmacological Therapy

By Region

North America (U.S., Canada, Mexico)
Europe (Germany, France, United Kingdom, Italy, Spain, Rest of Europe)
Asia-Pacific (Japan, China, Australia, India, South Korea, Taiwan, Rest of Asia-Pacific)
LAMEA (Brazil, Turkey, Saudi Arabia, Republic Of South Africa, Rest of LAMEA)

Key Market Players
CURRAX PHARMACEUTICALS LLC, EISAI, CO. LTD, merck kgaa, darmstadt, germany, MINERVA NEUROSCIENCES INC, Pfizer Inc., Sanofi, Takeda Pharmaceutical Company Ltd, Vanda Pharmaceuticals Inc., VIATRIS INC, zydus cadila