The global inspection drones market was valued at $1.9 billion in 2021, and is projected to reach $8.6 billion by 2031, growing at a CAGR of 16.4% from 2022 to 2031.
Inspection drone is a drone-based solution for inspection, monitoring, and mapping operations. By using this platform, companies can plan and perform their operations, monitor the drones in real time, and create reports & analysis right from their office.
COVID-19 had a large impact on both consumer and the economy. Electronics manufacturing hubs have been temporarily working at low efficiency to limit the COVID-19 spread among the individuals. This has majorly affected the supply chain of inspection drones market by creating shortages of materials, components, and finished goods. Lack of business continuity has ensured significant negative impacts on revenue, shareholder returns, which are expected to create financial disruptions in the inspection drone industry. The impact of COVID-19 on the manufacturing industry has significantly affected the global economy. Electronic components such as sensors, ICs, and other semiconductor devices are mostly imported from China. Due to the temporary shutdown of manufacturing units, the prices of semiconductor components have increased by 2-3%, owing to shortage of supplies. In the electronics industry, the trend in the U.S., Europe, China, South Korea, and Japan is focusing toward a regional supply chain model that would increase visibility and potentially reduce the risk of supply interruptions from countries that are expected to face a third wave of infection. Another priority is to add more intelligence to the supply chain to ensure continuity of supply in a time of heightened uncertainty. COVID-19 has exposed electronics industry's supply chain vulnerabilities as many organizations depend on China as a global manufacturing hub for the electronic industry and have also witnessed disruption of global supply chains. Though factories and businesses in China are slowly resuming operations, there is an impact on the electronic industry with the COVID-19. Major players operating in the inspection drones market are expected to make moderate R&D cuts, which are anticipated to allow them to sustain a rich and evolving product portfolio. In addition, companies are expected to strive to fund innovation, rather than setting the bare minimum budget needed to keep R&D running. It is expected that the demand for new and innovative products could surge once the economy begins to recover. Rather than simply improving products using current state-of-the-art technology, companies are looking forward to invest in next-generation products using new technologies, as it is expected to boost its goodwill, once customer demand surges. The COVID-19 crisis has created a window of opportunity for industry leaders to aggressively address the overall inspection drones industry. The outbreak and the spread of the COVID-19 led to increased demand and use of drones, as their benefits outweigh the potential challenges and difficulties related to them. They are being used in Africa, Asia, and North America to deliver COVID-19 vaccines and inspect &monitor the outbreak in remote places of countries such as China. Police and government around the world have utilized drones to achieve remote policing and impose social distancing. For instance, in 2020, in Maharashtra India, the police utilize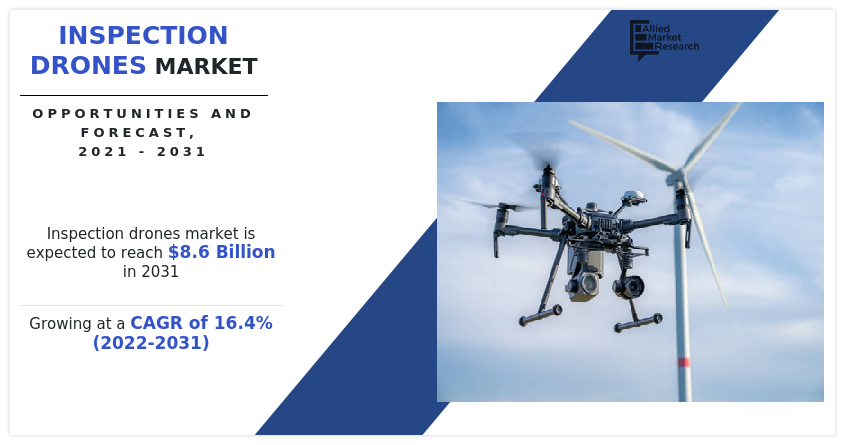 The growth of the global inspection drones market is anticipated to be driven by factors such as increased cost-saving & human safety, emergence of various start-ups, and surge in demand for improved surveillance. However, rise in government regulations related to drones acts as a major restraint for the global market. On the contrary, technological advancements in drones is expected to create lucrative opportunities for the inspection drones industry.
The global inspection drones industry is segmented into drone type, operation mode, end-use industry, and region. By drone type, the market is classified into fixed-wing drone, multirotor drone, and hybrid drone. By operation mode, the market is segmented into remotely piloted, semi-autonomous, and fully autonomous. By end-use industry, the market is classified into construction & infrastructure, oil & gas, agriculture, utilities, and others. 
Some leading companies profiled in the inspection drones industry report comprises American Robotics, Inc., Aerovironment Inc, Ageagle Aerial Systems Inc, DJI, Israel Aerospace Industries, Microdrones, Parrot SA, PrecisionHawk, Trimble Inc., and Yamaha Motor Corp.
Inspection Drones Market

---

By Drone Type
Hybrid drone is projected as the most lucrative segment
Increased cost-saving & human safety
The usage of drones helps improve worker protection and provides access to information on assets in numerous dynamic and challenging industries. Rather than conventional human, airplane, or helicopter methods, nowadays, organizations benefit from both previously unavailable levels of visibility and reasonable cost by using drones for inspection and monitoring purposes. Drones reduce risks for inspectors, decrease downtime, and provide accurate data on an asset's life history. As often observed, perhaps as much as 80%of the time, inspections find no challenge that requires fixing. That makes inspections an unproductive process when dispatching a human inspector to commence the work. Drone inspections aid inspectors by placing themselves in dangerous situations. By substantially reducing the amount of time, drones help firms cut down their corresponding liability insurance costs by their usage. These mentioned factors drive the growth of inspection drones market.
Emergence of various start-ups
With rise in demand for drone technologies across the world, multiple new companies have been set up over the years to offer their solutions in the inspection drones market. Some of the prominent start-ups in the field of the drone defense industry are Dedrone, DroneShield, and Fortem Technologies. Through strategies such as product launch, product development, and partnership, these companies have gained strong traction in the market. For instance, Dedrone is a provider of artificial intelligence (AI)-based intelligent airborne safety solutions. Its portfolio contains a wide range of RF sensors to spot, classify, and trace several drones instantaneously based on different factors, for instance, shape, sound, & movement patterns. In addition, the company has a machine learning (ML)-based drone defense platform to mechanize the safety of airspaces against unlawful drones. Thus, launch of various cutting-edge drone systems by start-ups and the adoption of several strategies to enhance their product offerings are expected to propel the growth of the global inspection drones market during the forecast period.
Inspection Drones Market

---

By Operation Mode
Fully autonomous is projected as the most lucrative segment
Surge in demand for improved surveillance
The growth in threat from terrorism and increase in security concerns worldwide has led to increased government expenditure for drones. Drones can carry out stealth operations, function at night, operate at any location, and are easy to deploy. Such benefits have led to increase in investments by governments to procure and develop a large number of micro drones globally. For instance, in February 2021, the French Government placed a new order to reinforce its fleet of micro-drones NX70 already used by French soldiers. Since 2018, the number of NX70 owned by the French Ministry of Army has continuously increased to reach more than 150 in 2020. The NX70 fleet is equipped with tethered power supply for continuous observation and protection missions, and also data link terminal placed on vehicles or directly handled by soldiers allowing information sharing on the field. Moreover, Russian military has been developing its next generation of combat gear that could be integrated with new micro-drones that provide a tactical level automated command system.
The security of key institutions has been greatly enhanced with advanced video surveillance and access control systems. Micro drones are used for surveillance of major events or gatherings in large cities. Moreover, several government agencies impose strict policies and guidelines for installation of micro drones at high-risk locations. Such factors are expected to fuel the growth of the global inspection drones market during the forecast period.
Inspection Drones Market

---

By End-use Industry
Agriculture is projected as the most lucrative segment
Rise in government regulations related to drones
Rapid deployment of inspection drones system solutions has faced facing significant challenges, owing to surge in privacy and security concerns globally. With increased use of drones for civilian applications, governments in developed economies draft laws and regulations for the use of these unmanned aerial vehicles to protect areas of national, historical, or natural importance. The technology of drone has evolved so fast that the policy makers are not able to keep pace with it.
Moreover, different nations have different and complex airspace regulations for small drones. Many countries have accepted drone use, especially recreational use, as something that does not need to be highly regulated, however monitored only for safety. Some countries have very strict laws and regulations against drone use, no matter what the purpose, and pilots need to be sure they follow all the correct procedures before flying. Stringent drone regulations in various countries are anticipated to limit the growth of the inspection drones market during the forecast period.
Inspection Drones Market

---

By Region
Asia-Pacific would exhibit the highest CAGR of 18.1% during 2022-2031
The inspection drones market is segmented into Drone Type, Operation Mode and End-Use Industry.
Key Benefits For Stakeholders
This report provides a quantitative analysis of the market segments, current trends, estimations, and dynamics of the inspection drones market analysis from 2021 to 2031 to identify the prevailing inspection drones market opportunities.
The inspection drones market size is offered along with information related to key drivers, restraints, and opportunities.
Porter's five forces analysis highlights the potency of buyers and suppliers to enable stakeholders make profit-oriented business decisions and strengthen their supplier-buyer network.
In-depth analysis of the inspection drones market segmentation assists to determine the prevailing market opportunities.
Major countries in each region are mapped according to their revenue contribution to the global market.
Market player positioning facilitates benchmarking and provides a clear understanding of the present position of the market players.
The report includes the analysis of the regional as well as global inspection drones market trends, key players, market segments, application areas, and market growth strategies.
 Inspection Drones Market Report Highlights
Aspects
Details
By Drone Type

Fixed Wing drone
Multirotor drone
Hybrid drone

By Operation Mode

Semi-autonomous
Fully autonomous
Remotely piloted

By End-Use Industry

Construction and infrastructure
Oil and gas
Agriculture
Utilities
Others

By Region

North America (U.S., Canada, Mexico)
Europe (UK, Germany, France, Russia, Rest Of Europe)
Asia-Pacific (China, Japan, India, South Korea, Rest Of Asia-Pacific)
LAMEA (Latin America, Middle East, Africa)

Key Market Players
Parrot SA, Ageagle Aerial Systems Inc., Yamaha Motor Corp, Israel Aerospace Industries, Microdrones GmbH, Trimble Inc., SZ DJI Technology Co., Ltd., American Robotics, Inc., PrecisionHawk Inc., Aerovironment Inc.