The global insulating glass window market size was valued at $11,105.7 million in 2020, and is projected to reach $21,160.6 million by 2030, registering a CAGR of 6.9% from 2021 to 2030. An insulating glass window is used to decrease heat transmission over a portion of the building envelope by combining many panes of glass into a single unit. Multiple panes of glass and gas add extra barriers to heat and cold transfer. It reduces the need for artificial air conditioning by regulating room temperature and preventing air from escaping via windows.
The COVID 19 outbreak has affected the growth of the insulating glass window industry owing to the lockdown measure in the countries and delay in manufacturing and production of insulating glass window which are utilized in residential and non residential spaces.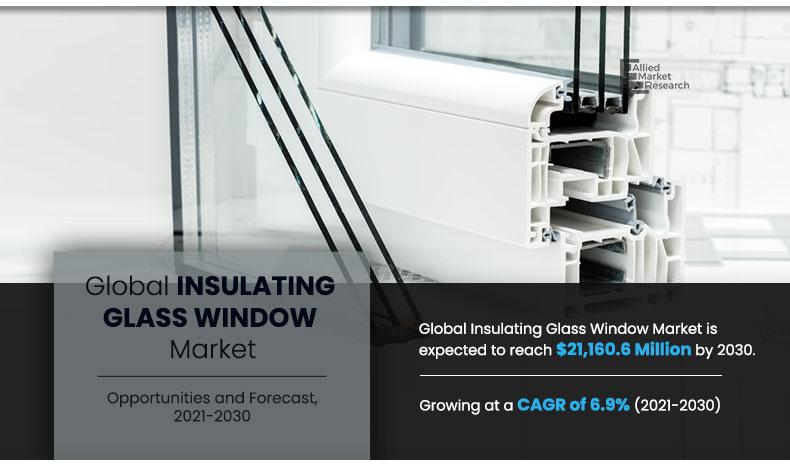 Get more information on this report : Request Sample Pages
Installing insulating glass windows mightsave up to 15% on annual air conditioning costs. As a result, this is expected to boosttheinsulating glass window marketin coming years. Furthermore, governments have enforced regulations to reduce home carbon footprints,due to increase in awareness of sustainability as a result of acknowledgement of climate change. To implement such measures, governments often offer various subsidies for the replacement of old windows and furnaces, which lead to wastage of energy. Such subsidies drive the demand for insulating glass window.Furthermore, the increase in government initiatives for energy-efficient buildings is expected to create remunerative growth opportunities for the expansion of the insulating glass window market during the forecast period.
The novel coronavirus has rapidly spread across various countries and regions, causing enormous impact on lives of people and overall community. Originating as a crisis to human health, it now poses significant threat to worldwide trade, economy, and finance. Due to the continuous lockdown in key countries, the COVID-19 pandemic has halted production of many items in the insulating glass window business. Key players in insulating glass window industry can afford a complete lockdown only for a limited period, after which they would have to alter their investment plans. On the contrary, number of COVID-19 cases isexpected to reduce in the near term as vaccine for COVID-19 has been introduced in the insulating glass window market. This is further expected to lead to re-initiation of insulating glass windowcompanies at their full-scale capacities, which would aid the market to recover by the start of 2022. After COVID-19 infection casesbeginto decline, equipment and machinery producers are likely to focus on protecting their staff, operations, and supply networks to respond to urgent emergencies and establish new methods of working.
Insulating Glass Window Market

---
By Glazing Type
Double Glazing

segment is projected to grow at a significant CAGR
Get more information on this report : Request Sample Pages
The global insulated glass window market is segmented into glazing type, sealant type, enduser, and region. By glazing type, the market is categorized into double glazing, triple glazing, and others. Depending on sealant type, the insulating glass window market is fragmented into hot melt, PIB primary sealants, polysulfide, and silicon. The hot melt segment is anticipated to grow with the highest CAGR throughout the forecast period.This is attributed to high demand for hot melt butyl sealant for insulating glass, owing to its advantageous properties such as easy gunnability at low temperatures, low viscosity, reasonable cost, and anti-sag characteristics. Moreover, rapid expansion of the food processing and automotive industries fuels the demand for the hot melt butyl sealant for insulated glass. Furthermore, increase in focus on durability and aestheticview of the windows is expected to offerlucrative opportunities for insulating glass window market growth. The advanced physical properties and features such as weather-resistanceas well as low maintenance and anti-rustproperties are likely to propel the sale of hot melt butyl sealant during the forecast period.
Insulating Glass Window Market

---
By End User
Residential

segment holds dominant position in 2020
Get more information on this report : Request Sample Pages
Depending on enduser, the insulating glass window market is bifurcated into residential and nonresidential. In 2020, the residential segment dominated the global market, owing to the expansion of the residential construction industry. Region wise, the insulating glass window market opportunityis analyzed across North America, Europe, Asia-Pacific, and LAMEA.
North America accounted for the highest revenue in 2020, due to increase in construction and home improvement activities.However, Asia-Pacific is expected to exhibit high CAGR during the forecast period,owing to exponential rise in its population. In Europe, the recognition of energy conservation and environmental sustainability drives the growth of the insulating glass window market.
Insulating Glass Window Market

---
By Region
North America

holds a dominant position in 2020 and Asia-Pacific is expected to grow at a significant rate during the forecast period.
Get more information on this report : Request Sample Pages
Competition Analysis
Key companies profiled in the insulated glass window market report includeAGC Inc., Central Glass Co., Ltd., Glaston Corporation, SaintGobain SA,Internorm International GmbH,Sika Industry, Nippon Sheet Glass Co. Ltd., Viracon, H.B. Fuller, and Scheuten. The major insulating glass window manufacturers focus on the European and North American markets, due to the high adoption rate of insulating glass window in the regions. U.S. is a major manufacturing hub of insulating glass window for many companies such as Andersen Corporation, Jeld-Wen Holding, Inc., Marvin, Masco Corporation, PGT Innovation, Inc., and Cornerstone Building Brands.These manufacturers aim to provide an extensive range of insulating glass window and service & sales support for various end users in North America. 
The energy companies are offering technically advanced insulating glass window in this region, owing to increase in intense R&D in the field of insulated glass. These companies have launched different types of windows based on operating type, glazing type, and end users to improve their product portfolio and expand their business across the globe. 
Key Benefits for Stakeholders:
The report provides an extensive analysis of the current and emerging insulating glass window market trends and dynamics.  
In-depth market analysis is conducted by constructing estimations for key segments between 2020 and 2030. 
Extensive analysis of the emerging insulating glass window market shareis conducted by following key product positioning and monitoring of top competitors within the market framework.
A comprehensive analysis of all the regions is provided to determine the prevailing opportunities.
The market forecast analysis from 2021 to 2030 is included in the report.
Key players within emerging are profiled in this report and their strategies are analyzed thoroughly, which help to understand the competitive outlook of the emerging insulating glass window industry.
Key Market Segments
BY GLAZING TYPE
Double Glazing
Triple Glazing
Others
BY SEALANT TYPE
Hot Melt
PIB Primary Sealants
Polysulfide
Silicon
BY END USER
Residential
Nonresidential
BY REGION
North America
Europe

Germany
UK
France
Italy
Rest of Europe

Asia-Pacific

China
India
Japan
Australia
Rest of Asia-Pacific

LAMEA

Latin America
Middle East 
Africa