Insulin a glucose directing hormone, is an essential part of the treatment plan for many patients with advanced type 2 diabetes mellitus (T2DM) and patients with T1DM. Insulin facilitates the diversion of glucose get from the bloodstream to the muscle and adipose tissues to be stored and used as fuel. Insulin cannot be consumed in the form of a tablet or a swallowed in liquid form, as it would be degenerated by the time it reaches bloodstream, by the digestive enzymes and juices. Hence, injection or infusion of insulin is processed into the fatty tissue. Henceforth, a number of devices are in use to deliver insulin to the target location, which include syringes, insulin pumps, insulin pens and jet injectors. Subcutaneous injections is the most common used route of insulin administration. However, no single insulin delivery device works perfectly for everyone. The evaluation of use of a particular delivery device is based on factors like person's insulin regimen, ability to afford a particular device and its refill supplies, ability to operate a particular device and daily schedule or leisure-time activities.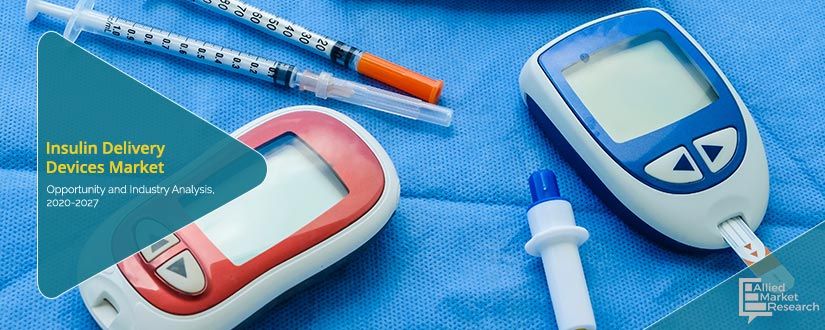 COVID – 19 scenario analysis:  
The COVID-19 pandemic has emerged as a humanitarian as well as economic crisis, creating strain on the society and affecting millions of people and businesses
Industry closures and people are asked to stay in their homes which has cause taken a huge toll in terms of money and economic growth
Over 4 million people affected globally, with 300 thousand losing their lives due to novel coronavirus
Healthcare organizations are already working in battle mode, preparing new plans to respond growing COVID-19 patients, right from sourcing rapid diagnosing kits to sufficient PPE kits for workers
Recent studies have also highlighted the rising prevalence and infections of Novel coronavirus in diabetic population
Regulatory authorities have recommended the diabetic populace to take extra precautions as they are at higher risk of acquiring an infection as compared to the normal populace 
Due to diversion of medical field towards treating COVID-19, the funding to R&D activities related to insulin delivery devices has been reduced and this segment have to face negligence subsequently causing negative impact on market insulin drug delivery market
Top impacting factors: Market Scenario Analysis, Trends, Drivers and Impact Analysis
One of the most prominent factor driving the growth of this market is growing diabetic populace, obesity and sedentary lifestyle. In addition to this, innovations in techniques of insulin delivery systems, and healthy reimbursement policies, rising awareness among population about the diabetes control and the accessibility to insulin delivery systems and advancements in human insulin delivery systems are the other factors ensuring growth of the insulin delivery devices market. Injecting insulin is the most common delivery system in insulin administration, it has some backlashes like injection pain, needle phobia, lipodystrophy and peripheral hyperinsulinemia. Hence, the need prevails for an insulin delivery systems capable of delivering insulin non-invasively. Reseach and development to make the noninvasive delivery of insulin are being heavily funded which would create opportunities for industry players introduce innovative products into market, thereby boosting the insulin delivery devices market growth. 
Despite the widespread of diabetic conditions in the populace affecting millions across the globe, pharmaceutical firms, scientists and researchers haven't yet succeeded in discovering a cure for the diabetes. The absence of an efficient, adequate and effective cure for diabetes, the betterment of insulin therapy is emphasized on. Thus, the quest for innovative solutions for better treatment and insulin delivery measures is in progress and highlights positive impact on the overall market for insulin delivery device. Also, it is anticipated that rising incidences of hyperglycemia, developing self-injectable devices, and rising support by FDA endorsements fuel the insulin delivery devices market growth. 
However, availability of oral insulin as an alternative medication to injected insulin delivery technique and high cost of insulin delivery systems are would potentially hamper the market development of insulin delivery devices. In addition, lack of accessibility to public healthcare and associated high cost in Latin America and stringent regulations and product approvals in the Middle East would constrain the growth of insulin delivery systems.
Growing prevalence of diabetic conditions to drive the market growth
Surging number of diabetic populace due to aging, obesity, and sedentary lifestyles are the factors contributing to this market. Obesity is one of the major drivers of the market resulting into development of diabetes in populace. Over 1.9 billion people allover were categorized as overweight, with around 600 million people in them were obese. Obesity and overweight conditions are the risk factors, highly linked to the incidence of diabetes, which is rising by tremendous growth, thus risking massive rise cases diabetes, according to stats by WHO.  According to the International Diabetes Federation, diabetic population worldwide, is anticipated to hit the 500 million mark by 2030. The rise in diabetic conditions would surge the demand for insulin delivery devices thus fueling the growth of this insulin delivery devices market.  
Technological advancements and product launches to fuel the growth
Novo Nordisk introduced HumaPen Memoir, a pen device with features such as recording time and date of previous injections, to ease the tedious efforts and reduce errors enabling better memory function by providing accurate data. With developments in continuous glucose monitors (CGM), the integrated use of CGM with insulin pumps has revolutionized the insulin delivery devices development. Recently developed CGM products have shown better results in comparison with the older ones and offer precise results with better glycemic control in T1DM patients. Recently, Bigfoot Biomedical in partnership with Eli Lilly, developed solutions for enhanced delivery and dosing of insulin with the integration of artificial intelligence. The partnership aims in launching a portfolio of innovative products related to diabetes management in the insulin delivery devices market.
Novo Nordisk in February 2019, collaborated with Abbott to offer digital solutions for diabetic patients using insulin pens. This partnership aims at enhanced diabetes management by giving access to healthcare professionals and diabetic patients to generate optimized and productive outcomes. Thus, technological advancements in insulin delivery system and novel product launches would offer immense opportunities to industry players over the coming years.  
Key benefits of the report:
This study presents the analytical depiction of the global insulin delivery devices industry along with the current trends and future estimations to determine the imminent investment pockets.
The report presents information related to key drivers, restraints, and opportunities along with detailed analysis of the global insulin delivery devices market share.
The current market is quantitatively analyzed from 2020 to 2027 to highlight the global insulin delivery devices market growth scenario.
Porter's five forces analysis illustrates the potency of buyers & suppliers in the insulin delivery devices market.
The report provides a detailed global market analysis based on competitive intensity and how the competition will take shape in coming years.
Questions answered in the Insulin Delivery Devices Market research report:
Who are the leading market players active in the insulin delivery devices market?
What are the current trends that will influence the market in the next few years?
What are the driving factors, restraints, and opportunities in the market?
What are the projections for the future that will help in taking further strategic steps?
 Insulin Delivery Devices Market: Global Opportunity Analysis and Industry Forecast, 2020-2027 Report Highlights
Aspects
Details
By Product type

Insulin syringes
Insulin pens
Insulin pumps
Insulin injectors

By Distribution channel

Hospital Pharmacies
Retail Pharmacies
Online Pharmacies

By End users

Hospitals/Nursing homes
Patient/home care centers
Diabetic care centers
Other

By Region

North America (US, Canada, Mexico)
Europe (France, Germany, UK, Italy, Spain, rest of Europe)
Asia-Pacific (Japan, China, India, Australia, South Korea, rest of Asia-Pacific)
LAMEA (Brazil, South Arabia, South Africa, rest of LAMEA)

Key Market Players
Novo Nordisk A/S, Eli Lilly, Sanofi-Aventis, Becton Dickinson and Company, Medtronic PLC, Johnson and Johnson, Biocon Limited, Tandem Diabetes Care Inc., B. Braun Melsungen AG, F. Hoffmann-La Roche.