Insurance Telematics Market Outlook - 2030
The global insurance telematics market size was valued at $2.37 billion in 2020, and is projected to reach $13.78 billion by 2030, growing at a CAGR of 19.5% from 2021 to 2030.
The COVID-19 pandemic has resulted into changing demands of insurers from traditional actuarial and underwriting models to pay-as-you-drive (PAYD) models. In addition, increased acceptance of digital tools in the policy binding & claims process among consumers, combined with a need for insurers to design premium policies more precisely are major factors notably contribute towards the market growth.
Insurance telematics is used to track driving behavior of individuals and involves collecting, measuring, and transmitting a number of data points. Generally, it acts as a small GPS-based device placed inside a vehicle, which tracks locations and monitors a number of parameters, such as speed, distance, and location. Furthermore, by monitoring drivers performance behind the wheel, insurers can implement usage-based insurance (UBI) programs and accordingly design premium prices for auto insurance policyholders.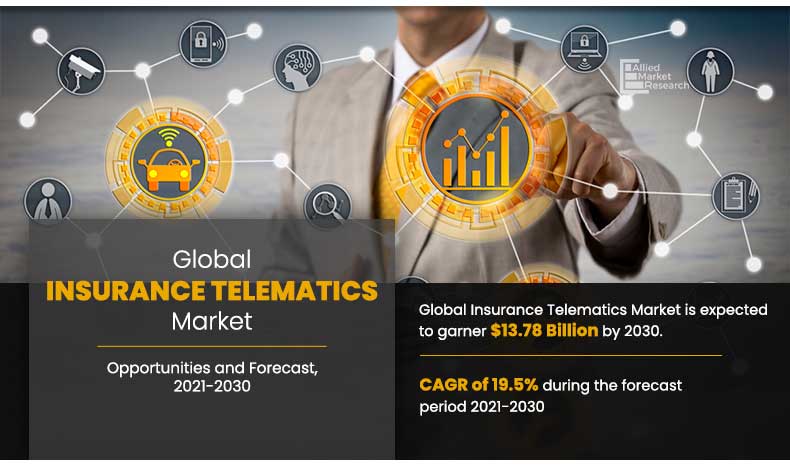 Rise in need for telematics devices among insurance & automotive sectors propels the market growth. This is attributed to the fact that telematic devices help in improving premium pricing, enhancing customer perception of a company, and strengthening long-term relationships through closer communication. In addition, growth in need for regulatory compliance in the automotive industry and surge in adoption of Internet of Things (IoT) technology among insurance telematics providers are major factors that notably contribute toward growth of the global market. 
However, concerns associated with data security & protection and lack of awareness toward insurance telematics are some of the factors that limit the insurance telematics market growth. On the contrary, developing economies offer significant opportunities for insurance telematics companies to expand & develop their offerings, especially among emerging economies such as India, Singapore, Australia, China, and South Korea. 
In addition, these countries are on the verge of developing their automotive sectors, with lack in financial resources have led to need for cost-efficient solutions is expected to offer remunerative opportunities for expansion of the market. Moreover, rapid innovation in the automotive industry is providing new opportunities for telematics providers to improve user experiences, enhance collaboration with partners, and data monetization, which is anticipated to open new avenues for the market in the coming years.
The report focuses on growth prospects, restraints, and trends of the insurance telematics market analysis. The study provides Porter's five forces analysis to understand the impact of various factors such as bargaining power of suppliers, competitive intensity of competitors, threat of new entrants, threat of substitutes, and bargaining power of buyers on the insurance telematics market outlook.
Insurance Telematics Market

---
By Offering
Service sector Segment holds a dominant position throughout the forecast period.
Segment Review
The insurance telematics market is segmented into offering, technology, deployment, type, vehicle age, vehicle type, organization size, and region. By offering, the market is segmented into hardware, software, and service. The hardware segment is further segmented into telematics control unit (TCU), navigation system (GPS), communication devices, and others. Services segment is further classified into consulting, implementation, and maintenance. On the basis deployment the market is segmented into on-premise and cloud. 
Insurance Telematics Market

---
By Technology
Smartphone segment will grow at a highest CAGR of 25.1% during 2021 - 2030
On the basis of technology, the market is segmented into OBD-II, black-box, smartphone, and hybrid. By type, the market is segmented into pay-as-you-drive, pay-how-you-drive, and pay-as-you-go. Depending on vehicle age, it is segregated into new vehicle and used vehicle. The vehicle type covered in the study include light-duty vehicle (LDV)  and heavy-duty vehicle (HDV). Based on organization size, the market is divided into large enterprises and small & medium enterprises (SMEs). Region wise, the market is analyzed across North America, Europe, Asia-Pacific, and LAMEA.
Insurance Telematics Market

---
By Region
Asia-Pacific would exhibit the highest CAGR of 23.8% during 2021-2030
Competitive Analysis 
The report analyses top insurance telematics companies operating in the market such as Agero Inc., IMS, Masternaut Limited, Meta System S.p.A., MiX Telematics, Octo Group S.p.A , Sierra Wireless, TomTom International BV., Trimble Inc., and Verizon. These players have adopted various strategies to increase their market penetration and strengthen their position in the insurance telematics industry.  
COVID-19 Impact Analysis
The COVID-19 pandemic had a positive impact on the insurance telematics industry. This attributed to the fact that telematics directly addresses consumer needs to pay lower premiums when vehicles have limited utilization during the lockdown. Telematics further enhances accurate calculations and discounts on auto insurance policy, allowing reasonable premiums pricing for consumers, which is more precise for insurance companies. Therefore, demand for insurance telematics has increased significantly during the global health crisis. 
Top impacting factors
Growth in Need for Regulatory Compliances and Regulations 
With an increase in emphasis on technology usage, massive internet penetration across several countries and regulatory compliances toward safety measures of driving vehicle are becoming major factors promoting usage-based insurance telematics devices in the market. 
Governments aim at expanding the automobiles sector with an implementation of advance telematics in vehicles, which  is one of the major factors contributing toward the market growth. For instance, in U.S., the National Association of Insurance Commissioners forecasted that use of telematics may grow to 20% within the next five years. Therefore, demand for insurance telematics is experiencing continuous rise in the market, owing to massive regulatory compliance and support. This, as a result propels the insurance telematics market growth.   
Privacy & Security Concerns
Concerns regarding theft & security have created a lack of trust toward digitalized tracking of vehicle information among individuals. In addition, drivers connecting vehicles to internet enables a connection between insurance company and their vehicles, which further leads to data exposing among hackers. Moreover, On Board Diagnosis (OBD)-ll dongles provide potential breach points for hackers to remotely exploit and cause damage such as remote vehicle control, car theft, and data privacy breaches. Moreover, risk of spyware, malware, and virus attacks due to usage of numerous systems in the insurance telematics hampers the market globally.
Increase in Innovation in the Automotive Industry
Technologies such as artificial intelligence (AI), internet of things (IoT), and 5G are accelerating innovations in the automotive industry and providing new opportunities for improved user experiences, collaboration with partners, and data monetization. Moreover, with implementation of telematics devices, companies have major opportunities such as data stored in telematics devices must be collected and stored to be shared with multiple parties and deriving useful insights on a massive scale. Furthermore, innovations in terms of advance telematics device implementation such as wireless telematics devices and black box technologies, which collects and transmit data on vehicle use, maintenance requirements, and automotive servicing is a major factor expected to boost the market growth in the coming years. 
Key Benefits for Stakeholders 
The study provides in-depth analysis of the global insurance telematics market share along with current trends and future estimations to illustrate the imminent investment pockets.
Information about key drivers, restrains, and opportunities and their impact analysis on the global insurance telematics market size are provided in the report.
Porter's five forces analysis illustrates the potency of buyers and suppliers operating in the insurance telematics market.
An extensive analysis of the key segments of the industry helps to understand the insurance telematics market trends.
The quantitative analysis of the global insurance telematics market forecast from 2021 to 2030 is provided to determine the market potential. 
Key Market Segments
By Offering
Hardware

Telematics Control Unit (TCU)    
Navigation System (GPS)

Standalone Tracker 
Advanced Tracker

Communication Devices 
Others

Software
Services

Consulting         
Implementation         
Maintenance
By Technology
OBD-II            
Smartphone            
Hybrid            
Black-box  
By Deployment
By Type
Pay-As-You-Drive (PAYD)
Pay-How-You-Drive (PHYD)
Manage-How-You- Drive (MHYD)
By Vehicle Age
New Vehicles
Used Vehicles
By Vehicle Type
Light-Duty Vehicles (LDV)
Heavy-Duty Vehicles (HDV)
By Organization Size
Large Enterprises
Small & Medium-sized Enterprises
By Region
North America
Europe

UK
Germany
France
Italy
Spain
Belgium
Rest of Europe 

Asia-Pacific 

China
Japan
India
Australia
Singapore
Thailand
Rest of Asia-Pacific   

LAMEA

Latin America 
Middle East
Africa 
Key Market Players
Agero Inc.
IMS
Masternaut Limited
Meta System S.p.A.
MiX Telematics
Octo Group S.p.A 
Sierra Wireless
TomTom International BV.
Trimble Inc.
Verizon