The global Insurtech market size was valued at $9,415.28 million in 2020, and is projected to reach $158,994.52 million by 2030, growing at a CAGR of 32.7% from 2021 to 2030.
The pandemic has prompted insurers to invest & adopt Insurtech and focus on several areas including customer centricity, intelligent processes, accelerate virtual interactions in sales & claims, and reduce expenses in order to sustain in the competitive business environment.
InsurTech (Insurance Technology) refers to the use of technology that engages in the creation, distribution and administration of insurance product & services. Insurtech is discovering solutions such as offering ultra-customized policies, social insurance, and using new streams of data from Internet-enabled devices to dynamically price premiums. Insurtech helps insurers to collect and analyze customer data, which can be specifically used to target right customer, with affordable price quotation.  Moreover, with the use of machine learning, artificial intelligence, and cloud computing, Insurtech helps in making better predictions of consumer needs, purchase quantity, and improves decision making and insurance planning.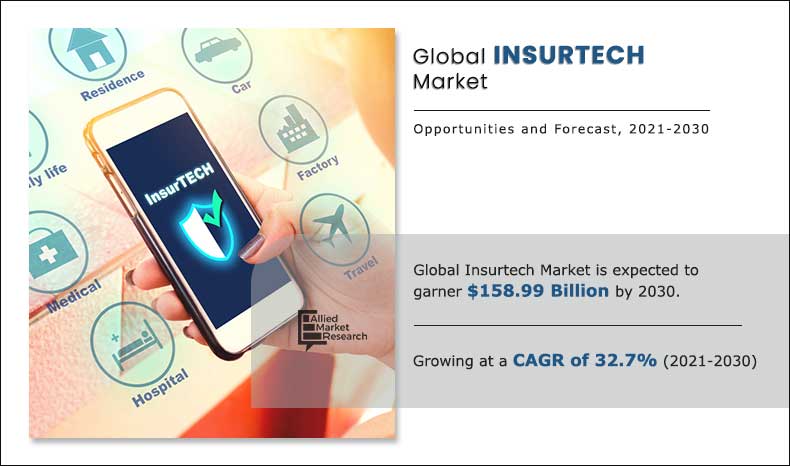 Technologies such as artificial intelligence, machine learning, blockchain and cloud computing enables real-time tracking & monitoring information regarding the activity of insured for particular business lines and streamline & modernize business operations, which acts as key driving factor of the global Insurtech market growth. In addition, due to changing business models, insurance companies are leveraging innovative digital solutions to scale their business and developing product lines based on requirement by niche customers, which notably contributes toward the market growth. However, different standards & regulations toward the insurance industry and privacy & security concerns are some of the factors that limit the market growth. Furthermore, developing economies offer significant opportunities for Insurtech market to expand & develop their offerings, especially among emerging economies such as Australia, China, India, Singapore, and South Korea. In addition, incorporation of technologies such as cloud computing, artificial intelligence, and blockchain, for facilitating loss prediction & prevention, risk monitoring, and simplifying claims processing is becoming a major factor that is expected to provide lucrative opportunities for the expansion of the Insurtech market growth in the coming years.
The report focuses on growth prospects, restraints, and trends of the Insurtech market analysis. The study provides Porter's five forces analysis to understand the impact of various factors such as bargaining power of suppliers, competitive intensity of competitors, threat of new entrants, threat of substitutes, and bargaining power of buyers on the Insurtech market outlook.
Segment review
The Insurtech market share is segmented on the basis of offering, deployment model, technology, end user, application, and region. 
By offering, it is divided into solution and service. By deployment model, it is bifurcated into on-premise and cloud. Based on technology, the market is segmented into artificial intelligence, cloud computing, blockchain, big data & business analytics, IoT, and others. On the basis of end user, the market is divided into life & health insurance and property & casualty (P&C) insurance. In addition, property & casualty (P&C) insurance is further segmented into auto insurance, buildings insurance, marine insurance, liability insurance, and others. The  buildings insurance is bifurcated into commercial buildings insurance and home insurance. On the basis of home insurance, the market is further divided into dwelling coverage and contents coverage. By application, it is segmented into product development & underwriting, sales & marketing, policy admin collection & disbursement, and claims management. By region, it is analyzed across North America, Europe, Asia-Pacific, and LAMEA.  
Insurtech Market

---
By Offering
Solution segment accounted for the highest market share in 2020
The report analyses top Insurtech market players such as Damco Group, DXC Technology Company, Majesco, Oscar Insurance, OutSystems, Quantemplate, Shift Technology, Trov Insurance Solutions, LLC, Wipro Limited, and Zhongan Insurance. These players have adopted various strategies to increase their market penetration and strengthen their position in the Insurtech industry.  
Insurtech Market

---
By Technology
Cloud Computing segment is projected as one of the most lucrative segments.
COVID-19 Impact Analysis
The COVID-19 pandemic had a positive impact on the Insurtech market growth as importance of insurance policies has tremendously increased among customers. Customers have opted for multiple insurance policies such as health insurance, home insurance, personal insurance, and others. Therefore, with rise in demand for insurance policies, usage of advance technological solutions among insurance carriers has increased rapidly in the market, to provide advanced tech-based services to the customers. Therefore, demand for Insurtech solutions has increased significantly during the global health crisis. 
Top impacting factors
Rapid digitalization of business models 
Insurance is one of the most conservative industries and Insurtech companies are starting to disturb the insurance sector globally. For instance, according to Accenture, which provides consulting and professional services projected that in 2020, nearly 86% of insurers are aiming at innovating & developing existing business models for increasing insurance demands and maintain a competitive profile. Moreover, with changing business models, insurance companies across the globe are leveraging innovative digital solutions to scale their business and offer more personalized customer experience. Therefore, rapid digitalization in existing business models of insurance companies are propelling the Insurtech market growth.   
Changes to the legal & regulatory framework 
Various laws set different standards & regulation across different jurisdictions with an increased unified approach taken by financial centers toward regulation. This becomes a crucial factor for Insurtech companies to elaborate solutions across manifold regulations such as MiFID II, GDPR, and others, which brings an inter-regulation conflict and therefore, hinders the growth of the insurtech market. For instance, in the U.S., insurance industry and its development are controlled and regulated by National Association of Insurance Commissioners (NAIC); while in Europe MiFID II regulations are considered for insurance companies under its jurisdiction. This is one of the major factors that hampers the market growth.  
Untapped potential of emerging economies 
Developing economies offer significant opportunities for Insurtech solutions providers to expand their offerings as several insurers are adopting new business models. In addition, demand for niche & customized insurance continue to rise, which therefore accelerates the adoption of Insurtech among insurance companies. High investments for digital transformation, adoption of new technologies such as artificial intelligence, analytics, big data, machine learning, & chatbots, and rapid expansion of domestic business, especially among countries such as Singapore, Hong Kong, China, and South Korea, are expected to create potential for the Insurtech market revenue in the coming years. As a result, emerging economies across the Asia-Pacific region are expected to create an immense opportunity in the market in upcoming years.  
Insurtech Market

---
By Region
Asia-Pacific would exhibit the highest CAGR of 36.7% during 2021-2030
Key benefits for stakeholders 
The study provides in-depth analysis of the global Insurtech market share along with current & future trends to illustrate the imminent investment pockets.
Information about key drivers, restrains, and opportunities and their impact analysis on the global insurance technology market size are provided in the report.
Porter's five forces analysis illustrates the potency of buyers and suppliers operating in the Insurtech market.
An extensive analysis of the key segments of the industry helps to understand the Insurtech market trends.
The quantitative analysis of the global Insurtech market forecast from 2021 to 2030 is provided to determine the market growth potential. 
Key market segments
By Offering
By Deployment Model
By Technology
Artificial Intelligence
Cloud Computing
Blockchain
Big Data & Business Analytics
IoT
Others  
By End User
Life & Health Insurance
Property and Casualty (P&C) Insurance

Auto Insurance
Buildings Insurance

Commercial Buildings Insurance
Home Insurance

Dwelling Coverage
Contents Coverage

Marine Insurance
Liability Insurance
Others
By Application
Product Development & Underwriting
Sales & Marketing
Policy Admin Collection & Disbursement
Claims Management
By Region
North America
Europe

UK
Germany
France
Italy
Spain
The Netherlands
Rest of Europe

Asia-Pacific 

China
India
Japan
Australia
South Korea
Rest of Asia-Pacific   

LAMEA

Latin America 
Middle East
Africa
Key market players
Damco Group
DXC Technology Company
Majesco
Oscar Insurance
OutSystems
Quantemplate
Shift Technology
Trov Insurance Solutions, LLC
Wipro Limited
Zhongan Insurance
 Insurtech Market Report Highlights
Aspects
Details
By Offering
By Deployment Model
By Technology

Artificial Intelligence
Cloud Computing
Blockchain
Big Data & Business Analytics
Internet of things (IoT)
Others

By End User

Life & Health Insurance
Property and Casualty (P&C) Insurance

Auto Insurance
Buildings Insurance

Commercial Buildings Insurance
Home Insurance

Dwelling Coverage
Contents Coverage

Marine Insurance
Liability Insurance
Others

By Application

Product Development & Underwriting
Sales & Marketing
Policy Admin Collection & Disbursement
Claims Management

By Region

North America (U.S., Canada, Mexico)
Europe (France, Germany, Italy, Spain, UK, Russia, Rest of Europe)
Asia-Pacific (China, Japan, India, South Korea, Australia, Thailand, Malaysia, Indonesia, Rest of Asia-Pacific)
LAMEA (Brazil, South Africa, Saudi Arabia, UAE, Argentina, Rest of LAMEA)

Key Market Players
Majesco, Oscar Insurance, Wipro Limited, Damco Group, DXC Technology Company, Zhongan Insurance, Shift Technology, Quantemplate, Trov Insurance Solutions, LLC, OutSystems